Green Card Barleywine
| Cucapá Brewing Company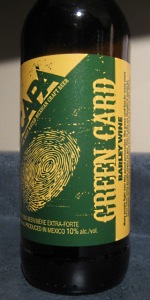 BEER INFO
Brewed by:
Cucapá Brewing Company
Mexico
cucapa.com
Style:
American Barleywine
Alcohol by volume (ABV):
10.00%
Availability:
Rotating
Notes / Commercial Description:
No notes at this time.
Added by BretSikkink on 09-22-2011
Reviews: 14 | Ratings: 32
3.79
/5
rDev
+0.5%
look: 3.75 | smell: 3.5 | taste: 4 | feel: 3.75 | overall: 3.75
650ml bottle, original Spanish sentiments now translated into English. These names are getting to be a bit on the nose - I fear that the next one may actually get politically incorrect. Swish.
This beer pours a clear, medium red brick amber hue, with one finger of loosely foamy, bubbly off-white head, which leaves little in the way of lace around the glass as it rashly recedes.
It smells of mild caramel malt, sultana raisin, figs, brown sugar, leafy, earthy hops, and a twinge of metallic booze. The taste is semi-sweet caramel pudding, sharp biscuity toffee, apple newtons, molasses, wintergreen, leafy hops, and some swirling perfumed alcohol.
The carbonation is a tad frothy for the style, but to no big degree, the body a tentative medium weight, mostly smooth in an expertly mixed-drink sort of way. It finishes off-dry, the hollow biscuit character cutting through the caramel malt like a knife (or electrified border fence), the earthy black fruit going dark, and the herbal alcohol riding its wave with a particular devil may care attitude.
An offering more related to the original source material than the majority of the other beers from this brewery. Kind of young, and immature-tasting, yet without the attendant big-ass hop uptick. Oh well, still worth a look-see, for the well-under 10 dollar bomber, and the trying only a little too hard marketing.
1,371 characters
4.1
/5
rDev
+8.8%
look: 4 | smell: 4 | taste: 4 | feel: 4 | overall: 4.5
22 ounce bottle into snifter; no bottle dating, but I would guess this is at least a year old. Pours slightly cloudy ruby red color with a small fairly dense cream colored head with good retention, that reduces to a thin lace that lingers. Light spotty soapy lacing clings on the glass. Aromas of big caramel, raisin, fig, date, molasses, apple, pear, toast, brown bread, toffee, herbal, floral, and herbal earthiness. Damn nice aromas with good complexity and balance of malt sweetness with some light hop notes and alcohol. Taste of big caramel, raisin, date, fig, apple, molasses, toast, toffee, brown bread, floral, and light herbal earthiness. Lingering notes of caramel, dark and light fruits, molasses, toast, toffee, floral, and light herbal earthiness on the finish for a while. Very nice balance and complexity of big malty/dark fruit flavors; with zero cloying sweetness present after the finish. Light-medium carbonation and full bodied; with a creamy, slick, and lightly syrupy mouthfeel that is nice. Alcohol is very well hidden with only a slight warming noticed after the finish. Overall this is an excellent barleywine! Very nice balance and complexity of malt and fruity flavors; and very smooth to sip on. Really enjoyed this one.
1,249 characters
4.25
/5
rDev
+12.7%
look: 4.25 | smell: 4.25 | taste: 4.25 | feel: 4.25 | overall: 4.25
From taste notes. Appearance: It pours a nice crystal clear chestnut with a 1 finger quickly dissipating head but good lacing. Smell: Estery, winey aromas. Taste: Malt and alcohol driven beer supported by yeasty esters that finishes with a medium hop accent. Mouthfeel: Medium full body, medium carbonation, warming
316 characters
3.43
/5
rDev
-9%
look: 3.25 | smell: 3.25 | taste: 3.5 | feel: 3.5 | overall: 3.5
I understand this was the first Barley Wine made in Mexico. I am curious.
Amber copper color with a thin head with short retention.
Sweet aroma with notes of rotten apples, dark and dried fruits, caramels and a bit of pine.
Sweet flavor with notes of dried fruits, overripe oranges, apple juice, mild cocoa, molasses, prunes, white wine and citrusy and piney hops. Dry aftertaste with a mild bitterness and a slightly warming sensation.
Medium body with low carbonation. Alcohol of 10% abv feels much lower.
Barley Wine easy to drink and with a nice feeling. It is deceivably assertive at start and then begins to show some complexity, but still not at the top range for the style. It could be less sweet, but it is not cloying. Decent and pleasant.
749 characters
4.15
/5
rDev
+10.1%
look: 4 | smell: 4 | taste: 4.25 | feel: 4 | overall: 4.25
Poured from a 22 oz. bottle into a Surly Darkness chalice glass.
Appearance: Pours a deep brownish amber orange with a moderate amount of bubbles. About one small finger of off white head that quickly fades away. Leaves a decent amount of lacing.
Smell: A sweet and malt forward aroma with lots of dark fruit hints. Sweet bready malts with big hints of caramel and toffee. Hints of biscuit, grains, toast, and yeast. Some sweet brown sugar. Hints of apple and pear fruits. Big dark fruit hints of raisin, prune, fig, and dates. Hops are very subtle with a little grass in the background. Scent of booze is pretty noticeable. A pretty good fruity smell.
Taste: Like it smells, a sweet bready malt forward taste with lots of fruit notes. Bready toasted malts with a taste of sweet caramel and toffee. Notes of biscuit, yeast, grains, and a little toast. Some brown sugar sweetness is in the mix. Very juicy taste with good notes of apple and pear. Big dark fruit taste with notes of prune, raisin, fig, plum, and dates. Hops are very laid back and the alcohol taste is there but pretty mild. A pretty good taste.
Mouthfeel: Medium to heavy body with a moderate amount of carbonation. Very juicy and smooth. Alcohol presence is noticeable but not overly hot.
Overall: A pretty solid barleywine. There was not a date on the bottle so I'm unsure how old it is. This is currently very malt forward with lots of fruit coming through.
1,433 characters

3.6
/5
rDev
-4.5%
look: 3.5 | smell: 3.5 | taste: 3.75 | feel: 3.5 | overall: 3.5
Pours translucent light amber. A light off-white head forms and then fades to a thin ring on top and leaves faint spots of lace. The smell is of caramel malt and astringent alcohol. The taste is of caramel, fruit and booze. Light texture.
238 characters
4.04
/5
rDev
+7.2%
look: 3.5 | smell: 4.5 | taste: 4 | feel: 3.5 | overall: 4
Pours a muddy, caramel-ish brown, a bit cloudy, and the head doesn't last long before diminishing to a soap-bubble crown in seconds.
Classic American barleywine smell, all kinds of vanilla, apple cider, caramel and toffee tones rocking the nostrils.
Same in the flavor as smell, with the toffee and apple cider coming through strong, and hardly any off-putting or cloying alcohol, which is often the ruin of many an otherwise decent barleywine. Smoky tones are nice too. Molasses sweetness, but not too sweet. A bit bitter in the finish, in a green/astringent/pine-like way, but it's light enough to not annoy.
Relatively thin body, although not wimpy, and keeps everything flowing down the throat, which can be dangerous for this style. Just the right touch of carbonation, gladly not overdone here.
Maybe a little rough around the edges, at worst. Certainly worth a shot for all BW aficionados looking to try every barleywine out there at least once, and I'd even recommend trying it more than once.
1,005 characters
4.23
/5
rDev
+12.2%
look: 4.5 | smell: 4.5 | taste: 4 | feel: 4.25 | overall: 4.25
a: Clear, dark, brownish amber; poured with a thick, sticky head.
s: Lots of rich caramel and raisin with just a hint of chocolate and leafy hops. Invitingly boozy.
t: A little less fruit and chocolate with a little more heat and caramel than in the nose. Brown sugar sweetness and perfumed heat at the finish. Doesn't quite live up to the smell, but this is still rich and satisfying.
m: Big and full bodied.
o: I just thought it would be fun to try a Mexican b-wine, turns out twas a very, very good one.
510 characters

3.78
/5
rDev
+0.3%
look: 4 | smell: 3.5 | taste: 4 | feel: 3 | overall: 4
Dark brown body with some orange and ruby highlights. Solid creamy head keeps a tight cap and leaves decent lacing. Looks legit.
Aroma is malty and fairly strong with dark fruits and sugars. Slight roast, some toasted barley, and enough hops to keep it...legit.
It's legit. Solid hop flavor with a good malt balance on the tongue. Caramel and a metallic brown sugar note run the hop side, with contributions from macerated ripe fruits. Hops are zesty and citric, backed up by pine resin and some allspice.
Carbonation is fine and maintains the drinkability as best it can. Mouthfeel is on the thin side, not impacting drinkability much but it keeps the Green Card easily out of the upper echelon. However, it's legit.
*I honestly apologize if this is the same recipe as "Cucapa Barleywine" which I did have a few times in Phoenix (thx Papago). However, that entry says that it's not brewed anymore. This is a completely different bottle and name, with a whole bit (in Spanish) about how everyone wants a green card and when you get one it changes your life...like this beer. Seems different, but I hope I'm not wrong. Purchased at the Beer Box in Col. Condesa, Mexico DF.
1,184 characters
3.42
/5
rDev
-9.3%
look: 3 | smell: 3.5 | taste: 3.5 | feel: 3 | overall: 3.5
a very rigorous pour produces a two-fingered beach sand colored head on top of a muddy brown beer. the head slowly receds, yet laces decently.
aroma has lost of crackery and biscuity malts, a bit of molasses sweetness, with a big hop presence providing some grass and citrus.
flavor is of molasses and bitterness. hop presence is pronounced with bitter citrus and a bit of pine. malts are biscuity, but with plenty of dark caramel and molasses.
medium to almost heavy bodied with an abundance of prickly carbonation and a bitter/metallic aftertaste.
well... If I was in Mexico I would seek this out. with the options I have available to me here, I'll pass. lacks complexity and isn't overly flavorful... but its decent.
724 characters

3.56
/5
rDev
-5.6%
look: 4 | smell: 3 | taste: 3.5 | feel: 4 | overall: 4
Alright, funny name!
Pours a deep amber-brown with good clarity. A good malty-sweet aroma, there's some serious malt in here. Tastes of caramel-toffee and figs-dates with a medium touch of hops. Good at this point but somehow doesn't seem like it could develop into anything much bigger, better. Body and carbonation are apt and it's a good beer overall.
4, 3, 3.5, 4, 4
372 characters

3.75
/5
rDev
-0.5%
look: 3.75 | smell: 3 | taste: 4 | feel: 4 | overall: 4
Nice barleywine, not great but it´s not bad and easy on the wallet. This is the only commercial barley wine in Mexico and it´s not quite there with the style characteristics, but it´s a nice strong ale.
205 characters
2.88
/5
rDev
-23.6%
look: 3.5 | smell: 3 | taste: 2.75 | feel: 3 | overall: 2.75
Bottle likely 2 years old. Poured a dark red/reddish brown. Malt on the nose. Taste was fairly unremarkable, malt dominates, some slight hop bitterness. A pretty unremarkable barleywines. I don't think I would buy again.
220 characters
3.94
/5
rDev
+4.5%
look: 5 | smell: 3.5 | taste: 4 | feel: 4 | overall: 4
Poured from a bomber (that was only $1.99!?!) into a GTMW 2003 tasting glass.
A: Rich, dark amber with ruby highlights and very clear. Persistent medium tan head with modicum of lacing.
S: Intense malty sweetness with elements of figs and other dark fruits. Substantial alcohol in the finish, too. Hops are barely there (for balance).
T: It's got the intense malty character up front for sure! Very sweet with some dark fruit esters evident and some alcohol. As with the aroma hop bitterness, flavor is just barely there. Really an English style barleywine to me(?).
M: Medium heavy body that's quite smooth. Medium-low carbonation. Alcohol quite evident.
O: This is BY FAR the best Mexican barleywine I've ever had! Actually it's the only one, but that doesn't change the fact that I really like this beer. To me a good stab at an English barleywine. Salud!
863 characters
Green Card Barleywine from Cucapá Brewing Company
3.77
out of
5
based on
32
ratings.