Tornado Alley Amber Ale
| Charleville Vineyard Microbrewery
BA SCORE
81
good
23
Reviews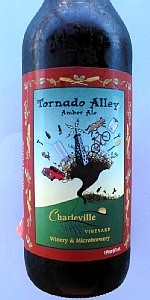 BEER INFO
Brewed by:
Charleville Vineyard Microbrewery
Missouri
,
United States
charlevillevineyard.com
Style:
American Amber / Red Ale
Alcohol by volume (ABV):
5.60%
Availability:
Year-round
Notes / Commercial Description:
American amber ale, with a rich red hue. Made with American variety hops used to produce a medium-high hop bitterness, flavor, and aroma. The hops help to balance the malty caramel character. With a medium-full body, this ale has subtle fruity aromas and flavors sure to please any beer lovers palate!
27 IBU
Added by merlin48 on 01-25-2008
Reviews: 23 | Ratings: 68
3
/5
rDev
-13.8%
look: 3 | smell: 3 | taste: 3 | feel: 3 | overall: 3
Red in color and a bit hazy. Not much head and thin lacing. Few rising bubbles, even with a fairly rough pour.
Not too much in the way of smell. A bit of hops/malt mix.
Tastes decent enough, but nothing outstanding. A bit of caramel malt and a touch of hops, with just a tinge of fruitiness.
Mouthfeel is a bit thin and flat from lack of enough carbonation. Slight lingering fruit/bitter aftertaste.
Drinks very average. Not too impressive but ok.
452 characters

3.55
/5
rDev
+2%
look: 3.5 | smell: 3.5 | taste: 3.5 | feel: 3 | overall: 4
Thanks to beerindex for this.
A: Dark for an amber ale. Smallish off white head. Some lacing.
S: Bready, earthy with, to me, floral smelling hops(might be my sinuses).
T: Nice malt sweetness, bready, earthy and the hop bitterness. Maybe a little chocolaty.
M: Thin, low carbonation. Nothing special.
D: Nothing stopping you from drinking a couple of these. Pretty good beer.
379 characters

4.09
/5
rDev
+17.5%
look: 3 | smell: 4 | taste: 4.5 | feel: 3.5 | overall: 4
Had this on tap at Charleville Brewery this last weekend.
Appearance was amber but leaning more to the orange and red spectrum. The pint wasn't poured properly so the head left a lot to be desired but lacing was decent for the style. Caramel, butter and pecans in the nose. To me, the aroma was a mixture of New Belgium Fat Tire and 1554 with hints of chocolate. Taste is quite malty but clean and crisp. Butter, caramel and toffee notes all carry through to the taste making this one great treat; almost like a Fat Tire candy. Bitterness is low and hops almost unnoticeable unless implicitly looking for them. I definitely can't distinguish a variety here... Definitely there is a healthy helping of Crystal malts here, though!
All in all, a great beer beer that I would love to keep a case around in my fridge year round. Light and clean enough for the summer but sweet and dark enough for a long Illinois winter.
917 characters

3.06
/5
rDev
-12.1%
look: 4 | smell: 3 | taste: 3 | feel: 3 | overall: 3
Poured this 22 oz. brown bottle into a Sierra Nevada etched tulip pint. The body was a pretty amber-copper color, bright and clear. The light tan head was over two fingers with a hard pour. A filmy, tiny cap remained.
Smell was bready. Raisins. Wet grain or dough. Nutty.
Taste was also bready, whole wheat and dense. Prunes. Nuts.
Mouthfeel was lighter than expected. Not much carbonation but it left a sizzle on the tongue after the swallow.
446 characters
3.18
/5
rDev
-8.6%
look: 3.5 | smell: 3 | taste: 3 | feel: 3.5 | overall: 3.5
Appearance: Pours out a well-hazed, dark amber body with a thin, whitish head.
Smell: Modestly malty notes of toasty bread crusts, caramel, and cocoa. Some scant herbal, earthy accents as well as a noteworthy background tart scent.
Taste: Initial malty taste of toasted bread with lightly sweet hints of caramel and cocoa. Curious tartness creeps into the taste. Lightly herbal, citrusy hop character and bitterness. Drying finish with that slight tartness enduring into the aftertaste.
Mouthfeel: Medium-bodied. Medium carbonation.
Drinkability: That's it? Well, it's definitely not the best amber ale to be had out there by any means.
640 characters
3.57
/5
rDev
+2.6%
look: 3 | smell: 3.5 | taste: 3.5 | feel: 3.5 | overall: 4
22oz brown bomber with no freshness date.
Clear reddish amber color, thin wisp of white lace. A Little caramel, a little toasty in the nose. Firm medium body is meet with an ample crispness. Very malt palate, clean at that. Even share of toasted grain and caramel malt. Hops are modest and throw in a balancing bitterness. Chalky yeast. Mineral and some very mild fruit in the semi-sweet finish.
Amber Ale on the malty side, a bit of a malt bomb for its size ... lively as well for a malty beer.
497 characters

3.98
/5
rDev
+14.4%
look: 4 | smell: 3.5 | taste: 4 | feel: 4 | overall: 4.5
On tap in tasting room at winery/brewery. Medium clear amber with moderate head, mostly diminishing. Mild aroma of medium-roasted malt, caramel - light on the hop side, which was expected. Overall a well-balanced amber ale with good, somewhat crisp and dry finish. A good beer IMO - cheers!
290 characters

3.34
/5
rDev
-4%
look: 3 | smell: 4 | taste: 3 | feel: 3 | overall: 3.5
Tornado Alley Amber by Charleville "Winery, Vineyards and Microbrewery." Uh oh. Leave the beer to the beer people so says I.
Very dark clear amber. Begie head that doesn't last long or leave much of an impression.
Smells really good actually. Fruity esthers, primarily cherries, plum, and watermelon mix with a light citrus hop and roasty sweetbread malt. There's something off in the mix though.
Fruit in front with a lots of crystal in back. Bits of medicinal hop and a syrupy citrus that borders on cough medicine.
Close but no cigar. The smell is great minus an off element and if that cough syrup taste gets cleared up this could be a great amber.
656 characters
2.75
/5
rDev
-21%
look: 3.5 | smell: 3.5 | taste: 2.5 | feel: 2 | overall: 2.5
A - Poured out a murky, copper/brown color with a very bubbly, foamy, tan, one-finger head. No lacing to speak of.
S - It smelled of biscuity malt, caramel and some fruity notes.
T - It had caramel malt flavors mixed with some butterscotch. It had an odd bitterness and almost a musty quality.
M - It was a little thin with an overly dry finish. It had a sticky/gummy mouthfeel. A light bodied brew.
D - This didn't taste great and the mouthfeel was quite uncomfortable.
474 characters
3.42
/5
rDev
-1.7%
look: 3 | smell: 3.5 | taste: 3.5 | feel: 3 | overall: 3.5
Appearance- Reddish amber almost brown with an off white head and mediocre lace. A lot of bubbles.
Smell- It has a roasted malt, hops and berry like smell.
Taste- It has a little bit of a dark chocolate taste with some caramel.
Mouthfeel - Super bubbly but medium.
Drinkability- Good.
292 characters
3.58
/5
rDev
+2.9%
look: 4 | smell: 3.5 | taste: 3.5 | feel: 3 | overall: 4
A clear mahogany brew from the people in the Missouri boot-heel area. Subtle lacing rings the Bitburger pilsner glass on the way down.
Sweet bready malts meander up, so far she be nice and enticing. A touch of caramel adds to the up front sweetness and taste, but with enough hops to balance it out.
Overall, this is a solid amber - and it comes a nice price per bomber. Pick one up if you happen to see it.
409 characters
3.48
/5
rDev 0%
look: 4 | smell: 3.5 | taste: 3.5 | feel: 3 | overall: 3.5
I bought a couple of of 22oz. bottles at a gas station off the Interstate near St. Gen. in winter 07. I drank one when I was too inebriated to fully appreciate it. The other one I let age in my fridge for several months (somewhat unintentionally). I am drinking that one now.
The appearance is a rich amber color when held to the light. Slightly cloudy but not a lot of bubbles coming off the glass. The head is slight and dissipates within a few moments.
It smells like I expect an amber ale to smell. Kind of hoppy but not to bitter. Nothing really grabs my attention but it is pleasant nonetheless.
The taste is smooth and hoppy with just a little sourness that blends in well. The aftertaste is vaguely of carmel.
There is nothing exciting about the mouthfeel. The lack of bubbles makes it feel a little flat.
This beer is easy to drink. A pint at the bar would go down quick. It has just enough flavor to make me consider having a second. However, I wouldn't go out of my way to find one. But, if it's just off the highway...
1,035 characters
3.36
/5
rDev
-3.4%
look: 4 | smell: 3 | taste: 3.5 | feel: 3 | overall: 3.5
22 oz bottle, my first ever beer from a Missouri winery. Don't have a clue how this one differs from their regular Amber, one of four or five styles brewed by this vinyard. This one pours an attractive copper body with an ample khaki head. Lots of sticky lacing is left on the pint glass. Aroma is very muted. Some notes of biscuity malts and vague fruits. Light medium body and carbonation. Thins as it warms. Taste is decent. Lots of malty toffee and caramel with only a remote hops presence that adds a bitter earthiness. Very average but an interesting find.
562 characters
Tornado Alley Amber Ale from Charleville Vineyard Microbrewery
3.48
out of
5
based on
68
ratings.