Explicit APA
| Charleville Vineyard Microbrewery
BA SCORE
81
good
27
Ratings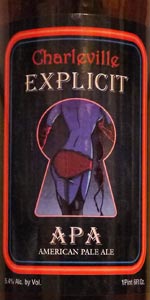 BEER INFO
Brewed by:
Charleville Vineyard Microbrewery
Missouri
,
United States
charlevillevineyard.com
Style:
American Pale Ale (APA)
Alcohol by volume (ABV):
5.40%
Availability:
Rotating
Notes / Commercial Description:
American Pale Ale is not only the standard but the foundry for what has inspired the craft beer movement. Here at Charleville we wanted to celebrate the beer style that stands as the corner stone for what has made American craft brewing so great. Our Explicit APA is brewed with five additions of hops prior to the wort passing through the Hopback on its way to fermentation. To complete this full bodied ale dry hops are added during cold maturation to create a hop forward ale, with a transcendental copper hue.
Added by Wheelinb on 08-01-2009
Reviews: 13 | Ratings: 27
3.92
/5
rDev
+16%
look: 3.5 | smell: 4 | taste: 4 | feel: 3.5 | overall: 4
Pours a hazy, copper color. 1 inch head of an off-white color. Great retention and decent lacing. Smells of hops, sweet malt, citrus (peach/tangerine), and flower. Fits the style of an American Pale Ale. Mouth feel is smooth and crisp with an average carbonation level. Tastes of hops, sweet malt, citrus, and slight earthy malt. Overall, a good blend, body, and aroma.
369 characters
3.75
/5
rDev
+10.9%
look: 3 | smell: 3 | taste: 4 | feel: 4.5 | overall: 4
poured a light copper. pretty clear with an off-white head up top.
smells mildly hopped, hints of citrus and pine, some floral notes, and touches of malt.
taste is subued hop flavor with plenty of dough and malt notes.
crispy and light mouthfeel, good drinkability.
269 characters
3.7
/5
rDev
+9.5%
look: 3.5 | smell: 3.5 | taste: 4 | feel: 3.5 | overall: 3.5
Reviewed on 12/14/2009. Bottle. Pours a hazy orange with a thick white head. Aroma of tropical fruits, citrus, and caramel malt. Flavor is quite fruity with plenty of citrus and light spicy hops. Certainly on the hoppy side of APAs. Solid APA, actually quite good for the style, and very drinkable.
298 characters

3.63
/5
rDev
+7.4%
look: 3.5 | smell: 3 | taste: 4 | feel: 3 | overall: 4
Pours a nice golden orange color with a firm head that leaves some sticky lacing on my glass.
Aroma is faint citrusy hops with some sweet malt character and some slight esters from the yeast.
Taste is very clean. Some hop bitterness upfront followed by some caramel malt character in the finish. Nice and dry. I had this on draft at the brewery and it had a lot more hop flavor and aroma than this bottle.
This is a very easy drinking APA, I would have no problem pounding them back. Much better fresh on draft than from the bottle though.
542 characters
3.6
/5
rDev
+6.5%
look: 4 | smell: 4 | taste: 3 | feel: 4 | overall: 4
Had this at the stable. Poured a nice brown/copper color with a slight head. I got a big hop smell from the start. This is definitely a hop forward beer but it seems to be out of balance to me. It had a biting taste and not much else going on. I did think it was nicely carbonated and decent feel but the flavor just wasn't what I was hoping. I do plan to give this another try though because I have liked the other beers from Charleville that I have had.
455 characters
3.57
/5
rDev
+5.6%
look: 3.5 | smell: 4 | taste: 3.5 | feel: 3 | overall: 3.5
Bomber from one of the little "local" breweries - Charleyville. Their beers always impress me.
This one pours a clear amber into my Maredsous tulip, small ivory head quickly pops up and subsides. Gentle notes of sweet malt with a kick of piney hop greet the nose. They show up in the quaff too, which then finishes dry and crisp.
Decent, tasty APA - but at a tad over 5%, this would serve better in a sixer vs a bomber. However, I don't believe they have 12oz bottle capability.
480 characters
3.53
/5
rDev
+4.4%
look: 4 | smell: 3.5 | taste: 3.5 | feel: 3.5 | overall: 3.5
Poured from the bottle a slightly hazy golden-yellow with a thin bright off-white head.
The smell is quite citrusy with fresh lemon upfront along with some grainy, earthy and table salt aromas as well.
The taste is hoppy with a lemon and grass while also revealing a bit of caramel malts. Finishes with a bitter saltine cracker note which I don't really care for.
Light-to-medium bodied, sticky, and sharply carbonated.
Not a bad APA from Charleville. Easy to drink but a bit too much salty bitterness to make it a favorite of mine.
536 characters
3.44
/5
rDev
+1.8%
look: 3 | smell: 4 | taste: 3.5 | feel: 3 | overall: 3
Orange in color and mostly clear. Not a lot of head or lacing.
Smells of fruits and bready malts, toast, little bit spicy, with a touch of hops.
Taste is malt forward although not overpoweringly so. Fruitiness follows, along with a touch of peppery hops.
Feel is not bad, pretty light and moderately sweet, but has a slightly musty aftertaste.
Overall it's not a bad brew at all, but I like some of Charleville's other brews better than this one.
454 characters
3.43
/5
rDev
+1.5%
look: 4 | smell: 3.5 | taste: 3.5 | feel: 2.5 | overall: 3.5
Appearance: Pours out a very lightly hazed, yellow-gold body with a bubbly, white head.
Smell: Fragrances of malts with some candied aspects to it and the citrusy hops combine to give an impression of candied lemon peels. Also some modest floral and grassy scents.
Taste: Rather light-handed malt character, with meager touches of biscuits and lightly candyish crystal malt. This allows the hop character to fully come through, with tastes of lemon peel (pith included) and lessened accents of florals and grassiness. Medium bitterness along with a very minor astringency. Finishes dry with a light, lingering bitterness.
Mouthfeel: Medium-thin body. Medium carbonation. I'm not ready to point my finger and shout "watery", but it is a bit deficient in the body category.
Drinkability: At best, it's basic and an acceptable APA, but lacks the finesse and beguiling complexities of the finer examples of the style.
917 characters
3.25
/5
rDev
-3.8%
look: 3.5 | smell: 3.5 | taste: 3 | feel: 3 | overall: 3.5
Deep saturated sunset orange hue, good clarity, lots of visible carbonation. A thin layer of bubbly foam quickly recedes to a thin cirrus skim across the surface.
Bready pale malt and a vaguely floral hop scent comprise the aroma.
Medium bodied, coarse flavor of bitter aspirin and milled grains. Some light honey sweetness, and biscuit flavors, but the off kilter bitterness kills it a bit. The bomber is fairly drinkable. Not something i'd revisit personally. Charleville is 0-2 so far...
493 characters
3.15
/5
rDev
-6.8%
look: 3.5 | smell: 3.5 | taste: 3 | feel: 3 | overall: 3
Review from BeerAdvocate Magazine Issue #35 (Dec 2009):
Hazed golden color, solid head retention. Medium bodied with a slight slickness on the tongue. Perfumey, citric, fruity and floral hop nose--the dry-hopping seems to have made an impact here. A whole lot of hops up front with a thick layer of herbal and floral cone flavor that sticks to the palate from start to finish. Some caramel and doughy biscuit from the malt co-mingles with a faint fruitiness. Finishes with a slightly bitter, salty and yeasty character.
While we can applaud the hops and where they are going here, the malt and yeast just don't seem to mesh together all too well. Decent within this well-known beer style even though the hops try and break away on their own.
743 characters
2.87
/5
rDev
-15.1%
look: 3.25 | smell: 3 | taste: 2.75 | feel: 3 | overall: 2.75
Edit 10-14-13, accidently bought another bottle, bumped scores for appearance, taste & overall a little, still a dissapointment
Pours an effervescent gold with 3+ fingers of rocky cream colored head. The crazy rockyness of the head makes me think infection. Murks up as this bottle drains
S: Slight grassy & bready notes, some grainyness as well
T: Follows the nose, slight honey malt noted as well up front, plus a touch of aspirin/woody hops. Grassy hops & annoying astrigency mar this beer as it warms, along with a hint of pears & infection twang. I'm getting the centennial hops, but the cascades seem AWOL, I suspect freshness could be an issue, but not a date to be spotted anywhere on the bottle. Finishes with pear & apricot fruittyness, some woody hp bitterness along with some dryness & aspirin
MF: Light/medium bodied, under-stated carbonation & alright balance
Drinks easy to a point, but too many flaws for me to ever buy again unless a freshness date is there
980 characters
2.46
/5
rDev
-27.2%
look: 2.5 | smell: 4 | taste: 2 | feel: 1.5 | overall: 2
Appearance: A big pop on the opening and a ton of foam on the pour; ultimately looks fairly good, with a rocky head capping the amber liquid and leaving clumps of foam
Smell: Can't fault the aroma, with a nice balsa wood and citrus hop character prominent along with some grainy elements underneath
Taste: Oh my, the grainy malts give way to balsa wood and aspirin flavors with a phenolic edge growing in the aftertaste; rather salty and astringent
Mouthfeel: So overcarbonated that it is difficult to discern the taste; I'm guessing the body is medium
Overall: The Oatmeal Stout was too flabby and the APA was too spritzy; I have one more Charleville beer and I do hope it is just right as the brewery seems to have some quality control issues
749 characters
Explicit APA from Charleville Vineyard Microbrewery
3.38
out of
5
based on
27
ratings.