Box Of Chocolate
| Charleville Vineyard Microbrewery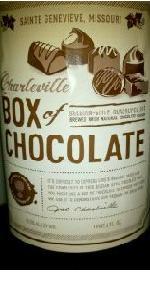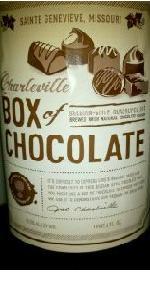 BEER INFO
Brewed by:
Charleville Vineyard Microbrewery
Missouri
,
United States
charlevillevineyard.com
Style:
Belgian Quadrupel (Quad)
Alcohol by volume (ABV):
10.50%
Availability:
Winter
Notes / Commercial Description:
It's Difficult to express Love's nuances, much like the complexity of this Belgian style Chocolate Quad. You Might use a Box of Chocolate to express your love, we use it to demonstrate our passion for great beer.
Added by jmvecchio1 on 02-13-2011
HISTOGRAM
Ratings: 313 | Reviews: 109

3.19
/5
rDev
-22%
look: 3.25 | smell: 3 | taste: 3.25 | feel: 3.25 | overall: 3.25
Dark, light, minimal head.
Some fizzy bubbles surface and dance on the tongue.
I get chocolate, but also some licorice and/or alfalfa, which I suppose is the work of the yeast, which I get a little extra of on its own. There is sweetness but not much bitterness to this.
272 characters
3.11
/5
rDev
-24%
look: 4 | smell: 3 | taste: 3 | feel: 3.5 | overall: 3
Dark muddy brown with a nice big tan head on it.
The aroma smelled like a bag of powdered hot cocoa mix. The taste reminded me of the same thing. A fairly sweet beer, definitely qualifies for dessert. Cocoa mix dominates and covers up any hint of a quad. If I'm picking apart the flavors well enough I would say the base beer was pretty mundane to begin with. Maybe some raisiny sweetness and dark acidic cherries appears. Reminds me of a hershey's syrup and belgian chocolate blend. The high ABV is masked pretty well by all of this.
I was expecting a better integration of fine chocolate with the dark caramelized fruit flavors of a belgian style quad. The concept seemed really interesting and I imagined it much differently. Instead this is like a sweet chocolate bomb from the lost recipe vault of Southern Tier.
820 characters
3.08
/5
rDev
-24.7%
look: 3.5 | smell: 3 | taste: 3 | feel: 3.5 | overall: 3
On tap a Bailey's Chocolate Bar in St. Louis.
A - Poured out a dark, dark brown color with a small, tan head of bubbly foam. It left minimal sudsy lacing.
S - Smelled of chocolate - sweet milk chocolate. There were no dried fruit aromas that I associate with a quad.
T - It tasted of sweet chocolate. If it were frozen I'd swear I was drinking a chocolate milk shake. There was no bitterness at all.
M - It was soft and creamy. A medium bodied ale with a very muted alcohol presence.
O - Did not live up to the hype. Just a sweet chocolate beer with no bitterness at all.
576 characters


2.51
/5
rDev
-38.6%
look: 3.5 | smell: 2.5 | taste: 2 | feel: 3 | overall: 3
Was happy to open this given the excitement and reception it has gotten so far, but..
right off the bat after popping the cap we knew how this was going to go down. The aroma was a dead giveaway, fake chocolate, like hershey's syrup mixed with the left over candy from easter that no one wanted.
The pour wasnt so bad, but the aroma and subsequent taste were a cross between southern tier Chokolat and creme brule, gross. At no point did this resemble any type of belgian quad.
Cloying sweetness, chocolate syrup, and vanilla extract abound with little other flavors to mention. If the style of the beer was "chocolate syrup with belgian quad flavor added" i'd be more inclined to say they nailed this one, but thats not the case.
The good things this brew has going for it are a thick mouthfeel and very well hidden alcohol.
Overall this was a pretty big disappointment, im stunned at the reviews its gotten so far. This beer is quite simply not good.
957 characters
2.3
/5
rDev
-43.8%
look: 2.5 | smell: 2.5 | taste: 2 | feel: 2.5 | overall: 2.5
Got this bottle recently in an trade with bsuedekum. Thanks for hooking me up with this long-time want man.
From a bomber into a snifter.
APPEARANCE: Pours a small, loose, fizzy, off-white head with lousy retention. The coke-like head quickly fizzes away to a slight wisp and ring. Clear bistre brown in color with lots of carbonation evident. A light wisp remains leaving some dots of lacing down the glass. Head relaxed a little on the second pour, but overall, this is lack luster.
SMELL: Some dark chocolate and cocoa notes, as well as some spicy yeast and caramel aromas. Light dark fruits as well, but mostly cocoa on the nose. A little mute; not as impressive as hoped.
TASTE: Some caramel malts and spicy pepper flavors as well. A touch of dark fruits, raisins, and dark chocolate near the finish. Mild flavors and a little wattery, unfortunately. Mild yet lingering aftertaste with hints of dark chocolate, some dark fruits, spices, and a hint of bitterness from the cocoa. Still a little watery and unimpressive.
PALATE: Medium body and medium carbonation. A little watery on the palate, goes down fine and finishes slightly sticky on the palate. Whatever.
OVERALL: This was lousy at best. Not off putting, just mute and boring. The chocolate component was mute and the base quad was pretty boring itself as well. I can't believe the high scores this one has received; I can only hope this most recent bottling is over the hill and it was much better fresh. Regardless, I was happy to finally give this one a shot, so cheers for all the hard work bsuedekum. Best to steer clear of this one at this point.
1,626 characters
Box Of Chocolate from Charleville Vineyard Microbrewery
Beer rating:
4.09
out of
5
with
313
ratings