Jan De Lichte
| KleinBrouwerij De Glazen Toren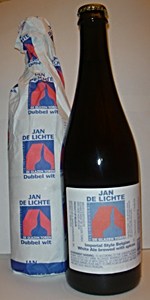 BEER INFO
Brewed by:
KleinBrouwerij De Glazen Toren
Belgium
|
website
Style:
Witbier
Alcohol by volume (ABV):
7.00%
Availability:
Year-round
Notes / Commercial Description:
Name : Jan De Lichte was an infamous robbers' chief at the end of the 18th Century. He was broken on the wheel at the age of 23 at the Marketplace of Aalst.
Added by paterlodie on 12-06-2005
Reviews: 69 | Ratings: 129
3.88
/5
rDev
-3.5%
look: 4 | smell: 3.5 | taste: 4 | feel: 4 | overall: 4
750 ml bottle.
A tasty Belgian witbier that would be hard to improve upon, the cloudy straw yellow pour and HUGE head the thickness of a broomstick, with lumps and clumps and craters, that settled down to a minefield of lace, while wafty yeasty wheat lemon vapors up my nose, leading to a cristp, effervescent mouthfeel, bubbly and crackling, no bitterness on the finish as I swallow.
Ah, yum.
★
395 characters
4.2
/5
rDev
+4.5%
look: 4.5 | smell: 4.5 | taste: 4 | feel: 4.5 | overall: 4
pours large white foamy head in chalice. Initial nose is of spices/pepper,along with somewhat recognizable wheat nose. attractive. this came from john's grocery in iowa city.
black peppery notes dominate the taste, making a routine wit bier into something somewhat interesting. as taste fades i am left with pepper on the tongue and faint wheat-malt aftertaste.
well worth trying, i am going to try the rest of this brewery's products while I am here in Iowa City.
★
472 characters
3.62
/5
rDev
-10%
look: 3 | smell: 3.5 | taste: 3.5 | feel: 4 | overall: 4
Poured into a tulip glass as a super pale, slightly hazy yellow. Little head was suspended above the brew, and no notable (visible) carbonation.
The smell is of cloves, orange peel, and sweet bananas; very faint.
This beer is deceptively light-bodied (almost watery) and easy-drinking; the alcohol is completely hidden. A bit too light for my tastes.
★
354 characters

4.2
/5
rDev
+4.5%
look: 4 | smell: 4 | taste: 4.5 | feel: 4 | overall: 4
I uncorked a 750ml for thanksgiving dinner.
It had a nice cloudy look to it, medium brown golden mostly opaque.and had a grand cru type aroma to add to the citrus smell of the nose.
The body and mouthfeel were terrific, the tang balanced perfectly by the wheat malt. There was a terrific level of carbonation which cleansed the palate nicely with a fantastic dryness at the end. Alcohol was just in there enough, and it was noticeably 7% insterad of 9% or up.
This was a nice witch up with thanksgiving. It didn't fight the turkey like a saison or a heavier alcohol offering.
★
586 characters
4.33
/5
rDev
+7.7%
look: 4.5 | smell: 4 | taste: 4.5 | feel: 4 | overall: 4.5
1pint 9.4 fl oz. into a Duvel tulip. No apparent dating.
A: Huge, fizzy white soda pop head--very loud and lovely--that quickly settles into a little bulb of souffle on top. The body is a hazy goldenrod. Lots of fine bubbles from the nucleation point on the bottom. Pretty lovely.
S: Great orange notes, but not too sweet. Some coriander notes, some wheat, and not too yeasty, a problem I tend to have with this style. A touch of alcohol. Not much hopping at all. Like a usual wit, but somewhat bolder, a la the "imperial" on the bottle.
T: Taste is...unexpected, but nice. The orange is definitely there, but not juicy at all, more like highlights. It's also a bit grassy, presumably from hops, with a touch of bittering at the end. Coriander subtle binds the whole sip. Wheaty, straw notes prominent but not at all overwhelming. The slightly-upped alcohol content works well, too.
M: Medium-bodied and fizzy, slight alcohol burn.
O: Frankly, I'm not a frequent drinker of witbiers, preferring German wheats instead. Both tend to be a bit thick and gummy and sweet, so I like the greater hopping of Germans. This beer works precisely because it's fermented down a bit more. The spices, orange, and good wheat characteristics come out more with the higher alcohol and presumably lower residual sugars. A fine quaff. A gift, so I can't comment on price/value, but this is a fairly unique offering in the style.
★
1,418 characters

4.12
/5
rDev
+2.5%
look: 4 | smell: 4.5 | taste: 4 | feel: 4 | overall: 4
Aged for about two years.
A - Golden straw color, bubbly soapy lacing, large rocky foam white head,
N - Wheat, green peppercorn, bubblegum with some over-ripe banana, lots of brett-like funkiness, wet hay, mushroom. Some old leather, lke boot leather, mossiness, astrigent.
T/M - Crisp, robust wheat-like crispness and carbonation followed by a cloying dryness; crisp pear, cracked wheat, more of the old banana and clove and this is more present as the beer warms. It all leads into a very long drying, tannin-like finish. The carbonation made the mouthfeel oily, champagne like, it was fizzy almost.
D - Would love to try this fresh and vertical this bad boy b/c I very much enjoy dry, grassy saisons which this reminded me of like an aged Saison De Lente. But this was more of a cross between a summer wheat beer and a brett saison.
★
840 characters
4.1
/5
rDev
+2%
look: 4 | smell: 4 | taste: 4 | feel: 5 | overall: 4
The color is a light cloudy yellow with moderate white head.
Spice, citrus and a little must funk com off the nose.
As far as the flavor there is some light citrusy sweetness but followed by some nice herbal bitterness that finishes dry.
The beer is very light and fizzy.
This is head and shoulders above most wits on the market but comes across almost like a saison either way a must try beer.
★
402 characters

4.28
/5
rDev
+6.5%
look: 4.5 | smell: 4 | taste: 4.5 | feel: 3.5 | overall: 4.5
Got this beer in Williamsburg va of all places.
Appearance - super hazy. Almost opaque. Absolutely beautiful. The way wit should look.
Smell - Standard Belgian wit spice smell. Bready yeast with a bit of lemony hint.
Taste - starts with lemon peal, coriander, bready malts and plenty of alcohol. No pith at all. I am tasting a buy more hops than a usually wit. I am be wrong because I am a bit tipsy.
★
406 characters
4.97
/5
rDev
+23.6%
look: 4.5 | smell: 5 | taste: 5 | feel: 5 | overall: 5
This poured a beautiful hazy gold with the whitest head I've seen in a while. Wow! Amazingly spicy and fragrant nose. Cardamom, citrus, even a hint of brown sugar. Flavor mirror the aromas and this has an utterly smooth mouthfeel and incredible texture. The finish is smooth and quite long. An almost perfect beer if there ever was one.
★
336 characters
Jan De Lichte from KleinBrouwerij De Glazen Toren
89
out of
100
based on
69
ratings.