Cuvee Angelique
| KleinBrouwerij De Glazen Toren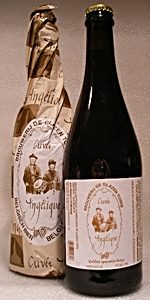 BEER INFO
Brewed by:
KleinBrouwerij De Glazen Toren
Belgium
glazentoren.be
Style:
Belgian Strong Dark Ale
Alcohol by volume (ABV):
8.30%
Availability:
Rotating
Notes / Commercial Description:
"The "Speciale Belge" beer style was created in 1904 for a brewing contest that was organized by the Universities of Belgium. The goal was to improve the quality of Belgian beer. The winner was a new style, called "Belge". Due to the success in the contest, a number of brewers decided to brew the style and called it "Speciale Belge".
A "Speciale Belge" is pale amber in color (slighly darker than a pilsner) as brewers tried to copy the color of pilsner in a top fermenting ale. Later the color became darker as pilsners became very common to prove that the style is something special.
After the second world war, when the quality of life in Belgium increased, several brewers created a "Speciale Belge" with a higher alcohol content, called a "Dubbel Special Belge".
The beer has a big body, high effervescence, and a deep caramel flavor. There's a slight amount of yeast based sourness that creeps in to offer balance, with a flavor that reminds of dates or caramel covered apple.
Today the "Dubbel Speciale Belge" no longer exists, the current higher gravity beer styles are trappist, abbey ales and so on. Therefore Brouwerij de Glazen Toren decided to recreate this special beer style. "
Added by BeerBeing on 07-20-2007
Reviews: 90 | Ratings: 160

4.18
/5
rDev
+1.5%
look: 4 | smell: 3.5 | taste: 4.5 | feel: 4 | overall: 4.5
Out of a 750ml capped bottle. Pours a hazy light brown color with a dense khaki colored head that dissipated into a light cap. The aroma is not what I would expect from a dubbel. It has a wine like tartness and funkiness. There are some light brown sugar and fig like aromas as well. The taste is quite different than the aroma, more true to a dubbel. A nice chocolately malt flavor, with a nice balance of candi sugar, fig, and raisins/prunes. The feel is fairly light and quite fizzy, perhaps too much carbonation. The finish is very nice, not too sweet or sticky. A very good dubbel, great flavor profile with the perfect amount of sweetness.
645 characters
4.05
/5
rDev
-1.7%
look: 4 | smell: 4 | taste: 4 | feel: 4.5 | overall: 4
Elegant wrapped bomber. A very smooth feather touch mouthfeel. Yeasty aroma. Brown with white head. A background spiciness,behind toffee and some sugary fruit, certainly not a bold flavour so it accompanies poultry and quiche well. Tremendously drinkable.
255 characters
4.18
/5
rDev
+1.5%
look: 4.5 | smell: 4 | taste: 4 | feel: 4.5 | overall: 4.5
Whole lotta soapy soapy soapy 4-finger yeasty Pillsbury doughboy head, almost with tunnels sort of like when you're baking muffins - give it time to calm down. Awesome lacing. Lots of carbonation. Nice copper body.
Yeast and ester-ized coriander aroma, maybe some cardamom. Nice.
Carbonation comes and goes in the head - clean and mild - almost sessionable malt backdrop with some apples - very quiet but enjoyable.
Silky smooth mouthfeel - no aftertaste whatsoever. Finish is mild but warm.
Mellow mellow mellow - almost like a classic brown ale. Very enjoyable and drinkable.
581 characters
4.7
/5
rDev
+14.1%
look: 4.5 | smell: 4.5 | taste: 5 | feel: 4.5 | overall: 4.5
750ml brown bottle with haphazardly pasted label and no dating.
Pours almost clear red-brown with very active carbonation and a two-inch creamy white head. The foam and lace persist nicely. The beer smells yeasty and sweet, with peppery caramel, cocoa, and lightly phenolic alcohol overtones. Flavor is very malt-forward. Delicious toasted bread, powdered cocoa, and caramel notes dominate. Gentle fruity alcohol appears in the finish and some light alcohol warmth develops over time. Body is highly carbonated, yet smooth and supple. Rather clean for the style. A rare and delicious treat.
592 characters
4.67
/5
rDev
+13.3%
look: 4 | smell: 4.5 | taste: 5 | feel: 4.5 | overall: 4.5
Bought this one at Abe's in Bethlehem for $11. Im really digging the paper wrapper and amazing, simple paper label. 750 mL brown bottle, capped. Opened and shared with a couple friends, poured into a tulip.
Tried to be careful while pouring this, but I still roused up a ton of head, cloudy brown color with light tan head that lasts and lasts, leaves lots of lacing.
Smell is not what I was expecting, I'm so used to very dark, sugary dubbels. This was fruity, a little funky, pretty hard for me to describe, really. There was a lot of different stuff going on from the yeast, nice malt backbone that doesn't get overly sweet and cloying, alcohol is subdued but detectable. This one is very unusual and good, I almost thik I got some hefe type smells in there as well, but I'm not sure.
Taste is also very complex, nice play between malts, booze, and all sorts of yeast esters. You really have to experience this one to understand. Simply amazing. Mouthfeel is fairly light, medium high carbonation, very easy to drink and enjoy. Its actually refreshing. If you see this, pick it up immediately--it is fantastic. Highly recommended.
1,137 characters
4.28
/5
rDev
+3.9%
look: 4.5 | smell: 4 | taste: 4.5 | feel: 4.5 | overall: 4
Now, I knew this beer was supposed to be good. But, this is exceptional. I'm also drinking this while brewing my first homebrew, so that makes it even better!
Pours a nice cloudy brown with a creamy 2 finger off-white head. Smell is very yeasty (in a good way), with some fruitiness. Nice so far!
Taste is very nice. Candied fruits - dates, apples and the like - with a nice Belgian yeast presence. Some Candi sugar may be present, but it is mellow. Touch of toffee and caramel, but there is a nice focus on the fruity character. Extremely well balanced.
Mouthfeel is perfect. Creamy, rich, yet somehow delicate and somewhat light on the tongue. Nice!
Drinkability is exceptional.
Highly recommended. One of the best dubbels I have had. You must try it!
758 characters
4.7
/5
rDev
+14.1%
look: 5 | smell: 5 | taste: 4.5 | feel: 4 | overall: 5
First trip to the new Binny's downtown, and have to say that Clint, the man tending the bar at the time was quite nice. Split this bottle with my brother. Into the wine glasses...
A - Lots of pillowy soft head with great lacing. Cloudy light amber body. A beauty.
S - Intense. The aroma was very typlical for the style, with lots of funk, salt, maple and honey like sweetness, and strawberry like tartness. Great stuff, both balenced and intense.
F - Starts out mild, with lots of earthyness and salt. Fruit and funk seem to balence themselves out well. Finishes up with a very nice dry, balencing finish. Excelent.
M - Crisp, but still full. No complaints.
D - This was really good. I mean really good. A great beer by a great brewery. My favorate Belgian Dubbel. Will seek out again.
790 characters
4.21
/5
rDev
+2.2%
look: 4.5 | smell: 3.5 | taste: 4.5 | feel: 4 | overall: 4.5
Pours a very dark brown that is fully clouded with a lighter tan head that stays around for a bit and leaves a pretty high amount of lacing on the way down. Nose is not very active with a small amount of funk on there. Flavor is very consistent with a nice amount of sugar in the mix. Doesn't scream in the mouth, but it does have a good profile. Mild tangy edge. Feel has a higher amount of carbonation to it. Slightly interferes with the flavor rush. Overall though this is a very good BSDA that is easy to drink and is on par with other good brews in it's class. Nothing showy. Just even and smooth.
602 characters
4.2
/5
rDev
+1.9%
look: 4 | smell: 4 | taste: 4.5 | feel: 4 | overall: 4
Served in a tulip glass at Hopleaf 12/27/07.
A: Served a dark, reddish-brown. Hazy. Small off-white head that doesn't lace very much to speak of.
S: Nice aromas of sweetish malt, dark fruit, funk, vinegar (?), and tangy fruit.
T: Funky, tangy, tart, with flavors of spicy dark fruit. Quite earthy and full of funk.
M: Bitter and peppery with a funky finish. Very good.
D: Surprising and refreshing.
403 characters

4.36
/5
rDev
+5.8%
look: 5 | smell: 4 | taste: 4.5 | feel: 4 | overall: 4.5
Appearance: clear reddish orange in color witha big fluffy 3"+ head that looks like merangue and lasts forever. Nice thick lacing paints the glass.
Smell: yeast, fruit sweetness, and a hint of spiciness is easy to detect.
Taste: there is a grainy and earthy malt profile here with some sweet plums, a hint of sour cherry, honey, yeast, pepper, and a hearty bitterness. Alcohol is mild but adds to the complexity of this beer.
Mouthfeel: crisp to start but is not crisp at the finish. Super long aftertaste as the flavors seem to stick to your tongue. Medium-heavy in body.
Drinkability: wonderful beer to drink on a cold winter evening in front of a fire. You could easily drink more than one bomber bottle in a session, but it would sneekily catch up to you from the alcohol. Must try for everyone.
803 characters
3.91
/5
rDev
-5.1%
look: 5 | smell: 4 | taste: 4 | feel: 2.5 | overall: 4
Bottling date of September 2007, this one is quite young! - Thanks to mughugger for the opportunity - poured into a cantillon glass
Appearance: This beer pours a chestnut color, brown and black highlights are a part of it. The tan head rose way up to the top of my glass. It was about 3.5 inches in height. It is quite cakey, with plenty of lace left over.
Smell: Brown sugar, slight hop aroma, fresh ground black pepper, licorice and raisin.
This is a nice one. Belgian spices and hop bitterness is a unique twist on this style.
Taste: Caramel, belgian spice, pepper, hoppy bitterness and hazelnut.
Mouthfeel: Probably the biggest disappointment of this beer. It is thin and watery to me, with a booziness that would be preferably hidden. .
Drinkability: Overall, a good beer, but it fell short at the end.
814 characters

4.7
/5
rDev
+14.1%
look: 4.5 | smell: 4.5 | taste: 5 | feel: 4.5 | overall: 4.5
Bottle Date April 2007, Sampled November 2007
A careful pour still produces a six-finger thick head that quickly overflows the top of my glass. I only lose a couple tablespoons of beer to the billowing, frothy, tan colored foam though. The beer shows a dark plum color as it sits in my glass, but portrays a brilliantly clear cherry-syrup red color when held up to the light. Quite malty in the nose, with notes of brown sugar, browned bread notes, toasty malt and raisin flavors all quite noticeable as I inspect the head. A touch of tartness in the nose adds aromatic notes reminiscent of plums, aromatic apples and a certain vinous character. Spicy, high fermentation character is also noticeable with touches of black pepper, earthy spice-like coriander notes, touches of ginger, lightly-phenolic clove aromas and a certain musty, almost woody note that mixes in with malty notes of chocolate. A very complex, interesting nose; I am really digging the interplay of malt, hop and fermentation driven notes of fruit, spice and light funk.
Sweet tasting up front, yet fairly light on the tongue; the sweetness accentuates a nice fruit character, in fact the sweetness is even perceived as being derived from a mix of apples, plums and figs. The sweetness also is bit reminiscent of darker / unrefined sugar; perhaps a touch of a caramel, notes of brown sugar and even something a bit more exotic like palm sugar. Towards the end of a sip some dark malt notes add a touch of chocolate, some definitely toasted grain notes, a touch of chalky-browned grain husk flavors. The beer finishes with some spicy fermentation character as well as some warming, higher alcohol flavors. Despite being fairly light in body (at least for its strength), this really has a nice richness to it. The carbonation definitely helps to lighten things up too, though if drunk right after a pour it is really too carbonated and froths up as it hits the tongue. A touch of tannic woodiness is found in the finish, as is a very light bitterness.
While the beer definitely has a spiciness to it & some almost hot higher alcohol notes, it still remains very smooth, rounded and drinkable. It is a bit more funky in the nose than in the flavor, but it is so well integrated that I am not really needing any funky flavor notes. Another just awesome beer from this brewery. I have been really impressed by each of the beers I have had from these guys. Dubbels are actually a style I have trouble getting into at times, but this one just hits the spot and is probably the best I have ever had.
2,563 characters
4.2
/5
rDev
+1.9%
look: 4 | smell: 4 | taste: 4.5 | feel: 4 | overall: 4
Poured from an 11.2 oz bottle into a pint glass.
Appearance: Cloudy brown color with a slightly tan head.
Smell: Rich malt and brown sugar smell.
Taste: Malt, molasses, some tartness, a little bitterness on the tail end. Seems very complex and well balanced.
An enjoyable dark malty brew.
293 characters
4.15
/5
rDev
+0.7%
look: 4.5 | smell: 4.5 | taste: 4.5 | feel: 3 | overall: 3.5
Bottled on April 28, 2007. Pours a murky deep mahogany color, full of warm color tones just like the wood. 2 finger head rises quickly and has great retention. Sheets of lace cover the glass.... nice.
Aroma is very well structured. A touch of dark deep stone fruits, a touch of malt and grain aromas, a bit of sweetness, and a bit of spice. Also, a faint hint of wood is present, not like oak-vanilla aromas, more like lumber. Perhaps a touch of honey as well? Very nice.
The flavor is much more round, yet lighter. Great raw grain flavors, and a touch of sweetness from what seem to be caramel malts and honey. Very distinctive yeast provides a huge amount of spicy phenols, almost more along the lines of a triple. Who ever hopped this beer used a fairly heavy hand, as this is bone dry, and relatively bitter for a dubble. Its quite complex, but I feel that the area that this really shines is it's subtlety. Very well balanced, and extremely well made. Mouthfeel is average, being medium bodied and well carbonated. Drinkability is pretty good.
I usually like the beers from De Glazen Toren, but this is their best yet. Very well made, and quite tasty. It's a little on the pricey side at $11.79, but I think this is worth it. For the lovers of darker style Belgian beers, this is one to look for...
1,307 characters
4.22
/5
rDev
+2.4%
look: 4 | smell: 4.5 | taste: 4 | feel: 4 | overall: 4.5
This beer is a new style for me, and since it's a revival style, I'm guessing it would be new for many.
It's a high gravity "dubbel special belge," which is intended to be something in its own right, and it comes off like a dubbel with extra hops.
A: reddish copper with creamy head that disappears to a thin film.
A: caramel and toffee with a good hop backbone
T: Slightly sweet at first, with robust nuttiness, toffee, pretty full. It finishes slowly, with the hop flavor growing and bitterness slightly increasing.The finish is nicely bitter.
This is an awesome beer, it's really easy to drink, and its hoppiness is a pleasant surprise for a double.
670 characters
Cuvee Angelique from KleinBrouwerij De Glazen Toren
4.12
out of
5
based on
160
ratings.