Saison D'Erpe-Mere Lentebier
| KleinBrouwerij De Glazen Toren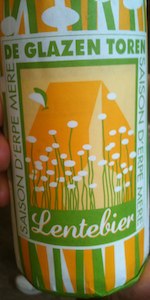 BEER INFO
Brewed by:
KleinBrouwerij De Glazen Toren
Belgium
glazentoren.be
Style:
Saison / Farmhouse Ale
Alcohol by volume (ABV):
9.00%
Availability:
Spring
Notes / Commercial Description:
No notes at this time.
Added by coreyfmcdonald on 04-27-2013
Reviews: 6 | Ratings: 27
4
/5
rDev
-0.2%
look: 4 | smell: 4 | taste: 4 | feel: 4 | overall: 4
Trying this beer at Kickbacks in JAX with boss and brought in law. It poured a hazy orangish with white head that is leaving a nice lace. The scent had hints of apricot and Belgian spice. The taste was nicely balanced and easy to drink with Belgian clove and tropical fruit. The mouthfeel was medium in body with good carbonation. Overall it's a solid saison.
363 characters

4.11
/5
rDev
+2.5%
look: 4.5 | smell: 4 | taste: 4.25 | feel: 3.75 | overall: 4
From Leura.
A - hazy straw, delightful pillowy white head.
S - Lemons, Belgian yeast, little funk, grains.
T - BIG flavours. Lemons to the fore, funk, cloves, earthy hops, and whilst the inital flavour is big to massive, the taste dies rather too quickly in comparison to the big initial hit.
M - silky smooth, medium carbonation, light to medium weight, amazingly no hint of big ABV. Carbonation seems to die once beer has been in glass.
O - a welcome return to form, many recent saisons have been poor, but this is a good example. Odd to think there is no hint of 9% anywhere in this beer.
596 characters

4.05
/5
rDev
+1%
look: 4 | smell: 4 | taste: 4 | feel: 4.5 | overall: 4
A - first pour is a almost a crystal clear deep yet sunny yellow with some traces of amber. Big, froathy white foam which only a true bottle conditioned belgian ale can produce. Second pour is more cloudy yet still bright.
S - nose is very classic Belgian. Banana and clove just invade the nostrils. Hints of Funky, skunky euro hops along with clean crisp citrusy notes. Grainy malt profile, notes of cereal and cracked wheat.
T - sweet cereal. Grainy flavors. Clovey spice notes. Only intensifies as it runs to the center of the tounge. Soft soothing banana notes. Zippy, funky, tangy citrus and some leafy greens on the backend.
M - full bodied. Creamy texture. Super smooth.
O - great beer. Full bodied. Was quite impressed by the mouthfeel. Full flavored. Another outstanding beer from glaze toren.
806 characters
4.33
/5
rDev
+8%
look: 4.5 | smell: 4.5 | taste: 4.25 | feel: 4.25 | overall: 4.25
From: The Andersons, Columbus, OH
Date: None on bottle (purchased 5/2013)
Glass: Standard US pint glass
I feel lucky to have randomly come across this offering from Brouwerij De Glazen Toren, as it is quite complex and delicious, perfectly matching this mild, late summer day. The aroma is very appealing, flowery and fresh with notable fruit characters. The taste mirrors this, but adds additional yeast and hop-driven complexity and bitterness. At $12 per 750ml bottle, this is rather expensive, but if it were available yearly, I would definitely pick up others in the future.
Pours a towering head (many cm high) of slightly off-white foam, made up of small bubbles, with excellent retention. The head eventually settles to a 0.5cm cap atop the body of the beer, which lasts for the duration of the drink. Lacing is excellent, with heavy, thick patterns clinging to the entirety of the glass. The body is a golden orange color, with light bringing out brighter, golden yellow hues. Carbonation is visible through the semi-hazy (40-50% opaque) beer, medium in both amount and rising activity.
Aroma is flowery (almost perfume-like), fruity (mostly of muted apple and pineapple), with background notes of the expected Saison yeast strain and slightly bready malts. Quite good, superb on a warm-ish spring or summer day like today.
Overall flavor is quite complex, with a mix of substantial hop bitterness; Saison yeast mustiness; light hard-to-describe "funk," dull sourness, fruity notes from hops and yeast esters, and slightly bready malts. Front of palate picks up Saison yeast mustiness with fruit contributions from yeast esters and hops (pineapple, apple, bosc pear), and a mild malt-induced breadiness. Mid-palate experiences light, dull sourness with Saison yeast mustiness and hard-to-define "funk," clean European hop bitterness, and fruity esters and hop contributions (pineapple, creamy apple and pear). Back of palate continues the dull sourness and bready maltiness, but increases the Saison yeast funk and hop bitterness, with additional complexity from mild ethanol. Lingering aftertaste of hop bitterness, pale bready malts, fruits (apple), and mild ethanol.
Beer is medium-bodied, with carbonation of medium intensity, resulting in a lightly foamy, yet still smooth mouthfeel that fits the style and this beer quite well. Ethanol felt lightly in the nostrils and on the tongue, well-hidden for a 9% beer. Closes semi-dry, with moderate stickiness clinging to the palate and lips.
2,505 characters
3.73
/5
rDev
-7%
look: 4 | smell: 4 | taste: 3.5 | feel: 3.75 | overall: 3.75
A very hazy pale gold brew pours with a pure white head initially about a finger and a half tall. Retention is good, and some pretty heavy deposits of patching are left on the glass.
The nose offers a bit of funk, lemon zest, a bit of spiciness, yeasty esters and some grassiness along with a bready malt backing.
Funk is a little lighter in the flavor, and along those lines the grassiness is a little stronger. It's plenty lemony, with a tart/sour mix, but what's really interesting is the sugary sweetness. It's not cloying, but in this beer I think it takes something away from the depth and diminishes the tartness. Yeasty elements add some clove and spiciness.
The body is on the bigger side of light but with some effervescence to it. It's got a consistent crispness and is a little frothy, almost creamy. Alcohol sneaks into the finish without thinning it out too much, though it adds a certain sharpness.
913 characters

3.99
/5
rDev
-0.5%
look: 5 | smell: 4 | taste: 3.75 | feel: 4.25 | overall: 4
750ml bottle into a wine glass
A: Pours a hazy golden color with two fingers of white head. Tons of carbonation activity throughout the beer with keeps the head atop the beer for the entire thing. Lacing is extremely good.
S: Very bright in character. I get lemon zest, musty funk, and a touch of clove. I also get a nice ginger note to keep the beer feel appropriately spring-like and light.
T: A bright lemon zest character is accompanied by strong wheat. Quite musty with a nice grassiness that goes very well with the beer. Again, this beer seems very spring-like, but I know the name of the beer is biasing me. Clove is also there, but not particularly strong for the style and not as strong it was in the aroma.
M: Medium thickness with fairly strong carbonation, a touch soapy.
O: A nice, clean Saison - very refreshing with no hint of ABV. Recommended.
875 characters
Saison D'Erpe-Mere Lentebier from KleinBrouwerij De Glazen Toren
4.01
out of
5
based on
27
ratings.