Blackstone Stout

Upstream Brewing Company - Old Market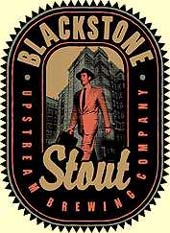 Write a Review
Beer Geek Stats:
| Print Shelf Talker
Style:

ABV:

5.9%

Score:

87

Avg:

3.93

| pDev:

8.4%

Reviews:

11

Ratings:

From:

Avail:

Retired (no longer brewed)

Wants

Gots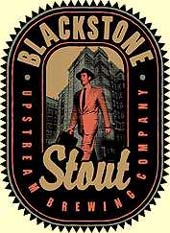 Notes:
Reviews by TheLongBeachBum:
TheLongBeachBum from California
4
/5
rDev
+1.8%
look: 4 | smell: 4 | taste: 4 | feel: 4 | overall: 4
Presentation: Sampled during a visit to the Upstream Brewing Company, Omaha on 23rd September 2003. Served on draft, in a pint Glass.
Appearance: A dark black color, hard to see through in the dark downstairs bar. A smooth looking solidly compressed light brown colored head, which collapses to a thin collar head leaving some lacing. A good Stout appearance.
Nose: Toasted malts, freshly ground coffee, with a hint of chocolate milk. Enticing malty Stout nose.
Taste: A smooth introduction that has a classic Stout character. Roasted Malts and Coffee are prevalent at first. The coffee and bitter hops rise in the middle. Dry finish with cocoa ending. Little sweetness, which is good.
Mouthfeel: An average strength body, that definitely benefits from the addition of oatmeal. The oats gives a smooth whisked porridge like feel at times. In the mouth, its sits well, smooth and is by no means stodgy. The alcohol is neither present, nor missing, but just right.
Drinkability: The sixth of night, and a nice beer to start to finish the night off with. Solid and wholesome, yet somehow not that filling. A nice sipping beer that fulfilled its role well as a nightcap.
Overall: The oatmeal is prominent and balances the coffee tastes and cocoa powder texture extremely well. A very nice Stout, but don't expect it to be a Guinness replica, oh no – because actually, it's much better than that.
Sep 25, 2003
More User Reviews:

bditty187 from Nebraska
3.14
/5
rDev
-20.1%
look: 4.5 | smell: 3 | taste: 3 | feel: 3.5 | overall: 3
Finally! Cask conditioned beer in Nebraska.
Black in hue, opaque, it was served with about a finger's worth of beige head, which was surprisingly frothy. The retention was excellent as a foamy cap lasted throughout consumption. Subsequent lacing was very prominent, bubbly lace dominated the walls of the glass. The appearance of this beer is near perfect. The nose was slightly astringent upfront; a kiss of charred wood (not smoky mind you), the oatmeal sweetness is slight and too weak. Some hop earthiness is found at the back. Even served at room temperature (not cellar temp.) the potency is modest, I am a bit disappointed in the bouquet. I can honestly say the lethargic nose is not inviting. On cask the palate fails to unleash any hidden flavor gems. The sweetness is bigger and wider than the nose says. But that compliment is all relative. I like the hints of chocolate and coffee even if they are inconsequential. There is also a slight yet simple taste of roast; this is ideal but again petite. This is a decent, simple oatmeal stout that plays down the oats. I find few redeeming qualities about it. Medium in body with a typical cask-condition mouthfeel of low carbonation and a sensation of emptiness. It is drinkable at first but not noteworthy. This is disappointing. I almost did not finish the pint because it was so lackluster.
Maybe Upstream needs to re-tool their stout if they are going to offer it on cask.
May 24, 2004
RBorsato from Virginia
4.05
/5
rDev
+3.1%
look: 4 | smell: 4 | taste: 4 | feel: 3.5 | overall: 4.5
Tasted on-tap 11/06/06 at Upstream brewpub in Omaha, NE.
Solid black in color with a nice light brown ring for a head. Nice roasty coffee and light chocolate aroma and flavor. A bit light in the body but it has a nice roasty finish.
A solid (albeit a bit light) American Stout.
Per UBC website: 4.4% ABV. "oatmeal"
Dec 01, 2006

far333 from Connecticut
4.1
/5
rDev
+4.3%
look: 4 | smell: 4 | taste: 4.5 | feel: 3 | overall: 4
Deep mahogany, nearly black with a light brown bubbly head resting on top. The head left me too quickly, but the aroma and flavor made up for its disappearance. Aroma was of roasted malt and molasses, with hints of sweet coffee. Flavor was rich and velvety, and made me want to power through the glass to keep the beer flowing aross the taste buds. Smooth roasted malt, brown sugar, and hints of chocolate and coffee. Very well-balanced flavor from start to finish. My only complaint is that I wish the mouthfeel was thicker. It was smooth, but a bit watery to me. Other than that, and excellent oatmeal stout.
Aug 23, 2003
Ahhdball from Ohio
4.58
/5
rDev
+16.5%
look: 4.5 | smell: 4 | taste: 5 | feel: 4.5 | overall: 4.5
Black to the 3rd power! No light could penetrate the soul of this hearty draft.
A quick sniff led to strong coffee and baking cocoa.
Taste was outstanding, one of the best. Chocolate malts, roasted coffee that finished with a small hop infusion. Not too much to overtake the chocolate and coffee but enough for taste.
A smooth stout with a heavy taste that lingered for a while but never stayed too long. Delicious and exciting, this was fantastic with my bread pudding.
May 23, 2004
Boto from Connecticut
4
/5
rDev
+1.8%
look: 4 | smell: 4 | taste: 4 | feel: 4 | overall: 4
The beer pours pretty darn dark, almost black. It has a bit of a tan head. It lingers awhile, with a bit of lacing. The nose has some chocolate hints to it. The taste has some chocolate taste with hints of coffee and roastiness in the background. Mellowed nicely by the oatmeal in it. Pretty much a standard stout. Good, but not exceptional.
Sep 23, 2003
sweethome from Illinois
3.92
/5
rDev
-0.3%
look: 3.5 | smell: 4 | taste: 4 | feel: 3.5 | overall: 4
On draft at Downtown location
Pour is dark brown, can certainly see through mine...nice tan head
Nose of toast malt and chocolate. A nice roasty hint comes through.
Mouthfeel is similar to traditional irish stouts, not my favorite style -but hits it well. Smooth and dry. Nice chocolate flavors. Roast malt comes through, but the chocolate is the most dominate flavor...and very nice,
Apr 26, 2005

Fugazme from Nebraska
3.68
/5
rDev
-6.4%
look: 4 | smell: 3.5 | taste: 4 | feel: 3 | overall: 3.5
I just want to say that I love the name and logo for this beer. The Blackstone is one of my favorite buildings in Omaha and where the Reuben sandwich was invented... not to mention directly across the street from the best bar in town, the Crescent Moon... anyway...
Blackstone is black. It was opaque and creamier than I was expecting. A very thick, tan head about 1/2" tall stuck througout the drink and left great evidence of every drink drunk.
Smell was pretty good. Some decent coffee and roastedness. A slight hint of hops in the background.
Taste was very nice. A good amount of a coffee flavor with a nice bitterness balance. Somewhat sweet. The only thing that I found average was the body. Great head, seemed a tad thin. Overall I'd order it again.
Sep 16, 2005
hanco005 from Minnesota
3.53
/5
rDev
-10.2%
look: 4 | smell: 3.5 | taste: 3.5 | feel: 3.5 | overall: 3.5
Served on cask at the brew pub, in a pint glass
A—deep dark solid black with a ½ inch tan foamy head that slowly collapses into a pillow that floats on top, lacing is thick and sticky and everywhere
S—more nutty than anything, but there is the usual blend of chocolate and java, some earth/dirt smell as well, not a strong in the nose as I hoped for
T—There is the nuttiness again, followed by the chocolate and some toasted bread flavor, the coffee flavor is pretty mild, not bad
M—a little thin, medium bodied, carbonation as expected for a cask
D—not bad, but was hoping for something bolder. Might also be a good session choice.
Nov 03, 2006
Ragingbull from California
4
/5
rDev
+1.8%
look: 4 | smell: 4 | taste: 4 | feel: 4 | overall: 4
This beer is probably my favorite of the beers I have tried from Upstream, but that doesn't really surprise as I tend to like the porters and stouts at most places. That disclaimer aside, here is the review.
Black color with a mocha colored rim of foam and some nice lacing of the same color to a little lighter. The nose has some coffee and smoke notes and perhaps its smokey roasted coffee. Very smooth attack and flavor, it just kinds of slips into the mouth and down the throat. The mouthfeel is nice and creamy and that certainly contributes to its drinkability. There is a little coffee and smoke at the finish. Just enough to remind you that its a beer and not a dessert.
Jul 11, 2009
ghebel from Iowa
4
/5
rDev
+1.8%
look: 4 | smell: 4 | taste: 4 | feel: 4 | overall: 4
A - Served in a pint glass. Black color with a thin, creamy brown head topping it off. Upon drinking, foam left nice lacing on the glass.
S - Roasted malts, chocolate, coffee.
T - Initially sweet with a dry finish. Roasted malts and chocolate .
M - Moderate body with a creamy texture. Mild bitterness.
D - Extremely drinkable.
Overall - My favorite local stout.
Feb 20, 2009
Blackstone Stout from Upstream Brewing Company - Old Market
Beer rating:
87
out of
100
with
12
ratings