Gueuze-Lambic
| Upstream Brewing Company - Old Market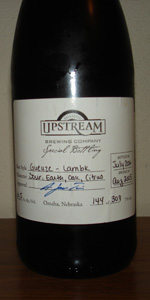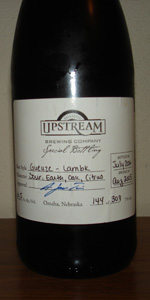 BEER INFO
Brewed by:
Upstream Brewing Company - Old Market
Nebraska
,
United States
upstreambrewing.com
Style:
Gueuze
Alcohol by volume (ABV):
6.50%
Availability:
Limited (brewed once)
Notes / Commercial Description:
No notes at this time.
Added by Gueuzedude on 02-16-2008
This beer is retired; no longer brewed.
HISTOGRAM
Ratings: 10 | Reviews: 8
Reviews by badbeer:
4.32
/5
rDev
+6.1%
look: 4 | smell: 4.5 | taste: 4.5 | feel: 4 | overall: 4
Golden yellow color with a white head that has good lacing to it. Sour, funky, aromas. I get some pineapple, oak, and some fruit skins. This has some barnyard flavors to it, but it also has some citrus type flavors to it. It's acidic, but not overly so. Dry and light bodied with pretty high carbonation. Very good beer, I wish I could have another bottle of this.
364 characters
More User Reviews:
3.95
/5
rDev
-2.9%
look: 4 | smell: 4 | taste: 4 | feel: 3.5 | overall: 4
Bottle: Poured a hazy golden color gueuze with a medium foamy head with average retention and minimal lacing. Aroma consists of oak notes with some funky barnyard notes and some green apple. Taste is a nice enough mix between some oak with green apple and light barnyard notes. I would have appreciated even more if funky barnyard notes had been more present and if overall taste would have been more tart and sour. Very well done.
431 characters
3.8
/5
rDev
-6.6%
look: 3.5 | smell: 3.5 | taste: 4 | feel: 3.5 | overall: 4
Ditmier is a stud! I have my Upstream connections, yet Eric pulls this one out and makes it look easy... Cooool buddy.
Bottle #145/308.. bottled in July of 2006.
Pours with a thin white head.. pretty clear yellow on initial pours .. whispy lacing...
Nose is lemon zest with light funk.. some oak and maybe vanilla...
Palate is only sorta funky and and only a little more sour than the nose shows.. and definitely not as sour as any Gueuze that I can imagine. lemon zest doesn't make the waves with the pale malts .. foot funk and toe jam shows with room temperature pours.. but, this is a shadow of a good Gueuze .. Glad I had the chance to try this one... but I doubt I will search this batch out..
Bigger body and only lite carbonation.
Ehhh... Thanks Eric.. I think I need to call in a favor from my Upstream buddy... I want one of these for 5+ years from now... The funk is developing.. but I doubt the "sour" will ever be there.
3.5/3.5/4/3.5/4
957 characters

4.17
/5
rDev
+2.5%
look: 4 | smell: 4.5 | taste: 4 | feel: 4.5 | overall: 4
1/24/2010
Bottle 279/304. Brewed in 9/2006 and bottled in 10/2008. Thanks Javier (javib458), this was a real pleasure. This is my first beer from Nebraska.
The beer is dark orange with a one finger wispy white cap.
The nose is of cheese, wet horse blanket. Citrus, in the form of lemon peel and a dash of orange rind, is prominent. Brett imparts a decided mustiness and a bit of wet leather. A dash of sweetness. There's a nice level of dirty funk that I find absent in many American Wilds. Well done.
The flavor is lightly sweet initially, segueing into tart lemon with an upper moderate acidity. It's is earthy and horsey with moderate oak and light tannins are evident. The finish is dry with notes of oak. This was a pleasant surprise.
743 characters
3.4
/5
rDev
-16.5%
look: 3 | smell: 3 | taste: 3.5 | feel: 4 | overall: 3.5
My first gueuze. very excited. dont know what to expect.
appearance
golden, not too deep, not too pale. a shade darker than chardonnay. very little carbonation from poor, no bubbles. A vigorous pour produces a thin film of white foam. i thought it seemed a little undercarbonated, but maybe that is appropriate for this style?
smell
slight hint of graininess. tart apple very apparent. mildly wheaty! pears and slight hay smell in the background. interesting.
taste
like a light flavored wheat beer with some jazz to it. lingering bitterness, like apple or pear cider. dry. Very similar to a dry chardonnay. sour, but not puckering. this is something quite different. i enjoy it.
mouthfeel
light bodied but pretty smooth. tingles the gums. rather refreshing despite what i perceive as dryness. probably due to its sourness
drinkability
fairly drinkable. The sourness is quite welcome. a few small glasses will do. after that the sourness sort of keeps one from drinking too many. its light enough to be consumed in large quantities, but too sour to have more than a few. easier appreciated with a small offering.
Cheers
1,126 characters

3.87
/5
rDev
-4.9%
look: 3.5 | smell: 4 | taste: 4 | feel: 3 | overall: 4
Bottled July 2006, # 143 of 308; Sampled February 2008
The cork was a real pain to get out, though I did not have to resort to a tool, but hopefully Upstream has realized that they have the wrong sized bottles, corks or cages (pick one to change and the other two should work). Pours with a one-finger thick, frothy, pale, just barely off-white colored head. The beer is pretty clear and has a light honey color to it, but shows a bright, straw gold color when held up to the light. The beer appears to be pretty well carbonated, but the bubbles seem to move fairly slowly through it. The aroma is a mix of sour notes, noticeable, though not overwhelming oak and austere fruit notes. The oak notes contributes lightly spicy wood notes, some vanillin aromatics and a definite, buttery oak component; this last seems to be the most noticed part of the aroma. The light, aromatic tartness couples with some fruit notes of green apples and pears. Some light, barnyard funk is noticeable underneath the oak if you look for it, slightly musty, definitely phenolic, with a bit of wild mushroom character.
An up front, fizzy carbonation yields to a somewhat light bodied brew, somehow this seems a bit thin for a Gueuze, though it is not watery. The oak plays a huge role here in the flavor profile, at least in comparison to a traditional Lambic, where the oak is pretty subtle. The oak flavors are not too much though, but do significantly influence the flavor profile. As in the aroma the buttery flavors derived from the oak are most noticed, but there is a definite spicy oak component in the finish and you can feel the tannins that have been added to the structure of the brew. I almost think that not enough tannins have been incorporated into the body of this brew, but I wouldn't want much more oak character than was already here. Though I haven't mentioned it yet, the beer is sour tasting, it is just not a defining characteristic of this beer, which is certainly a departure from a traditional Gueuze. It is lightly lactic, which seems to meld in with the buttery oak component. A hint of sweetness, along with the tartness, accentuates a touch of fruit notes reminiscent of chardonnay (especially with the heavy oak component), tart melons, green star-fruit and even a touch of not-quite ripe, tart, citrus.
An interesting interpretation, I do like the extra, expressive, oak dimension here; I think that it makes up for the lack of a traditional, aggressive sourness, though it probably hides some of the softer funk notes that are in this brew. The appearance (especially the fluffy head) and texture miss the lively, expressive carbonation that is typically found in a Gueuze, but this is certainly not uncorroborated. Quite a tasty brew, I can't wait to taste other Upstream Lambics.
2,796 characters
4.6
/5
rDev
+13%
look: 4.5 | smell: 4.5 | taste: 4.5 | feel: 4.5 | overall: 5
Up for review is a 750ml bottle of Gueze from Upstream Brewing Company. Poured into a snifter at cellar temp. Really impressed by this one. Great, glowing pour, lacy head. Note of sour fruits are dominant with oak, funk and sweet malts. Crisp, dry body. Long acidic finish. Really great!
287 characters
3.8
/5
rDev
-6.6%
look: 4 | smell: 4 | taste: 3.5 | feel: 4 | overall: 4
Pro: Nice aroma, reminiscent of 3 Fonteinen. Very lemony, orange & wood. Nice oak contribution, providing notes of vanilla and coconut. Lots of funk. Very authentic.
Cons: Flavor could be more sour, more dry. Not a lot of depth and it's very mild.
A very nice beer overall.
275 characters
Gueuze-Lambic from Upstream Brewing Company - Old Market
Beer rating:
4.07
out of
5
with
10
ratings