Oak-Aged IPA
| Upstream Brewing Company - Old Market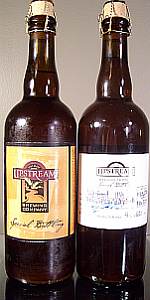 BEER INFO
Brewed by:
Upstream Brewing Company - Old Market
Nebraska
,
United States
upstreambrewing.com
Style:
American IPA
Alcohol by volume (ABV):
6.00%
Availability:
Rotating
Notes / Commercial Description:
No notes at this time.
Added by weeare138 on 03-06-2008
This beer is retired; no longer brewed.
Ratings: 6 | Reviews: 5
Reviews by BeerTruth:
3.48
/5
rDev
-4.7%
look: 4 | smell: 3.5 | taste: 3.5 | feel: 3 | overall: 3.5
Recently got this one from joe1510 in Secret Santa '08, thanks man!
750 ml cork and caged bottle poured into a nonic. #42 of 621. Brewed in Nov 2007. Bottled in May 2008, let's see how it held up!
Pours a cloudy orange hue with a monster chunky off-white three finger head that crawls down the sides leaving spotty lacing here and there. Smell is quite spicy and sweet. Notes of apple, pear, oak, and caramel malts tickle the nose. Not a whole lot of hops to smell, but what's there is a bit citrusy. Taste is very similar to the smell. Mostly sweet on the tongue at first with peach, candy sugar, and buttery biscuits. Midway some bitter hops emerge with a slight metallic flavor and wet oak. Aftertaste is sweet once again with green apples, citrus, and caramel. Light to medium body with a decent carbonation. The problem with the mouthfeel though is that it's on the watery side, not a big fan of that quality. Unique for sure, but this beer is well over a year old which could have definitely taken away some stellar flavors, but I guess that's what happens when you age an IPA. Different and worth a shot, but I think it's past it's prime at this point. Thanks again Joe for the opportunity!
1,199 characters
More User Reviews:
3.51
/5
rDev
-3.8%
look: 4 | smell: 3 | taste: 3.5 | feel: 3.5 | overall: 4
Aroma - Malt sweetness. mild hop aroma (disappointing). Very light oak. Mild ester notes.
Appearance - Poured an immense head. Slowly dissipated to two finger widths. Color - Nice amber with and off white head. Slight haze appears to be from hops.
Flavor - Malt sweetness quickly followed by hops. The hop flavor is nice, but it is being subdued by the vanilla/oak. Hop spice on the finish with mild bitterness. Lingering aftertaste of oak.
Mouth Feel - Light body. Medium carbonation. Mild bitterness.
Overall Impression - very drinkable beer. Well balanced between malt and hops. Disappointed that the oak subtracts from the hops. Typical of oak aged beers. This beer would be much better without the oak.
712 characters
3.83
/5
rDev
+4.9%
look: 4.5 | smell: 4 | taste: 3.5 | feel: 4 | overall: 4
Thanks to hopdog for sharing this. Bottle 350/767...
Appears a hazy orange toned amber with a small, silky, off-white head that sticks around for a while. The cap slowly fades into a firm collar leaving lots of sticky spots of lacing around the glass.
Smell is of coconut, tropical fruit, vanilla, spice, and citrus.
Taste is toned down from the aromas with bitter citrus and vanilla pulling through.
Mouthfeel is medium bodied, slightly bitter with smooth, vanilla cream pulling through along the palate.
509 characters
4.08
/5
rDev
+11.8%
look: 4.5 | smell: 4 | taste: 4 | feel: 4.5 | overall: 4
750ml
$11.69
Beertopia, Omaha
Brewed 11/07
Bottled 5/08
Bottle #26/621
The pour on this oaky IPA is beautiful. I haven't seen a beer this clear in a long time and the body glows an incredible polished copper. When backlit this beer actually shimmers and the body is teaming with carbonation bubbles rushing to the surface. Two-plus finger of meringue-like cotton white head formed on the pour and fell only to one finger at its low point. The head stands in the center like a volcano and leaves sheets of chunky lacing behind, very impressive.
The hops have obviously faded on this one, which 6 months on oak would do, but they're in a very good place right now. The oak takes on a spicy dry woodiness instead of the so often encountered vanilla although that's hiding in the back. White pepper is never shy in this brew either which can also be attributed to the oak. There is a slight buttery quality while the faded hoppiness shows some soft orange peel in the background. The malty backbone shows definite signs of toffee. Time has done this beer very well if the nose is telling me anything.
The nose wasn't lying, this beer follows nearly step for step. The oak is rich and dry-spicy while the faintest hint of vanilla lingers in the back. There are a handful of spicy notes, most of which I can't pull out but one thing I'm sure of is white pepper. The maltiness on the tongue is both caramel and toffee-like with the faded hops bringing along a nice helping of the soft orange peel. The peeper lingers after the swallow leaving a bit of spice in the throat.
The body of this unusual IPA is moderate while the carbonation is soft. The bubbles actually caress the tongue as they push this beer through. The lingering aftertaste leaves both spiciness and a slight bitterness with a silky feel on the backend.
This 750 will go down without a problem and I wish I had another couple. It's an easy beer to drink for something oak aged and the spiciness manages to boost the drinkability.
I put this one off for a little while now but it's actually a very enjoyable brew. I believe this was made to be more of a spicy, rich brew than a straight up hoppy, oak aged IPA and the time has treated it well. Although the price is a little steep I'd pick this one up again if I were to come across it.
2,303 characters
3.88
/5
rDev
+6.3%
look: 4 | smell: 3.5 | taste: 4 | feel: 4 | overall: 4
Appearance: Pours a cloudy, amber body with a medium-sized white head.
Smell: Aroma of ground up fresh oak saplins, fresh garden herbs, and old black pepper with some candyish malts lurking in the background.
Taste: Oak soaked caramel maltiness with a candyish bent. Pinch of herbs and spice. Slight dried apricot fruitiness. A few drops of lemon juice. Medium hop bitterness. A few tannins roll past the tongue. Oaky, bitterish finish.
Mouthfeel: Medium-bodied. Medium carbonation.
Drinkability: A dressed up IPA, it's nice to see beers other than Russian Imperial Stouts and Barleywines getting the oak treatment.
619 characters
Oak-Aged IPA from Upstream Brewing Company - Old Market
3.65
out of
5
based on
6
ratings.