1st Grand Avenue Liquors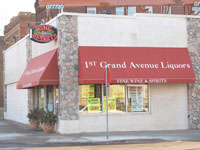 PLACE INFO
Type:
Store
918 Grand Ave
Saint Paul
,
Minnesota
, 55105-3007
United States
(651) 227-7039 |
map
1stgrandaveliquors.com
Notes:
No notes at this time.
Added by BeerAdvocate
Reviews: 14 | Ratings: 23

3.7
/5
rDev
-9.3%
vibe: 4 | quality: 3.5 | service: 4 | selection: 3.5
First Grand is a solid little shop in the Crocus Hill neighborhood of St. Paul. The first thing you notice about this spot is before you even walk in the door - the parking sucks. They do not have a lot, and they are on a very busy strip of Grand Ave. Street Parking is your only option, and sometimes the walk can be over a block.
Inside, you will find a solid whiskey selection along with a fair craft selection, which is nice if you lean both ways from time to time. The walk-in cooler is a great feature that I wish more stores had. It is not unreasonably cold, so browsing is not uncomfortable. Outside the cooler are a couple of shelves of bombers and limited releases, along with another small selection of readily available year-around Belgians. Selection is above average for a TC liquor store, but not as good as a number of other craft focused shops. You will see the big hitters such as Darkness, BCBS, etc. here but not anything obscure. Pricing is pretty much average, nothing high or low as far as I can tell from multiple visits.
The staff are primarily hands off, with fairly limited craft knowledge. You are not likely to find anyone to chit-chat about beer with in this shop. They are very pleasant and helpful though, and offer a couple of great perks. They will take orders for rare beers over the phone with payment and hold them for up to a week. They also have a tendency to hold onto the super hot items and release them weeks or months later at complete random, which is fun. Keep an eye on their Twitter account!
Overall, a solid shop for the big names and limited releases. Just be sure to follow them on Twitter and Facebook.
★
1,657 characters
4.5
/5
rDev
+10.3%
Stopped here after visiting Northern Brewer. There is a walk in cooler where you can pick out all kinds of craft beer. I dont recall seeing any macro brewed beer, although im sure they carried it, I guess I wasnt looking for any. They also had some gluten free beer, which was cool to see. It was great to see the selection of the bigger bottles that they carried. They had a great selection of Surly there, which I wish we could get here in Wisconsin. They also had a good selection of wine and liquor.
★
503 characters
3.65
/5
rDev
-10.5%
vibe: 4.5 | quality: 4 | service: 3 | selection: 3.5
The quality is great, as it has a nice atmosphere for the primary wine section, and a separate cooler room for the beer. It simply feels like a nice place and most of the beer is turned over quickly, keeping it fresh. Knowledge of the staff is hit-and-miss.
The selection of craft beer 6 and 4 packs is great. There are a lot of nice Belgians, and there is always plenty of Surly - a must for Minnesota. However, do not offer singles (of 12oz) or allow mixed packs. That is definitely my biggest issue with the store. Otherwise, great.
Edit: they do now offer singles on some beers. They also seem to be gouging on popular, specialty beers.
★
642 characters
3.85
/5
rDev
-5.6%
While stopping in at Northern Brewer to pick up some homebrew supplies I decided to stop in and check out 1st Grand Ave. Liquours. I wasn't disappointed. The "beer cave" was fun, albeit cold. I was reasonably impressed with the selection. I would have been able to find most of the items I saw at other Twin City locations, but there were several that I have not seen around the metro and so I had to buy them. The list of what they have to offer is comprehensive, but not "out of this world." They have everything they "should" have plus some other selections that make this establishment worth a trip. The service was simply average. Not bad, but not good. They seemed to just kind of mind their own business and let you do your thing. I did make some remarks to the employees around the register but didn't feel that they were much interested in small talk, so I pressed on. As for some other reviews stating it was "pricey" I don't really think that the prices are all that far out of line with what microbrews are going for these days. If the prices are a smidge elevated due to its location that would be understandable, but to me it was invisible and everything seemed in line. If others contest that then perhaps I shop in expensive places, I don't know. Most locations around the Twin Cities have a decent selection of beer, this is just one of the few that goes above and beyond. Worth a trip for sure, and I will probably try to stop in when buying homebrew supplies if possible.
I do need to mention that the parking lot had plenty of space up the side street. Don't miss it.
★
1,588 characters

4.05
/5
rDev
-0.7%
Despite the Grand Ave. location, parking really shouldn't be an issue as this place has its own parking lot on a side street that during my bi-weekly trips over three years, I never once saw full. Impressive selection for a smaller store. They have the main Belgians, a majority of the beers from the midwest and a fair selection of eastcoast. The place is a lacking in west coast/rocky mtn brews, but mostly because many of those breweries have limited distribution. Price-wise, you can find cheaper, but it's not horrid considering you're on Grand Ave. with all the yuppies and stroller moms. As far as service, most of the guys/girl hung out at the register, but the assistant manager (ND dude) regularly prowled the store and was more worried about keeping the place stocked with beer and wine he would drink than what sold the most.
Best place to buy if you live near Summit, Highland Park, or Crocus Hill.
★
911 characters
3.7
/5
rDev
-9.3%
raced over here after learning they have flat earth bc bottles.
walked in, looked around, couldn't find the beer. i asked the man ehind the counter where the beer was. he pointed me to the amazing sliding door. you even get to push a button to open it. pretty cool. looked a little small at first glance, but further investigation proved me wrong. they had only a small rack of bombers and beyond that was a wall of craft sixers. then cases on the other wall. would be just average selection but the amount of small crafts they fit in is pretty cool. the whole time i was there no one said anything to me, not even when i checked out but i was the only one in on what seemed like a slow day, the guy was prolly just tired. the prices were a little high i though but whatever. decent place ill prolly be back sometime just to see if they got anything cool
★
855 characters
4.15
/5
rDev
+1.7%
Found 1st Grand Ave Liquor after leaving Stogies just looking for a liquor store that might have a moderate selection of beer.
I was greeted by a friendly staff who pointed me to the walk-in cooler room. They had a very good selection of bombers and also a large amount of 4/6 packs. A couple of beers i was looking at were a bit more expensive than I would usually pay so i didn't end up getting anything...I was there more with the intent of browsing than buying.
A nice Liquor store overall with a good selection beer. I probably wouldn't go out of my way to shop there, but will go when in the area.
★
605 characters
4.15
/5
rDev
+1.7%
This is my go-to beer store for typical craft brew purchases. Mostly because I live a few blocks away, but also because it has a better selection than the other stores in my area.
They've got a large walk-in beer cooler containing about a wall-and-a-half of various six- and four-packs, with the remaining wall space occupied by twelve packs, samplers, and some 18 packs. The center is stacked with cases of the typical macros (though these tend to be relatively pricier than if one were to purchase the same beer at a crappy liquor store).
Their beer selection ranges from a few shelves of bombers and Belgian bottles, to the good old Minnesota breweries, to nationwide and European beers. I have always been able to find my heart's desire. The only downfall about this place is that their great selection makes it hard to make up my mind! :D
They also have a large wine section and liquor section. This place can be a one-stop-shop for all your weekly beer/wine/liquor needs.
Employees of this store are knowlegeable and friendly.
★
1,036 characters
4.3
/5
rDev
+5.4%
walked into the beer walk in cooler and was immediatly impressed by the selection of beer they were able to fit in such a small store. Walked in and noticed a good selection of bombers (mostly belgians but some very strong american brews as well) and 12 packs. Great selection of capital, victory and other breweries. I noticed some stuff that I really dont see a lot of around here: Old Rasputen, which i have never seen in minnesota before. Overall, a little neighborhood small liqour store but an amazing selection.
★
518 characters
4
/5
rDev
-2%
Stopped here in the middle of the day, kind of just ran into it, a nice little store, clean and neat, and a whole cooler full of beer, walk-in style. A pretty decent selection of imports, good Belgians, a nice micro selection, overall, for the size of the store, not bad. Quality was real good too, certain beers I don't see too much of, along with your standard scrumptious Belgians and a good Victory selection. Didn't have time to talk to anyone, but seemed friendly enough and asked if I needed any help. Overall, very good neighborhood beer store.
★
552 characters

3.9
/5
rDev
-4.4%
Walk-in cooler, while not overly big, holds all beer which is a nice touch. Parking can be a pain and overall selection is pretty low compared with others. Singles were available of some specialty beers. They do host some quality brews at average prices. Bell's (including Expedition Stout, Cherry Stout, and other seasonals), Victory, Rogue, Summit, etc... but I didn't spy anything that I would consider uncommon for the area. Good place to stop if you need some beer in downtown Saint Paul (which has ZERO liquor stores) or other mid-Saint Paul areas.
★
554 characters

3.85
/5
rDev
-5.6%
This a pretty nice place, a little worn down. Parking is arrggg most times, Grand Ave is always tough. Nice wide variety of micro brews and seasonals, its dwindled a bit over the years. The foriegn selves used to be huge but have faulted in the Belgium department and the UK as of late. Just like most stores, if it doesn't move fast off the selves they're reluctant to try it again. Pretty knowledgeable staff for what they carry. Hell, this is where I found out about Bell's(Kalamazoo) and I thank them every time I'm there. I don't go there all that much anymore. But if I'm in the nieghborhood I like to pop in and see whats new on the shelves, if I can find a parking spot.
★
678 characters
4.7
/5
rDev
+15.2%
I agree with ADR on this store. They have a great selection. I didn't have the time to browse and mingle with the employees since I had my one year old at the time of my visit. I do wish they had shopping carts so I could place my kid in it and put beer in it. Smallish store, but carries a great variety of brew.
★
316 characters

4.15
/5
rDev
+1.7%
Since I live in downtown St. Paul a couple of blocks from work, I got rid of my car a few years ago...this is by far the best selection in easy bus reach for me...small, dedicated to wine but a good cold selection of micros and the best Belgian and imported Strong Ales that I can get to by bus (I'll check back to BeerFly to see if more local liquor stores are entered). I love counter people that are drinking the same things I am buying rather than scratching their head (one guy was as excited as I was when I grabbed a sixer of Bell's Batch 5000 the other day). Grand Avenue is a young and upscale area so its not too surprising this place stocks a lot of extras. I'm trying to get them to get some Alaskan products as I want to try the Smoked Porter...its an older building so there are worn down wooden floors and some steps but no musty smells.
Notes: I had to downgrade selection for a while but its good once again...they have renovated this store a LOT, with all beer in a walk-in cooler now.
★
1,006 characters
1st Grand Avenue Liquors in Saint Paul, MN
4.08
out of
5
based on
23
ratings.