Freigeist Hoppeditz
| Braustelle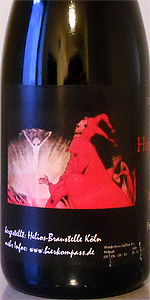 BEER INFO
Brewed by:
Braustelle
Germany
braustelle.com
Style:
Altbier
Alcohol by volume (ABV):
7.50%
Availability:
Rotating
Notes / Commercial Description:
No notes at this time.
Added by crnipeter on 03-18-2011
Reviews: 38 | Ratings: 120
3.96
/5
rDev
+2.6%
look: 3.75 | smell: 4 | taste: 4 | feel: 3.75 | overall: 4
A: Pours a dark translucent brown, with quite a bit of dense tan head. A healthy layer retains, leaving streaky lacing.
S: Malty caramel sweetness with a touch of smoke.
T: Caramel, a bit of booze, and hoppy notes to finish, again with a touch of smokiness.
M: On the full side of medium bodied, medium carbonation.
Overall, pretty good, and unique. I'd have it again.
★
372 characters

4.05
/5
rDev
+4.9%
look: 4.25 | smell: 3.5 | taste: 4.25 | feel: 4.5 | overall: 4
This one pours a medium bodied dark raisin brown with a very creamy, two finger beige head. The nose features sweet and somewhat fruity dark malt with a certain creaminess. The flavors are much different. It is malty and does have some dried dark fruit to it but it then goes into a dry, leathery earthiness indicative of only a few old ales. After a few sips I can't help but think this beer drinks like a crazy Irish Dry Stout/Old Ale/Wee Heavy hybrid. It drinks very, very smoothly and is full bodied enough. It drinks somewhat stout and is pretty dry. It isn't boozy by any means but it does drink like a beer of higher alcohol content, hard to explain but it drinks big. Overall this was a spectacular beer and definitely worth a try if you're into old ales, wee heavies, or alt beers.
★
790 characters
4.21
/5
rDev
+9.1%
look: 4.5 | smell: 4 | taste: 4.25 | feel: 4.25 | overall: 4.25
Poured into a glass mug. The beer pours hazy toffee brown with some visible ruby red light on the bottom of the glass. There's a creamy, thick white head that retreats slowly. Some nice lacing is left down the side of the glass during consumption. The beer smells of brown bread, caramel, and some woody and earthy hops. There's maybe just a hint of nuttiness. The flavor is about what you would expect from the nose. I get that nice brown bread and caramel maltiness with nutty flavors and those woody and earthy hops providing some balance. The body is medium with moderate carbonation. The drinkability is pretty high for a beer beyond 7% ABV. There's a nice mild lingering aftertaste. This is an excellent beer, but only just so.
★
733 characters

3.88
/5
rDev
+0.5%
look: 3.5 | smell: 3 | taste: 4.25 | feel: 4 | overall: 4.25
poured from a 1 pint 9oz bottle that has a different picture than the one on BA into a mug
Very light on the aroma of light toasty malts
appearance is a very clear brown mahogany color with a nice off white head that leaves some nice lacing.
initial taste is of caramel and raisins with a slight bit of acidity and finishes fairly dry with a touch of smoke and some bitterness that lingers pleasantly in your mouth
overall this is a very good unique beer that stands tall amongst other alt beers that I've had. does its job as a hangover beer right now going down at 7.5%. would definitely purchase again
★
611 characters
3.91
/5
rDev
+1.3%
look: 4.5 | smell: 3.5 | taste: 4 | feel: 4 | overall: 4
A: The beer is hazy amber brown in color and has a light amount of visible carbonation. It poured into a stange with a short beige head that has very good retention properties and hardly died down and left some thick lacing running down the sides of the glass.
S: There are light aromas of smoke, toasted malts and earthy yeast in the nose.
T: Similar to the smell, the taste is rather malty for the style, but this also very well balanced with and elevated amount hops, the latter of which contributes spicy flavors and a light to moderate amount of bitterness that lingers through the finish. A light amount of smoke is present in the initial taste.
M: It feels medium-bodied and a little smooth on the palate with a moderate amount of carbonation.
O: This beer is an enjoyable take on an altbier given its added amounts of malts and hops and the subtle amount of smoke in the aroma and taste.
★
895 characters
3.9
/5
rDev
+1%
look: 4 | smell: 4 | taste: 4 | feel: 4 | overall: 3.5
A: Pours a murky dark amber to dark brown in color with moderate amounts of visible carbonation. The beer has a two finger tall frothy beige head that slowly reduces to a thin film covering the entire surface of the beer and a thick ring at the edges of the glass. Moderate to significant amounts of lacing are observed.
S: Moderate to strong aromas of malts - some caramel, some toasty, and some kind of nutty. There are lighter amounts of earthy and spicy hops.
T: Upfront there are moderate to strong flavors of caramel and toasted malts with some nuttiness. There is a light to moderate amount of spicy hop bitterness in the finish which fades somewhat quickly.
M: Slightly heavier than medium bodied with moderate amounts of carbonation. Smooth with a light amount of creaminess and some slickness in the finish.
O: This is a very enjoyable beer, and interesting twist on a traditional altbier but still very good. Easy to drink though a little too high ABV to be sessionable.
★
985 characters

4
/5
rDev
+3.6%
look: 4 | smell: 4 | taste: 4 | feel: 4 | overall: 4
Poured into a perfect pint.
4.0 A: Moderately hazed dark amber brown color. Two and a half fingers of off-white, frothy/creamy head. Retention is good and plenty of lacing is left.
4.0 S: Deep caramel, light toffee, moderate toastiness, and grainy malts. Light smokiness to add some complexity. Not too dry, not too sweet. Just right in every way.
4.0 T: Light caramel and toffee. More toastiness with a grainy backbone. Light smoke. Quite tasty, but a little dry for my tastes. In any case, I'm quite enjoying myself as I drink this.
4.0 M: Lighter medium body. Good moderate carbonation. Super drinkable and smooth with a light creaminess.
4.0 D: I've been really impressed with this brewery and this beer is no different. Above average throughout.
★
756 characters

3.53
/5
rDev
-8.5%
look: 4 | smell: 3.5 | taste: 3.5 | feel: 3.5 | overall: 3.5
Pours cloudy and auburn, almost maroon, in color. Nice foamy head, somewhere between off-white and tan. A thin but heavy blanket of fine bubbles.
The aroma is heavy on the malt, which is mostly nuttiness and caramel. However, there's also a bit more hops than expected, and frankly, it kinda hurts things for me. The hops are grassy, spicy and earthy, and they sorta cut through the rich maltiness a bit too much. It's an interesting combination, but I wish the malt came through more clearly because it seems interesting and tasty on its own. There's some toasty breadiness, a little stone fruitiness and a touch of cocoa powder in there. The hops are just a bit too assertive against that background.
The taste is moderately sweet and clean with a spicily hop bitter finish. Again, the hop flavor is just a bit drab against the richer and more complex malt. There's more earthy depth in the taste and less fruit. Some sugary rum notes.
Mouthfeel could be a bit fuller. It's just sorta ho hum. I don't mean to harp on the hop issue, but I feel like it cuts through what could have been a richer, rounder feel.
Pretty good beer and certainly an interesting take on the style. I prefer versions from Uerige and High Water, but it's still fun to find another doppelsticke.
★
1,274 characters
4.13
/5
rDev
+7%
look: 4.5 | smell: 4 | taste: 4 | feel: 4 | overall: 4.5
A: Poured from a bottle to a cylinder glass. Had a dark brown color and a thick, murky texture. There was an inch and a half of foamy, long-lasting head. Very good lacing.
S: A surprisingly hoppy aroma, with a lot of malt in it as well.
T: Tasted of hops (a lot more than you would expect from the style or a German beer in general, sweet malt, and caramel. Almost tasted like an American barleywine, but this isn't a bad thing. An interesting, robust flavor.
M: A good amount of carbonation with a slightly slick finish. Medium-bodied.
O: Not your typical Altbier, but definitely a drinkable brew.
★
602 characters

3.58
/5
rDev
-7.3%
look: 4 | smell: 3.5 | taste: 3.5 | feel: 4 | overall: 3.5
This beer poured out as an amber color, a creamy looking white head on top. Has a good retention and lacing. The smell of the beer has a surprising smoked aroma to it. The taste of the beer is also quite smokey. The malts add some depth to this beer with the mixture of bitter hops in there also. The mouthfeel of the beer is a little on the heavier side I thought. The carbonation is pretty good too. Overall this beer is pretty good if you enjoy smoked malts, I'm not a huge fan of them but it was still a pretty decent brew.
★
527 characters
4
/5
rDev
+3.6%
look: 4 | smell: 4 | taste: 4 | feel: 4 | overall: 4
First had: on tap at Teresa's, Wayne, PA
Served in a stem glass, a dark brown liquid, seemingly opaque, but more translucent as it got to the bottom; a creamy tan head retained well and left nice stratified layers of doily lacing. Aroma was very toasty and roasty, nutshells and malts. More of the same in the taste, toasted nuts, roasted malts, light raisins, peppery yeast, generous herbal hops, and a subtle cocoa quality that came out more as the beer warmed; bready and bitter finish. Medium body, though maybe a bit heavier than your "typical" altbier. Very nice overall.
★
578 characters

4.47
/5
rDev
+15.8%
look: 4 | smell: 4.5 | taste: 4.5 | feel: 4.5 | overall: 4.5
375ml bottle 7,5% abv
Served chilled in an over sized wine glass.
BB: 06/2012
Appearance: Opaque, medium brown body that shows orange edges when held to the light. A rough pour yields a large, creamy beige head that lasts really well and leaves some good lace.
Smell: Mmmm, stunning nose - I did not expect this to smell so delicious! The initial note is a mixture of citric (distinct marmalade) and spicy (peppery), earthy hops. A light swirl allows the base notes of the beer to be appreciated - dark fruits (plums), sweet caramel and brown sugar. As the beer approaches room temperature a hint of vanilla is also noted
Taste: The flavour is just as delicious as the nose lead me to believe! Again it is quite hoppy with marmalade, orange pith, a herbal character and dank, leafy undergrowth. Peppery spicing, caramel malt and old wood are also noted. Solid, lasting bitterness in the finish.
Mouthfeel: Medium body with a moderate level of smooth carbonation. This beer is surprisingly drinkable, I found my self wanting to gulp it down.
Overall: This is a stunning beer and my all time favorite German brew. I really wish it had been a 750ml bottle!
Highly recommended.
★
1,182 characters
4.59
/5
rDev
+18.9%
look: 4 | smell: 5 | taste: 4.5 | feel: 4.5 | overall: 4.5
375 ml bottle with intriguing artwork on the label and freshness date March 2013, into tulip. Pours clear, coppery-brown body with slight haze to it, topped by creamy, mid-sized stable off-white head that fades to a firm cloth and gets revived with each swirl. Complex and rich aroma of malt with caramel, toasty and melanoidin-like qualities, peppery & earthy hops with slight citrusy notes and esters of dark fruits such as plum that managed to survive the lagering period.
The assertive bitterness of hops - that provide moderate peppery spiciness with a touch of citrus rind - is counterbalanced by malts attenuated enough to pave the way to a dry, everlasting bitter finish with nutty notes and slight astringency. Body is medium to full with moderate carbonation. This is a dark, reach and strong Altibier, undoubtly a Sticke. Yes, I will stick to it.
In short: a rich and complex, bitter yet sweet, spicy Altbier on pair with the best of its kind.
★
956 characters
Freigeist Hoppeditz from Braustelle
3.86
out of
5
based on
120
ratings.