Eszett Geuze
| Braustelle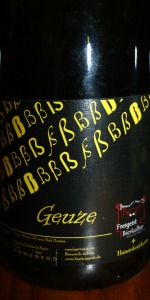 BEER INFO
Brewed by:
Braustelle
Germany
braustelle.com
Style:
Gueuze
Alcohol by volume (ABV):
6.00%
Availability:
Limited (brewed once)
Notes / Commercial Description:
Brewed: Autumn 2010 Total bottles made: 130 Blended in conjunction with Uli from Huisstekerij h.ertie, using lambics from: Hanssens, 3 Fonteinen, Oud Beersel, Cantillon, Lindemans and Mort Subite.
Added by Thehuntmaster on 05-31-2012
This beer is retired; no longer brewed.
Reviews: 14 | Ratings: 35
4.2
/5
rDev
-8.1%
look: 3 | smell: 4.25 | taste: 4.25 | feel: 4.5 | overall: 4.25
Bottled shared by Josh at our Dave tasting 1/12/13. 4oz. pour into a Cantillon glass. Reviewed from notes.
Pours a light white head with little retention. Beer is a slightly cloudy peach orange. Thin legs but little lace. Pretty average for the style.
Nose is rancid cheese, horse blanket, barnyard, lemon rind, wet wood and tart peaches. Really aromatic and funky.
Peach, orange, lemon, hay, wet wood. Tart but soft with mild acidity. Cobwebs, wet wood. Finishes lemon tartness with a quick, clean lemon rind aftertaste. Great balance.
Light to medium bodied with moderate carbonation. Spritzy, dry and puckering in the mouth. Dry finish with a slightly lingering, sticky aftertaste. Very drinkable.
There's been a bit of talk about this beer among big lambic/gueze enthusiasts and it really does live up to the hype. Well crafted in every area, this one doesn't disappoint.
★
884 characters

4.25
/5
rDev
-7%
look: 4 | smell: 4 | taste: 4.5 | feel: 4 | overall: 4.25
Big thanks to Joe(bucketboy) for bringing this one to the table.
Poured a copper rusty color with a small pillow of white head.
Nose was lemon, wood, horse blanket with a light funkiness
Taste was citric, wood with a cheese funk which is much stronger in taste than nose. wet dog, horse blanket must quality
mouthfeel was smooth. More carbonation in appearance than tounge
Overall, if you dont consider this a whale now, their will be no question in a couple years. Very happy to have been able to try, and thanks Joe for letting me keep the empty, its a really cool bottle to display
★
590 characters
4.42
/5
rDev
-3.3%
look: 4 | smell: 4.5 | taste: 4.5 | feel: 4 | overall: 4.5
750 mL bottle. Long time want. Hazy orange. No head. Smells citrusy and cheesy. Grape must fruitiness. Tastes pretty tart. Strong oak. Lemon. Orange citrus. Medium low carbonation. Sourness builds. Becomes pretty sour in the finish and a little bit of cheese comes through as it warms. This is really nice, but not the most complex gueuze I've had. Maybe masked my sourness.
★
374 characters

4.44
/5
rDev
-2.8%
look: 3.5 | smell: 4.5 | taste: 4.5 | feel: 4.5 | overall: 4.5
Bottle shared by Frank (lurchingbeast). Served in a Bell's tulip.
A - White foam settles to pretty much nothing. Lightly hazed dark orange body.
S - Funky as hell, with some dirty feet and diaper notes, as well as surprising oak presence. A blend of lactic sourness and some light vinegar as well. As it warms up it becomes increasingly musky and sweaty.
T - More sour than funky which is a turnaround from the aroma. Again, more lactic, with a hefty dose of lemon and fruit skin tartness as well as some mild vinegar. There's also some earthy mushroom and forest floor flavors mixed in. Like the aroma, the oak presence is more pronounced than I expect from gueuze although it's not at American Wild Ale levels. There's a bit of stone fruit malt character, and a mild gypsum note in the finish.
M - Nice heft at 6%, with pleasant moderate-to-low carbonation, and a super dry finish. The beer is moisture-obliterating which amplifies some of the pucker. As expected, there's no alcohol presence.
D - This is a very good gueuze, and it's competitive with offerings from Drie Fonteinen and Girardin. If you prefer Armand to Jean, you'll really enjoy this one. Hopefully I get another chance to try this as it's complex and worthy of contemplation. I'd happily drink a bottle by myself, although I highly doubt that's going to happen any time soon.
★
1,351 characters

4.47
/5
rDev
-2.2%
look: 4 | smell: 4.5 | taste: 4.5 | feel: 4.5 | overall: 4.5
Bottle shared by Frank aka Lurchingbeast at one of our UFC viewing events.
A - Slightly hazy, orangish golden bodied beer with a bit of a white head that faded quickly into oblivion.
S - Hello funk. Very nice, with a bit of oak in there for good measure. Barnyard, vinegar, lactic sourness, slight bit of citric tartness. A lot going on there, but it manages to still be a great smelling gueuze without the sharper notes dominating.
T - Sour with not as much funk as on the nose. There is a lemon tartness to this, and a slight vinegar finish, although it's not distracting. Some oak, a bit of musty something, very good. There's a lot of complexity to this beer, and it changes a little as it warms up.
M - Lower carbonation, dry finish, medium bodied.
O - Outstanding beer, would really recommend drinking this in a gueuze lineup with things like Lente, Golden Blend, Classic, etc. Would love to have it again, although I don't know how likely that is.
★
959 characters

4.47
/5
rDev
-2.2%
look: 4 | smell: 4.5 | taste: 4.5 | feel: 4.5 | overall: 4.5
750ml bottle opened by cpferris. Thanks for sharing Chad!
A: Pours a lightly cloudy golden-amber with a thin white fuzzy head that faded into almost no collar.
S: Lots of fruit on the nose with notes of stone fruits and sweeter nectars. A very mellow funk is present as well with notes of dank basement, musty attic and moldy oak. Smells old for its age.
T: Very well integrated and mellow. Tartness is mellow as well. Tastes like the nose, and tastes old despite not even making it to its second birthday. This is a good thing though as the flavors are very smooth and integrated. Funk is the dominant profile, but there is good dose of stone fruits and a splash of citrus as well.
M: Just a twinge of acid mixed in with a mellow, tart mouthfeel. Smooth overall, with a medium body and low carbonation.
O: Interesting how mature this one tasted. One of the most unique gueuzes I've had, and very delicious at that. I wish I could try this again.
★
952 characters

4.53
/5
rDev
-0.9%
look: 4 | smell: 4.75 | taste: 4.5 | feel: 4.5 | overall: 4.5
Bucketboy for the win! Thank you Joe!
Light golden body with a small white collar. Mineral funk aroma, fresh rain falling. Wonderful scents. The flavor follows suit. Gentle acetic character. Medium-full on the palate. Puckering in the high cheek bones. This is fantastic.
★
272 characters
4.57
/5
rDev 0%
look: 3.5 | smell: 4 | taste: 5 | feel: 5 | overall: 4.5
Was very happy to get a taste of this at the Borefts festival a few weeks ago. Cheers for sharing this very limited brew man. This was a lot of fun!
From a 75cl bottle into a snifter
Brewed with Uli from Huisstekerij h.ertie
Fall 2010
Bottles: 130
APPEARANCE: Pours a medium, thicker looking, white head with great retention. A hazy amber orange in color with no carbonation evident. Head fades to a thin wisp and leaves no real lacing down the glass.
SMELL: Very funky for sure, with lots of citrus lemon, green apples and floral hop notes. Some oak from the barrel aging as well. Slightly acidic, and very bold and enticing. Good stuff.
TASTE: Funky with lots of citrus flavors, lemon, green apples and a tart sourness through the middle and into the finish. Not at all acidic, but very funky and sour. Bold aftertaste is sour with piles of citrus lemon and lime, floral bitterness, and some oak from the barrel aging. Plenty complex and enough going on. Stellar stuff fresh, and I can only imagine how it'd age.
PALATE: Really thick body for the style, which I appreciate, moderate carbonation and very creamy smooth on the palate. Goes down smooth and finishes rather dry. Perhaps a little thick and full for the style, but this is the exact feel I've been looking for in a gueuze. Perfection.
OVERALL: I've heard quite a bit about Uli, and this first commercial offering certainly did not disappoint. I'd love to have this in mass quantities on a regular basis, but given the limited nature of this brew, I don't see that happening anytime soon. Excellent fresh flavors at this point, and a feel that I've longed to find in this style. Hopefully Uli will release more of his blends sometime soon. Thanks again for sharing man! Fantastic stuff.
★
1,761 characters

4.72
/5
rDev
+3.3%
look: 4.5 | smell: 5 | taste: 4.5 | feel: 4.5 | overall: 5
Bottle shared by me at jrallen's.
Pours a sunny orange/yellow color, white head, thin collar, spotty lace. Nose is lots of orange peel citrus, funky barnyard, nice level of fruity tartness in there as well. Not very sharp at any point, very smooth and well-blended. Flavor is funky cheese, excellent tartness, citrus peel, slight pucker from the sourness, barnyard musk. Light body, light carbonation, dry finish.
This beer is simply outstanding and amazingly blended. As good or better then anything coming from 3F or Cantillon for sure. Not sure if I'll be able to try this again, being that it's so limited, but man I would jump at the chance to try more of this. Simply, a winner.
★
686 characters

4.74
/5
rDev
+3.7%
look: 4 | smell: 5 | taste: 4.5 | feel: 5 | overall: 5
Bottle generously shared by cpferris. Huge thanks to Chad for opening this up. Pours a relatively clear light amber with a small white head that settles to a ring and leaves some light lacing on the glass. The aroma is really funky. Lots of earthiness as well as cheesy. There is also some lemon, apricot, pear, and some musty mushroom. The taste is dry and tart. Some funky mushroom, a bit of earthiness, and musty cheese. There is also some apricot, pear, and a hint of lemon. The finish is quite dry with a bit of earthiness and a mild tartness. Medium to full body for a geuze. Low carbonation. Just an amazing beer. On a night of many outstanding beers, this was my favorite. Certainly one of the best beers that I've had.
★
727 characters
4.77
/5
rDev
+4.4%
look: 4.5 | smell: 5 | taste: 4.5 | feel: 5 | overall: 5
Bottle shared by Sean.
Pours golden yellow, light carb, spotty lace. Nose is funky, barn, light citrus, smooth. Tastes really mellow, well-blended, nice funk, good tart citrus character. Really nice beer and I hope to try this again in the future. Great gueuze.
★
262 characters

4.78
/5
rDev
+4.6%
look: 4 | smell: 4.75 | taste: 5 | feel: 5 | overall: 4.5
750ml bottle 6,0% Abv.
Served lightly chilled in an over sized wine glass.
BBE: Dec 2013
Brewed: Autumn 2010
Total bottles made: 130
Blended in conjunction with Uli from Huisstekerij h.ertie, using lambics from: Hanssens, 3 Fonteinen, Oud Beersel, Cantillon, Lindemans and Mort Subite.
Appearance: Moderately hazy, bright golden-orange body topped by a tiny white head that dissipates quite quickly, but leaves a thin ring of bubbles that last most of the way down. Unlike any other 6% beer I have had, a light swirl actually leaves faint legs on the glass.
Smell: Mmmmm, this smells like a great geuze! My initial impression is that it is quite mellow and smells as though it has some age to it! Funky notes dominate the nose with a ton of mature cheese (cheddar and brie) as well as notes of musty basement, dust, dry autumn leaves, old books, undergrowth and a light earthy quality. Other notes include: Cider vinegar, tart citrus (lemon and orange) and oddly, Darjeeling tea leaves.
Taste: Delicious, absolutely delicious! As with the nose, Eszett Geuze is certainly funk forward in flavour. Notes include: Mature cheddar, musty basement, tart citrus, cider vinegar, very old hay, over-ripe oranges, an earthy character, dust, dry autumn leaves, quite a bit of oak, a hint of urine (similar to that I have noticed in the standard 3F geuze), tart white grapes and a distinct mature brie flavour in the finish. Along with the brie notes, the finish is ultra dry and reminds me of an unblended lambic. The tartness is quite mellow, however I find it just about perfect for the flavour profile.
Mouthfeel: The body is quite a bit fuller than I would expect from a geuze, being just over medium and having a slightly oily quality. As expected, the carbonation is on the low side (perfect in my books) and incredibly gentle.
Overall: This is a great geuze. I would not guess that this was the first blend done by Freigeist, I guess Uli's blending expertise really shines through. I am very glad I still have quite a few bottles!
★
2,039 characters
4.81
/5
rDev
+5.3%
look: 4.75 | smell: 5 | taste: 4.75 | feel: 4.75 | overall: 4.75
A: White head, little lacing. fades quick and doesn't show much carbonation . amber in color, very hazy.
S: Funky cheese, citrus, sour green apples. Hints of floral notes at the end. Light oak presence. Smells great.
T: Tons of citrus and loads of funk. Lots of sourness in the form of green apple, but a nice balance of funky cheese like flavor. Lemon zest, earthy. Great taste. Stays tart through to the finish and touches of oak on the end. Tons going on in here and the flavors are great. A wonderful blend.
M: light and crisp...better than I expected. not much carbonation, but whats there plays well on the tongue and helps make the flavors pop. Nice and smooth all the way through.
O: Wish there were more than 130 bottles of this. Would love to have one every night. Fantastic beer...was fortunate to get to try this fresh and look forward to saving another bottle to see how it ages.
★
898 characters
5
/5
rDev
+9.4%
look: 5 | smell: 5 | taste: 5 | feel: 5 | overall: 5
Bottle shared in January of 2015. Thanks Dylan!
I will be short in saying this, I've been lucky to have a lot of good beer and good belgian beer in my brief time in the beer world. I haven't had the Don Q's & Loerik's, but out of the gueuzes I've had, Eszett still remains at the top for the best.
★
298 characters
Eszett Geuze from Braustelle
4.57
out of
5
based on
35
ratings.