Sless' Oatmeal Stout
| Iron Springs Pub & Brewery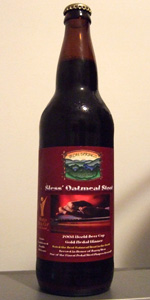 BEER INFO
Brewed by:
Iron Springs Pub & Brewery
California
,
United States
ironspringspub.com
Style:
Oatmeal Stout
Alcohol by volume (ABV):
7.00%
Availability:
Rotating
Notes / Commercial Description:
No notes at this time.
Added by 100floods on 02-26-2009
Reviews: 31 | Ratings: 58

4.32
/5
rDev
+9.9%
look: 3.5 | smell: 4 | taste: 4.5 | feel: 4.5 | overall: 4.5
Poured from a 22oz bomber into my Dogfish Head shaped pint glass.
Opaque, seal brown liquid with a small mercurial tan head which leaves a creamy collar ringing a slender peninsula of oily film. Heavy sheen of legs pushes down the fast running lacing. Poor retention. Give this one an aggressive pour!
Roasted malt, brown sugar, black pepper, and light hops in the aroma. Hints of diacetyl, which is not at all unwelcome - and the faintest spector of DMS, which has no place here.
Well rounded but nothing especially potent. The alcohol suggests Irish coffee...
Lovely malt and oat notes, with chocolate and toasted walnuts through the palate. The roast level builds into the finish which along with the low-level contribution of hops balances the sweetness of the initial flavors. Very well integrated and lasting, almost like an oaty, alcoholic chocolate malt...
Velvety mouthfeel, a touch slick, nearly full-bodied and slightly warming thanks to the ABV. Carbonation seems on the low end of what is appropriate for the style, which is the only thing holding this back from perfection in this category for me.
I imagine this would be the perfect breakfast beer for a cold weekend morning...
1,197 characters
3.45
/5
rDev
-12.2%
look: 3.5 | smell: 3.5 | taste: 3.5 | feel: 3 | overall: 3.5
Poured via 22oz. bomber into snifter.
A - Really dark brown, almost black body with a wispy burnt tan head that settled to a patchy veil and yielded only sparse lacing.
S - Nutty aroma with a hint of coffee, some chocolate character and earthy hop notes. A subtle waft of alcohol also emerged.
T - Lots of roasty malt flavor with a hefty coffee presence. Bitter and nutty with a mild sour aspect. Finished with an earthy hop profile.
M - Medium bodied with some oily slickness, although it's a bit watery overall. Lots of nutty astringency and roasty bitterness in the backend with a mild metallic presence. Finish is dry and bitter, almost like a dry Irish stout.
D - Pretty good, but a little uneven overall. I felt this wasn't sweet enough for an oatmeal stout, and that it drank more like a dry Irish stout. Very roasty and bitter, which was nice, but overall it wasn't too terribly memorable.
905 characters

4.58
/5
rDev
+16.5%
look: 4.5 | smell: 4 | taste: 5 | feel: 4.5 | overall: 4.5
A: Very dark brown to black liquid. In fact, it's pretty much an opaque black. I'm having trouble even finding highlights on the edges. The head is foamy, thick and rich mocha in color. Really nice looking stout. One minor quibble, my bottle completely foamed over when I opened it, but it was pretty warm (not that I know if that matters at all or if it's always a minor infection thing).
S: Roasted chocolate malt abounds. There's excellent sweetness and some floral notes that may be the appearance of some hops.
T: Excellent stout. Chocolatey, roasty and sweet, the beer combines these elements excellently. There is a bit of bitterness at the finish, but relatively little ashy or acrid flavors from the dark-roasted malt. It reminds me a bit of a cross between a Baltic Porter and Rogue's Chocolate Stout. To be clear, that's meant as a compliment. It's an excellent stout.
M: Creamy feel, right on target for an Oatmeal Stout, as far as I know.
D: Easily drinkable. Good complexity. An excellent stout.
1,013 characters
3.88
/5
rDev
-1.3%
look: 4 | smell: 3.5 | taste: 4 | feel: 4 | overall: 4
Picked up at Ledger's in Berkeley. 22 oz bottle poured into a snifter.
Deep, dark black color with a small bubbly 1 finger deep tan colored head.
Nice roasted aroma, coffee, smoke, toasted malts, and chocolate.
Nice and sweet with chocolate, coffee, and roasted/toasted malts.
Smooth, thick, creamy, full bodied, nicely carbonated. Feels nice.
Easy drinkable flavorful oatmeal stout. Will gladly buy again.
413 characters
3.93
/5
rDev 0%
look: 4 | smell: 3.5 | taste: 4 | feel: 4.5 | overall: 4
22 ounce bottle poured into a Chimay glass. No bottling info is given. Comes in at 7%. This is the bottled version of their oatmeal stout which they call Sless' Stimulating Stout at the brewpub. This beer won gold at the World Beer Cup in the Oatmeal Stout category.
A-Pours black with a small head that leaves quickly leaving a tan ring.
S-Not too much going on here. Pick up on roasted malt and chocolate.
T-Very sweet with chocolate and coffee being present. Definite roasted malt flavor, but it does not dry out the mouth.
M-Thick bodied. Silky smooth going down.
D-Goes down extremely easy. A great beer to be served during or after dessert.
Good to see that they are now bottling more of their beers. A good beer at a very good price point ($3.95).
761 characters
4.35
/5
rDev
+10.7%
look: 4 | smell: 4 | taste: 4.5 | feel: 4.5 | overall: 4.5
I had talked to Phil who works for the brewery about bottling their beer and a few months later I find their IPA and Oatmeal Stout at City Beer in SF. This was a pleasant surprise.
It pouts pitch black with a dark gold head that doesn't stick around too long and leaves a thin ring around the top. Sounds of soda-esque carbonation, but it doesn't quite taste too carbonated.
Notes of chocolate and roasted malts are subtle, but there. There's even a hint of dark fruit, like chocolate dipped fruit, yummy.
Full body taste with the chocolate dipped fruit flavor with a faint coffee after taste. This brew leaves a sugary feeling on my lips. It's hard to get a grasp of anything big, then again, this isn't a huge beer, although it's certainly a great sipping beer.
Definitely some new flavors to a favorite style. I believe this is the first round of bottling for the brewery and I hope they'll be found in more stores soon enough.
942 characters
Sless' Oatmeal Stout from Iron Springs Pub & Brewery
3.93
out of
5
based on
58
ratings.