2011 Symposium Oyster Stout
| Iron Springs Pub & Brewery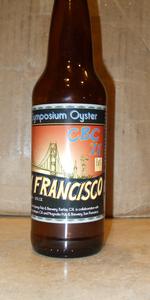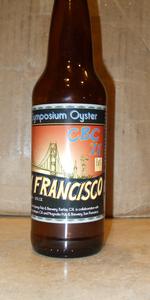 BEER INFO
Brewed by:
Iron Springs Pub & Brewery
California
,
United States
ironspringspub.com
Style:
English Stout
Alcohol by volume (ABV):
6.50%
Availability:
Limited (brewed once)
Notes / Commercial Description:
No notes at this time.
Added by nickfl on 04-13-2011
This beer is retired; no longer brewed.
HISTOGRAM
Ratings: 12 | Reviews: 7
Reviews by Wadsey:
3.68
/5
rDev
-2.9%
look: 3.5 | smell: 3 | taste: 4 | feel: 3.5 | overall: 4
Thanks to hurfer for the assist!
Hard poured into DFH signature glass. 
A: Black with deep brown highlights along edges. Light brown head rises reluctantly then falls. No real lacing. Clarity cannot be determined. 
S: Chocolate. Maybe mineral. I fish for oysters but come up empty-handed. That is probably for the best.
T: Chocolate is quite prominent, then roasted  coffee followed by mineral and saltiness. Light bitterness sets in and transforms basic chocolate note into bitter chocolate. Dry, mineral-like finish.
M: Full body that is offset by surprisingly high carbonation. Scours tongue before super dry finish. This beer demands constant drinks. 
D: 2011 Symposium Stout drinks like a big Irish dry stout. I could knock down thee or four bottles in a sitting very easily. 
Rarely do I rely on a beer's label, but, given that I've encountered only one oyster stout before, it proved helpful. The label says the beer was "brewed with the meat liquor and shells of over 1000 Sweetwater oysters." That probably accounts for the mineral, salt and drying aspects of this beer. I'm sure it would pair quite well with a plate of oysters. 
1,152 characters
More User Reviews:

3.53
/5
rDev
-6.9%
look: 4 | smell: 3.5 | taste: 3.5 | feel: 3.5 | overall: 3.5
Bottle thanks to CRooney5787 on BA.
Clear dark reddish brown with a small light tan head.
Roasty aroma, not too much going on but nice. Some saltiness.
Roasty flavor with some dark chocolate and a slight salty and briny note. Maybe a LITTLE oyster, but I have yet to have a beer where it was that prominent, and this is not one.
Medium body with average carbonation.
Decent overall but not great.
401 characters
4.07
/5
rDev
+7.4%
look: 4 | smell: 4.5 | taste: 4 | feel: 3.5 | overall: 4
Big thanks goes out to chickencoop for sending me this one in a past trade! Shared this one with mikesgroove during a small ticking session at his house last night. Served from bottle into a Russian River -tion chalice. Poured pitch black with a half finger light brown head that subsided to a minimal amount very quickly. There was no lacing evident throughout the glass. The aroma was comprised of sweet malt, slight roasted malt, salty, and smoke. The flavor was of sweet malt, dark chocolate, roasted malt, salty, and smoke. It had a light feel on the palate with medium-high carbonation. Overall this was a pretty good brew. I hate to say it, but I have really found myself to start liking Oyster Stouts. The flavor profile in them is so unique, and this one is no exception. You definitely get the salt characters in this one, but they aren't so strong as to punish your palate. The aroma on this one is quite good as well. My second favorite from the four-pack.
968 characters

4.23
/5
rDev
+11.6%
look: 4.5 | smell: 4 | taste: 4.5 | feel: 4 | overall: 4
Big thanks to Calton for sharing this one at my house on Monday night. Really appreciate it man, loved the vertical/horizontal, whatever we call this.
dark pour, black with a large tan heading creeping up the sides of the glass. Nice touches of lacing ringing the inside of the glass and coming to head with deep spider web like lacing throughout. Aroma was interesting and not at all what I expected. Very smoked with lots of hints of peat and roasted malts. A touch of something different and my brain wants to say it was sort of fishy, but again the expectations going in could be clouding that. Light touches of chocolate start to mix in as it warms as well. Nice body here, with a good level of carbonation throughout. Rich notes of roasted and smoked malts coming through from the very first sip with a touch of something else bouncing around in there as well. This other taste is not bad at all, it's just different and gives it a bit of a kick. Nice dry finish and smooth, even flavor kept it coming throughout the rest of the session.
1,044 characters


3.88
/5
rDev
+2.4%
look: 4 | smell: 3.5 | taste: 4 | feel: 4 | overall: 4
Bottle shared by Bobby.
A: The pour is a very dark brown color with with a nice brown head sitting on top.
S: Smells intensely briny and sea-like. A moderate saltiness with a touch of sandy grit and a fair amount of oyster. This has a distinct sea water aroma. The roast is moderate and there isn't much in the way of sweetness (not malt sweetness, at least).
T: The roast is the first thing I taste, but the salty/briny character of the beer comes through quite strongly as well. Good oyster flavor with a mild bitterness from the roasted malts in the beer.
M: On the lighter side of medium in terms of body with a moderate carbonation.
O: One of the better oyster stouts I've had. A really intense flavor to it, which I guess could be off-putting to some.
762 characters

3.55
/5
rDev
-6.3%
look: 4 | smell: 4 | taste: 3.25 | feel: 3.5 | overall: 3.5
Another obscure and random tick from Sean. Now I know what it feels like. Served in a snifter.
A - Tan foam settles to a collar, wisps, and minimal lace. Near-black body.
S - This actually smells like oysters, with a mix of salt, shell, and watermelon-y meat to it. Stout imparts a roasty backdrop with hints of chocolate and smoke.
T - The flavor doesn't work quite as nicely. Very charred and roasty, with notes of smoke and umami. Low sweetness results in an overly salty and slightly astringent finish.
M - Overcarbonated, which aggravates matters. Dry, roasty, medium body, with a touch of stickiness that lingers on the palate. No alcohol presence, as one would expect from a 6.5% stout.
D - Very hard to drink in quantities due to the excessive bubbles and dearth of balancing sweetness to the flavor. Still, it's not terrible for a beer that actually uses oysters as an ingredient. Might try it again if it were fresh, on-tap, and the carbonation was dialed down.
976 characters

4.03
/5
rDev
+6.3%
look: 4.5 | smell: 4 | taste: 4 | feel: 4 | overall: 4
A - Pours with two fingers of medium brown foam on top of a completely opaque, black body. The head has excellent attenuation and sticks around for the duration.
S - Dark malty notes of caramel and bittersweet chocolate as well as some light cinnamon. I'm not getting any oysters yet.
T - Dry caramel and chocolate up front with a hint of coffee. More of the roasted character comes out in the middle and it has a spicy quality that reminds me more of chicory than coffee. The beer finishes with some cola-like malt and a bit of lingering malt bitterness.
M - Medium body, moderate carbonation, and a fairly dry finish.
D - A nice, solid porter. There is a good balance of caramel and darker malt flavors with a dry finish that keeps it light enough to not be mistaken for a stout. My only complaint is that I can't detect any significant contribution from the oysters despite the fact that the bottle claims that it was "brewed with the meat, liquor, and shells of over 1000 local Sweetwater oysters". There might be a little bit of salty, earthy sweetness on the back end that I could associate with a fresh oyster, but it is hard to say whether this is just the power of suggestion.
1,197 characters
2011 Symposium Oyster Stout from Iron Springs Pub & Brewery
Beer rating:
3.79
out of
5
with
12
ratings