Bitter Creek Brewing Company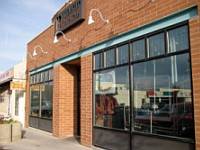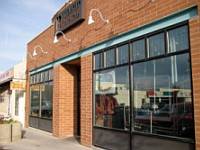 PLACE INFO
Type:
Brewery, Bar, Eatery
604 Broadway St
Rock Springs
,
Wyoming
, 82901-6348
United States
(307) 362-4782 |
map
bittercreekbrewing.com
Notes:
No notes at this time.
Added by alexgash
Ratings: 11 | Reviews: 7
Reviews by AylwinForbes:
2.25
/5
rDev
-36.4%
vibe: 2 | quality: 2 | service: 3 | selection: 2 | food: 2
Dulcie and Aylwin's big beer adventure day 12. Not all Bitter Creeks are created equal. Having left Bittercreek Alehouse in Boise in a a post-coital beer glow, we landed, ironically enough, at Bitter Creek Brewing in Rock Springs. Perhaps in part because the town of Rock Springs has a slightly creepy feel about it, like the sense of impending doom, or maybe it's because the place is just bad, but our experience here was not memorable.
Appearance-wise the place is promising: quite large and clean looking, the tanks are right in the middle of the place. However, it's not an auspicious start when the server says cheerily that they are almost out of beer. The selection was down to four, two of which were guests. One was Moose Drool from Big Sky (though it was notable that the server did not know that). No beer to capture one's imagination here and the food was just okay at that. Compared to many places we have been on this adventure, the prices were no bargain either.
To be a beer oasis it is necessary to have beer; Bitter Creek didn't appear to. I would rather hang out in the hotel with a sixer than return here.
1,128 characters
More User Reviews:
3.35
/5
rDev
-5.4%
vibe: 3.25 | quality: 3.25 | service: 4 | selection: 3 | food: 3

3.84
/5
rDev
+8.5%
vibe: 3.75 | quality: 3.75 | service: 4 | selection: 3.75 | food: 4

3.89
/5
rDev
+9.9%
vibe: 4 | quality: 3.75 | service: 4 | selection: 3.75 | food: 4.25
I have to say, this place was like an oasis driving from Utah to Denver on i80. didn't expect much in the way of brewery stops, but this place was a pleasant surprise. right past green river, it is a little off the highway but worth the few extra minutes. its gorgeous on the inside, brand new looking, although I guess they've been at it since 1997 or so. there is new brick, a fine light wood bar and wall trimmings, and a handful of 5 barrel fermenters all over the place. clean and tidy, quaint but big enough to party, great feel overall. quiet on a Monday afternoon. waitress was super friendly, helpful, and the food and drinks came fast. maybe 6 or 8 beers on, most of them generic sounding, but all of them with their own twist. pleasantly surprised again by the quality of the food. everything on the menu looked great, and things are hand made here. the French onion soup is outstanding, and my reuben was spot on. fairly priced, I think we were out of there in the $35 range for two soups, two lunches, and a handful of beers. this place could be successful anywhere, and it was nice to go to a place of such quality where I least expected it. I will 100% be back here sometime when I don't have 5 more hours of driving ahead of me so I can really get into the beer list. they've got a great thing going with the beer and the kitchen, and I would recommend this place to anyone passing through.
1,406 characters
4.43
/5
rDev
+25.1%
vibe: 4.5 | quality: 4.5 | service: 4 | selection: 4.5 | food: 5
Times, people & products have changed from the last review.
This is a worthwhile stop of you are going in or past Rock Springs. It is in the funky downtown section of town. It is just where you would not think you would find a microbrewery/brewpub.
The business was brisk & the bartender, Chris, was at a frantic pace. After a couple of samplers, I made my choice to start with A Beer Named Bob. A delicious starter.
I ordered the club salad with bacon & shrimp. I washed it down with a delightful Scottish Ale named Wee Bastard. I finished my visit with the German Alt. I was very satisfied.
Chris, while he initially served me, was in a hurry to abbreviate his day to attend a wedding. His relief, Adrian, was more helpful. I understand Chris's haste for weddings will not wait, but my travel schedule would not allow an overnight stay in Rock Springs.
They will fill or refill anyone's growler provided it has the required government warning.
950 characters

3.88
/5
rDev
+9.6%
vibe: 4 | quality: 4 | service: 3.5 | selection: 4 | food: 4
This is the local brew pub in Rock Springs and all things considered it isn't a bad little place.
A: Nice modern western feel, with lots of wood, and metal, all the brewing equipment is in the restaurant, and when things are going all the vats are labeled as to which beer is in what stage.
Q: not a bad place for Rock Springs, out of the other places to eat in town I enjoy coming here. the beer is fairly good, the porter and stout aren't bad, the amber and pale are both very good. nothing is outstanding, but they are solid, local brews.
S: the staff is very uneducated about beer, and they know it, to put it simply...they know light and dark. many times when there with friends i've had to correct our servers on their own product. slightly frustrating. due to the local economy booming, it is also hard to find people that are actually motivated to work in a restaurant.
S: the beers on tap range the full spectrum, light lager, pale, amber, porter, stout, and a scotch ale, and last I was in there they had a Grand Teton guest tap as well. which is pretty common. like i said before, not too bad of beers, nothing to rave about, but still not bad. there is also a full service bar, and their martinis aren't bad either (just sips on the girlfriends, if i'm going to a brewpub, i'm drinking beer!)
F: the food here is pretty darn good, especially the burgers. hands down this is the place to get a brew and a burger in town. the entrees are slightly overpriced in my opinion, and come up a little small in the portions. pretty typical pub fare though. the chicken noodle soup is actually very tasty. i'd almost always opt for the soup over the salad there.
the place really isn't too pricey, all things considered, except for the entrees. beer isn't too expensive, and the burgers are priced with everything else. not a bad place for the town.
on a side note...the owners sponsor some beer tastings and such around town for various festivities, but are hesitant to put their own product out there, and often rely on other brewpubs to pick up their slack. they don't do much in the way of promoting beer and beer culture which is disappointing.
2,163 characters
3.73
/5
rDev
+5.4%
vibe: 4 | quality: 3.5 | service: 4 | selection: 3.5 | food: 4
atmosphere: located on a row in the historic downtown district (not much to it) adjacent to an interesting coffee/cycling shop hybrid, the inside of the pub is clean and airy with open rafters and lots of wood, brick, and metal, various signs and beery slogans adorn the walls, roomy bar and two dining rooms divided by the brew tanks, a bid dull in the back but the windowed bar area gives a nice enough setting...based only on the surrounding area and oil/mining swing of the city I'd anticipated a dark and smoky shithole, but was pleasantly surprised
quality: no quality issues, properly poured into a standard pint, I was very satisfied with my "Bob" stout, quality takes a hit given the fact that they charge for samples - unacceptable regardless of the amount
service: quick, helpful, and friendly for the most part
selection: of the 7 standards, the pale and porter were unavailable, no "test batch" available at the time either...of particular interest to me were the stout, wee-heavy, and hoppy amber; guest taps were available in the form of Alaskan Amber and some Grand Teton, also experienced some otages on my second visit, but was able to sample the Road Kill Alt
food: didn't sample this visit, but the dinner menu looked good, and the Burger Mania menu listed something like 20 specialty burgers, certainly one of the better restaurants in the area, second visit - I had the Bunkhouse burger - okay but a little skimpy on the meat, the fries appeared to be freshly cut and were pretty tasty
value: pint seemed a bit expensive at $4, and the menu was pricey, with $9 burgers and a selection of pastas and entrees in the upper-teens and higher
1,663 characters
4.03
/5
rDev
+13.8%
vibe: 3.5 | quality: 4 | service: 4.5 | selection: 4 | food: 3.5
An oasis of beer in a desert, let alone a beer wasteland. Found a hotel within walking distance (1 mileish). Be advised hotel rooms are not cheap at this time, oil& coal's booming, so it's hard to find a cheap room
Pretty nice place in a downtown area that's seen it's glory fade. Struck me as a place for local beer lovers
Beers across the board were good. Really liked the red, alt& the wee bastard & boar's tusk, great light calorie/carb beer- nice hop presence
Service was very attentive & enthusiastic at the bar on a Saturday evening
Slection was ale heavy 6 beers, plus a tasty guest beer from Grand Teton
Food selection & quality was pretty good. Could've made a better choice than the wings; the pasta dishes looked good, but wasn't that hungry. Stuffed mushrooms were nice
Very good value, liked this place, but may've been swayed by the lack of another brewpub for 150 miles as the crow, er raven flies. If in western Wyoming & feasible, check this place out!
988 characters
3.58
/5
rDev
+1.1%
vibe: 4 | quality: 4 | service: 2.5 | selection: 4 | food: 3.5
Still haven't seen anything that resembles a Salt Lake. Am beginning to think it's all make believe like the Sasquatch and bourbon Triples. Contemplated breakfast and opted not this time, so I went and got the car out of hotel parking hock. I had to drive a ways south to dump Scotty off at the place where you get the bus that takes you to the ski mountain, and then this time I turned and aimed the car east towards Wyoming...
I had intended to hit Bear River Brewing in Evanston, roughly 3 miles into the state of Wyoming, but I wasn't getting any answer on the phone when I called for their hours of operation, nor were they still listed when I called information, so I had to drive another 100 miles into the state to Bitter Creek Brewing Company in Rock Springs. Located in a strip on Broadway in town, I had to circle the block once, lightly stumbling around to find the place. It being lunch when I rolled in, I parked myself at the bar with a handful of regulars there. The room is done in beige stucco walls with brick arches and openings around the center island of brewing equipment in the middle of the room, where lie 4 fermenters to the front and mashers to the rear. "A" frameish ceiling with the peak cut away for lighting, exposed duct work and drop lighting overhead. The bar is "C" shaped (actually more like half a hexagon), and seats nearly a dozen and a half. A matching light wood unit with a large center mirror and smaller side mirrors behind the bar has shelving with glassware, pictures, books, bottles, green leis, and nic-nacs to each side and is lined, end to end, with strung Xmas lighting. TV's above both corners of the bar and beer towers on the sill. A pair each of long tables and square bar tables sit in a nook along the front window, amidst potted plants in baskets on the window sill and bar counter. A rear area beyond the bar holds 9 tables and a side dining room holds a dozen and a half tables and another six in an elevated space.
I had the sampler which came with 7 beers (Red Ale, Light, Wheat, Porter, Wee Heavy, Alt, APA). The Red Desert Ale, dryhopped, with a pleasant sweetness, the Boar's Tusk Light was light, and that's all I've got to say about that, the Sweetwater Wheat, filtered with a slight banana flavor, the Coal Porter, a deep chocolatey flavor, good roasted malt, the Wee Bastard wonderfully rich and malty, the Test Batch X, a good German Alt, and the Old Faithful Ale, a guest tap from Grand Teton, a decently hoppy APA. The best of the lot of 'em were clearly the Wee Heavy and Porter.
I caught a lite bite, too... The French Onion soup was one bowl of spicy ass french onion soup, let me tell you (I just did). It was damn good but the teriyaki wings were gummy & gunky, and not so good.
The bar patrons were cool. We were talking about which of their beers I liked there and they told me which ones they liked, and about some of the other seasonals they've seen there. I brought up having driven some 182 miles from Salt Lake City to get here and they asked if I had heard of Bear River Brewing in Evanston. I told them I had intended to go there but I thought that they may be closed. They confirmed this to be true, at which time the bartender asked what we were talking about. The guy next to me told him, "Bear River Brewing in Evanston closed down", to which he sharply replied, "Good!!" So he asked, "Why, you don't like the place?" and he responded, "Whatever, you know I don't even (like) drink beer..." and I'm looking at the kid thinking, "Then why did you open your mouth? Why would you say it's a good thing that a brewpub a hundred miles from you closed down then? It's not like they're taking your business away. They're one of 6 brewpubs listed (on BA, anyway) in your state of Wyoming. One of them closing down is a very, very bad thing for your beer scene and your state's beer culture!!!" Boooo!! Bad bartender. I was going to punch him in the neck.
Bartender aside, it's not a bad place and they made a few pretty decent beers. Worth my drive across the flat landscape...
4,068 characters
Bitter Creek Brewing Company in Rock Springs, WY
Brewery rating:
51.5%
out of
100
with
33
ratings