5Beans
| Sixpoint Brewery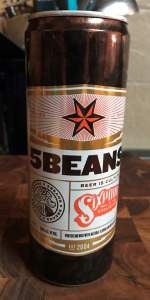 BEER INFO
Brewed by:
Sixpoint Brewery
New York
,
United States
sixpoint.com
Style:
Baltic Porter
Alcohol by volume (ABV):
10.00%
Availability:
Rotating
Notes / Commercial Description:
The Mad Scientists walked through an ancient bazaar, sniffing out ingredients for their next formulation. The stalls were buzzing with activity as exotic spice vendors promoted their fragrant wares. But what ingredient would make the fabled 5th bean? The enticing aroma of an oily, smoky pod – black cardamom – caught their attention. Now that would turn the Imperial to Bazaar...
Added by superspak on 11-01-2015
Reviews: 108 | Ratings: 369

3.9
/5
rDev
-4.6%
look: 4 | smell: 4 | taste: 3.75 | feel: 4 | overall: 4
Best by 10/15/18. 12oz can poured into a tulip. Pours black with a fluffy khaki head that slowly falls leaving great thick retention and sticky lacing. The aromas are malt forward with lots of spices. The cardamom is present. Lots of anise and cocoa. It smells nice, but the coffee seems subtle. The flavors are bold. Lots of roasted malts along with some dark chocolate. Lots of spices. The cardamom is there along with some hints of cinnamon. More anise/black licorice. Some molasses. The coffee isn't overwhelming, but it's there in the finish giving this one a solid bitterness. There's also a mild spiciness in the finish as well. Solid malt backbone. Alcohol basically goes unnoticed. Mouthfeel is very nice. It's full-bodied with moderate carbonation. It's very fluffy and creamy. Smooth and dangerously drinkable.
This is a very nice brew. I feel the cardamom and spices overwhelm everything, including the coffee, but it still works. This is a very unique and enjoyable offering. I really like it. It's probably better than my "numeric score" might indicate. It has alot going on. I personally like this more than 3Beans and 4Beans based off memory.
1,160 characters

3.96
/5
rDev
-3.2%
look: 4 | smell: 4.25 | taste: 3.75 | feel: 4 | overall: 4
Jet black, heavily carbonated, little thinner than I expected, with a pillowy off-white head of large bubbles that dissipated rather quickly and left only a thin trace of lacing. Smell is powerful, especially after the beer warms a little. Heavy, earthy malt, peat, espresso, baker's chocolate, sweet biscuit, licorice, and booze...oy, the booze. Smell is sweet and roasty and more pungent than 4Beans. But I don't like the taste quite as much. A lot going on with a little bit of muddle. Dark, roasted, bitter coffee is the strongest note, and that bitterness lingers throughout the sip, swallow, and aftertaste. Some cocoa, licorice, smoke, dark wood, and dark fruit coming in below the surface. There's certainly sweetness there, with a touch of vanilla, but the bitterness overwhelms. Wish it was the other way around. Still a very tasty porter. Feel is medium and silky, but the carbonation is notable, at least initially. Certainly going to enjoy drinking 5Beans, but I think I prefer 4Beans and it's more cohesive flavor profile.
1,048 characters

4.25
/5
rDev
+3.9%
look: 4.25 | smell: 4.25 | taste: 4.25 | feel: 4.25 | overall: 4.25
Poured into a 16 oz Troegs tulip snifter canned on 10/15/16 I think. Pours a very attractive slick black with a 3 plus finger dark tan head, that takes its time settling into a thin layer of bubbles and leaving loads of lace behind.
Smell is roasty coffee, vanilla, cocoa nibs, some peppery spice, and molasses.
Taste is similar vanilla, coffee, cocoa nibs, molasses, dates, and cayenne.
Mouthfeel is a little above medium, lively enough, slightly creamy, not dry at all, and for 10% ABV which is what my can says, dangerously drinkable.
Overall this is a really nice beer that I will be purchasing a good amount in the next few months.
643 characters
3.68
/5
rDev
-10%
look: 3.75 | smell: 3.75 | taste: 3.75 | feel: 3.5 | overall: 3.5
Garnet-tinted black with a massive three-finger tan foam head. It lasts a good while before leaving heavy lacing.
Dry-smelling aroma of creamed coffee, musty hops, a little vanilla, a little chocolate. Can't say I know what cardamom smells like, but I'm thinking it's in there. There's a definite woody, lightly spicy (cloves, weak anise) element to the aroma.
Same flavors in the nose carry over to the taste, with the vanilla and chocolate both shining a bit more and the coffee a bit less. There's some alcohol burn on the backend, and a dry, mildly bitter finish.
It's medium bodied, with a bit of creaminess to the mouthfeel that still feels very dry, thanks in part to heavy carbonation.
This is fine, but I liked 4Beans better. Did I say this was dry?
773 characters

4
/5
rDev
-2.2%
look: 4 | smell: 4 | taste: 4 | feel: 4 | overall: 4
Slim can from Berthold's Better Beer's
Dark brown with faint garnet at the edges and a huge bubbly beige head that persists. Coffee and chocolate with peppery lemony spice on the nose. Coffee roast and chocolate with an earthy spicy peppery lemony spice. Smooth creamy mouthfeel light carbonation. Pretty damn tasty beer, alcohol is nonexistent!
345 characters
3.77
/5
rDev
-7.8%
look: 4 | smell: 3.75 | taste: 3.75 | feel: 3.75 | overall: 3.75
L: deep mahogany color, nice lacing tan head
S: lots of coffee, some vanilla
T: coffee, vanilla, boozy
F: tons of mouthfeel, medium to full body
O: damn fine sipper
167 characters
4.23
/5
rDev
+3.4%
look: 4 | smell: 4 | taste: 4.5 | feel: 3.75 | overall: 4.25
Pours an effervescent & ruddy mahogany with 3 fingers of fluffy mocha colored head; delightful! Good lacing & head retention
S: Coffee, woody hops & vanilla
T: Coffee, vanilla, a little caramel& faint charred notes up front. Vanilla, coffee & faint woody hops as this warms
& dryness. Finishes dry with some char, coffee & fading caramel
MF: Medium body, semi-firm carbonation, warming
Very drinkable, needs a little help with the body & nose, but only a little
474 characters

4.27
/5
rDev
+4.4%
look: 4.5 | smell: 4.25 | taste: 4.25 | feel: 4.25 | overall: 4.25
i'm not very smart, because i can only figure out what 4 of the 5 beans are. oh well. some mysteries weren't meant to be solved.
pours out viscous and dark, with a finger of tan head that dissipates quickly. soapy lacing.
in the nose, i get 2 beans up front - cardamom and coffee. a touch acrid but warm.
roasty and bitter. i get 3 beans here - the coffee and cardamom again with the vanilla rounding it out at the end. cacao gets a little lost in this one for me, but maybe that's adding to the roasty flavor.
thick, with decent carbonation. alcohol at 10% is very well hidden.
i took a break from the leaves in the yard to have one of these, and it fits quite nicely into a pleasant fall afternoon.
706 characters
5Beans from Sixpoint Brewery
4.09
out of
5
based on
369
ratings.