Bengali Tiger
| Sixpoint Brewery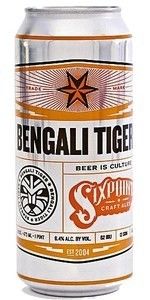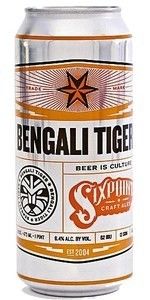 BEER INFO
Brewed by:
Sixpoint Brewery
New York
,
United States
sixpoint.com
Style:
American IPA
Alcohol by volume (ABV):
6.20%
Availability:
Year-round
Notes / Commercial Description:
The original Sixpoint homebrewed IPA formulation, first brewed in 1999 and released commercially in 2005.
64 IBU
Added by Sixpoint on 04-22-2005
This beer is retired; no longer brewed.
HISTOGRAM
Ratings: 2,330 | Reviews: 588
4.1
/5
rDev
+4.1%
look: 4 | smell: 4 | taste: 4 | feel: 4 | overall: 4.5
On tap from Big City in Allston, Ma. The beer was presented to me from the tap in a tulip glass and was a dull bronze color with a half-finger of pure white head and some good lacing throughout the sample.
The smell is pouring with hops, subtle softer fruit and flowery esters and some pine needles as well.
The taste delivers what's expected: a bitter hop bit to the palate with soft citrus fruit flavors to sooth and balance the hoppyness. Mild carbonation and somewhat dry to the finish. Slight alcohol as the beer warms but the taste remains balanced.
This was enjoyable and I'm quickly becoming a fan of just about all 6pt. has to offer. I'll seek this one out again.
681 characters
4.24
/5
rDev
+7.6%
look: 4.5 | smell: 3 | taste: 4.5 | feel: 4.5 | overall: 5
On tap @ TPH 2/26/06.
This was my second Sixpoint beer, and I was nearly as impressed with this one as I was with the Express. Mad props to the people over there in Brooklyn, and I hope to try more of their offerings.
This beer was quite attractive in the as it was served in a normal pint glass. It was trule a "pale" ale, but there was a creamy and delicious looking head. As I smelled it, it smelled only of citrus. It occurred to me that this might be a dissapointing all hop, grape-fruit juice like IPA. Fortunately, it wasn't. It got better with each sip. This beer was certainly sweet and citrusy, but it was well-balance and got better with each sip. I could drink these all night, it was that drinkable.
718 characters
4.49
/5
rDev
+14%
look: 4 | smell: 5 | taste: 4.5 | feel: 3.5 | overall: 4.5
another 12oz bottle, this one a bit fresher and supposedly dry-hopped.
pours an amber orange with yellow borders, red center.. a rainbow of beer-related color spectrums. lots of active carbonation lead directly to a creamy, rich head. strands of solid lacing exist where there once was beer.
nose evokes an insane tang of sweet-tart citrus balanced beautifully by an intense, syrupy toasted malt. candied orange rinds mix aromatically with a more concentrated orange scent, reminiscent of the citrus section of a produce department. traces of raw hop flowers and raw cracked barley round out the nose, adding something else utterly organic (orgasmic?) to the mix.
just as creamy mouthfeelwise as i remember, and very bitter for a quick second... earthy essentials bring the rough, dirty bite and disappear just as fast. you're left with the sense that you have just ingested some top-shelf ingredients, put together to form a gourmet, classy IPA in the english style.
with the exception of a slight chalkiness in the finish (probably the yeast from the sample bottle) this is a near-perfect IPA and benefits astronomically from dry-hopping and consuming while fresh. highly recommended.
1,200 characters
4.11
/5
rDev
+4.3%
look: 4.5 | smell: 3.5 | taste: 4.5 | feel: 4 | overall: 4
So glad to have a new microbrewery just down the street from my apartment ... makes for easy access at the local watering holes. Had this on tap at the Brazen Head, and was not disappointed. Cloudy cinnamon color, fluffy white head that recedes into a thin sticky white lacing. The aroma is actually not all that aggressive for an IPA, just a nice delicate orange/floral aroma. The taste is initally piney and grapefruit bitterness that runs from ripe fruit to bitter pith in a matter of seconds, and then a nice malt backbone comes to the rescue. However, this eventually succumbs to what must be a mountain of hops put into this beer. It actually reminds me of (gasp) Smuttynose, but a tad sweeter. Mouthfeel is full and smooth, if not bordering on DIPA syrupy. Drinkability, as a result, is a bit lower than your average IPA. It could be served in a smaller vessel, as a DIPA would, as I could feel the alcohol after just one pint. Overall a solid, solid representation of the American IPA style.
999 characters

4.24
/5
rDev
+7.6%
look: 3.5 | smell: 4.5 | taste: 4.5 | feel: 3.5 | overall: 4
First off the color is a nice light reddish/caramel color with an off-white to tan head. The smell is strong with hops, and thankfully it isnt over powered with cascade hops. The good thing is It isnt overpowering like other IPAs try to do these days. It is full but pleasant. The taste is truly a balance of lightly sweet caramel, slightly woody malt and and hops that gave a tang to the beer but very little bite on the side of the tounge. The mouth feel is a little heavy for being a light beer, and I don't find it all that smooth. Nice, but not all that smooth. I do have to say this though. I consider myself a "hop-head". But when I find a beer like this with this kind of balance, (it might not be truly balanced to more experienced tasters) I love it.
760 characters
Bengali Tiger from Sixpoint Brewery
Beer rating:
3.94
out of
5
with
2,330
ratings