Superstar Discount Beverage Center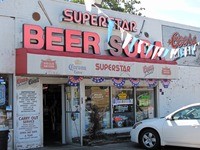 PLACE INFO
Type:
Store
516 E Jericho Tpke
Huntington Station
,
New York
, 11746-7312
United States
(631) 423-0292 |
map
superstarbeverage.com
Notes:
No notes at this time.
Added by BeerAdvocate
Reviews: 12 | Ratings: 17
5
/5
rDev
+22.5%
I love Superstar. The guy who owns it is amazing. He knows a lot about beer and is always there to help you and have a great conversation about beer. Their selection is great, and even though it is a little hectic, there's always someone there to show you where what you're looking for is right away. Their growler station is also great. 4 different beers on tap at all times. They even take recommendations! I asked if they could dogfish head's punkin ale and the next week I came in it was there, and he notified me of the next time they were going to have it. I guess it is a little pricey. I think their Rogues are fairly priced and they have a "buy 2 'big' bottles, get a dollar off" deal which is pretty good. Not spectacular, but good. I guess their triple bock is way overpriced? but i haven't seen it anywhere else so i can't say first hand. I also love how they have a shelf up front for their seasonal brews and a sale rack of old seasonals. I highly recommend this place to anyone looking for good beer with extremely knowledgeable personnel.
1,054 characters
4.8
/5
rDev
+17.6%
I must say, i have recently started tasting around. the staff at this location was very knowlegable and was able to describe to me what the beers would taste like and even explained to me alot about the types of beer. they were able to help me pick out what kinds of beers to try for my first time. their selection was amazing, they have the largest selection ive ever seen. and everytime i go in there they always have a new beer on their floor, which deffinately keeps me interested and wanting to go back and see what new stuff i can try. and their floor isalways stocked, it never looks empty. their prices are fair, they have some expensive beers but they also have inexpensive ones. the manager was able to get a special request for me from one of their other superstar locations. i would deffinately keep coming around and discovering all new types of beer.
864 characters
4.65
/5
rDev
+14%
I live right around the corner from this store and love it. I am there at least once a week to check out the new arrivals. Their stock is always changing and they recently added a growler filling station. the staff is always around to help you and is very knowledgeable. i have gone to other beer stores on long island in search of varoius beers and only found myself in other superstar beverage locations. The owner and manager are very beer savy and can recomend something for anyone's pallet. if you have not been there your missing out.
540 characters
4.65
/5
rDev
+14%
Being so close to Shoreline I have found that I always considered Superstar an alternative. Over the past year or so it seems like this location is really establishing itself as a "go-to" place. The staff here is very knowledgeable and enthusiastic and always offering recommendations and even food pairings. The Growler fill station usually offers 4 good selections and they are constantly rotating. They are always quick to put in an order for something that they don't have. In all honesty, I rarely head up New York Avenue to Shoreline anymore as I find Superstar to be a very friendly and inviting place.
609 characters

4.46
/5
rDev
+9.3%
vibe: 4.25 | quality: 4.25 | service: 5 | selection: 4.25
Vibe: all the best beer is right up front (used to be more down one side of the store); Has a small, intimate feel up front - you know you are in a real-beer-drinker's domain. Plenty of stock to shop.
Quality: large selection will have some section sit, so you'll probably find what I'd qualify as an average amount of not-so-fresh stuff, but all the more popular beers are tended to well. You can mix and match 4 and 6 packs freely.
Service: These guys know their beer. Chris (owner/manager) and Mario (store manager) are great guys with tons of knowledge - don't hesitate to ask about stuff.
Selection: one of the best on LI as far as I can tell. If it hits LI, they will have gotten it. If they never got it, it never hit LI. Ask for stuff you think is out but you don't see. You will be amazed by their selection at all times. A bigger overall selection than Beer City, a sister store, with some overlap, but they also get in stuff you won't find there.
Prices: Their prices are on par with the other places on Long Island.
1,034 characters

4.36
/5
rDev
+6.9%
vibe: 3.5 | quality: 4.25 | service: 5 | selection: 4.25
My favorite superstar location... beer city has more kuhnhenn but less overall craft....not by much...and they are pretty much 2 different stores with different product so its good to go to both...
Service is the best.... Chris is the best and super knowledeable... i can talk to him for hours... best servicecin any store bar none... they do singles... enough said
366 characters

4.35
/5
rDev
+6.6%
Located on Jericho Tpke, next to the Carousel.
A rather large establishment, with floor to ceilling displays.
Their selection includes: 4 varieties of Victory (including Hop Wallop and Old Horizontal), 4 types of Stoudt's (including Triple and Double IPA), all the SAs, all the SNs, all the Anchors, Dale's Pale Ale, 4 types of Mendocino, 4 types of Southampton, 5 types of Blue Point, 5 types of Brooklyn, 3 types of Acme, 2 types of North Coast (including Old Rasputin and Pranqster), Pork Slap, 4 types of DFH, 4 types of Magic Hat, LongTrail, Otter Creek, etc.
A good selection of Belgians, hefes and British ales too. They also allow mix and matching.
A large selection of macros and soda.
This place is a good alternative to Shoreline.
756 characters
4.35
/5
rDev
+6.6%
Great little place on Jericho.
Organization may be a bit hectic, but given the little amount of space they have I cannot blame them.
They carry several varieties from breweries like Lagunitas, Smuttynose, Victory, Goose Island, etc. Their import section is small, but packed with a bunch of crowd pleasers. A rack up front has all the seasonal beers (Octoberfests and Harvests). They had a bunch of new releases like Ommegeddon (though no chocolate Indulgence which I recently saw at Shoreline), Oat (from Southern Tier), Stone's 11th, and Sierra Nevada Harvest
That's all well and good, but I come here for two reasons:
First is the growler station. 4 taps of quality beers. When I went in last they had a Blue Point, Coney Island Lager, Kona's Fire Rock, and a DIPA from Red Hook. Typically he will have good local beers from Breweries like Southampton, Blue Point, Sixpoint, or Brooklyn with some more well known, better distributed breweries like Stone and Dogfish Head. My only complaint is that I wish that I came here and found a beer that I knew nothing about. That being said all the beers that I have seen have been good.
The second reason I come here is because of the friendly staff. Almost every time I come in I engage in a beer related conversation and they seem to be knowledgeable about their products
I will keep coming back because their growler section is great. With a good rotation and always full of good beers. Between the four available I can always find somethign I want to drink that day
1,514 characters
4
/5
rDev
-2%
I have made three trips to this little roadside beverage store in the past two months while looking for the funky Pork Slap ale and I was reasonably pleased with their selection. From the exterior, one might think it was another bev-mart paying homage to the macro-brewers, but once inside, the first two rows are dedicated micro-brew areas with all kinds of things I have seen before, but in different sizes. For instance, they had St. Bernadus Triple in 11.2 bottles, which I found helpful. I also found their service to be helpful as well as informative when I was looking for something different and the store seems to shift their stock around.
648 characters
4
/5
rDev
-2%
I've been to a few of the Superstar locations (most aren't all that far apart)...this one is my fav. They seem to have the best selection. The one thing that I really like about this place is that when rarities are long gone at Shoreline and Big Z (which seem to fly off the shelf they day they get them)...Superstar seems to have them way later. Not sure if they get more quantity since there are a lot of locations or if it is more of a place that BA'ers don't think to stop at. I swung by today to nab a bottle or two of Fleur and they still had a few bottles left of BCBCS as well as a bunch of KBS!!! KBS has been long gone from the NY shelves for at least a month and in most places, it vanished the weekend it appeared, yet Superstar still has a few 4 packs left. Also nabbed some Old Curmudgeon. There were plenty of other nice finds at Superstar which are long gone at most other places (Ommegang BPA, Triple Perfection still aplenty). Last time I was there, I snabbed a few bottles of the coveted BCBCS and ended up getting a free GI flute with my purchase. Not too bad. Price-wise, they are in line or better than all the other spots in the area and there is a growler station with at least 6 taps.
In the area, I tend to throw a lot of my business to Big Z due to the conversations I have with the staff and the general hang type of atmosphere and usually amazing selection on the growler station, but the more I swing by Superstar, the more I find that their prices are better and that I don't have to race there to snab a bottle of the latest soon to be rarity. With this spot only about 10 - 15 min from the others, it seems like it should be getting more props than it does. Not to mention, they have another location about 10 min away. The customer base seems to be mostly focused on BMC, but hey, that works in my favor when I can nab all the quality brews months after they are gone from all the other local spots.
I'm almost tempted to delete this review to keep the secret hidden, but I guess the cat's out of the bag. Superstar is worthy.
2,062 characters

4
/5
rDev
-2%
Down the road from the all-star BA worthy Shoreline Bev. This place is also a worthy stop. You will find 4 lines ready to fill your growler, all the usuals from far and wide, including l the LI stuff like Southampton, Blue Point, and Fire Island (woo hoo). Racks of the good stuff can be found straight ahead upon entering and the good stuff cooler units are to the left. They had a bunch of older seasonal stuff on sale, mix a six in effect, friendly staff and then will allow you to buy singles..all pluses...nothing super special going on here..but worth a stop and you will be able to find plenty of worthy selections
621 characters
2.75
/5
rDev
-32.6%
In the same town as Big Z's and Shoreline, I have no idea why anybody would shop here. Horrendous prices for the area, and generally high regardless of where you are, and usually they are not marked. When I was there, they had '97 Triple bock for 10.99 a bottle (this was actually marked), compared to 5.99 at the other Huntington stores. Also marked was a 4-pack of Goose Island Bourbon County Stout for 29.99 compared to 21.99 and 23.99 elsewhere. I asked about the bombers of Stone and Rogue, and again they were always $1-2 higher than the top price at the other two. I rate service so low because not only are the prices so high, but sometimes intentionally misleading, putting some beers in a "vintage" section that either had no place being there, or were simply very easy to find elsewhere in the same vintage, and then jacking the price way up. Then they offer pitiful coupons and "specials" that at best bring the prices back to market value for the area, but even then, on a single purchase per visit. I'm shocked nobody has been put off by this as much as I was. The fellow at the counter, who I assumed to be the owner, came across as very friendly (read: smooth talker), and I'm sure that's the only way he gets business with prices like his. Very troubling to me.
1,278 characters
Superstar Discount Beverage Center in Huntington Station, NY
4.08
out of
5
based on
17
ratings.