Miller's Pub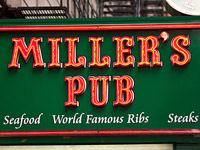 PLACE INFO
Type:
Bar, Eatery
134 S Wabash Ave
Chicago
,
Illinois
, 60603-5604
United States
(312) 263-4988 |
map
millerspub.com
Notes:
Open 7 days a week.
Bar: 10am - 4pm
Kitchen: 11am - 2am, except Sunday, which is 11am - 12am.
Added by BeerAdvocate
Reviews: 14 | Ratings: 37
4.31
/5
rDev
+13.1%
vibe: 4.25 | quality: 4.25 | service: 4.5 | selection: 4.25 | food: 4.25
Classic old school place in business for decades. Better and more varied menu than basic pub grub; great beer board.
First time here was lunch with someone originally from Chicago. Second, happened in on business Trip for dinner. Good meal great beers - the real treat was Zombie Dust draft.
294 characters
3.81
/5
rDev 0%
vibe: 4 | quality: 3.75 | service: 3.75 | selection: 4 | food: 3.5
downtown can be a tough place if you're looking for good beer; this place is reliably okay, with an old-timey Chicago feel to it and a decent tap list (some widely distributed breweries, Firestone Walker, Stone, rotating Founders and 3 Floyds lines, as well as a few locals you're not likely to find outside of Chicago-land).
325 characters

3.4
/5
rDev
-10.8%
vibe: 3.5 | quality: 3 | service: 3.5 | selection: 3.5 | food: 4
A - A festive very active down-town Chicago locale... Seems rich with history... A mixed crowd of tourists, locales, and office types...
Q - Solidly average in all respects... My largest complaint dealt with the fact that they rinsed every glass prior to serving leaving a slight bit of water in each glass for the pour whether from tap or bottle...
Ser - The service was hit of miss... I experienced a couple of different barkeeps during the week I was in town and they ranged the gambit from solid to indifferent... None seemed to be beer geeks, but this isn't necessarily a beer geek kind of place even the there is enough on the menu to interest most...
Sel - A solid tap selection and interesting array of bottles... While not overwhelming, there was enough to keep me interested and coming back... Being from the east coast my focus was on Half Acre, Revolution, FFF, and Boulevard offerings...
F - I had a leg of lamb sandwich which was terrific... A great value in and of itself for $10... Served like a french dip with cole slaw and fries...
V - A bit pricey, but given the downtown business district location, I guess things weren't too bad...
Overall this one is worth a visit if you're in the area, but isn't a place to be sought out...
1,257 characters

3.91
/5
rDev
+2.6%
vibe: 3.5 | quality: 3.5 | service: 4.5 | selection: 4
Don't ask me how it happened but I ended up here around 2 a.m. on St. Patrick's day. I think I was sparred the wildest of the day's event. The bartender clearly had the "seen it, done it, ready to go home" look on his face. And yet… he was a class act all the way. I had a beer geek moment (downtown bar with craft beer on tap? Of course I'm going to ask what's what!) and ended up with a fantastic pale ale based on his recommendations. Will I go back? Could Miller's Pub become a regular haunt? Not likely, no, but if I'm ever staying downtown and uncertain where to visit for a brew I could certainly do far worse. Apparently it's an institution too, been around forever.
696 characters
3.85
/5
rDev
+1%
vibe: 3 | quality: 3.5 | service: 4.5 | selection: 4
Wrapped our our weekend trip to Chicago here on a Saturday night. Arrived around 11 or so. Bar was pretty packed with folk but we managed to squeeze in and get served quickly. Decent selection of beers on tap, mostly micro, probably about 15 taps in all. Had a couple DT's which was a pleasant surprise to find in downtown chicago. Met some very nice people from around town and chatted with them for a couple hours. Left feeling somewhat tipsy but satisfied.
Bonus: the bar was located about 3 blocks from our hotel. Nice.
525 characters

4
/5
rDev
+5%
vibe: 4 | quality: 4 | service: 3.5 | selection: 4.5
I was showing a friend from Spain and his mother around Downtown Chicago. Trying to kill some time and hoping to find a bar (decent or not), we stumbled upon this joint merely two blocks from their hotel.
I wasn't hoping for much when I saw the bright-but-faded sign and crowded, old-world interior with hundred-year-old hosts and bartenders. Maybe a Sam Adams if I get lucky. But guess what! There is serious beer here.
Some 15 taps with Stone Sublimely and Ruination, Half Acre Daisy Cutter, Goose Island Green Line, Lagunitas Little Sumpin and IPA, Metropolitan, Two Brothers... sweet!
Didn't try food (which appeared to be mostly classic pub grub), but the beers were fresh and fine.
I enjoyed the ambience, cozy and nice despite being crowded and cramped and filled with tourists and office workers. We found a corner by the window, drank our beers and had a good little time. There are not that many options for good beer (or beer at all!) around the Loop, so this was just a fortuitous and joyous find.
1,015 characters

4.47
/5
rDev
+17.3%
vibe: 3.5 | quality: 4.5 | service: 5 | selection: 4.5 | food: 4
Went here on a Saturday afternoon to beat the heat.
Looks like a hole in the wall from the outside, but is actually fairly nice inside. My girlfriend, friend and I were seated at a booth. The lighting was a little low and it had the atmosphere of a nicer steakhouse.
The tap list was fairly nice. About 8 beers on tap including some rarer finds around the midwest such as Clown Shoes with some good local options as well. I had a Clown Shoes Eagle Claw Fist and a Metropolitan Flywheel Lager.
We split a few things including an order of ribs. Everything we ate was excellent. The only food complaint is the bread was mediocre (although free). The prices were a bit higher than normal, but not outrageous.
Our server was one of the best I've ever had, including fancy restaurants. I wish I could remember his him to give him a call out.
Overall I was very pleased with this place and will go back if I'm ever around the Loop looking for a pub.
947 characters
3.75
/5
rDev
-1.6%
vibe: 4 | quality: 4 | service: 3 | selection: 4 | food: 4
Discovered this pub around the corner from the hotel we were at in the Loop, by Millennium Park. Very old school, which for me is not bad considering most places I visit are polished and overly "modern". Over several visits, had chance to experience both the bar and the food. Both did not disappoint. Had the Greek burger for lunch with a Half Acre Daisy Cutter. Returned another night and enjoyed my visit in this very busy and lively bar area. About 12 taps and fairly good size bottle list. The taps had some local (HA and Goose Island) and also some big nationals (Stone). The service was great and would probably call this my home bar if I lived there. The prices are about what you would expect from a big, popular bar in the heart of Chicago; not cheap but fair.
770 characters
4.05
/5
rDev
+6.3%
vibe: 4 | quality: 4 | service: 4 | selection: 4 | food: 4.5
Not to be confused with Miller's beer! This is a great Irish-style pub (a style of pub I rarely frequent) with a friendly atmosphere. I always stop in here a few times when I'm in Chicago. There are usually several good beers on tap, some local and crafts, great food (RIBS!), good martinis and cocktails (if that's your thing), friendly bartenders, open late. All good things. Not a beer snob's goldmine, just a great place to socialize, and/or wine and dine. If I lived in the Loop, I'd probably be at this bar almost every night. Love their Tom & Jerry's during Christmas/NYE week.
584 characters

3.43
/5
rDev
-10%
vibe: 4 | quality: 3.5 | service: 3.5 | selection: 3
I was recently staying at the W Hotel and brought a couple of friends to Miller's for a beer after out meetings. Good atmosphere in the for a pub in the loop. A bit of history on the walls. If you get a chance check out the pictures. The only real macro that I saw was Stella Atrois. Had the standard Honkers Ale. They also had a good variety of bottles. Good place with reasonable prices to have a chat with friends. Close to many of the loop hotels. A good stand by. Hadn't been there since '91 and I was glad to see that it hasn't changed much.
547 characters
4.13
/5
rDev
+8.4%
vibe: 4 | quality: 4 | service: 4.5 | selection: 4 | food: 4
A little history of Miller's Pub:
http://chicago.eater.com/archives/2012/06/20/getting-to-know-millers-pub-through-its-regulars.php
2011: Current taplist on beermenus, recent rotation has included Firestone Walker, Stillwater, Founders, and more. www.beermenus.com/places/2031-miller-s-pub
2010: They have expanded their beer list to include many quality craft beers, including locals like Half Acre Daisy Cutter, Metropolitan Krankshaft, several Three Floyds, and more. Good late night dining spot for the traveler or after work crowd.
12-12-2007 B/3.7
Go for the ribs...best I have tried in the Loop. Not the fall off the bone type, and enough for a good sized meal. The place is old-school Chicago from the minute you walk in. Chandelier lighting and lots of wood panelling and framed headshots from the past. An older maître d' will greet you, and will lead you to a cozy booth in the dining area. Bar is on the right, it has an old-time feel to it, despite the business/tourist crowd.
Food here is tasty, they have a few Greek items on the menu, thanks to the Greek owners. I've eaten here several times and the food and service have both been adequate. When they are busy, expect a short wait.
Beer-wise, they always have Paulaner on tap, Pilsner-Urquell, and a Goose Island seasonal. I don't come here to drink, it's always to entertain out of town guests, or for dinner after a late night. The bar crowd leaves something to be desired, it's always big after work groups and tourists. Reccomended for lunch or dinner if you're staying in the Loop, and are looking for something authentically Chicago, beyond the cookie cutter chain establishments like Bennigans, etc.
1,683 characters
3.73
/5
rDev
-2.1%
vibe: 4 | quality: 3.5 | service: 4 | selection: 3.5 | food: 4
I had a customer in town and he was staying at the Palmer House, so I suggested that I would meet him at Millers Pub for lunch.
This is one of those old time Chicago establishments that are starting to disappear. They have a classic Brunswick bar and bar back. Plenty of booths and tables on the first floor and more tables on the second. You know this place is old school by checking out the pictures of Irv Kupsinet, Jack Brickhouse, Vince Lloyd, etc. (these are yesteryears sports casters and media types).
They have a decent beer selection, nothing wild, but some good solid choices. Prices are on par with other places in this area of the loop.
The food is very good but very conventional, don't go here looking for Ahi Tuna or escargot, go instead for their old style ribs, great prime rib sandwiches, etc.
They always seem to have a decent if somewhat older crowd. Well worth a stop and it's just around the corner from the newly reopened Berghoff Bar.
965 characters

3.78
/5
rDev
-0.8%
vibe: 3.5 | quality: 4 | service: 4 | selection: 3.5 | food: 3.5
take this review for what it's worth, i visited the Millers Pub extension that is in Midway Airport and got a pleasant surprise, Goose Island, never seen this in New England so i got to try my first. food was pretty good, a fine Grilled Cheese sandwich and some fries that were really good. The prices were a little high, but i assume thats because it was in the airport and pub options are limited. Pretty good service though, if i ever visit Chicago more than a layover i will seek out the main establishment
510 characters
3.28
/5
rDev
-13.9%
vibe: 3.5 | quality: 3 | service: 3.5 | selection: 3 | food: 4
I was out in Chicago last September and I had a great time. I was there for work and stayed right next door to Miller's. Each night I met great people and had lots of fun. They have a good amonut of beers on tap and alot of good food to eat as well. The Goose Island beers were my favorite and the "Drink Local" slogan sold me. I had a few other types from the area but forget the names. Oh well. Chicago is a clean city and there is lots to see and do. I had to work during the 10 days I was there but the night life was really hoppin. Miller's was like a little get away from the hotel and work that we could meet up at for a few brews and then head out or eat there and go back to the hotel. I was able to get a pint glass to add to my collection. I would recomend stopping by if you are in Chicago.
802 characters
Miller's Pub in Chicago, IL
3.81
out of
5
based on
37
ratings.