Adobe Blues Restaurant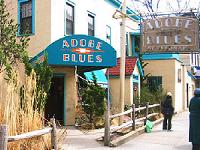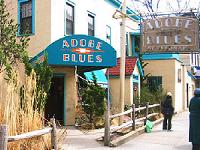 Bar, Eatery
63 Lafayette Ave
Staten Island
,
New York
, 10301-1216
United States
(718) 720-2583 |
map
Notes:
4.3
/5
rDev
+1.2%
vibe: 4.5 | quality: 4.25 | service: 4 | selection: 4.5 | food: 4.5
I grew up in Staten Island and this place played a large part in my love of beer. They had a large beer selection before the microbrew revolution took hold. They always have an interesting selection of beers on tap, usually something I haven't seen on tap elsewhere. The place has a great tex-mex vibe to it and when I'm there I find myself looking through their western themed photos and decorations, some of which is from Staten Island's rural past. The food is top quality and the beer is great too. I've beer there more than 50 times over the years and never had a problem with the food or service at the bar or the tables. They have a smallish dining room so on weekend nights there can be a decent wait for a table but I never minded since the bar isn't uncomfortably crowded and the great beer selection.
817 characters
4.13
/5
rDev
-2.8%
vibe: 4 | quality: 4 | service: 3.5 | selection: 5 | food: 4
I have lived on Staten Island for 4 years, and have been to Adobe Blues approximately 20 times or so. My perception of the place hasn't really changed, even though my interest (read: obsession) in craft beer is much, much younger.
Restaurant looks out of place, in a random residential neighborhood of SI. Atmosphere is cozy. The main room is split, 1/3 having an old-fashioned saloon feel, and the other 2/3s being more Tex-Mex-ish. There is a fireplace they keep on in the winter. Low lighting affects rating appearance of beer, but I don't necessarily go there just to rate beer. They usually have XM radio playing, until bands come play later at night.
Beer selection is in the hundreds and ranges most common styles. Lists for lunch and dinner are arranged differently. Lunch is arranged by BA ranking, and dinner is arranged by style. (I actually find the Lunch menu frustrating because if you haven't heard of a beer, and the name doesn't really describe it, you don't know what style you're getting).
Nothing super rare, but plenty of "A" and "A minus" rated beers. There isn't a large selection from one particular brewery, even local ones like Brooklyn. It's a nice cross-section of accessible craft brew from around the country and, to a lesser extent, around the world. Domestics include: DFH, Stone, Bear Republic, Oskar Blues, Ommegang. Imports include: Delirium, Ayinger, Fullers, Unibroue, Spaten. Last night I ordered Ommegang RareVos, I received a tulip to imbibe it with. Haven't had any of the problems with glassware others cited below.
Mexican food is fine for NYC (having grown up in SoCal, I'm a bit of a snob there). Service was friendly, but is strapped when the place is packed. Cost is on par for NYC, entrees running $12 to $20, good beers running $6 - $10. All things considered, it's a great place for a decent meal or to try a couple of new beers with some old buddies.
1,905 characters
4.43
/5
rDev
+4.2%
vibe: 3.5 | quality: 4 | service: 4.5 | selection: 5 | food: 5
OK, two years ago I would have agreed with the other reviews. But...
I live about 2 feet from this place, and normal don't go there, because I follow bar tenders I know and how give me free beers. An old friend contacted me and said me meet me at Adobe the other night so I walked over.
AND WOW THE PLACE HAS CHANGED. I joined them late and didn't have a menu so I just ordered the beer I was craving and they had it. The waitress was very knowledge about beer and was talking to me about different styles and types. After simply requesting styles and getting one great beer after another, I asked to see the beer menu. That was when I saw it, they handed me the best menu, the menu all Beer Advocates would love...
"Adobe Blues Beers
This list ranks all our beers from best to the rest, as judges by the folks at BeerAdvocate.com."
Almost 200 different beers, and every beer my friends and I ordered was fresh and great. We probably orders over 20 different beers and they where only out of one that we asked for.
I inquired about the Beer Advocat.com Beer Menu and they gave me a copy (I will update the list here soon.)
Another Update- Killmeyer's and Adobe Blues do not have the same owner any more; it hasn't been for many years now. The place is still Tex-Mex in décor and food but the beer selection is not, the huge holistic beer selection with a high emphasis on American Craft Beer is worth any traveling you might have to do.
If your traveling to Staten Island, feel free to Beer Mail me for info on the Island.
1,533 characters
3.55
/5
rDev
-16.5%
vibe: 3.5 | quality: 3.5 | service: 3 | selection: 4 | food: 4
What can I say that Slander hasn't already said? Rather than expound upon this longer-than-a-Shao-Lin-wizard's-fingernails erudite synopsis of the accoutrements of this fine establishment, I'll merely articulate a chosen culling of particulars:
-the place looked like a cross between the cantina in Young Guns and the corner tavern
-service was so-so - no glass, hey it's like the old days on the back of my truck... And no matter how much bootlicking occurs while we're waiting for the table, turning 15 minutes into an hour and 15 minutes makes you a crappy maitre 'd. The waitress saved their rating, and his ass (minus the no glasses part)
-the selection is on par with the local bar across from your college that advertises 50 taps and is run by an ex-alumnus.
-food was pretty good, and it certainly arrived hot. Bring a spare palate and lower lip if you order the mini tacos - a tasty grease explosion!
If I lived on Staten Island I'd spend some time there, though Killmeyer's would probably be more of a magnet (I hear they share the same owner.)
1,063 characters
3.6
/5
rDev
-15.3%
vibe: 4 | quality: 3.5 | service: 3 | selection: 4 | food: 4
We have to assume that LLLAAAUUURRRAAA missed the 8 PM ferry over to Staten Island, 'cause everybody's gotten off the boat and, well, she ain't here. We could go back to that Adobe place and wait, yeah, we can grab a quick bite and a beer, it's only like 2 miles back that way, and I'm sure she'll call when she gets here...
Mexican canteen look to it from outside, with a giant stoneish carved steer skull in the brush alongside the door. Inside, a SouthWestern motif, with a small 9 seat "L" shaped bar, light wood, a big front window with "Saloon" printed on it, pub lights, pics of gunfighters, stained glass cupboards housing booze, beers in coolers in the corner, and plenty of chili pepper decor. The small, tight attached dining room holds a dozen and a half tables, adobe stucko walls, faux wood beams along the ceiling, red chili peppers strung lighting, potted cacti, Indian head dress, sombreros, native drums, a cattle head, hanging pecks of chili peppers, and some framed art. Also a bit of space in the corner where performers set up.
We were told that it would be a 15 minute wait on a table, although the maitre 'd offered up more like an hour. And it shouldn't have been that long. They had no problem clearing empty tables, but they sat idle for 10 minutes before they got to reseating anybody there. We just sat looking at set empty tables, annoyed, but I was going to have to scoot to the ferry to pick up CheeseWheel at some point anyway, so it wasn't really that big a deal.
Cheesed and seated, we were ready to play. 5 taps (Harpoon Winter Warmer, Franziskaner, Newcastle, Yuengling, Woodchuck Cider) and a bottled beer menu that reads "172 beers, 29 coutries & 22 styles". Some good micro offerings (DogFishHead, Victory, Anchor, Magic Hat, Smuttynose, Laguantis, Sierra Nevada, Harpoon, Brooklyn), standard Germans, English & Belgian, and then a lot of macros and various "beers of the world" that you really don't need (Name 29 countries that you'd like to drink a beer from. Yeah, I thought so).
Also posted on blackboards above the bar are 11 bottled Winter beers (Corsendonk Christmas, Magic Hat Heart of Darkness, Anchor OSA, Sierra Nevada Celebration, Sam Adams Chocolate Bock & Winter Lager, Flying Fish Grand Cru, Sam Smith Winter Welcome, Blue Point Winter, Harpoon Winter Warmer, Pete's Not Wicked in a long time now Wandering Lustless Cream Ass). I got the last Anchor OSA (so they dealt Pope the Sierra Celebration), Phil the Magic Hat Heart of Darkness, and Cheese had a Newcastle. All of them dealt without glasses (took you down a 1/2 point on quality for no glassware for my beer).
We did 2 mini taco apps and then I had the chicken burrito, beans and rice. Food was good although the servings were not so plentiful.
Good food and drink overall. Going forward, when I'm done with the NYC 5 borough bike ride and have pedalled my ass back to the Staten Island Ferry to retrieve my car, this'll be our "2 mile up the road beer and bite place".
2,991 characters
Adobe Blues Restaurant in Staten Island, NY
Place rating:
4.25
out of
5
with
9
ratings