Dismiss Notice
Ram's Head Live!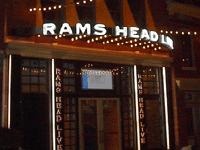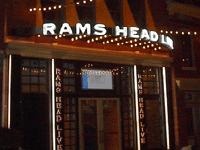 PLACE INFO
Type:
Bar, Eatery
20 Market Pl
Baltimore
,
Maryland
, 21202-4008
United States
(410) 727-5151 |
map
ramsheadlive.com
Notes:
No notes at this time.
Added by Dithyramb
PLACE STATS
Reviews:

8

Ratings:

pDev:

14.2%
HISTOGRAM
Ratings: 11 | Reviews: 8
Reviews by sulldaddy:
4
/5
rDev
+20.8%
vibe: 4 | quality: 4 | service: 4 | selection: 4
We ended up at this pub during a bachelor party. I didnt review the beers but I did taste some and they were well made.
The Tavern is part of the party/bar section of center city Baltimore. Follow loud music and bright lights at nite and you will find it. The Rams Head is towards the back of the plaza area to the left. There is lots of tables outside on a roped in area for sitting outdoors and enjoying the crowds walking around. Inside there is a rectangular bar with about 12 stools per side. There are alos several booths and table chair sets for eating. We were only here to drink so I didnt sample the food. Beers are six Fordham brews, I recal an oyster stout, german alt, pale ale, and maibock. I forget the others. Guest drafts were Sierra Nevada, Pilsener Urquell, and two macro lites. decent bottle selection although not well advertised or visible really. Drinks were very reasonably priced considering location.
The bartenders and servers were friendly and helpful. Atmosphere was pretty chill and decor was exposed brick and drywall. Beer photos paraphenalia scattered around thinly.
There is also a concert area attached, but we didnt pay the $$ for this part and just enjoyed some drinks and people watching. This was an unexpected surprise stop for us and I think well worth it. I imagine it can get pretty packed some nites, and it may be tougher to get drinks then but still worth a visit if in Baltimore I think.
1,437 characters
More User Reviews:

2.83
/5
rDev
-14.5%
vibe: 3.75 | quality: 3 | service: 3 | selection: 2 | food: 3

2.75
/5
rDev
-16.9%
vibe: 3.75 | quality: 3 | service: 3 | selection: 1.75
Good concert spot, not such a good beer spot.
45 characters

2.5
/5
rDev
-24.5%
This place went to s*it when they closed out the dining area and reduced the location to live events only. Beer selection was never ever good and remains unchanged. What used to be a nice night out (concert, 10% off your meal and a round of (4) drinks after) is now better served by stepping out and over to nearby bars prior to coming back for your show.
357 characters
3.46
/5
rDev
+4.5%
vibe: 3 | quality: 4 | service: 2.5 | selection: 4
I used to go the Rams Head for a bunch of concerts because they had great pre-concert deals on food and beer- usually having $2-$3 beers and even a free buffet. but now those days are over. I don't even know if they had food because I didn't ask after being charged $7 for a 16oz. beer that they make themselves! that's right, $7 for a beer that probably cost them about 20 cents (if that...) each to make! now they're no different than any other place you can go in Baltimore for a show.
in terms of their beer quality, I really love it. I think their Tavern Ale is a superior beer with a great taste, a good finish, that packs a good punch. stay away from the murky, red Copperhead Ale as it has a nasty aftertaste.
the service was lackluster at best. at the front bar, the bartender seemed far more interested in his fellow bartender (an attractive girl, I will say) than taking the time to gouge us for $35 for three Tavern Ales, one Bud Lite, and one Bud Light Lime (they were $7, too!). things were actually a little better at the back bar and the bartenders were hustling about to make sure everyone was taken care of- I appreciated that.
so go there for the shows, but stay away from their bar unless you've checked your bank account first.
1,251 characters
2.83
/5
rDev
-14.5%
vibe: 3.5 | quality: 3 | service: 3 | selection: 2.5 | food: 2
This is a pretty nice three-tier venue in Baltimore. A bit inconvenient getting through security if it's a big show, since it's a small hallway, but it's nothing I haven't seen before in my 300+ concert/show experience.
Fordham was the beer on tap when I went here, and the one I had was simply terrible (Copperhead Ale). I'm sorry now that I didn't try more, but I couldn't even get through one cup of that watery substance, so it kind of turned me off to trying others. Food came basically in the form of snacks: hot dogs, pizza slices, and the like. Nothing impressive, but I was there for the show anyway, not to eat.
Long story short, I like to see shows here, but if I'm going to drink (or eat), I'll go elsewhere and pre-game.
735 characters

3.49
/5
rDev
+5.4%
vibe: 4.5 | quality: 3.5 | service: 3 | selection: 3.5
Stopped in at the end of the day to see some of the outdoor live music and grab a beer. Upon walking in the bar was mildly crowded for a Friday evening. Pleasantly surprised they had 6 Fordham beers on tap (Light, Lager, Copperhead, Tavern Ale, Summer Forcast, and Oyster Stout), along with Old Dominion Oak Barrel Stout, Bass, Bud, Bud Light, and Stella. Luckily you could get your beer in plastic to head outside to watch the band.
There is an outdoor area that is roped in to mark the restaurant / bar boundaries. Inside the area is comfortable with a mildy rauchous atmosphere. The bar is a bit small but double sided. You could also play that bad odds state run Keno game to pass the time.
Service was lackluster at best, as the bartenders seemed to spend most of the time goofing around with some of the waiters rather than staying on top of customer's needs. Bathroom had the annoying attendant handing you paper towels and offering a squirt of aftershave, and then looking for tips.
I didn't venture into the other restaurant bars adjacent to this place, so I cannot compare the beer selection in the other Power Plant Live bars. But if you want a local beer you can at least find a few here.
1,211 characters

3.63
/5
rDev
+9.7%
vibe: 4 | quality: 4 | service: 3.5 | selection: 3 | food: 4
Hit Ram's Head Live for a Styx concert. The music was one thing, but the atmosphere in the venue and the tavern are great. The beer selection is a bit limited. If you're a Fordham lover, this is your place. Ram's Head is the place to get Fordham on tap--and they had almost all current offerings (including seasonals) available. The concert venue had multiple bars on both levels so a nice glass of beer (even for the macro-lovers standing around us) was quick and easy to get without losing your place in the crowd. All in all, well worth the trip. A bit on the pricey side (beer in the concert venue was about like the ballpark--$5 a glass). But a nice Fordham Copperhead and great music really make for a wonderful evening.
726 characters

3.45
/5
rDev
+4.2%
vibe: 4 | quality: 4 | service: 3 | selection: 3
Hit here last night while making the rounds during a bachelor party. It's in the back left part of an are known as Power Plant Live near the Inner Harbor. There is a bunch of loud, music thumping clubs there. The Ram's Head is broken into two parts. The front area is more of tavern type of place with lots of exposed brick and beams with a smallish double sided bar and about two dozen or so tables. The back area is the club portion with a big stage, another bar on the smaller side way in the back, and couple of tables along the wall. They do serve food up front, but we didn't have any on this trip. They had Fordham beers (six I think) on-tap as well as some BMC offerings. They also had a couple of bottled Fordhams available ( Maibock and Light). Service could have been better and more attentive but the beers were fresh and tasty. The selection could have been a bit larger as well but the area is more for clubbers then beer lovers so I understand.
959 characters
3.7
/5
rDev
+11.8%
vibe: 3.5 | quality: 4 | service: 3 | selection: 4 | food: 4
**Update 5/20/05--Stopped in two more times for shows. The waitstaff upfront are still pretty clueless. We've just about missed the beginning of both shows due to slowness and clueless folks. If there for the show, eat and drink in that area. They have the same pub grub and much better staff. They even have a chick that walks THROUGH the crowd, balancing brews while the bands are playing. Its only because of that area that I don't seriously downgrade several of the ratings...**
The newest Ram's Head location just opened here in Baltimore in mid-December. The refurbished inside has a comfortable atmosphere--although hard to discern since we were the only people inside. There is a lot of exposed brick, beer related old photos on the wall, and a lot of soft lighting.
The six Fordham brews on tap were delicious. All the other taps were macros. Believe me, if they want this location to survive on anything but concerts, they will need them. It is located within Power Plant Live, the part of town that sucked away all the college kids, meat heads, and bacheolorette parties from Fells. This will be the only spot in the PPL area I'll be back to...They also had a couple of coolers with micros and a Belgian or two, but I had to look behind the bar to find out.
Service only gets an average. At first, I felt sorry for the waiter. The bar only opened on 12/15. He had no clue about the beer or the food. But, he kept trying to push us on the Beer of the World Club. Although interesting if I still worked downtown, the waiter didn't know that the bar had beers OTHER than the six Fordham brews to make the 100 beers of the year. I guess he figured that we'd keep drinking them over and over again. Plus, although the place was empty, he gave us the check before we were even done eating. They should at least give these guys a rudimentary education on the beer and the food, he didn't even know about their tasty oyster stout.
Food was very good and well prepared. From the crab dip, to the fried oyster and hamburger sandwhiches, to more fancy entrees.
Besides the tasty Fordham brews, the other main reason to check out this location would be the concert area. It fits 2000 people and has four bars in it. The "live" concert area is 26000 feet big also has three different food kiosks. Haven't been there for a concert yet, but it seems pretty cool.
2,370 characters
Ram's Head Live! in Baltimore, MD
Place rating:
3.31
out of
5
with
11
ratings