Jack's India Pale Ale
| Northwest Brewhouse and Grill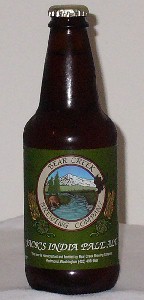 BEER INFO
Brewed by:
Northwest Brewhouse and Grill
Washington
,
United States
Style:
American IPA
Alcohol by volume (ABV):
not listed
Availability:
Year-round
Notes / Commercial Description:
No notes at this time.
Added by xlperro on 09-04-2002
This beer is retired; no longer brewed.
Reviews: 9 | Ratings: 9
Reviews by beerceller99:
3.79
/5
rDev
-1%
look: 5 | smell: 3.5 | taste: 3.5 | feel: 4.5 | overall: 4
The 12 oz. bottle from 2000 pours a dishwater blond colored fluid. Massive, almost artificial looking head hung around 'til the finish. Decently strong floral perfumy hop smell. Smooth, medium body to go along with that chewy head. Has a slight citrusy- grapefruit aura
which meshed nicely with a sweet caramel taste. Finishes with a bitter hop after taste.
This IPA weathered the long journey from 2000 quite nicely.
422 characters
More User Reviews:
3.89
/5
rDev
+1.6%
look: 3 | smell: 4 | taste: 4 | feel: 3.5 | overall: 4
Appearance – This is light yellow in color with just a tinge of orange. The head was rather lame, even with an aggressive pour.
Smell – This has a nice, very sharp citrus nose with some good pine undertones. There isn't much in the way of malt here. A little biscuit, maybe, but just slightly.
Taste – The lightly-toasted malts come out a bit more at the taste. The complex hop show carries the day, though. This one has a plethora of hops and they all come together nicely.
Mouthfeel – The flavors mix very well here. There's some light carbonation that can be a bit annoying at times, but the smoothness of the ale gets one over it. This IPA is a bit thin considering the strong hop profile, though. I would have liked to have seen something a bit bigger.
Drinkability – This is one of my hophead wife's favorite beers. It is smooth and very tasty. It's not a heavy-hitter, but has a nice and dry finish and will keep the hop-lover happy.
Update – I thought I'd update my review after drinking many of these over the course of 2004. This beer is amazingly inconsistent. Sometimes it's flat and more often it's over-carbonated. The strong, complex, piney hop profile gives it a great taste. If they could get this one right it'd be a real gem.
1,273 characters
4.14
/5
rDev
+8.1%
look: 3.5 | smell: 4.5 | taste: 4 | feel: 3.5 | overall: 4.5
The beer as it sets in the glass a lightly hazy amber color, the head portly in size, creamy in texture and a toothsome light tan in color, as it evanesces; the lace forms a concealing veil to hide the glass from view. Aroma of sweet malt and the hop flowers pervade the nose which is also crisp, clean, fresh and a real sniffable brew tis' true. Front is sweet and nicely malted, top is light to moderate in feel with a big hop spicy bite at the finish, nay I say the hops slap your taste buds silly, "Whoa Nellie", a "Hop Heads Dream"! Very dry and long lasting aftertaste and a great representative to the "India Pale Ale" sub-style and my thanks once again to RoyalT for this bottle.
694 characters
4.13
/5
rDev
+7.8%
look: 4.5 | smell: 4 | taste: 4 | feel: 4 | overall: 4.5
Pours an attractive hazy amber with a big old fluffy, inviting head. The nose showed off some fresh hop flowers, a hint of sweet malt & subtle foreshadowing of the big-time citrus/grapefruit flavors to come. Upon filling my cheeks, I get a bit of caramel malt, then almost immediately this brew comes through like a wave assaulting my palate. Big citrus and grapefruit hops make this fantastically bitter. Medium bodied, this IPA is exceptionally dry & leaves you with a delicious bitter aftertaste that lasts for what seems like hours. Very enjoyable. Kim, thank you for this one!
581 characters
4.22
/5
rDev
+10.2%
look: 4 | smell: 4.5 | taste: 4 | feel: 4 | overall: 4.5
Gold ale with slight copper hue (not as light as their standard Pale Ale). Strong hoppy nose that smacks you in the face almost immediately. Good strong citrus flavors balance well with the hops, which are very present. IBU in the high 40's. Very crisp finish. While IPA's are not my favorite beer style, I found this one to be easily drinkable and enjoyable.
364 characters
3.59
/5
rDev
-6.3%
look: 3 | smell: 4 | taste: 3.5 | feel: 3.5 | overall: 3.5
12 oz twisty bottle. Hazy amber body with absolutely no head. Strong grapefruit hops dominating the nose with a slight pungent cattyness and some sweetness underneath. Some caramel malt is able to make its way through the hops but the grapefruit bitterness stays strong throughout. It seems somewhat one-dimensional. I think it would best paired with some spicy foods. By itself, the hops leave the mouth dry with a bit of resinous aftertaste.
443 characters
3.28
/5
rDev
-14.4%
look: 3.5 | smell: 3 | taste: 3.5 | feel: 3.5 | overall: 3
Jack's IPA pours a hazy amber/orange with a nice cream/ivory white froth head that grows big, then reduces to a fizzle. The aroma is a blast of grapefruit hops and pine. Touch of sweet caramel malt lingers. The taste is very dry with touches of the alcohol seeping through the acidic grapefruit bitterness. No real counteractive sweetness to speak of. A medium bodied IPA and goes down smooth and easy. I could have a few of these, and at a buck a bottle you can't beat that.
475 characters

4.07
/5
rDev
+6.3%
look: 3.5 | smell: 4 | taste: 4 | feel: 4 | overall: 4.5
From a 12 oz bottle with a twist-off cap, it's golden-orange with a thickish white head that leaves traces on top to the end. The smell is noticeably hoppy but certainly not over the top. The hop aroma is on the citric side, most akin to grapefruit. Despite a fair dose of hopes, the taste is on the low-key side for a northwest IPA. It's dry and extremely easy to drink. Thanks to RoyalT for more of the stuff we can't find down here.
435 characters

3.62
/5
rDev
-5.5%
look: 3.5 | smell: 4 | taste: 3.5 | feel: 3.5 | overall: 3.5
A good, but not outstanding IPA. Pours out to a dark gold in the glass with a moderate head. The aroma is that of light citrus. The taste is moderately bitter, but not exactly balanced. The bitterness sticks out a bit more than expected, which is fine for an IPA. The swallow reflects the hop effect, which has more of a bitterness than taste to it.
349 characters
Jack's India Pale Ale from Northwest Brewhouse and Grill
3.83
out of
5
based on
9
ratings.