Sindee's Market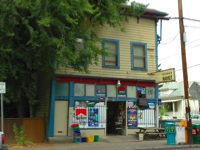 PLACE INFO
Type:
Store
3039 SE Stark St
Portland
,
Oregon
, 97214-3052
United States
(503) 234-0113
// CLOSED //
Notes:
No notes at this time.
Added by RedDiamond
Ratings: 3 | Reviews: 3
Reviews by ElGordo:
3.55
/5
rDev
-2.2%
Ah, Sindee's. Before my recent stint away from Portland I almost never went in here, even though I lived maybe three blocks away (I was employed at a better store and got my beer there). Now, however, I'm back staying in the same neighborhood without a retail job or transportation, so Sindee's it is. Looks like any of the other hundred little Korean markets in southeast Portland from the outside. Several coolers line the back of the store, holding a serious selection of large bottles of Belgians and NW micros. Along the east wall are several more coolers for sixers and macros. I saw some stuff in here that I know full well sold out at every other store in town long ago, so it's kind of like a treasure hunt at times (last year's Jubelale is still available).
The staff pretty much don't know a thing about beer, but they know their selection and are helpful in navigating the fairly random layout. Case in point: my friend wanted a case of Full Sail Session. It was nowhere to be found, but after inquiring at the counter, the lady came out, pushed aside a couple of cases of ramen noodles, and presto!, there it was. Worth a stop if you're in the neighborhood, or if you really want something that's been bought up elsewhere. Prices are pretty much on-par with other mini-marts and specialty retailers.
1,314 characters
More User Reviews:
3.6
/5
rDev
-0.8%
Can't believe I haven't reviewed this one yet...
Suzie O'Connell's is definitly a surprise, to say the least. located in a residential area not particularly close to anything, from the outside it looks like just one of so many mom 'n pop convenient stores. But a dodgey looking one as there are loads of bars on the windows and it's definitly not in the best shape.
Coming into the store isn't a terribly positive experience either, as, 4 out of the 5 times I've been there there has been a rather discernable "funk" eminating from a pile 'o recyclables and other stuff sitting just to the right of the entrance. Hmmm.
For those brave soles not put off by the unimpressive first impression, a trip to the back of the store (down VERY narrow and CROWDED aisles) reveals a plethora of high quality micros. While the funk is never very far, it's easy to overlook as you ply through 5 coolers (partially) full of all sorts of good stuff.
And while the Korean gentleman who runs the store is friendly and quite helpfull, this is NOT Liquid Solutions or Belmont Station! Knowledgeable as he is, the quality of the beer is suspect because much of it is stored higgly piggly and not in coolers. Dust is everywhere and I've noticed some of the beers are well past expiration (and they're not the cellaring type!).
While Suzie O'Connell's may not be my first stop in my quest for something new and hard to find, more than once it's been the only place to have a beer that my usual haunts are already out of.
1,512 characters
3.75
/5
rDev
+3.3%
Sindee's Market, formerly known as Suzie O'Connell's, is something of an anomaly. From the street it looks like a quaintly neglected neighborhood mini-mart. The building itself actually leans like that tower in Pisa, Italy. It's not exactly plumb and I find it hard to believe it passes city inspection. I'd bet your average high school wrestling team could easily push the whole building over.
Inside, you'll find shelves that are either half vacant or lined with dusty packages of diapers or canned goods and sundries. It doesn't look like the kind of place you'd stop in for a pack of Wrigley's gum.
But walk to the rear and you'll find one of the best selections of beer in Portland. There are three or four sizable coolers filled with world class brews from the four corners of the earth. Boxes of beer clutter the aisles and bottles fill shelves to capacity. You'll find specialty ales from Belgium that you've never heard of alongside an impressive array of Northwest micros from Dick's, Anderson Valley, Far West Ireland, and many others. Sindee's boasts a selection in excess of 400 micros and specialty beers, a number that easily rivals -- if not surpasses -- Portland's famed Belmont Station.
Prices run towards the high end of the common spectrum, but if you buy six beers of any sort, the owner gives a 7% discount, restoring some value to your purchase. Buy twelve beers and get a 10% discount.
Sindee's is no secret to neighborhood beer fans. Some of the bottles do tend to get a bit "dusty", but the majority of bottle conditioned or refrigerated beers are fine. Personally, I don't think I'd dish out $65 for one of their huge magnums of Hair of The Dog (I can attest that they've spent a lot of time under those fluorescent lights). But those exotic three liter magnums of Double Bastard make for a catchy display if nothing else.
This is a great place to find a great beer. The new owners are still learning about beer so don't be surprised if your knowledge of beercraft exceeds theirs. But they're really nice folks and usually stay open 'till 11PM or later. Closed Sunday.
2,116 characters
Sindee's Market in Portland, OR
3.63
out of
5
based on
3
ratings.