Josephs Brau Vienna Style Lager
| Trader Joe's Brewing Company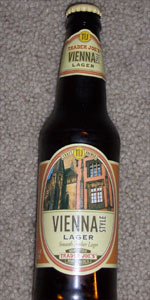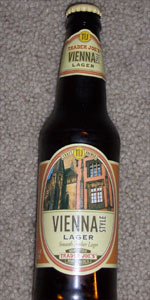 BEER INFO
Brewed by:
Trader Joe's Brewing Company
California
,
United States
Style:
Vienna Lager
Alcohol by volume (ABV):
5.70%
Availability:
Year-round
Notes / Commercial Description:
No notes at this time.
Added by TheLongBeachBum on 01-23-2005
This beer is retired; no longer brewed.
HISTOGRAM
Ratings: 335 | Reviews: 183
3.01
/5
rDev
-13.3%
look: 3.5 | smell: 2.5 | taste: 3 | feel: 3 | overall: 3.5
Presentation: 12 oz longneck bottle. On the front it says "Smooth Amber Laber." On the back is a nice description of the beer, the ABV, IBUs, and a clearly labeled batch date. At least TJ's have gotten the labels right.
Appearance: Pours a clear red amber color with a nice head. Fades relatively quickly to a thin lace.
Smell: Sweet malt with a hint of vegetables - decent, but not too appealing.
Taste: All malts here - but it ends up being a bit too sweet. No balance at all.
Overall impression: Not a bad beer, but not a great one either. Not bad for cheap beer from the supermarket, but I won't be seeking it out again.
637 characters
3.02
/5
rDev
-13%
look: 4.5 | smell: 2.5 | taste: 3 | feel: 3.5 | overall: 3
Well, it's an attractive enough beer. Clear gold in color with an ample swirle of carbonation leading up to a moderately sized off-white head. Decent lacing as the glass drains.
Aroma is mostly grainy, slightly sweet. Hints of caramel with a bit of a wet dog undertone. And yes, that's just as appealing as it sounds.
Slightly unpleasant flavor at the start. Not a lot of bitterness, just grains and some light malts for most of the sip. Finishes better, with the malts developing a lightly toasty, biscuity character. Overall, not a lot going on here flavorwise, though.
Moderate to thin mouthfeel, but fairly smooth. This is a drinkable beer, I guess. But not really exciting, and not my favorite example of the style by a longshot.
743 characters
3.46
/5
rDev
-0.3%
look: 4 | smell: 3 | taste: 3.5 | feel: 3 | overall: 4
Pours an amber ruby with a light tan head with large bubbles. Head dissapates fairly quickly into a thin collar with little to no lace.
Smells a little malty, but a touch more metallic than anything.
Taste is rich malts with a pretty smooth flavor profile. Hops come in and the beer ends with a lingering carmely sweetness. Metallic-ness shows up every once in a while and is mildly unpleasant.
Fairly light bodied, prickly carbonation goes down pretty well.
An average beer, but for 5 bucks a 6 pack I'm not too dissapointed. This is basically Gordon Biersch Marzen, as GB contract brews for TJ's. Notice the logo for GB and TJ is the same except the lettering.
674 characters

3.53
/5
rDev
+1.7%
look: 4 | smell: 3.5 | taste: 3.5 | feel: 3.5 | overall: 3.5
Pours with a brilliantly clear deep copper almost amber color. It is topped by a frothy, approaching creamy, tan head that comes about from a slight carbonation. The aroma is almost non-existent, but for a lightly toasted biscuit type maltiness and a suggestion of spicy hoppiness. The taste is lightly sweet up front with malty notes of caramel. The finish is lightly spicy with a hint of balancing bitterness that comes to dominate the finish, but in a good way as it makes you want to take another sip. This is a simple brew, it is nice and refreshing, but is lacking a depth of flavor that I would like to see in a Vienna Lager.
632 characters
3.16
/5
rDev
-8.9%
look: 4 | smell: 3 | taste: 3 | feel: 3 | overall: 3.5
Pours true to style, bright amber with a red hue. Nose is bit subdued. The mouthfeel is very limited, watery. Lacks complexity and charachter of the style. It begins to taste a little off as I got half way through - not really off, just lacking in charachter.
I assumed this was a GB beer since brewed in San Jose - other's notes suggest this is true. For $4.99, not a bad starter beer for macro converts.
408 characters

3.09
/5
rDev
-11%
look: 4.5 | smell: 3 | taste: 3 | feel: 3 | overall: 3
02/26/05- Purchased at Trader Joe's in San Francisco, CA
Presentation- 12oz bottle with no dates. Poured into my favorite Radeberger pils glass.
Appearance- I am getting really good pours from my recent beers...to bad they don't taste as good as the pour is nice. This one pours a nice amber color with an inch head that settles to 1/4 inch and remains throughout. The lacing is very nice as well.
Smell- Very small scent...a light grainy and malty smell. I had to struggle just to get that.
Mouthfeel- Moderate carbonation and a tad of a watery mouthfeel.
Drinkability- Nothing special here. Just a run of the mill lager. It tastes exactly like a Gordon Biersch beer should. No need to try again.
712 characters

3.02
/5
rDev
-13%
look: 4 | smell: 2 | taste: 3.5 | feel: 3 | overall: 3
Pours a clear orange amber beer with a quickly fading white head.
Smell is malty with a strong vegetable odor. There is the scent of roasted malt in this but the smell isn't that great.
Taste is a mostly malty with a fair amount of bitterness in the aftertaste. Bit of Biscuit and caramel in the malt flavor.
Mouthfeel is OK.
An OK drinking beer. Not great but it will do for a watching TV beer. Not my favorite of the Trader Joe beers, but if this and Heineken were my two choices I would grab this. Like all the other TJ beers it is a good value for the price.
574 characters
3.03
/5
rDev
-12.7%
look: 3 | smell: 2.5 | taste: 3.5 | feel: 2.5 | overall: 3
Presented in a 12oz bottle with batch number 10:17 12/27/04 607 on the back label. Poured into a standard pint glass.
Appearance: clear tangerine color with a quickly diminishing bubbly off-white head. No lace but lots of fine carbonation seen streaming to the surface.
Smell: fruity sweet with a light toffee aroma. Very mild toasted malt note even though the back label states they used pilsner, dark , and caramelized dark malts. They just don't show up in the nose.
Taste: more fruity sweetness and more caramel malt flavor than the nose would lead you to believe. Finish possessed only token bitterness but produced a crackery, biscuity malt flavor.
Feel: light, smooth and nicely carbonated though a bit thin.
Overall: well, nothing stunning here but not a drain-pour either. TJ's Vienna Lager would work as a decent intro beer for a macro-lover but it won't set a long-time beer enthusiast's pulse racing.
917 characters
3.56
/5
rDev
+2.6%
look: 4 | smell: 3 | taste: 3.5 | feel: 4 | overall: 4
Purchased 01-06-05, bottled 12/27/04.
After trying the Bohemian lager by Trader Joe, I was really worried about this one. However, this was not something to fret about. The Vienna Lager is a good beer. Not great but a good, solid lager. I guess it is possible that the Bohemian would make any lager taste good, though.
The Vienna pours well with a good head and dark amber color. The smell is your basic lager smell with just a bit of sweetness in there. At first I thought it was honey but I quickly dismissed that and haven't been able to put my finger on it.
The beer is smooth in your mouth with that sweetness (what is it? Some type of berry?) there. It is a mellow sweetness, which is good, and also why I probably can't figure it out. Some malt in that sweetness and just noticeable hops. The aftertaste is one of the better ones for a beer. It stays there and subtley reminds you to take another pull if you wait too long. Not an overpowering beer but solid in a lot of ways and did its job while I prepared stir-fry for dinner. I'll get this one again.
1,072 characters
2.73
/5
rDev
-21.3%
look: 3 | smell: 2.5 | taste: 3 | feel: 2.5 | overall: 2.5
Presentation: 355ml (12 fluid ounce) standard looking brown glass bottle. The letters 'T' and 'J' sit aside a sheaf on an appropriately color coded dark orange crown cap. Main label and neck label has the words 'Vienna Style Lager'. Described below as a 'Smooth Amber Lager'. The reverse label has the Batch Number as '07:51 12/27/04 607', plus the following Beer Stats: 5.7% alcohol by volume. 20 Bitterness units. Fermented using lager yeast.
Appearance: Off-white head quickly forms and builds into a 1" deep head. Dark orange copper body, clear and inviting. The Smooth head lasts a good while but the carbonation is average, head finishes at a ¼" covering with minimal lacing.
Nose: Grain encrusted caramel malts and a light Vienna hint but not much in the way of a nose on this one. Has a rather sweet odor.
Taste: Amber like entrance, sweet malts, some light toffee caramel. Minimal bitterness throughout. Rather boring…..Zzzz………
Mouthfeel: Smooth body, average conditioning and a clean drinker but a little thin overall.
Drinkability: Reasonably quaffable. Nothing detracts from this offering, it is just that it doesn't have much to offer in the way of long term excitement either.
Overall: Not much happening in this one, far from awful but not one that I would buy again.
1,321 characters
Josephs Brau Vienna Style Lager from Trader Joe's Brewing Company
Beer rating:
3.47
out of
5
with
335
ratings