East Side Restaurant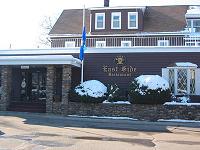 PLACE INFO
Type:
Bar, Eatery
131 Dwight St
New Britain
,
Connecticut
, 06051-2334
United States
(860) 223-1188 |
map
eastsiderestaurant.com
Notes:
No notes at this time.
Added by goodbyeohio
Ratings: 14 | Reviews: 9
Reviews by Roguer:
3.94
/5
rDev
-3.4%
vibe: 5 | quality: 3.75 | service: 4.75 | selection: 3 | food: 3.75
Price is OK for a German restaurant in the states; not cheap, but absolutely normal. Food was good but not outstanding; I had decent-but-not-great Saurbraten, and excellent potato pancakes. Beer selection was good but small. Very typical brews: Spaten (lager, Oktoberfest, and Optimater), Warsteiner (lager and dunkel), Franziskaner Hefeweissen, Hacker-Pschorr, and a couple others.
As to the beer: both beers I had featured a strong butterscotch flavor, very atypical. I had two different Spaten brews, and they both had it. Not sure why, but it significantly impacted my experience.
(Edit: I mentioned this to the server, and had a cook taste it; he agreed something was off. It was probably the glass - my server used the same glass for both beers. I ordered a Franziskaner Hefe, and it was fine. Still, poor choice to re-use a glass, and no discount or anything for the experience.)
Great atmosphere, friendly and authentic. I'd definitely frequent this spot if it were nearby.
984 characters
More User Reviews:

3.58
/5
rDev
-12.3%
vibe: 5 | quality: 3.5 | service: 3.5 | selection: 3 | food: 4
big price, small portions on the food. bring your wallet.
57 characters

4.01
/5
rDev
-1.7%
vibe: 4.5 | quality: 4 | service: 4 | selection: 3.75 | food: 4.25



4.24
/5
rDev
+3.9%
vibe: 4.75 | quality: 4 | service: 4 | selection: 4.75 | food: 3.75
Great place to have German food and drink in the Hartford area. The beer selection is outstanding, and if you enjoy German food, it's great. I always enjoy hearing the room chant whenever somebody orders one of their "big beers".
If you're not into the German food, check out the ice bar upstairs, as it's a lot of fun, too.
325 characters

4.25
/5
rDev
+4.2%
vibe: 4.5 | quality: 4.5 | service: 4.5 | selection: 3.5 | food: 4.5
Established 1934, but the most recent owner who has been here for the last 8 years or so has brought this place to life. This is the closest you'll get to the Hofbrau Haus here in CT. Great rooftop bier garten with music, homey wood paneled and carpeted dining room with murals and photos of German castles and landscapes, and very authentic and very tasty German food. Not a huge beer selection, but a good variety of German styles - dunkel, hefeweizen, maibock, dopplebock, oktoberfest. Service is prompt, helpful, courteous. People seem to complain that it's expensive, but it's actually a pretty good value considering that dinner comes with soup, salad, and dessert. The bavarian pretzel appetizer is phenomenal, and the German sausage platter with kraut and speitzl brought me right back to Munich. Fun place, great place to go with a group. Get a one liter mug or a 2 liter boot and get a big cheer from your server.
923 characters
4.38
/5
rDev
+7.4%
vibe: 4.5 | quality: 4.5 | service: 4 | selection: 4.5 | food: 4.5
I went to the East Side Restaurant on Saturday night with a bunch of friends and we had a great time. As others have noted, this restaurant in located in a pretty shady area in New Britain and parking can be difficult. It was packed when we went there during the weekend peak hours. This place is a top-notch, authentic German restaurant with a celebratory and festive vibe.
We started upstairs on the roof deck/beer garden and eventually made our way downstairs to one of the dining rooms. Service was attentive and friendly. Food is so good. Started off with a Giant Bavarian Pretzel that was easily the best pretzel that I've ever had. We also tried the Bavarian Style Garlic Bread that was delcicious.
German draft beers included Spaten Lager, Hacker-Pschorr, Hofbrau Original, Weihenstephan, Spaten Oktoberfest, Warsteiner Dunkel, Spaten Optimator, Warsteiner Pilsner, Beck's, Maybock and Franziskaner Hefe-Weizen.
There are also the "Brewmeister's Picks" that offer Blue Moon, Peroni, Widmer Hefeweizen, Budweiser American Ale, Long Trail and Hooker's Munich Style Golden Lager. Beers were fresh and tasty. Beers are served 1/2 liter, 1 or 2 liter german mugs that are perfect for clunking together after a hearty toast. A 1 liter mug goes for $15, so that can add up rather quickly.
Simply put, it's the awesome atmosphere and great food & beer that make this place what it is. Recommended if in the area.
1,420 characters
4.33
/5
rDev
+6.1%
vibe: 4.5 | quality: 4.5 | service: 4.5 | selection: 4 | food: 4
This place has been around for years and was purchased by current owner Nick about 10 years ago (or so...).
He recently sank over $1,000,000 into a renovation and added an outdoor, rooftop beer garden which FINALLY opened this week after about a year of delays. I was in heaven. They have a separate menu for the beer garden and new Barvaria room which is less pricey than the main dining room. It's great.
The beer is always fresh and serves cold in 1/2 and full liters. Many German beers but now he also offers other beers as well. Probably 20 beers. I didn't really look at the non-German beer list because when I go to the Eastside I wouldn't think of getting anything other than a German beer... Anyway, the Bavaria room has snow rails in about half the tables which 'grow' snow on the cold metal plates. This is for you to put your beer on to keep it cold to the last drop. It works well too! I love this place and you will too. If you're into European football, Nick is having nights dedicated to fans up in the beer garden. Oh, the beer garden is open all four seasons! Cheers, Yarbz
1,093 characters
3.78
/5
rDev
-7.4%
vibe: 3.5 | quality: 4 | service: 4 | selection: 3.5 | food: 3.5
A dark , noisy Bavarian beer hall- restaurant.
The selection of beers is basically good German taps served in half liters and liters. Not a place to go on a romantic dinner date , unless you like strolling accordian music...the guy was actually pretty good and played requests.
The food is German, American and even some Italian....but German is the specialty here, and decent.
I would recommend it if you like German food, mostly because it's not too common in CT...not stellar, but decent. Make a reservation if you go on a Saturday.
535 characters
4.18
/5
rDev
+2.5%
vibe: 4 | quality: 4.5 | service: 4.5 | selection: 4 | food: 3
I now go here on a weekly basis for lunch. A good selection of German beers served in liter mugs. They also started a "Mug Club" where you can get your own liter mug and receive discounts.
The reason I only gave the food an average rating was not so much about quality, but because I'm a vegetarian, and the choices are very limited. But what I can get is very good. Potatoe pancakes are the best I ever had...
They are doing some renovations now that will make this place incredible. Right now, it's only a restaurant. No bar... They are renovating the upstairs and putting in a bar, and a patio on the roof for outdoor festivities. This will make this place a must visit for anyone visiting connecticut. It's in a residential neighborhood, but worth seeking out.
764 characters

4.36
/5
rDev
+6.9%
vibe: 4.5 | quality: 4.5 | service: 4 | selection: 4.5
Stopped in with my wife for a quick beer on 6/10/08. I've been to this place once a long time ago. We sat in a leather booth. Dim lighting and dark colored walls with some decorations here and there, kind of classy lookin. All the servers are dressed in traditional german gear and you can hera them speaking german to each other as they pass. It makes the place seem really authentic and family owned.
The beer was great. I had a Spaten Optimator and my wife had a Fransikaner. Both were served in the proper glasses and at a good temp. We both ordered the 1/2 liter which is a "normal" amount of beer. The full liter seems a little too much, especially when you look at the price.
I really love the selection here, it is stuff you don't see at other places. They don't have the biggest draft selection but the quality is quite good. If your in New BRitain and looking for some good beer on tap this is about the only good place to go, but it is very worth it.
962 characters
3.9
/5
rDev
-4.4%
vibe: 4 | quality: 3.5 | service: 4.5 | selection: 3.5 | food: 4.5
this is truly a hidden beer gem in the middle of the new britain ghetto!
decor is ornate, gothic dark wood and large bavarian murals. this place is large, and has two dining rooms and a bar. reservations are recommended for weekend dinner. the bar area has recently lost the actual bar (which only seated six) but still maintains several cafe-style tables.. the ambiance of the bar room still pleases, full of hunting head trophies and the occasional accordion player.
the food is great and dinners are huge- traditional german/bavarian- schnitzels, wurst, sauerbraten etc.. but BIERS are the real treat at this fine establishment.
beer is served in either a 1/2 liter or full liter (when you order the full liter, it comes with a traditional toast that all other patrons join in on). seasonals rotate, but you can always find the following drafts:
Spaten Lager
Lowenbrau
Spaten Oktoberfest
Warsteiner Dunkel
Spaten Optimator
Warsteiner Pilsner
Dinklelacker
Franziskaner Hefe-Weiss
In bottles, Dab, Franziskaner Dunkelweiss, Julius Eckter Hefe, and Franziskaner Club Weiss.
the beer is always fresh and the girls who serve it are super-hot and dressed in "those outfits".. check the pictures on the website
1,240 characters
East Side Restaurant in New Britain, CT
4.08
out of
5
based on
14
ratings.