Colorado Indica
| Cervejaria Colorado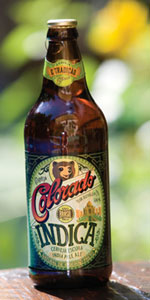 BEER INFO
Brewed by:
Cervejaria Colorado
Brazil
cervejariacolorado.com.br
Style:
English India Pale Ale (IPA)
Alcohol by volume (ABV):
7.00%
Availability:
Year-round
Notes / Commercial Description:
India Pale Ale brewed with rapadura.
Added by soper2000 on 03-01-2005
Reviews: 11 | Ratings: 60

3.12
/5
rDev
-17.5%
look: 3.75 | smell: 3 | taste: 3.25 | feel: 2.75 | overall: 3
Medium orange color, off white head. Plenty lace.
Aroma was more malty, with a floral, earthy hop note, somewhat spicy. Malts are sweet and bready.
Taste was low bitterness, with some citrus, but mostly earthy, herbal hop notes. Light caramel sweetness, and some bread crust tastes.
Oily feel, slick, medium bodied, lower carbonation.
Even for an English, its fairly average.
★
381 characters

3.33
/5
rDev
-11.9%
look: 3.25 | smell: 4 | taste: 3 | feel: 3.25 | overall: 3.25
Quite disappointing for an IPA...
Appearance it's ok. There's a nice, big and dense foam.. the color is not equally nice, it's an amber color quite transparent.
Smell is the highlight here, really hoppy and citric, with a nice tone of passion fruit and grapefruit.
Taste is hoppy and with citric/fruity tones in the beginning but it becomes tart and there's nothing balancing the bitterness in the end (a big problem).
Really light for an IPA, carbonation is ok.
The sugar used in the brewing is rapadura, Indica has a different kind of sweetness and bitterness because of this,.. it's quite interesting but don't make it a great beer.
★
635 characters
3.58
/5
rDev
-5.3%
look: 4 | smell: 3.5 | taste: 3.5 | feel: 4 | overall: 3.5
600 ml bottle at Paralelo 12:27 in São Paulo. Cool looking retro-label with Colorado brewery's cartoon bear on the top with a drawing of the Taj Mahal on the right hand side. On to the beer:
Amber in color with tints of orange, the head is froathy and has good retention and lacing. The aroma was mild with herbal-like hops and faint fruity esters. Upon putting this to my mouth, I get a huge viscous body with some stickiness. The taste is relatively light to the body. Some fruity esters, a smack of booze, and a little bit of hops is all what I get.
It's a solid beer from a solid brewery, but it may not please the biggest hop cravings out there.
★
654 characters
3.67
/5
rDev
-2.9%
look: 4.25 | smell: 3.5 | taste: 3.75 | feel: 3.75 | overall: 3.5
Amber color with a two finger head with medium retention and leaving laces.
Aroma of floral hops, a bit mild for an IPA.
Balanced beer with a bitter taste of floral and piney hops and malt bready base. Hints of caramel and fruits with some citrusy to it, towards grapefruit. Dry aftertaste with a good bitterness.
Light to medium body with good carbonation. Alcohol is well hidden.
It is an English Pale Ale, good beer and well done, but not extraordinary with compared to American IPAs. Still has a good drinkability and very pleasant to drink.
★
545 characters
3.78
/5
rDev 0%
look: 4 | smell: 3.5 | taste: 4 | feel: 4 | overall: 3.5
Dark amber with a latticed head of white froth that fades to oily film. Dark honey and heavily floral perfume on the nose with a whiff of booze.
A big dose of salty caramel and pear cake up front followed by resin and candied orange hops and maybe some wood oil - EKG all the way, if I had to guess.
Brown sugar rock candy finish and powdery bitter linger. Medium, chewy, soft, oily, slight burn.
This sat a while waiting for a certain special occasion, which probably did the hops no favors. At the same time, the big chewy malts in this would have been out of place in anything that's not a DIPA, so this was balanced differently most IPAs I've ever had no matter where it started. I also don't get the US branding (or am I the only one making an Indica = Cannabis = hops connection?) in what's a very English IPA.
The IBUs are there in the finish, so I can see where this could be startlingly to a Brazilian palate, and it's pleasant if a bit heavy. I'd like to see more aroma, but true to style it outstrips some so-called historical IPAs from the UK.
Caught my attention, anyway.
★
1,089 characters

3.85
/5
rDev
+1.9%
look: 3.5 | smell: 3.5 | taste: 4 | feel: 4 | overall: 4
A 600ml bottle at Badaro near the Hilton Morumbi in Sao Paulo.
Nice deep amber color with a limited head and lace. Hard to say whether this was age related. Earthy hops with a pinch of spice combined with turbinado sugar aroma. Nice combination of malt and bittering hops with a big body and softish mouthfeel. Overall, a bit on the sweet side, but certainly worth enough to be a regular beer or nice alternative to a West coast style IPA. Reminded me of a hopped up version of Bass from the late 80's/early 90's. Nice English style IPA from South America
★
556 characters
3.94
/5
rDev
+4.2%
look: 4 | smell: 3.75 | taste: 4 | feel: 4 | overall: 4
Reddish, and the cream is dense and persistent. Smeels like fragant hops, delicious. In the mouth explodes in hops, slightly roasted malt and lightly sweet. The finish is long and quite dry, valuing the drinkability and imploring for a new gulp. Certainly a great beer.
★
269 characters
3.98
/5
rDev
+5.3%
look: 4 | smell: 3.5 | taste: 4 | feel: 4 | overall: 4.5
600ml bottle picked up at Asterix to take home after I was done with my meal.
Pours a rich, golden hue, towards amber. Clear, with a medium frothy head and decent lacing.
Aroma is hop forward and mild... a spicy, herbal twinge, a bit of pine, and floral. None of the esters or malt sweetness I'd expect from an English IPA (although it's quite possible this was entered incorrectly).
Flavor is balanced and clean. A nice bready malt undercurrent, dry and not too sweet at any time, hop flavors are forward, again spicy and herbal, a bit of a citric lift towards the end.
Mouth is smooth with a nice carbonic lift. Medium-bodied.
Delicious, if not horribly inspiring. But it being the only IPA I've seen brewed in Brazil, being relatively inexpensive, and being damned tasty.... on all my subsequent visits I'll be sure to nab a bottle or two.
★
847 characters

4.05
/5
rDev
+7.1%
look: 4 | smell: 4 | taste: 4 | feel: 4 | overall: 4.25
600ml bottle served in a glass.
A: Pours a deep orange to amber color. Clear. Forms a big bubbled creamy yellow head with good retention and many lacings left in the glass
S: Sweet malty backbone. Strong notes of caramel. Citrus and piny "American style" hops in the end
T: Sweet upfront. Candy sugar and caramel and caramel malts. Notes of citrus and piny hops bitterness. Delicious notes of good quality Ale strain yeasts
M: Medium and molasses body. Medium carbonation. Caramel malts and a bittersweet aftertaste
O: High drinkability. Well done American IPA. No alcohol felt dispate the medium to high ABV. One of the best Brazilian beers I've had
★
655 characters

4.09
/5
rDev
+8.2%
look: 4.5 | smell: 3.5 | taste: 4.25 | feel: 4.25 | overall: 4.25
From bottle dated June 2016. Impressive off white head and clear Amber in color. Smells ok but not much hop on the nose, some hints of Grapefruit. Taste is surprisingly complex. First comes the sweet malt then a nice bitter finish. Lots of herbal characteristics. The sweetness apparently comes from the addition of the sugarcane or Rapadura. Overall a real good take on a English IPA.
★
386 characters
4.25
/5
rDev
+12.4%
Wonder hop! Appearance: Copper, beautiful bottle, foam consistent with medium bubbles; Aroma hops and molasses, the latter very lightly; Taste: hop bitterness, lingering aftertaste of hops and brown sugar. High quality, do not let the hillbilly hangover!
★
254 characters
Colorado Indica from Cervejaria Colorado
3.78
out of
5
based on
60
ratings.