Colorado Demoiselle
| Cervejaria Colorado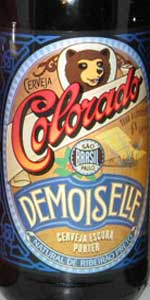 BEER INFO
Brewed by:
Cervejaria Colorado
Brazil
cervejariacolorado.com.br
Style:
American Porter
Alcohol by volume (ABV):
6.00%
Availability:
Year-round
Notes / Commercial Description:
Porter brewed with coffee.
Added by DoubleJ on 01-19-2009
Reviews: 8 | Ratings: 35
4.17
/5
rDev
+12.4%
look: 5 | smell: 4.25 | taste: 4 | feel: 4 | overall: 4.25
A: Pours a beauty dark brown with a brown head that have a good retention and left a lacing after sometime.
S: Coffee and which seems to me like toasted pine and ends with chocolate.
T: Follows the taste with a mix of coffee and pine like spicy flavour. Ends with a little bittersweet coffee taste.
M: Its low retention with its middle body creates a cream/milky feel on the mouth. Demoiselle is quite refreshing with its flavours combined in a very balanced way, with nor its sweetness neither its bitterness overwhelming one or other.
O: Demoiselle is a well balanced beer with the complexity and thickness that the style requires, but still being a easy drinking session Porter.
685 characters

4
/5
rDev
+7.8%
look: 4 | smell: 4 | taste: 4 | feel: 4 | overall: 4
600ml served in a pokal glass.
A: Pours a dark brown almost black color forming a big bubbled tan head. Good retention and some nice lacings left
S: Strong on coffee, roasted malts and dark chocolate. Biscuity too
T: Roasted malts, coffee and dark chocolate. Upfront is mild sweet followed by a crispy roasted bitterness. Well balanced
M: Medium body and carbonation. Aftertaste is roasted and bitter
O: Very pleasant and drinkable Porter. Very honest and well done. My second favorite Colorado beer after their IPA
520 characters

3.81
/5
rDev
+2.7%
look: 3.5 | smell: 3.75 | taste: 4 | feel: 3.5 | overall: 3.75
Smell and taste of roasted malt, coffe and chocolate.
The color is really dark but the foam is not that nice.
The best thing is the level of sweetness (actually, it is just a bit sweet) and bitterness, they are quite balanced.
And I think it should be less alcoholic.
267 characters
3.8
/5
rDev
+2.4%
look: 4 | smell: 4 | taste: 3.5 | feel: 4 | overall: 4
First off, you have to love the bottle. Cool retro style label (1930's style artwork) with a pull-off bottle cap that opens like a can of soup. Consumed at 5:30 am in a condominum in Capão da Canoa, Brazil....after getting back from a club. On to the beer:
Deep, dark, rich, and scary in color. Deep black like Halloween. The aroma is big on coffee. There's some dark chocolate notes which tease the nostrils too. Taste....coffee all the way. A very enjoyable coffee flavor. Crwaling out from the closet is a touch of molasses on the palate. But I'm still not satisfied, it's too monotone for me. Nonetheless, this is a satisfying porter to satisfy my late-night craving.
673 characters
3.7
/5
rDev
-0.3%
look: 4 | smell: 4 | taste: 3.5 | feel: 3 | overall: 4
From a bottle courtesy of DoubleJ, thanks Jon,
A: Pours a deep brown to black with a firm off-white almost tan head. Good head retention, spotty lace.
S: Heavy coffee and dark chocolate, espresso, pungent.
T: The dark chocolate flavour is dominant with the coffee and dark malt in the background. A strong flavour, but has a hint of unappetizing charcoal like bitterness.
M: Light to medium-bodied, feels thin at points. Creamy, soft carbonation.
O: A real solid coffee porter, happy to try another one from Brasil.
520 characters

3.66
/5
rDev
-1.3%
look: 4 | smell: 3.5 | taste: 3.75 | feel: 3.25 | overall: 3.75
Pours black, with a medium brown head, rocky, leaving nice lacing. Aroma is of chocolate and roasted malts, hints of earth and grain, with a slight coffee bitterness. Taste comes off as much more chocolaty, with a nice sugar sweetness, roast and a coffee bitterness finish. Body is medium, with some adequate carbonation, buts lacks some creaminess.
Overall, definitely a solid porter with nice chocolate notes.
412 characters
3.6
/5
rDev
-3%
look: 3.25 | smell: 3.25 | taste: 3.75 | feel: 3.75 | overall: 3.75
Deep black color with a two finger beige head with medium retention.
Strong aroma of non-sweet lungo coffee, biscuits and pine.
Likewise, clear flavor of coffee notes, toasted malts and earthy hops. Hints of spices, charcoal and guaraná powder.
Dry aftertaste with a long lasting coffee bitterness.
Medium body, a bit creamy like espresso coffee with descent carbonation with tiny bubbles. 6% ABV is felt nowhere, they could even beef this up to make it more fun.
Good Coffee Porter. Liked the coffee and spicy notes. If you are into coffee this is your beer.
560 characters
3.25
/5
rDev
-12.4%
Delivers what it promises, it really has natural coffee flavor because we get tired of those beers you hawking coffee and chocolate, but they pass away ... Appearance: shiny black, great foam. Aroma: I sinned in ice-cold stop masking. Taste: Nothing like drinking with your eyes first, completing the tasting to be taken, remembers childhood when sucked through green coffee foot. Thanks!
388 characters
Colorado Demoiselle from Cervejaria Colorado
3.71
out of
5
based on
35
ratings.