Dismiss Notice
Cellars Wines & Spirits Inc.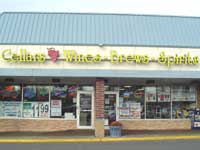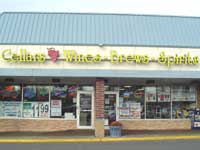 PLACE INFO
Type:
Store
1149 Larpenteur Ave. W.
Roseville
,
Minnesota
, 55113
United States
(651) 489-5050
// CLOSED //
Notes:
No notes at this time.
Added by tavernjef
PLACE STATS
Reviews:

10

Ratings:

pDev:

7.91%
HISTOGRAM
Ratings: 10 | Reviews: 10
Reviews by JeffKrenner:
4
/5
rDev
-7%
This is probably the best of all the Cellar's locations in the Twin Cities. Great selection like the rest of the chain, but they go way further with the singles selection. Well over 100 different bottles for mix and match 6 packs. Good selection of both domestic craft beers as well as imports (especially belgians). Service is hit and miss, depending on who is working, but you are in good hands if you hit. They just started doing weekly tastings on fridays, and I can't wait until I am make it for one.
505 characters
More User Reviews:
4.35
/5
rDev
+1.2%
Cellars has a good variety of Belgian beers and US craft beers, more than enough so that you'll find something you'll like. Prices on MI beers are a little higher than in OH but not much. Many of the Belgian beers are very similar price to IL, MI, and OH. In particular I liked finding Surly and Tyranena beers as I'm from out of state. But also there were many Bells, Goose Island, and others from the midwest. There were more varieties of Cantillon and Fantome than I'm used to seeing in a beer store, several bargain priced (so maybe some of these don't move too quickly). Minneapolis has plenty of good beer options, and Cellars is no slouch when it comes to looking for something to take home.
698 characters
3.7
/5
rDev
-14%
Stopped into this location not quite knowing what to expect and was quite pleased. After navigating through most of the length of the store (this seemed to primarily be a wine and liquor store), I found the beginning of the beer section, containing a good variety of European imports (Norway, Belgium, England, you name it) in singles and packs, when available.
As I investigated further, I found the American craft brews. Shelves and stacked boxes showcased many brewers, from the standard breweries to some less-frequently seen around here. In back is a large wall containing a bunch of single bottles for make-you-own-sixers.
One convenient item throughout their beer selection: brews were organized by brewery and identified by brewery and country/state of origin.
Service was not present, but it looked like only one or two employees were on at the time. Probably a touch-and-go place, as far as beer service goes.
I like this store and will surely be visiting it again in the future.
994 characters
3.85
/5
rDev
-10.5%
One of three liquor stores within walking distance of my house, and the only one I shop at. Great selection, with a wide range of beers from all over. The single bottle selection is much better than any of the other Cellars I have seen, and they are almost always willing to break up a six-pack for singles (just make sure to ask first, they get annoyed if you do it yourself). They do not chill the beers, except for a very small minority at the front of the store, so be sure to buy your beers early.
As I said, the selection is great. They have a lot of different beers from a lot of different places. That being said, make sure you have a good idea of what you want before coming into the store because their service is a little lacking. Some days, I have been in the beer section for a good 30 min with no one even looking in my direction, while other days I have been bugged 3 times in the first 5 minutes. And whatever you do, do not ask for a reccomendation of a beer to try. Whenever I have done that, I either get the guy who thinks he knows a lot about beer and doesn't, or I get the guy who actually doesn't know a lot about beer. Either way, I always feel like they are just trying to sell whatever the new stuff that just came in is, and not really listening to what I want in a beer in the first place.
All in all, however, I will always reccomend this store to others, but it does have it's flaws.
1,415 characters

4.15
/5
rDev
-3.5%
I've been to the Cellars twice now. First time was for a beer tasting before Surly Two release day. (Joe's last tasting there- many awesome beers were opened that day) During the tasting, Joe opened approximately 10-12 different styled beers- Ommegeddon, Samichlaus, and many others I've never had before. All of the beers tasted that night ran from $10-25 a bottle. Very good beers!
Their selection is very good- the local MN stuff is well represented, alongside some good WI microbrews. Several bombers/750's of imported european/scandanavian beers on the racks.
A great liquor store.
588 characters
4.65
/5
rDev
+8.1%
I believe this is the best of the Cellar's locations in the Twin Cities. Not only do they have a great selection of beers, but they go a step further than most and offer a very diverse selection of singles to mix and match. The Belgian selection was very good. (I remember seeing a few Fantomes in the mix.) Great domestic variety. And the service was great. And the prices were very reasonable. The main guy there knows his shit and will help you find what you need. And they have free tastings from time to time. I hope to make one of these some day.
I used to live just up the road from them. About a mile away. That was about 10 years ago. Now I'm wishing I was back in the area.
687 characters
4.65
/5
rDev
+8.1%
I usually go to the Cellars on County Road C, but after this visit to the Larp/Lex location, it will be my regular stop. I stopped in to pick up a few things and ended up spending almost $130. Fellow BA, Joseph Haugen, is the "beer guy" at this location and he puts on quite a spread.
It is located in a strip mall on Larpentuer, next to Sherwin Williams paint store. It seems to be a bit smaller than the one on Cty C, but the beer selection is a more diverse. The beer is located in the far back right hand section of the store. They carry all of the MN craft selections, as well as Bell's, Rogue, Boulder, Avery, Great Divide, and many other domestic craft brews. The imports are well stocked and The Belgians are plentiful as well. The prices seemed to be a bit lower than other beer stores I have visited as well.
The best thing about the store is the singles selection. Almost all of the beers that I saw could be purchased as a single. I put together 4 mix and match 6 packs as a result. They also give you 10% off on the mix and match. In addition, their sale prices on the Belgians were outstanding.
As for the staff, I was greeted when I first walked in, then asked by each of the 3 employees if I needed assistance at different times (which was great due to the volume of beer I was buying). They were very friendly and courteous. When I finished paying, Joe brought my selections out to my car and I introduced myself at that time. He is passionate about the beer and I strongly suggest paying him a visit. Be warned, however…it is easy to get carried away by the selection. Bring your checkbook!
1,623 characters
4.65
/5
rDev
+8.1%
So, I was really just wanted to find the nearest Sherwin Williams store to me to get some painting done, pull up to the store and my goodness.... BEER STORE! There goes a good hour out of my day, wandering the isles and talking to 'the guy,' that one dude in any store that knows his beer. I'm guessing he was the manager, and he knew his beer well, very polite and friendly, but knew when to just let my shop. Thus, service was really, really good in my opinion. And I know its a lot busier during rush hour, but in the middle of the day, there is nothing going on and its really quiet and the store is small (particularly when compared to the other Cellar's) so I kind of got a neighborhood liquer store feel of it.
But oh Cellar's and their selection. Didn't have the crazy English Isles beer selection they have at the Snelling store, but the American mirco selection is pretty badass. And I'm a huge fan of their mix and match sixers thing, and you get an extra 10% off too. I picked up Bell's Wheat 2, 4, 6, & 8, and Wheat Love, Acme IPA and Brown Ale, North Coast Pranqster, Old Stock Ale, and Old 38 Stout, and Tabernash Oktoberfest, and this neat St Bernardus pack with Tripel and 6, 8, & 12 and the St Bernardus glass. And now that I look at teh reciept, I remember that once you go over 6 micro/imports, they take 10% off all of them. And the prices were comperable with what I've seen anywhere else here.
So, in sum, good quality and selection for the size of the store, and great service.
1,507 characters
4.65
/5
rDev
+8.1%
This place is fantastic. I couldn't be more thrilled to have this store so close to home and work. I used to frequent their store on Snelling, and while their selection isnt quite what the other store is just yet, it's cleaner, better organized, and better lit.
The real hallmark of Cellar's is the service, but the staff at this location are above and beyond the call. They are as passionate about good beer as I am, and it shows. I had a 30 minute conversation about all kinds of beer with one of the staff, I learned a heck of a lot. They made some excellent reccomendations, and helped with my selections.
The make your own sixer option is fantastic, and they will get my repeat business simply for making almost every beer available for this purpose. The selection is a bit below the Snelling location, but they are great about taking requests.
The prices here are very fair considering the selection and service... in my opinion this is the best in the Twin Cities.
980 characters

4.3
/5
rDev 0%
This Cellar's is comparatively smaller then many of the other outlet stores, maybe by half - its small. Located on the north side of Larpentuer just past Lexington in the strip mall next to Blockbuster video. A tight and tough area to get around in when busy. A couple of the fellas from the Roseville location off Cnty Rd. C work there as well as the manager from the Stillwater/Oak Park store. Which is great, these guys know how to please and are basing the sales and stock choices to what they know to be great quality brews. You have the chance to mix and match sixers with an extra 10% off when doing so. They're service is above and beyond any other store I've been to. I shot the breeze about beer with them for a good hour while making my selection of ACME brews, along with mixing a couple of sixers of Bell's favorites. And I always seem to get into a conversation with someone about the great beers that are out there. It's almost as if they were buying it too. They get excited about good beer and it shows when talking with em. Of course it helps to be friendly too, but it matters not, soon as I walked in the door I was greeted with a smile and a "what ya lookin for attitude." I'll be stopping in frequently just because of that; and the occasional purchase of course. It'll be interesting to see how they handle the smaller space. But as long as they keep that great selection stocked it won't be a problem with me.
1,433 characters
Cellars Wines & Spirits Inc. in Roseville, MN
Place rating:
4.3
out of
5
with
10
ratings