Mellow Mushroom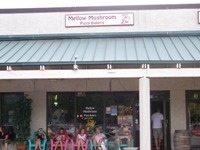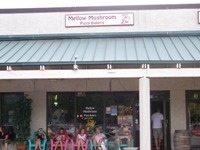 PLACE INFO
Type:
Bar, Eatery
33 Office Park Rd Ste 4
Hilton Head
,
South Carolina
, 29928-6701
United States
(843) 686-2474 |
map
mellowmushroom.com
Notes:
No notes at this time.
Added by BeerAdvocate
Ratings: 14 | Reviews: 9
Reviews by wagenvolks:

3.78
/5
rDev
+0.3%
vibe: 3 | quality: 4 | service: 3.5 | selection: 4 | food: 4
Stopped in to this popular pizza chain while vacating in HHI.
Long, winding bar with a decent variety of taps. Mostly macros, but it was a welcome sight to find Stone IPA, Terrapin Rye, Bell's Oberon, and other microbrews lining the wall. Probably 40 or so bottles, half of which were macros, but some good choices too (Lagunitas Pilsener, Founder's Red Rye, Founder's Dirty Bastard, Stone Arrogant Bastard, etc..). Service was appropriate, although I waited for over 5 minutes to get service at a not-so-busy bar. Also, the server brought me the wrong beer once we had sat down to eat, but corrected her mistake quickly and without complaint. We were seated next to the front window, and the bowling arcade machine next to us attracted some drunk, obnoxious college types that made it slightly uncomfortable to eat in close proximity to them. Still, the MM pizza rarely disappoints. Steak & mushroom pizza + Kosmic Karma = yum.
If anything, an oasis for craft beer in the desert that is Hilton Head Island.
1,010 characters
More User Reviews:
4.38
/5
rDev
+16.2%
vibe: 4.5 | quality: 4.5 | service: 4.5 | selection: 4 | food: 4.5
like others have said there's not a ton of great craft beer selection at restaurants on the island, but this chain does have a decent selection of beer and is worth checking out. Mushrooms seem to usually have a decent mix of national and regional beers and this location was no different. I didn't get to Bombora's but next to the Lodge this would be my place to go.
369 characters
2.55
/5
rDev
-32.4%
vibe: 2.25 | quality: 2.25 | service: 2.25 | selection: 3.25 | food: 2.75
Not as good as other mushrooms out there
40 characters

4.75
/5
rDev
+26%
Went to this place this past Sunday afternoon so we could see a game. Since it was after their high season, we had 4 tvs almost all to ourselves; nice. The appetizer was great and the 2 small pizzas were pretty good (they could have had more toppings), but the beer was wonderful. I had drafts of Victory Dirtwolf, Lagunitas Lil' Sumpin' Extra, Sierra Nevada Ovila Saison, Founders Breakfast Stout, Dogfish Punkin and another Dirtwolf and they were all great; good & fresh and enough of them. It was a great time! 2 Thumbs way up!
535 characters


3.56
/5
rDev
-5.6%
vibe: 4 | quality: 3.5 | service: 3 | selection: 4
A pretty decent bar to frequent in ole Hilton Head. It is a little tough to find because it is tucked away in a shopping center without much storefront or labeling. If you are looking at Harris Teeter, it is to the left, like one store down.
Good selection. A solid selection is barren in these parts so this is a bit of a haven. The beer I had was Stone IPA and it tasted fresh and delcious.
I liked the setup of this MM. IT was very narrow but very deep as far as dimensions go. The place seemed to go on forever as one walks toward the rear. The bar was large, with about 20 stools.
As always, service was a bit suspect. The tender was quick to get my initial order but water service and beer service were lazy and insouciant.
Probably the best place to go for beer in Hilton Head. Hilton Head brewing is just down the street but the beer is horrible, so go here instead.
880 characters

3.75
/5
rDev
-0.5%
vibe: 4 | quality: 4 | service: 3 | selection: 4 | food: 4
Visited here in October '08.
Had been told by some friends to try their pizza and was told that they had a pretty good selection of beers as well.
The atmosphere is very laid back with tie-dye being the main theme. Nice big bar and lots of seating both inside and out.
We order their pizza and was not disappointed, very good.
I ordered a couple of different beers, things I'm not able to get at home, Sweetwater, Palmetto, etc. Beer selection is great for here on the island, but would be just above average anywhere else.
530 characters

4.3
/5
rDev
+14.1%
vibe: 4 | quality: 4 | service: 5 | selection: 4 | food: 4.5
While on vacation, I stopped into this place twice with family. The first time we just had drinks. Excellent service and a nice variety of taps and bottles to choses from. Items such as Victory and a Highland (?) pale ale where very good.
The second trip was for lunch and we were fortunate enough to have the same waitress. I would recommend the Jerk Chicken Pizza. Nice kick to it. I drank the Turbo Dog from Abita from a bottle.
In my opinion, one of the best, if not the best place to have a drink on the island.
519 characters

3.68
/5
rDev
-2.4%
vibe: 3.5 | quality: 3.5 | service: 3.5 | selection: 4 | food: 4
Located in the Sea Pines area in a shopping mall area just prior to the circle after the guard shack if staying in Harbortown area.
When walking in you notice a large bar area with 20+ stools, but there is plenty of tables for diners.
There were 20+ beers available on tap, including some nice beers like Victory Hop Devil, Highland Pale Ale and Sweetwater 420. Most other tap beers were easy to obtain anywhere, which is a shame some more SC beers were not available.
Service was prompt and knowledgable. Food was good especially pizza and calzones.
I found this to be the best beer place on Hilton Head Island. Must stop here if you want something other than a typical macro beer served everywhere else.
713 characters
3.98
/5
rDev
+5.6%
vibe: 4 | quality: 4 | service: 3.5 | selection: 4 | food: 5
Why would I be in Hilton Head and go to the Mellow Mushroom? Because I needed a good brew and I could not think of another place that would have one for sure, and besides I love this place. Stopped in
here one afternoon while we were on vacation and the wife and son were taking a nap, I just wanted to get a quick bite and a good brew and they delivered both with ease. The slection was actually pretty good considering where it was. Now this selection would not hold up in Greenville or Ashville, but in HH definitely. Lots of locals, Plametto, Terrapin, and a Cottonwood. Lots of macro floating around but
I kinda expected that. Food was great, a nice change for me as this is the kinda place I am comfortable in. Overall it was a great fix for the time and place and next time I go back to Hilton Head I will definitely be paying a stop in here again!
855 characters

4.1
/5
rDev
+8.8%
vibe: 4 | quality: 4 | service: 4 | selection: 4 | food: 5
First impressions were that it was a small, overcrowded pizza joint.
Let me tell you I was wrong. The place was crowded enough, but the size was truly misleading.
The atmosphere was quite cheery and busy.
Beer list could be found about the place, and the selection was pretty good.
I believe they had 24 taps flowing, but nothing too impressive there. It was very hard to read the tap handles to see what they had..my only complaint.
Bottle selection was good. Very reasonable.
Great place to drink good beer and have great food.
My only warning..stay away from the house "shroom" beer.
Taste like recycled light BMC stuff. Very week.
643 characters
Mellow Mushroom in Hilton Head, SC
Place rating:
57.1%
out of
100
with
14
ratings