Oregon Trail Brewery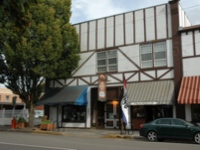 PLACE INFO
Type:
Brewery, Bar, Eatery
341 SW 2nd Street
Corvallis
,
Oregon
, 97333
United States
(541) 758-3527 |
map
oregontrailbrewery.com
Notes:
No notes at this time.
Added by BeerAdvocate
Reviews: 6 | Ratings: 7
Reviews by beercollector:
3.13
/5
rDev
-19.1%
vibe: 3 | quality: 3 | service: 3 | selection: 3.5 | food: 3
This is an interesting place. Loads of tables inside a big old building. Beer growlers decorate one wall and a deli with a fairly good selection of prepared salads and sandwiches. It is good quality food the salads can be pretty good. Same with the soups.
There is an art gallery to keep you busy while you wait and a toy store to keep any little people busy.
Beer is what you go there for and it is a bit better than average. Good selection and a great place for Friday at 4. They have some good malty beers and if you find one you like they have the "party pig" all filled and ready to take home.
★
604 characters
More User Reviews:

3.58
/5
rDev
-7.5%
vibe: 3.5 | quality: 3.75 | service: 3.5 | selection: 3.5
As other reviewers have noted, Oregon Trail Brewery is kind of an odd duck (or is it odd beaver?), with the brewery situated in the back of a cavernous old building that it shares with a deli. The deli had 5 Oregon Trail beers on tap, and what I tried was decent enough. The place was pretty dead when I was there, so the whole experience was kind of weird, but I can see it being welcoming and convivial when it's full. I wouldn't say Oregon Trail is worth a special trip, but you may want to check it out just to get a unique brewery experience.
★
550 characters

3.41
/5
rDev
-11.9%
vibe: 3 | quality: 3 | service: 3.5 | selection: 4
Atmosphere: This place is not what I expected when we drove up to it in Corvallis. The Brewery is a small corner of a main area in the building. The location is in a old strip mall type building. The brewery doesn't seem to sell or distribute much beer beyond the walls of the "Old World Deli" which is about 10 feet from the front door of the actually brewhouse. Not sure if the atmosphere is that of the Old World Deli or that of the brewery. A center enclosed courtyard with a Euro-beer garden feel.
Quality/Service/Selection/Food: Beers are served from the "Old World Deli". Beers were served in logo glassware. The brewery itself appeared to be pretty quiet when we visited during happy hour. The deli folks (who aren't actually related to the brewery) did a great job of explaining things. Everyone in my group was as confused as me as to how this whole thing worked. Selection at the Deli was good as there was 6 beers on tap. Food is not available in the brewery but the Deli supposedly excellent brownies. They claim to be the worlds best. They fall short of that but they were very good and actually paired well with many of the beers we tried.
Value: The Deli place is the deal of the century if you come during "Happy Hour". $2 pints for all beers. The also sell growlers and pary pigs, etc of all Oregon Trail Beers.
Overall, good beers but I think the overall experience was lacking. I am sure if you set up some time with the brewers this place would be very neat (the brewery is very vertically oriented). Lots of postal workers sitting around drinking. It was just a pretty confusing experience.
★
1,621 characters
4.14
/5
rDev
+7%
vibe: 4 | quality: 4 | service: 5 | selection: 3.5
Corvallis's Oregon Trail Brewery occupies an odd niche in the world of Northwest brewing. It is most definitely not a brewpub--the Olde World Deli next door is not affiliated with OTB though they do keep four of their brews on tap--nor is it a bottling microbrewery. From their cavernous three-story brewing facility they sell a mix of kegs and party pigs.
Dave, the general manager, gave my friends and I the full tour of the facilities. On any of its floors, OTB probably has no more than 250 sq. feet of space, so it is a true 'vertical' operation as grain starts at the top floor, gets mashed, fermented, conditioned, and filtered on the second, and kegged or 'pigged' on the first. Bombers, bottles, and growlers from a slew of other breweries are littered about the brewery with no real rhyme nor reason--a randomness that furthers the kind of oddball charm of this place. Dave gave us samples of all of their brews and was excited to talk about the particular strengths and flaws in each of the batches we tasted (he thought the wit had some diacetyls, though I thought it was still a fine brew).
In addition to the wit, we tasted the IPA (underhopped and very malty for a brewery in the PNW), a brown (nutty with good body), ginseng porter (with a great spiciness from the gingseng to give the beer balance), and the rauchbier (one of only a handful brewed regularly in the PNW?). We also got to try their 'Black Widow' blend which was the wit blended with their sour bourbon porter--a combination that made for one of the most original and exciting 'hybrid' beers I've ever tasted. If only they would throw that into a bomber!
For anyone traveling the Portland-Eugene corridor, Corvallis should immediately become a must-visit town if only to spend an hour drinking with Dave and seeing what incredible brews OTB has to offer. As a brewery that neither bottles nor runs a pub, they've got an odd angle on the central Oregon brewing market, and with beers as solid as theirs, it's no surprise that they've been going strong for nearly twenty years.
Very highly recommended.
★
2,094 characters

3.65
/5
rDev
-5.7%
vibe: 3.5 | quality: 4 | service: 4 | selection: 3 | food: 3.5
The brewery is located at the back of an establishment called the Olde World Deli. As you walk back to the deli counter the brewing equipment is visible to your left.
Nice laid back atmosphere..the layout of the place is very spacious with tables scattered about what looks like a covered Bavarian alley..some other stores front into the alley.
The beers I had were of above average for the regular brew pub. The nly complaint waw there were only 4 available lus two macros..one of which was Hamms of all things.
Food was regular deli stuff..soup, sandwiches, slads and lasagne.
Staff was very nice, friendly people.
A nice place to take lunch in Corvallis.
★
662 characters
4.33
/5
rDev
+11.9%
vibe: 4.5 | quality: 4.5 | service: 4.5 | selection: 4 | food: 4
The name Oregon Trail embodies the pioneer spirit of the American west and indeed, OT began in 1987, making it an early pioneer in the craft beer revival. The brewery has seen its share of financial and personal upheaval, but after 18 years they are still pouring some hearty and inventive brews. Five beers are regularly featured with a rauchbier and blackberry porter given frequent rotation. Oregon Trail beers can be characterized as personable, innovative, and hard to come by. They are not bottled and are rarely distributed as far as the Portland market. They are worth seeking.
You can find Oregon Trail beers at the Old World Deli in Corvallis. Though the brewery and deli sit adjacent to one another, they are distinctly separate businesses. Both reside in the Corvallis Building – a structure with monstrous doors that replicates the exterior of a small Bavarian village. There's always a risk of incurring Disneyesque foibles in such thematic architecture. But the Old World Deli is just plain fun. There's tasteful art for sale on the walls, flags suspended from poles, and a mural ceiling. A hallway opens into the main dining area where a brick floor and long tables with checkered cloths create informality without pretense. Music is frequently heard onstage.
The Old World Deli serves soups, sandwiches, and salads of tabouli and tortellini. Enormous parcels of meat or vegetarian lasagna and chicken enchiladas await your appetite. They boast brazenly of the "World's Best Brownies," a moniker I can't yet attest to other than to report that people will come in late in the evening for the exclusive purpose of seeking brownies and beer. A small selection of bottled northwest microbrews is available but you'll want to try the Oregon Trail beers on tap. From 4-6PM they're just two bucks a pint.
At the rear of the deli behind glass walls sits the OT brewery. It is a seven barrel system made from the original copper brewing kettle of what was once the Hart / Pyramid brewery in Kalama, Washington. Scant floor space is maximized by occupying all three floors of the Corvallis Building. Malted grains are ground to grist on the top floor, then fed by gravity to a mash tun converted from the apparatus of a local dairy. Their beers are top fermented, bittered with whole hops, and all but two are filtered.
One way to enjoy an Oregon Trail beer is by getting a party pig. These two and one-quarter gallon mini-kegs are economical, reusable, and fun. The deli sells them for $24 plus a $20 refundable deposit.
Not many Cascadian brewers would attempt a wit or rauchbier, let alone a ginseng or blackberry porter. But Oregon Trail brews these as well as an IPA and a kölsch-style ale. All are solid craft beers and come highly recommended.
★
2,787 characters
Oregon Trail Brewery in Corvallis, OR
3.7
out of
5
based on
83
ratings.