Vas Deferens Ale
| Caldera Brewing Company
BA SCORE
83
good
59
Reviews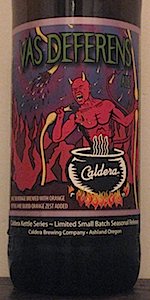 BEER INFO
Brewed by:
Caldera Brewing Company
Oregon
,
United States
calderabrewing.com
Style:
Belgian Strong Dark Ale
Alcohol by volume (ABV):
8.10%
Availability:
Rotating
Notes / Commercial Description:
No notes at this time.
Added by Halcyondays on 06-05-2010
Reviews: 59 | Ratings: 125

3.15
/5
rDev
-13.5%
look: 3.5 | smell: 3.5 | taste: 3 | feel: 3 | overall: 3
Bomber poured into a large goblet, Vas Deferens is dark garnet brown with a small eggshell head that leaves light, scattered lace.
Smell is sweet and very rich. The blood oranges really come out, as does some peppery spice.
Taste is okay, pretty similar. A Belgian inspired kitchen sink strong ale. Very phenolic, but as it warms the blood oranges come out stronger and temper those somewhat. Still, this beer is sharp and disjointed overall.
Mouthfeel is on the thicker, sugary style, sticky, not particularly digestable. Dry finish.
Drinkability isn't too hot, all the ingredients lack synergy and fatigued my palate in a hurry. There's a reason this is a one-off, it really should have only been a tasting room pilot batch.
★
734 characters
4
/5
rDev
+9.9%
look: 4 | smell: 4 | taste: 4 | feel: 4 | overall: 4
22oz bottle.
Pours mahogany with an amber hue and a half inch head of tan. A whisp of foam on the surface and a few dots of lacing thoughout the glass.
Aromatics lead off with raisins, chocolate-laced malt, cloves, bubblegum, and plums. Hints of citrus, smoke, espresso, and cocoa follow through.
Medium bodied with a slick, chewy mouthfeel. Extremely light carbonation for the style. Tacky and a bit syrupy.
Plump malt, caramel, brown sugar, and raisins start the palate. Dark rum with orange oils follows through along with hints of roast, peppercorns, and booze.
Finishes with rum-soaked raisins, sweet malt, and a citric undertone.
Tasty enough but there's an odd bitterness that lingers. The spicing adds a nice touch but the beer drinks more like a "Gran Cru".
★
772 characters

3.22
/5
rDev
-11.5%
look: 3.5 | smell: 4 | taste: 3 | feel: 2.5 | overall: 3
Was pretty excited to see some limited 22's from Caldera down this way. Interesting art work on the bottle.
A-ruby, brown almost a dark mahogany, small half finger head and translucent
S-Orange, cherry and chocolate-Terry Chocolate Orange upfront, a faint grassy smell in the end
T- light malts and belgian yeast. light orange and cherries with a slight bitterness on the end
M-watery, light carbonation, not much body to it
D-Overall, the taste was interesting but light, I wish it tasted as good as the smell was. There was not much body to this one for being a strong dark Belgian.
★
587 characters

3.43
/5
rDev
-5.8%
look: 4 | smell: 3.5 | taste: 3.5 | feel: 3.5 | overall: 3
The pour, into a Westmalle chalice, is a perfectly clear but dark, ruby/amber with a short off-white head that falls quickly to just a partial cover. There is light carbonation visible but no lacing.
The smell is faint cherries.
The taste is some cherry and some roasty malt that finishes with a hint of alcohol.
Mouthfeel is nearly up to medium with moderate carbonation and slightly sweet.
Drinkability: For me, it wasn't particularly anything I'd want to try again, especially at the price (about $10 in SE PA). There are many $10 22ozers that are superior, even in this style. This is not a bad beer, but more of an indifferent beer. When the beer name and graphics are more interesting than the beer, the beer is either great & the graphics are phenomenal or the graphics are great and the beer is, sort of, forgettable.
★
825 characters
3.8
/5
rDev
+4.4%
look: 4 | smell: 4 | taste: 3.5 | feel: 4 | overall: 4
Thanks to bman1113vr for sharing this bottle.
The beer pours a clear brown color with a tan head. The aroma is heavy on the toffee and not too much else. The flavor is toffee, leather, tobacco, wood and dark fruit. Medium mouthfeel and medium carbonation. A decent beer but nothing too exciting.
★
296 characters
4.15
/5
rDev
+14%
look: 4 | smell: 4 | taste: 4 | feel: 3.5 | overall: 5
I believe that this is not going to be a rotating beer but that this is a limited one time brew. Just my belief subject to confirmation but this is part of the Caldera Kettle Series, a "Limited Small Batch Seasonal Release."
Pours a dark copper red with a yellow/white head.
Sharp smokey spice sweet cherry cola nose.
Mouthfeel is thin/medium thin with a light "elegant" carbonation. Light creamy character.
Flavors follow nose; all smokey, spice sweet cherry cola and lots of cocoa flavors. Very well balanced in that there is a hint of bitter sweet chocolate that goes to a bitter sweet chocolate finish.
Flavors do have definite undertones of the orange bitters and blood orange zest.
Nothing stands out but this beer if really welcoming and immensely drinkable; you just want to keep drinking more. A much more complex brew with loads of flavors profiles that sneak up on you. Very nice effort.
★
909 characters
3.51
/5
rDev
-3.6%
look: 4.5 | smell: 3.5 | taste: 3 | feel: 4 | overall: 4
An interesting beer with an equally interesting name. Vas Deferens pours a lovely deep reddish tinged brown with a nice, slightly tan head that has nice retention. The aroma is sweet and a bit boozy with plenty of dark sugar and fruit notes, chocolate and a bit of spice. The taste is very similar. Fruity, caramel, chocolate and slightly spicy with a bit of herbal hops. It also has a slight sour note to it and some definite orange like character. It is an interesting beer, but really not that compelling. The mouthfeel is medium with a nice finish, and it is of average drinkability for style. It is an interesting beer, but really not that compelling. Still, a well made brew with a name that makes me giggle. That has to be worth something.
★
746 characters

3.76
/5
rDev
+3.3%
look: 4.5 | smell: 3.5 | taste: 4 | feel: 3.5 | overall: 3.5
Somewhat disturbing but hilarious label - the devil ripping a vasa deferentia in two, thus completing a vasectomy, hence the name "Vas Deferens". The label states, "A belgiian-style ale with a unique twist incorporating a little snip of this and a little snip of that."
Poured this from a 220z bottle into a Brouwerij 't Ij tulip.
A: Deep copper, reddish hue (i'm assuming this is from the blood oranges) with a 1" head that dissipates slowly and leaves small amounts of lacing. Really nice looking.
S: Sweet cherry, citrus and chocolate with some spicy herbals in there as well.
T: The orange is there with a heavy chocolate flavor and creamy stout characteristics that are very prevalent (roasty and malty). Not as strong of a flavor as the look and ABV would suggest.
M: Medium bodied but on the lighter side for this style of beer. Mellow carbonation with a spicy bight.
D: Looks like it would be an intense beer, but it's actually smooth and easy to drink. Good dessert beer after a nice dinner.
My only gripe is the price - $10.49 a bottle! Come on guys, seems like you could drop the price on this a bit. I understand it's limited release, but there are far better beers in the $7. range (which would be a much more accurate price for your product).
★
1,263 characters
3.41
/5
rDev
-6.3%
look: 4 | smell: 3 | taste: 3.5 | feel: 3.5 | overall: 3.5
22 oz. bottle, an ale brewed with blood orange zest and orange bitters,
A: Pours a dark burnt orange to brown with a medium white head, some lace.
S: Definite orange peel, some dark candi sugar, but relatively light for a Belgian style.
T: The orange is definitely there. More of a straight up caramel malt flavour than most Belgians, only a hint of yeast esters with some kumquat marmalade. Not hugely complex, but a good flavour. The orange complements the malt base well.
M: Well-attenuated for this style for sure, off-dry, medium-bodied, smooth.
D: An interesting beer, I wanted the blood orange to come to the forefront a little more as it's a great flavour. I wanted the beer to come out and grab me a bit as a big Belgian. Good beer, not worth a $10 bomber price tag for sure.
★
789 characters
Vas Deferens Ale from Caldera Brewing Company
3.64
out of
5
based on
125
ratings.