Flying Monkeys Hoptical Illusion Almost Pale Ale
| Flying Monkeys Craft Brewery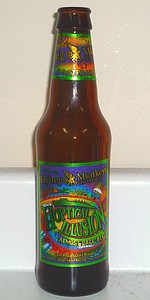 BEER INFO
Brewed by:
Flying Monkeys Craft Brewery
Ontario
,
Canada
theflyingmonkeys.ca
Style:
American Pale Ale (APA)
Alcohol by volume (ABV):
5.00%
Availability:
Year-round
Notes / Commercial Description:
32 IBU
Added by bobsy on 05-23-2009
Reviews: 109 | Ratings: 276
3.85
/5
rDev
+1.9%
look: 4 | smell: 4 | taste: 4 | feel: 3.5 | overall: 3.5
A 16oz Yankee pint (wait, what?) at C'est What in downtown Torranna.
This beer appears a clear medium reddish brick amber hue, with a single skinny finger of bubbly, foamy, and somehow creamy off-white head, which leaves a broken wall of pockmarked lace around the glass as it evenly subsides.
It smells of biscuity caramel malt, a pithy lemon and orange citrus fruitiness, and earthy, weedy hops. The taste is gritty pale and lightly toasted caramel malt, a touch of stale lemon juice, and oily, bitterly herbal, leafy hops.
The carbonation is a bit high, the body fairly round, medium-light in weight, and somewhat tacky in its smoothness. It finishes dry, with a light puckering effect from a Hail-Mary-like rush of what seems like piney, IPA-worthy hops.
Overall, I'd have to say that this is a decent pale ale all on its own, yet one aspiring a little too hard to be an IPA. Hard to tell where this one ends, and Smashbomb begins, unless I were to have a sample of both, side by side. Meh, I'm a hop-whore, so I'm sure I don't really freaking care.
1,058 characters
3.91
/5
rDev
+3.4%
look: 4 | smell: 3 | taste: 4 | feel: 3.5 | overall: 5
Found a 6 pack of it at the LCBO and really enjoyed it. Not quite hoppy enough for me but there was a good depth of flavour that made up for it. Also very sessionable, I could really drink it all night. Also just love the packaging a marketing of it, really just makes it a much more intriguing beer to drink.
309 characters
3.65
/5
rDev
-3.4%
look: 3.5 | smell: 3.5 | taste: 4 | feel: 3 | overall: 3.5
Eye-catching psychadelic bottle. Pours a clear dark-red/amber and leaves a small amount of head after an initial one-finger pour. Really nice colour.
Minerals, burnt molasses, grain and faint hops - a pretty unique smelling beer.
For a beer called Hoptical Illusion I was sure expecting more hops than this, though it tastes pretty good anyway. Maybe the illusion is that you expect a lot of hops and don't find them. This beer still presents a solid showing of hops and is actually quite balanced. The label made me think it would be a hop bomb but it's not at all. Lots of grain, some bready yeast, a touch of smoky malt and tingly bitter hops on the finish. It's not a very complex beer but it's definitely a tasty beer.
Decent feel, nothing special. Medium-thin body with medium-light carbonation.
Though I'm pretty into the bitterness of this one, it would be more drinkable if it was a little less bitter. I wouldn't be able to session this; the bitterness would get to me after a while - but I'm not saying it's bad. This is my first experience with Flying Monkeys and they make a solid almost pale ale. I think I'll be buying this again.
1,153 characters

3.58
/5
rDev
-5.3%
look: 4 | smell: 3.5 | taste: 3.5 | feel: 4 | overall: 3.5
This new Robert Simpson beer has a very stylized, dayglo label, it reminds me of Boulder Brewing labels a bit. Lets hope the stuff inside is as good as the artwork.
The pour reveals a dark copper liquid with a waifish, patchy head that musters up a respectable amount of lace. Malt and citrus flavors mixing with some herbal notes makes up the taste. Its pretty well balanced and has a nice malt profile. I would have expected some roasty flavors based on the color, but they werent there. Lemony hops are in the back, providing satisfactory balance. The mouthfeel is lightly carbonated and medium bodied. Some bitterness lingers in the finish.
This is a good beer and an easy quaffer, but its a bit lacking in the hop department. A little more bitterness and this would be a great APA.
789 characters

3.5
/5
rDev
-7.4%
look: 3.5 | smell: 3.5 | taste: 3.5 | feel: 3.5 | overall: 3.5
Pours a clear copper amber with one finger of head that dies down leaving good head retention and lacing.
The aroma is a slight piney hop against a toasty, caramel malt, with hints of fresh cut anjour pear.
The taste follows the aroma, with a crisp Amariillo hop bite--citrus pith and pine--against a nice toasted malt and just the right amount of caramel malt. The flavor of the amarillio is interesting, adding some orange, herbs, pine and almost a medicinal aspect to the beer. There's a slight hint of chocolate in the malt and there's a nice lingering bitterness in the finish.
The mouthfeel is medium bodied with a nice crispness from the carbonation.
This is an American Pale Ale that's dialed way, way back. Considering this is brewed in and for a province that seems to have a hop phobia, it's easy to criticize them for it but at the same time kind of hard to blame them.
One area where this beer excels in in the packaging. It's worth picking up for the entertainment value alone, as you scour the box and bottles for all the little details, and fun textual blurbs, and just when you think you're done you crack one open only to realize that the inside of the caps have little sayings like, "Beer & Calculus don't mix. Don't drink and derive" or "If things seem to be going well you've overlooked something."
1,324 characters
3.5
/5
rDev
-7.4%
look: 3.5 | smell: 3.5 | taste: 3.5 | feel: 3.5 | overall: 3.5
On tap at C'Est What?
Pours a lightly hazy dark copper/amber, thick off white head forms, some decent retention, leaves lace rings on the glass as it settles down. Smell is okay, floral, some fruitiness, bit of toasty malt and light caramel sweetness, grapefruit, smells alright but is a little underwhelming for me. Taste is similar, biscuity and sweet, some orange, grapefruit, floral, pretty balanced bitterness, but again underwhelming. Mouthfeel is light to medium bodied with medium carbonation, easy drinking but not something I would choose. Kind of hyped up and didn't live up to it for me.
600 characters

3.85
/5
rDev
+1.9%
look: 4 | smell: 4 | taste: 3.5 | feel: 3.5 | overall: 4.5
A: Copper-bronze with an off-white head, good retention & lacing.
S: Nice apricot aroma with hints of a grassy spicing & herbs.
T: Apricot with a nice spiciness, north american pale malt (slightly biscuity with hints of grain), nice bitterness (I thought this was reformulated to ~30IBU, but it seems a little mellower than that).
M: Well-attenuated, light-to-moderate body has a slightly dry finish. The carbonation on the keg was a little higher than average.
D: Quite drinkable (a little mellower & drier than a Tankhouse).
530 characters
3.65
/5
rDev
-3.4%
look: 4 | smell: 4 | taste: 3.5 | feel: 3.5 | overall: 3.5
C'est What Spring Festival of brewers. Surprisingly good, one of the winners this night. Lightly hop aroma and taste. Orangey colour and lacey. A nice bitterness from the Amarillo. Reasonable pale ale, at only 18 IBU. An underdog crafting achievement.
251 characters
3.53
/5
rDev
-6.6%
look: 4 | smell: 3.5 | taste: 3.5 | feel: 3.5 | overall: 3.5
Orange pour with a finger of white head, that showed good retention and lace. Nice citrusy aroma from the amarillo hops, with a touch of earthiness to it. Not too much behind that though, and I'm wondering where the malt is. In its flavour Hoptical Illusion doesn't go overboard with bitterness, but does have some great balance. There's some very decent orange falvours going on, and there's a decent slightly sweet malt backdrop. Medium-light body and medium carb.
Yep, I was pleasantly surprised by this one, and I look forward to seeing its appearance at the lcbo - it could make a nice session beer.
605 characters
Flying Monkeys Hoptical Illusion Almost Pale Ale from Flying Monkeys Craft Brewery
3.78
out of
5
based on
276
ratings.