Flying Monkeys Netherworld Cascadian Dark Ale
| Flying Monkeys Craft Brewery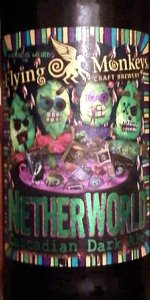 BEER INFO
Brewed by:
Flying Monkeys Craft Brewery
Ontario
,
Canada
theflyingmonkeys.ca
Style:
American Black Ale
Alcohol by volume (ABV):
6.00%
Availability:
Year-round
Notes / Commercial Description:
Formerly known as Flying Monkeys Netherworld India Pale Porter.
35 IBU
Added by Sammy on 11-01-2009
Reviews: 88 | Ratings: 211
4.05
/5
rDev
+5.2%
look: 4 | smell: 4 | taste: 4 | feel: 3.5 | overall: 4.5
Pours a very dark brown colour, almost opaque, just allowing faint ruby highlights throw when held up to the light. Fluffy light beige head leaves behind a bit of lacing.
The nose is interesting, at first the hops dominate with notes of pine and citrus, and then as I take a deeper whiff I start to pick up roasted malt and coffee. The malt becomes more apparent as it warms.
Taste is mostly of bitter hops, which present just a minor pine/grapefruit character. Coffee, toasted nuts, and burnt malt start to become noticeable through the middle, and mesh nicely with the hops to provide a crisp dry finish that has a pleasant citrus sourness.
Medium to light-bodied, with moderate carbonation. I felt it was a tad on the thin side, but then again, I could see this lending itself well to sessioning a few of these in succession over the course of an evening. Overall, I'm glad to see Flying Monkeys bringing more tasty and interesting beers into the LC. I think I prefer DDC's black IPA Penombre, but I'll definitely be picking up more 6'ers of this in the future.
1,067 characters
3.93
/5
rDev
+2.1%
look: 4 | smell: 3.5 | taste: 4 | feel: 4.5 | overall: 4
A- Almost pitch black with a good consistent head, and some solid lacing.
S- Hop bitterness, and tons of roasted/burnt malts.
T- Bitterness and dark malts build up over time. Mostly roasted malts with a little bit of burnt malt. Piney hops accumulated over the drink, and in the first 1/3 of the drink they were hard to notice, but later became more pronounced.
The malts were very bitter, and I found it worked well with the drink. It allowed the pine taste from the hops to work in harmony with the malt and compliment it rather than contrasting it.
M- I've never had a Black IPA before, but for an IPA it's very creamy and smooth, with an excellent body.
D- A good introduction to Dark IPA's. Smooth and subtle, while packing a lot of flavor. I found that the more I drank, the more I enjoyed it. It seemed to take a while to really set up on my tastebuds.
867 characters
4.13
/5
rDev
+7.3%
look: 4.5 | smell: 4 | taste: 4 | feel: 4 | overall: 4.5
Thanks to korguy123 for sending me a fresh bottle straight from the brewery.
Poured from an unlabeled 12 oz. bottle in to a Duvel tulip glass.
A - Dark brown/black colour with 2 fingers of thick, bubbly, light brown head.
S - Dark roasted malts with some coffee and licorice notes up front. A lot of bitterness from the hops is present as well but only some very subdued citrus notes come through from them.
T - A balanced combination of dark roasted malts and bitter hops. Some coffee notes come through from the malts along with some toasted nuts but no specific flavours are present from the hops - just the bitterness. A slight sweetness is present in the finish.
M - Medium body with a slight chew. Lightly carbonated.
D - A very enjoyable beer. My first experience with the style. Would buy this one again.
823 characters

4.13
/5
rDev
+7.3%
look: 4.5 | smell: 4 | taste: 4 | feel: 4 | overall: 4.5
Bottle courtesy of korguy123, straight from the brewery. This puppy can't be more than a week old. Cheers Matt!
Netherworld pours a deep dark chestnut brown, bordering on black with a two and a half finger mocha head. Not a shit-ton of lace, but some quality retention. Nose is huge, tons of chocolate, lighter roasted malts, with hints of caramel and coffee. Sitting underneath this is a definite hop presence, well masked by the darker notes overtop. Still some pine and citrus faintly make their way through. Taste has notes of faint chocolate, cold coffee (not in a bad way!), some more roasted malt and finishes slightly bitter, getting the slightest hint of the hops. Warming up a bit reveals the hops a bit more, with some orange and citrus. Mouthfeel is nice, not too thin but not super chewy and full. Above average and somewhat creamy, and the drinkability is through the roof. ABV is not even on my radar, glass disappeared in under 10 mins. I hope they keep this as a regular offering.
998 characters
4.65
/5
rDev
+20.8%
look: 4.5 | smell: 4.5 | taste: 5 | feel: 4 | overall: 4.5
12oz unlabeled bottle into DFH Signature Glass.
A- Rich opaque black pour. Finger width khaki head that recedes to a thing ring. Zero light shines through. Lacing is completely magical!
S- Great hop presence, lightly toasted malts, grapefruit, mandarin oranges, strawberries, milk chocolate, vanilla and brown sugar. Molasses comes out as the beer get to pretty much room temperature.
T- All from above nicely transfer to the wonderful taste.The toasted malts and citrusy hops battling for supremacy on my tongue. Faint earthy tones on the back end.
M- Good hop bitterness tingles the tastebuds, feels a little thinner than it should be, but that's what you get when you delve into a new/hybrid style.
Probably the best Black IPA I've had to date. I think I actually prefer this to Stone's SSR (although SSR was a little heavier which was good)
849 characters

4.06
/5
rDev
+5.5%
look: 5 | smell: 4 | taste: 4 | feel: 4 | overall: 4
I really love the smooth roasty and nutty flavors that you can get from a porter or stout. Theres something about the flavor of fresh roasted coffee or chocolate lightly matched with toast and smooth nuts that is just immensely relaxing and satisfying to me. At the same time I love the crisp refreshing snap of a hop-focused beer. Something that is quenching and refreshing to the freshly bitter end.
Until recently there have practically been no means by which beer lovers could enjoy both of these sensations at the same moment. That being said, the Flying Monkey's Cascadian Dark Ale accomplishes exactly that feat! This beer is exactly as it sounds, a creamy and smooth porter with gentle roast and cocoa flavors matched with a fresh and lightly zesty hop crispness. The bottle shown is unlabeled because the beer and its branding are not yet finalized. I am waiting to find out from the Flying Monkeys team whether or not we can expect to see these bottled at the LCBO, but I expect that that is their intent.
This version, which I hope is, or is very close to what the final product will be is 6% abv and comes in a 355ml bottle, which will most likely find its way into a colorful 6 pack. It can be purchased in 30 or 58.6 liter kegs also directly from the brewery.
I opened the Nethwerworld up cool around 10C (50F) not really knowing where to start this Porter/IPA. So I figured, start cooler, and enjoy it through a range of temperatures. It poured a deep and dark black beer in my snifter lifting a generous 2 and a bit inch head that just crept over the brim of the glass. The head was mercilessly dense with bubbles packed tightly together everywhere in a creamy, tan to khaki foam. The beer was as clear as pitch black can get. Does that make any sense? It didn't seem heavy or foggy at all; just a clean dark evening with hints of ruby and amber brown peaking at the edges of the glass.
I'm going to skip right to my notes when the beer was slightly warmer, because it served up much bigger aromas and flavors. The nose brought soft hops with herbal notes of grass. Gentle amounts of grapefruit and citrus rind make their way in, and are soon taken over by roast, dry coffee grinds, and a subtle hint of cocoa powder. The scent is relatively light, but does show an interesting mix of classic porter roastiness, and classic IPA citrus bitter.
The first sip was all foam, and it was delicious! It was creamy and smooth with a bubbly and airy whipped milk sensation. Below that, a cool and mellow roasty porter glides initially over your tongue and lifts up smooth hop sensations of bitter herbs and light zest. First in is a soft caramel flavor mixed thoroughly with gentle roast, and biscuit malt.
With some added warmths comes both added malt sweetness and bigger hop bitterness. Malt begins to shine with hints of cocoa, dried coffee beans and creamy smooth nuts. Hops too bring forward greater strength and show touches of grapefruit and clean citrus peel with a round, herbal bitter smoothness. Overall the Cascadian is not big and rugged, it is actually very soothing and calm with soft balanced flavors and gentle whiffs of complexity.
The finish is dry and gently quenching with a soft, round end. Overall the beer is delicate and gentle with a delicious combination of smooth, nutty roast and crisp fresh hops. A superiorly quenching beer in the world of porters. This all makes this beer a perfect match with food. Because it is not overbearing and shows elegant balance I would try the Cascadian with a wide range of soft cheeses, roast beef, pub fare, and soft cookie like deserts. But it was very refreshing on its own in the heat, and I bet it will be just as soothing in the cold.
** Note, for Flying Monkeys aficionados or beer geeks; this is the Netherworld India Porter - Flying Monkeys has renamed and re-branded it to Cascadian Dark Ale.
3,880 characters
3.85
/5
rDev 0%
look: 4 | smell: 4 | taste: 4 | feel: 3.5 | overall: 3.5
On tap at the Kitchener Craft Beer and Ribs festival. My first sampler of the day; I was hoping to see if their IPA would be available, but was also pleased to see this new offering.
Poured into my 6oz festival sampler glass. A rich, chocolate brown brew, chestnut when held to the light. A thick, foamy tan head sat resplendantly on top, leaving a good deal of lace. Looks a great deal like a porter should.
Nose was notes of molasses, cream, marshmallows, roasted malts, citrussy hops. Strange blend, but it works.
This brew had a lot going on, so I can't really say a 6oz sample was large enough to fully appreciate it, but I must say that this was one intriguing brew. About three different taste styles competed for my attentions: the roasted malt and coffee-chocolate notes of a porter; the citrussy hops and body of an IPA; and an overall lemon sour dark ale character that reminded me greatly of a Munich Dunkel. I'm not sure if it all worked well together, but I certainly enjoyed it. A great deal of thought went into this brew, which I appreciated.
Creamy mouthfeel, slightly thin for a porter, but definitely within range.
Despite my still questioning the brewery's renaming, I must say the lads at Monkeys have really stepped up their game since the Confederation Ale days. Glad to see some well hopped ales in the American style coming from this brewery. Definitely worth a go - hope to try a few bottles of this in the near future!
1,453 characters

4.04
/5
rDev
+4.9%
look: 3.5 | smell: 4.5 | taste: 4 | feel: 3.5 | overall: 4
Bottle of the third and latest tweak:
Pours a dark brown ale with amber highlights. frothy 2 finger off-white cap lasts. Decent lacing on the glass.
Aromas of cocoa and lemons, some grapefruit, toffee and fresh roast coffee...different!
Front side is mellow and chewy with roasty-caramel malts balanced perfectly with lemon bittering, mid palate some fruit and roasty-nuttiness, goes dry in the finish with resinous bittering and charred husk astringence.
Medium body, sandy-dry mouthfeel, smooth rounded character... a very approachable and quenching dark ale that defies classification.
595 characters
3.73
/5
rDev
-3.1%
look: 4 | smell: 3.5 | taste: 4 | feel: 3.5 | overall: 3.5
A 20oz pint, on-tap at Volo Cafe, on my anniversary with my very understanding and game better half.
This beer appears a clear, very dark reddish brown hue, with distributed mahogany highlights, and one finger of weakly foamy, creamy beige head, which leaves a partial wall of trickling waterfall lace around the glass in its slow retreat.
It smells of toasted, meaty caramel malt, roasted coffee beans, bittersweet chocolate, slightly warm vanilla, and leafy, earthy hops. The taste is heady roasted bready caramel malt, cocoa powder, a bit of licorice-laced black coffee, mild citrus cream, and some grassy, earthy hops.
The carbonation is moderate, just softly frothy, the body surprisingly on the light side of medium weight, and more or less smooth. It finishes on a drying trend, but with some chocolate caramel offsets.
A decent enough, rather tasty porter, approaching, but not quite reaching, the dessert horizon, as the snow falls on slushy Yonge Street, and our long, oft derailed traipse back to the hotel.
1,024 characters

3.98
/5
rDev
+3.4%
look: 4 | smell: 3.5 | taste: 4 | feel: 4 | overall: 4.5
Pours a very rich and dark brown with a finger of mocha head. Good retention and patchy lace. The body shows red highlights when held to the light. Smells of cocoa and pine, and just a little bit leafy. Nice cocoa and burnt toast flavour, followed by resinous pine and grapefruit. Aftertaste combines both roasted malt and hop bitterness. Medium-bodied. I could easily see this tasty, easy drinking porter becoming a go-to during the colder months.
448 characters

4.13
/5
rDev
+7.3%
look: 4 | smell: 3.5 | taste: 4.5 | feel: 3.5 | overall: 4.5
16oz pint at Chancey Smith's in London, ON. Pours a cola brown with a foamy beige head that persists to the very end. Speckles of lacing line the shaker. Aroma and flavour are dark roasted malt, light coffee, and cocoa powder with white grapefruit and pine cone from the hops. Subtle hints of smoke and char followed by a lemony, citric bitterness. IBUs linger in the aftertaste. Generous carbonation, bordering on spritzy, lighter than medium mouthfeel, good spicy bite, semi-dry finish. Awesome drinkability as I packed back three pints in no time.
I'm really glad that Milos got this in and I hope the Flying Monkeys keep pumping out beers like Netherworld. EDIT (November 2010): now that this is available in bottles it will be a regular drinker for me.
758 characters
3.68
/5
rDev
-4.4%
look: 4 | smell: 3.5 | taste: 3.5 | feel: 4 | overall: 4
On tap at Chancey Smith's- Thanks for getting this on Milos!- A very deep brown that only lets a bit of light in. Comes topped with a very generous mocha froth that lasted the entire length I drank the beer. Interesting nose is slightly roasty, with fresh leafy hops, citrus, a bit of pine, and vanilla. Tastes interesting. Only slightly of roasted malts and then come the fresh hops, pine, mint. There is some soft fruit towards the end with a bit of oak. Medium bodied. Very much a cross style. Very good job Peter!
517 characters
3.75
/5
rDev
-2.6%
look: 4 | smell: 4 | taste: 3.5 | feel: 3.5 | overall: 4
Volo 2009 Cask Fest. Cross-style, it is a well-hopped porter. Stouty, there is mollasses. Citrus hops. Pours dark with a soapy head. A complex tasting,one sip is more porter, another more roast, another hoppier and one worth having again.This brewer is delivering interesting and hoppy new beers.
296 characters
Flying Monkeys Netherworld Cascadian Dark Ale from Flying Monkeys Craft Brewery
3.85
out of
5
based on
211
ratings.