Flying Monkeys Super Collider Double IPA
| Flying Monkeys Craft Brewery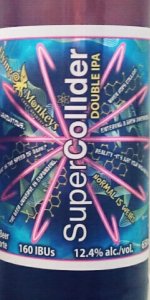 BEER INFO
Brewed by:
Flying Monkeys Craft Brewery
Ontario
,
Canada
theflyingmonkeys.ca
Style:
American Double / Imperial IPA
Alcohol by volume (ABV):
12.40%
Availability:
Limited (brewed once)
Notes / Commercial Description:
No notes at this time.
Added by Viggo on 08-17-2011
This beer is retired; no longer brewed.
Ratings: 64 | Reviews: 35
4
/5
rDev
+14.9%
look: 4 | smell: 4 | taste: 4 | feel: 4 | overall: 4
First thing first, abv has been stickered over and now is at 10.5%, not 12.4%.
Barleywine description below is accurate. Dark amber, head settles to a fairly thin film quickly. Spotty lacings cover the glass.
Boozy nose. Hoppy certainly, pine aroma certainly stands out.
Hops are right up front, focus seems to be on aromatic hops rather than bittering hops here. Fairly heavy malt flavours through the middle, dark fruit and honey. Slight alcohol heat in the finish, but didn't find it as bas as others.
Not a bad beer at all, certainly different than anything else on offer at the LCBO. I'd buy another.
613 characters
3.2
/5
rDev
-8%
look: 3.5 | smell: 3.5 | taste: 3 | feel: 3.5 | overall: 3
Finally got a hold of a much anticipated bottle of this beer. Poured in to Duvel tulip.
A - Medium to dark ruby colour with half a finger of cream coloured head. Looks like a barleywine.
S - Sweet caramel malts and a good hop bitterness up front; seemingly balanced. Some citrus, pine and toffee notes are evident as well.
T - A noticeable alcohol burn in in the initial sip that somewhat calms down after a while but remains noticeable throughout the glass. A good hop bitterness is evident but somewhat overpowered by the alcohol bite. A lot of malt sweetness too - caramel, toffee and sticky candy. A larger hop presence would be nice.
M - Medium body, light to moderate carbonation.
O - This was an interesting beer. I really wanted to love this one but was let down by it. The alcohol burn was just too overpowering and the hop presence wasn't what it needed to be. In fairness to FM on this one, the fact that the LCBO held this beer up in lab testing for 5-6 weeks, really hurt this one. That said, what this beer needs most is the alcohol bite to settle down, which will happen in the cellar but doing so will kill the hops even more. This recipe needs some tinkering. I couldn't even get through the bomber.
1,226 characters
3.21
/5
rDev
-7.8%
look: 4 | smell: 3 | taste: 3 | feel: 3.5 | overall: 3.5
Pours a rather dark amber colour, finger's worth of dense foamy off-white head. Decent retention and lacing.
The aroma's not knocking me over with hops, but is instead full of a fruitiness, bready/caramel malt, and a hint of booze. At first whiff, comes across as more of a barleywine than DIPA.
The taste is hoppy/bitter, but again dominated by the malt component. Big, sweet, and boozy. Some faint citrus flavour at first, then the bready/toffee sweetness kicks in, with the boozy warmth and harsh piney bitterness combining in the finish.
Full-bodied, a bit on the syrupy side, average carbonation.
A below average DIPA in its present state, I imagine that sitting in the LCBO warehouse for weeks and weeks did this beer no favours. It does come across as a decent American barleywine, however, and I still enjoyed working my way through the bomber. It's great to see Ontario brewers brewing bigger styles and making them available across the province. I would love to give FM a second shot with a fresher bottle and perhaps tweaked recipe.
1,048 characters
3.33
/5
rDev
-4.3%
look: 4 | smell: 3.5 | taste: 3 | feel: 3.5 | overall: 3.5
Bottled August 16, 2011.
Beer is a dark amber-toffee colour. Large off-white head. Decent retention.
Smell is not as full of hops as one would expect. Bready malt, prune, plum and other dark fruit. Brown sugar. Some pine in the background. Smells much more like a barleywine than a DIPA.
Lots of bitterness in the taste. A bit piney. Like the nose, malt is strongly present with bready flavours, but it is not sweet. Finish is bitter. Alcohol is strong and noticeable. The dark fruit flavours from the nose are muted. Disappointingly average. Not a terribly enjoyable beer.
Beer has moderate to high carbonation, very heavy. Feels a bit sludgy and sticky.
This beer needs some work. Has some good qualities but overall is not particularly good.
750 characters

3.85
/5
rDev
+10.6%
look: 3.5 | smell: 3.5 | taste: 4 | feel: 4 | overall: 4
On-tap at Gambernius into Unibroue glass.
Appearance: 3.5
Amber brown body w brown white head. Mild lacing.
Smell: 3.5
Lots of sticky worty malt. Also notes of brown sugar and faint piney hops. Mild aroma overall, which I find is typical of beers on tap at times, in contrast to bottle poured beers
Taste: 4
Strong amount of malt and prominent warmth of alcohol is detectable. Spicy brown sugar with a touch toffee. Reasonably sweet at first. Then strong resin piny hops takes over. Not really citrus aspect to the hops though. Finishes with a moderate lingering bitterness.
Hops profile is quite different that Flying Monkey's Smashbomb.
Flavour definitely improves as beer warms, Balances more and soften.
Mouthfeel: 4
Moderate thickness Notable astringency from hops but still sweetness of malt too. Overall, nice
Overall: 4
Nice beer. Mod to strong hops bitterness though not much citrus aspect. Nice malt backbone. In some ways, more of barleywine to me than DIPA. A bit of a sipper, but enjoyable.
Sham that the bottles from the LCBO will be so faded when they get released.
Recommend try once.
1,110 characters

3.13
/5
rDev
-10.1%
look: 3.5 | smell: 3 | taste: 3 | feel: 4 | overall: 3
Great label. Its white foil top gives hint at and helps to justify its higher price.
This has to be the darkest DIPA I've had to date. Its body is a rich caramel amber; mostly clear with a touch of haze. A finger's worth of creamy egg shell head is yeilded after a generous pour, displaying good retention taking into consideration the high ABV. Dots of slippery lace coat to the sides of the glass.
Hugely malt forward is the nose. Thick and fresh toasted malts, heaps of caramel and brown sugar and another kick of sweet malty goodness is all caked on top of an unobtrusive earthy, light grassy hop character. Herbaceous comes to mind. The 12.4% alcohol content is well integrated into the rest of the beer, furthering the sweetness of the malt if nothing else. The hops stand next to no chance in this malt bomb of a DIPA. If I didn't get this fresh from the brewery, I'd be seriously doubting this was a fresh bottle.
The bitterness is more assertive in the taste than I had expected from the nose, but it's not enough to change me giving this the title of a malt bomb. The earthy and raw hop character is laced with notes of pine, centering itself mostly in the middle and back of the palate. There's not a lot of bite to the bitterness but it does make its way past the finish where the hops become dry, soft, and reach the peak of their earthiness. The malt character, without much effort, runs equal if not greater to the hop presence. Thick, rich, fresh, and syrupy are all words that come to mind. The malt sweetness is present from beginning to end with it being most noticeable in the finish. I really do love the fresh and sweet malt character in this beer; for the style however, it's not what I'm interested in. This does get points for how well they hid the alcohol.
For me, where this DIPA comes through is in the mouthfeel. Rich, soft and creamy with no alcohol bite. Full bodied, mostly thanks to its sweet richness, imparted by the heavy malt presence.
This marks the first big Ontario crafted DIPA I've had, and I'm sad to say that it didn't meet my expectations. At 12.4% with 160 IBU's written clearly on the label, I was expecting a huge, incredibly hoppy and bitter DIPA and, for a fresh bottle, this was the most malt forward DIPA I've had to date. In terms of offerings at the LCBO, I'd say Flying Monkeys is the brewery in Ontario right now that is pushing the limits of craft brewing and I give kudos to their effort in brewing this. I'm still waiting for the hop monster that tears the enamel off of your teeth and places in BA's top 100 that I can proudly say came from Ontario.
2,616 characters
3.53
/5
rDev
+1.4%
look: 4 | smell: 3.5 | taste: 3.5 | feel: 3.5 | overall: 3.5
Bottle from the brewery - thanks 93!
Poured in to my trusty Flying Monkeys nonic. Dark amber-chestnut, pretty dark in colour. Leaves a nice frothy head, good lacing. Not bad.
Nose is quite malty and boozy, with some citrus and resin kicking around. Caramel and toffee, a bit of fruit. My first reaction was "...barleywine?" Certainly not what I expected in a DIPA, but there you go.
Again, the taste isn't quite what I expected. It's a boozy affair, to be certain, with a good smattering of hop and resin flavors, but damn is this sucker malty. Very thick, quite sweet actually. A hoppy barleywine, as it were. I enjoy these sorts of flavors, so I still marked it well, but this wasn't the hoppy experience I was hoping for.
Thick bodied, but there's enough carbonation to keep this interesting and prevent a cloying sensation.
I agree with a few previous posters - reduce the ABV slightly, thin out the malt character and hop it up old school. It's got potential, and I am enjoying it, but it needs a bit of work.
1,021 characters

3.51
/5
rDev
+0.9%
look: 4 | smell: 3 | taste: 3.5 | feel: 3.5 | overall: 4
On tap at Gambrinus Bistro & Cafe in London, ON. Very fresh pint served in proper branded glassware.
Pours a dark copper hue with ruby edges, two fingers of beige froth, and strands of stringy lacing on the pilsner glass.
Smell is big bready, doughy, and biscuity notes, similar to an altbier, with a little bit of stone fruit and bubblegum coming through. Surprisingly malt-forward aroma.
Taste is caramel and deep bready malts with piney-citric hops, lots of earthiness, and an abrasive, aspirin-like bitterness. Alcohol warms the insides after the first few sips but doesn't register on the palate. Rather strangely, some diacetyl was evident on the cough (though not enough to be distracting).
Mouthfeel is creamy, smooth, and fuller than medium bodied with a drying bitter finish and a little heat in the throat.
Overall, Super Collider is a good but not great DIPA that could use some work. For some reason I enjoyed it more out of the bottle at the Golden Tap Awards. Since I know the brewers are perfectionists who will undoubtedly tweak the recipe and make it better, my advice would be to turn down the alcohol a few notches (say 3%), aim for a leaner malt bill, and use more flavour and aroma hops. I'm confident that Peter, Adil, and Co. will revisit this brew and transform it into another Flying Monkeys hit (maybe under a different name, who knows). In the meantime I'll be grabbing bottles from the 'BO to see if I like them as much as the ones that debuted at the GTAs, and I'll update my review then.
1,524 characters
3.83
/5
rDev
+10.1%
look: 4 | smell: 3.5 | taste: 4 | feel: 3.5 | overall: 4
650ml into tulip
Purchased at brewery bottled 08/18/2011
A- Dark red/brown pour, two finger soapy eggshell head that collapses in minutes. Lacing is pretty sticky.
S- Candied sugar, citrus and floral hops with a sweet malt backing. Alcohol is there but barely.
T- Grapefruit, mandarin and pine. Bitter in the front, malty and sweet in the back. It's an iipa mullet lol. Alcohol is slightly warming.
M-Medium bodied, sticky on the lips.
O- This is a big bad beer. Second bottle and I really enjoyed it. Might sit on a bottle and see if it can develop barleywine style.
573 characters

3.18
/5
rDev
-8.6%
look: 4 | smell: 3.5 | taste: 3 | feel: 3 | overall: 3
Bottle provided by Steve, straight from a brewery. Bottled August 16, 2011 and consumed August 29, 2011. Thanks Steve!
Poured a dark reddish brown, with a mild offwhite head and some light lacing. Nose has some rich sweet malts, light grapefruit notes and some some general citrus character. Malt overpowers this. Taste has a bunch of alcohol, floor cleaner, metal and rich malt character. Weird combination of flavours, and almost cloyingly sweet without a ton hop character. Heavy, sticky and sweet mouthfeel that doesn't exactly work. Sampling this was enough, and I'll hold my money back from this one. Too malty and not enough hop flavour/balance to make this worthwhile. FM has certainly done better before.
715 characters

4
/5
rDev
+14.9%
look: 4 | smell: 4 | taste: 4 | feel: 4 | overall: 4
Tried a bottle at Hardrock 42 in Sudbury
Appearance: It has a nice dark amber/brown colour to it. It has a nice off white head that dies down slowly and has nice lacing.
Smell: The aromas definitly give out hints of citrusy and fruity hops, some caramel, alcohol and a bit of yeast.
Taste: Like the aromas, it has a very nice hop character to it with a nice citrusy/fruity/piney feel with caramely malts and a slight alcohol taste.
Mouthfeel: It has a medium carbonation with a nice balance and complexity.
Drinkability: It's a good drinkable beer accompanied with nice strong flavours and aromas.
605 characters

3.41
/5
rDev
-2%
look: 4 | smell: 3 | taste: 3.5 | feel: 3.5 | overall: 3.5
Steve's bottle from the brewery
Deep ruby/amber colour, light off white head that retains at the edge of the glass, a few spots of lace. Smell is malty and lightly boozy, pine scents are there but medicinal and somewhat resemble a pine scented cleaner, hoppy with some citrus. Taste is malty with pine and citrus, big hop profile, alcohol, citrus in the finish as well as warm alcohol heat. Medium carbonation, full body, syrupy at points. Not bad, but I expected a little more from this, still a decent DIPA though.
517 characters
3.42
/5
rDev
-1.7%
look: 3.5 | smell: 4 | taste: 3 | feel: 3.5 | overall: 3.5
Bottle from the brewery. Bomber with a great label. A thin ring of white head on light brown body. Hoppy aromas. A melange of hops, medicinal, with a tad of metallic in the finish. 120 IBU and I believe it. Unbalanced bitter, though the malting is an afterthought. Not well integrated. Drinkable, I suppose up to the style, but not the best example of it.Average mouthfeel.
373 characters
4.47
/5
rDev
+28.4%
look: 4 | smell: 4.5 | taste: 4.5 | feel: 4.5 | overall: 4.5
Picked up six 650ml of these at the brewery today. Originally thought it would be a one off gimmick, but these are truly inspired. At 12.4% and 160 IBU's it teases the palate with anticipation. Pours to a thick dark brown with serious lacing and equally serious retention. The label reads "blows a black hole in your taste buds" and it does just that. Mild alcohol smell with carmel and nutmeg as the dominant aroma. Sits heavy in your mouth as a Double IPA should, without detracting from the smoothness of taste. Kudos to the Flying Monkeys Brewery for pushing the envelope and making Ontario beer drinkers stand up and shout. Super Collider Double IPA has it all; seek it out if at all possible.
698 characters
Flying Monkeys Super Collider Double IPA from Flying Monkeys Craft Brewery
3.48
out of
5
based on
64
ratings.