Flying Monkeys BNL Imperial Chocolate Stout
| Flying Monkeys Craft Brewery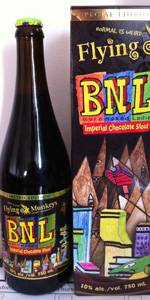 BEER INFO
Brewed by:
Flying Monkeys Craft Brewery
Ontario
,
Canada
theflyingmonkeys.ca
Style:
American Double / Imperial Stout
Alcohol by volume (ABV):
10.00%
Availability:
Limited (brewed once)
Notes / Commercial Description:
Treble Clef Series: Beer 1
Barenaked Ladies Collaboration.
If I had 2 million Ecuadorian Cocoa Nibs... I would brew you an Imperial Chocolate Stout.
Brewing with BNL demanded a rare treat - organic Ecuadorian Cocoa Nibs - to create a rich, friendly Imperial Chocolate Stout as sweet and quirky as the band's music. We lovingly agreed aged this beer on a bed of luscious raw cocoa nibs creating a black velvety brew so fudge-y it makes you want to lick the inside of your glass.
Opaque as chocolate cake, this roasty brew pours topped with a whipped mocha froth. The creamy dark cocoa flavors gently warm with a steady 10% ABV. No bitterness to this stout, just a chocolate boldness the, like a happy memory or a perfect song, keeps on giving.
And like great music, this bottle is meant to be shared with special friends and family.
Added by korguy123 on 11-24-2012
This beer is retired; no longer brewed.
Reviews: 35 | Ratings: 104
4.07
/5
rDev
+0.2%
look: 3.75 | smell: 4.25 | taste: 4 | feel: 4.25 | overall: 4
From notes.
A - Poured black with three fingers of medium brown head. Dense head. Spotty lace and a half finger of retention.
S - Tons of milk chocolate, molasses, vanilla beans. Very deep aroma.
T - Alcohol, roast, less milk chocolate but still at the forefront. Seemed overly simple but quite deep and rich as well.
M - Quite dry to finish, nice mild carbonation, full body.
O/D - A sipper. Alcohol was noticeable, which seems like a trend for FM and their higher ABV beers. A nice imperial stout though, with great chocolate notes, which is what they were obviously going for. Good.
590 characters
4.03
/5
rDev
-0.7%
look: 4.5 | smell: 4 | taste: 4 | feel: 4 | overall: 4
Props to peensteen for passing this brew along, super stoked to get an opportunity to take it for a spin.
A - Pours pitch black, two fingers of nice mocha head, solid retention and nice sheeting lacing.
S - Sweet milk chocolate, reminiscent of Nesquik syrop and hints of vanilla. Basically a blast of chocolate, not much else beyond that.
T - Similar to the nose, this is basically like drinking chocolate milk. The ABV is completely hidden, and dark cocoa flavours linger. The sweetness could easily be a turnoff for some, but I definitely didn't mind.
M - Medium bodied, smooth and finishes surprisingly wet.
O - I can see why there's mixed reviews on this brew. It's heavy on the sweetness and the closest beer I've had to chocolate milk, which could easily be a turn-off for some. Over time I am detecting the playdough flavours that others noticed. That being said, it wasn't overwhelming and I certainly had no problem taking down this bottle alone. A tad pricey, but worth a try nonetheless.
1,003 characters
3.91
/5
rDev
-3.7%
look: 3.75 | smell: 4 | taste: 4 | feel: 3.75 | overall: 3.75
A very good chocolate beer. Sweet chocolate aroma fills a boardroom. Very dark brown with lasting head, a little lace. Smooth mouthfeel. Major league achievement. Hot boozy follow on. Worth trying, and hits the mark though not the greatest in the style. Still, lots and lots of chocolate, similar to Baker's chocolate or a decile better.
337 characters
3.83
/5
rDev
-5.7%
look: 4.25 | smell: 3.75 | taste: 4 | feel: 3.25 | overall: 3.75
Bottle courtesy of Zithal. Thanks Rob!
This one poured black with faint ruby edges and had a fluffy mocha head. The one inch cap showed good head retention and left thick, sticky lace on the glass. There was one word for the aroma -- chocolate. It smelled like a mix of cocoa and milk chocolate, not overly sugary, and that's pretty much it. The flavour was primarily chocolate, but with more complexity than the aroma. Notes of alcohol, malt, mild roastiness and fruitiness in the background balanced some dark grain and hop bitterness. Though it was balanced towards sweetness, it was kept from being cloying by these other qualities along with a bit of spicy hops in the finish. The body was a bit thick and palate coating, carbonation was medium/low, decent texture. Overall it was pretty good. Very chocolatey while staying somewhat balanced, which is often the downfall of beers of this type.
898 characters

3.73
/5
rDev
-8.1%
look: 4 | smell: 4 | taste: 3.5 | feel: 3.75 | overall: 3.75
Appearance: Black as night with a finger and a half of dark brown head. Some minor lacing is produced on this one but the rentention is lacklustre.
Smell: An overwhelming smell of that high cacao dark chocolate, and I do mean overwhelming. There is only the barest notes of smoky malt in the background. Warming somewhat milds the chocolate towards lighter chocolate, but it's still the controlling smell.
Taste: Once again the chocolate takes front and centre, the start of the beer is more milder as sweeter milk-like chocolate begins to beer, although I suspect that's the malt trying to work. Then the beer transistions over to a much harsher bitter dark chocolate. It's a different kind of bitter, as it's overwhelmingly rich but hits like an IPA.
Mouthfeel: The start of the beer has a nice velvet smoothness, but the bitter smash at the end comes out of nowhere. The carbonation adds a creaminess to the beer that really helps things out, and the aftertaste is that of black forrest cake with all the sugar taken out.
Drinkability: This beer is rich in extreme, and with it comes a heaviness that only a heavy stout can get away with. It conceals it's high alchohol content very well..
Final Thoughts: Too much chocolate and not enough beer for this one, which I really can't hold against the beer too much, as its clearly labelled as an extreme chocolate beer. It's a thumbs up, way more if you are a chocolate buff, but sadly instead of being happy because it was an amazing beer, I'm more happy that I finally got it out of my fridge. Thumbs up, but given it's a one off and the name being a band name, you'll likely never see it in this form again.
1,664 characters

3.55
/5
rDev
-12.6%
look: 4.25 | smell: 3.5 | taste: 3.5 | feel: 3.5 | overall: 3.5
Interesting, but really just too much like chocolate syrup to truly work for me. Its along the lines of a dessert beer -- I ended up drinking it like coffee with my biscotti, which is not a totally bad way to go.
Pours dark, dark, dark with a great big solid head. Looks pretty impressive. Smell is just straight up fudgy goodness. Chocolate, chocolate, and more chocolate. Beeriness? Not so much.
Tastewise, more chocolate. And then some chocolate, followed by chocolate. If you don't like chocolate, then this beer won't be for you. And it is seriously off the beaten track compared to other Imperial Stouts in that it is missing much of the bitterness, roastiness and chalkiness often associated with other brews of the style.
Quite sweet, but not cloying. Remains drinkable throughout. And despite the sweetness, it's not a headache in a glass. Handles the alcohol quite nicely.
A decent brew. Something I'd do again on occasion, but if you're not into chocolate, it won't be for you.
992 characters
3.26
/5
rDev
-19.7%
look: 4 | smell: 3 | taste: 3.25 | feel: 3.5 | overall: 3.25
Poured in to tulip.
A - Poured dark brown and settled black with two fingers of espresso coloured head. Good lacing.
S - Massive artificial chocolate aroma completely dominates the nose; reminiscent of Nestle Quick - very sweet and syrupy. Nothing else comes through at all. Not a terrible nose, but one-dimensional and artificial.
T - A huge cocoa presence that is not as artificial and syrupy as the nose suggested but those qualities are still present. A fairly big bitterness is present throughout that is likely a bi-product of the cocoa nibs, not of hopping. The cocoa presence is overwhelming and at times approaches being cloyingly sweet but manages to get enough balance from the bitter cocoa and the warming alcohol presence to remain drinkable.
M - Medium body; chewy. Light carbonation.
O - Probably the most cocoa-forward chocolate stout I have had and for my tastes it went a little too far.
913 characters
3
/5
rDev
-26.1%
look: 3 | smell: 3 | taste: 3 | feel: 3 | overall: 3
A - very thick; dark black, good brown brown head
S - a very rich chocolate
T - cocoa, well balanced, could not tell it was 10%
A quality offering by FLying Monkeys, one which I quite enjoyed while eating new year's day breakfast. The arroma was very impressive, with the chocolate notes jumping off the glass.
Serving type: bottle
334 characters
2.12
/5
rDev
-47.8%
look: 4 | smell: 2 | taste: 1.5 | feel: 4 | overall: 2
Big thanks to JonnyBarman for picking this one up and hanging onto it for me. Cool that you could make over to my place again for the festivities. Cheers!
From a 750 into a snifter
Bottled 18 October 2012
Aged on Ecuadorian raw cocoa nibs
APPEARANCE: A clear black pour produces a three finger, medium looking, dark tan head with great retention. Black body with higher levels of carbonation evident. Head slowly fades to a full cap and leaves some chunky lacing down the sides of the glass. A splotchy wisp remains until the end and leaves some decent lacing down the glass. Looks pretty good.
SMELL: Huge chocolate fudge right off the pour. Hershey's mild chocolate, like an Aero bar, and cocoa powder. All chocolate all the time. Some boozy rum-like cherry aromas as well, like those cough candies perhaps. One dimensional and somewhat intimidating.
TASTE: Cocoa powder and plenty of sweet milk chocolate up front, and then just an avalanche of processed chocolate at the swallow. Huge aftertaste of sweet Hershey's chocolate, powdery cacao and lots of bitter, dark fudge as well. Some rum and booze notes lace the sweet, chocolate bomb that this is. The label says there is no bitterness here, but that's not totally true, as lots of bitter-sweet chocolate lingers after the swallow for sure. Actually pretty decadent, but it's so one dimensional and overly dominated by sweet processed cacao that it becomes pretty challenging after half a glass.
PALATE: Medium body and medium levels of carbonation. Very creamy on the palate, goes down smooth and finishes pretty sticky.
OVERALL: This is exactly as advertised, so I guess credit it due there. Chocolate and more chocolate, with lots of sweet chocolate on top of it all. I guess this would be tasty and interesting in small doses, but once you're forced to actually drink some of it, it becomes a daunting chore that I chose to avoid. Most of this saw the drain as a result. I'd suggests taking this novelty to a party and sharing it with an army of the willing, just as the bottle suggests / warns. In the end, this is not a good beer. See you again next year Jonny!
2,134 characters
1.56
/5
rDev
-61.6%
look: 4.5 | smell: 1 | taste: 1 | feel: 3.5 | overall: 1.5
Poured into a snifter.
A - Pitch black with two pillowy fingers of mocha head, thick lacing , head dissipates to half a finger and sticks around
S - Really really chocolatey, too chocolatey, and very one dimensional, lots of play-do like smells.
T - Like over processed fake chocolate, almost as if they tried to hard... it says on the bottle something alone the lines of they wanted a really chocolatey beer so they excluded hops....what were they thinking, bad mistake
M - Too thin and over carbonated for such a big stout
O - really really disappointing, i mean i really like what flying monkeys does usually, and this is just plain bad...i do not understand any of the reviews up here so far, because they all seem positive....this is easily the worst imperial stout i have ever had
791 characters
Flying Monkeys BNL Imperial Chocolate Stout from Flying Monkeys Craft Brewery
4.06
out of
5
based on
104
ratings.