Premier Gourmet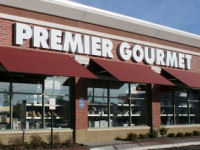 PLACE INFO
Type:
Store
3904 Maple Rd
Buffalo
,
New York
, 14226-1044
United States
(716) 877-3574 |
map
premiergourmet.com
Notes:
No notes at this time.
Added by BeerAdvocate
Reviews: 80 | Ratings: 103
3.8
/5
rDev
-14.2%
Fancy food and fancy beer at fancy prices. They have a great selection of American micro's and a descent selection of imports. Aranged by country, I liked the layout of the store. The staff doesn't seem very knowledgable, but they are there to sell food more-so than beer. The prices seem a little steep also. What I would normaly pay $4 for, I am spending $5 at Premier. But that's okay. It is the best thing Buffalo has to offer. They have a great selection and could get even better if prices were to drop a little.
518 characters
4.15
/5
rDev
-6.3%
In a word, selection. Organized by Country or State are a half dozen aisles. Buying a bottle rather than a six-pack make it great for sampling. Gaining a profile for Canadians travelling through the USA from Niagra Falls/Toronto as its near the border. European selection by far the best I have ever seen. Lots of gourmet packaged products of high quality. Staff are helpful but not knowledgeable about beer. I believe the manager is, but I am not passing through when he is available. Prices are a bit steep on the hard-to-gets but overall theya re fair.
555 characters
4.45
/5
rDev
+0.5%
Quality of this establishment can only be summed up by taking a stroll down their Belgian bier selection, you come to the end of the rack and there is every rare Cantillon I have ever heard of pretty insane, beers from De Ranke, Blaugeis, Oud Beersel, De Dolle, multiple Fantome seasonals. A slew of English and German biers, multiple vintages of JW Lees Harvest Ale. When it came to service they had it covered, a guy named Josh helped us make some of our selections and pulled out a limited release of De Dolle for me. This place is hard to beat one of the best selections I have ever seen in person, great resource for beer lovers everywhere.
645 characters
4.3
/5
rDev
-2.9%
This is one of the first places that I ever found the Fantome beers. Now I don't have to go quite so far to find them. I was also able to find a few vintages of Saison de Pipaix, which I still can't find readily. While I live insanely far from Buffalo, I happened to be visiting a friend in Utica and thought why not, I am over half there. So I made the eight hour rounf trip. It was before I knew of the many great places that I now know of in New Jersey and New York. I also remember getting Great Lakes beers there as well. The Edmund Fitgerald Porter was a great find for me.
579 characters
5
/5
rDev
+12.9%
I was very pleased in my two visits to Premier. The selection was very good, especially Belgian and other European beers. The staff was very helpful and knowledgable and made several good recommendations. I was able to find beers I had not seen anywhere else and many others that I consider hard to find. I found the vintage Sinebrychoff Porter selection especially interesting; they had them available by brew date from the present back through 1997. The 1998 bottle I sampled was awesome. The store also had a great selection of cheeses and wines. I wish that I lived closer, as I am now 1300 miles away. I will make a point ot go there whenever I am in Buffalo again, however.
679 characters
4.65
/5
rDev
+5%
I visited Premier Gourmet when I was in Buffalo for the Patriots game. It almost made me want to move to Buffalo. The beer is on a few racks (and a few doors in the cooler) in the back of a gourmet grocery store. I was greeted by one of the beer buyers (forgot his name), who spoke with me for quite a while and recommended a bunch of stuff for me. I was mainly looking for stuff I can't get back here in Mass - Middle Ages, Weyerbacher, Southern Teir, etc. They also had a ton of Belgian, English, and German imports, and growlers from the local Flying Bison brewpub. The only thing I was looking for that they didn't have when I was there was Three Floyds, which they said was due to a lapse in Distro when 3F's moved their bottling line in house. A must stop if you are in the area.
785 characters
4.65
/5
rDev
+5%
Whoa, this place is nuts! This is a VERY dangerous store for me to be in. Five rows of nothing but the best beers on Earth is enough to make me tremble and sweat with fear of going into some serious credit card debt.
Trappists, micros, lambics, 3L bottles, specialties, seasonals, you name it, they have it (except for Stone... :( ) But that is only part of the store! Every gourmet food and cheese, coffee, hot sauce you can imagine is here. I think I will be back many, many times in the coming days.... gotta find a second job now!
537 characters
4.3
/5
rDev
-2.9%
When I start getting close to this place I start shaking and my credit card get hot!
Very strong in Belgians and English beers. A smaller but still good amount of American Micros. They carry a fair amount of locals in the form of growlers. I can always find something I have never had before here. The last time I was in they had beers laid around in the cheese section as matches, which I thought was a very nice touch and shows the love of beer in the place. The staff is always very friendly and helpful. I have found that even if there is something that you don't see on the shelf - ask! They may have it in back or in the "cellar". Definitely worth a stop when in the Buffalo area
688 characters
4.5
/5
rDev
+1.6%
Superb assortment of numerous styles and varieties, several Belgiums, lots of English and a decent variety of American Micros, believe they boast over 700 kinds of beer (in a recent ad). Victory, Brooklyn, Dogfish, Middle Ages, Gearrys, Yuengling, Cooperstown, Saranac, Great Lakes to name a few of the big ones. Surprised to see Iron City as well! The best thing about Premier Gourmet is that almost all (probably 90 percent) of their beers are sold as singles, priced reasonably too! The singles are placed right next to the parent six pack, so you don't have to dig for them. Growlers are available from the Flying Bison and Pearl Street brewery. Believe they have 3-4 aisles of beer, lighting is great, aisles are a little crammed, but not too bad. Staff is knowledgeable and very friendly. Several beer glasses and beer publications, to include past issues of All About Beer mag. are available. The store also includes a huge selection of cheese, deli meat, hot sauces, coffee, glassware, kitchen gadgets, etc. A separate, but connected store sells nothing but wines and the hard stuff (and that store is the size of a grocery store). They also have a coffee stand and a little sit-down area to have a coffee and bagel. You could easily spend a full day in there just browsing, and of course beer shopping! Worth the stop if you are in Buffalo, worth your while to go out of yer way if you're not!
1,402 characters
3.5
/5
rDev
-21%
Good selection of brews...including American micros and imports from all over. Beer section is fairly well organized. UK brews are well represented. Good selection of gourmet foods, cheeses, hot sauce, coffee, etc. Picked up some tasty brews, cheeses, salad, and bread and had an impromptu picnic at a local park. However, I didn't care for the shots the store manager was taking at another WNY retailer when they had outdated product on their own shelves. No class. Still worth a stop when in Buffalo or when traveling through the area.
537 characters
Premier Gourmet in Buffalo, NY
4.43
out of
5
based on
103
ratings.