Henninger
| Mythos Breweries S.A.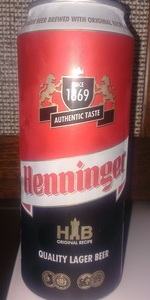 BEER INFO
Brewed by:
Mythos Breweries S.A.
Greece
mythosbrewery.gr
Style:
Euro Pale Lager
Alcohol by volume (ABV):
5.00%
Availability:
Year-round
Notes / Commercial Description:
No notes at this time.
Added by djura on 10-04-2012
Ratings: 11 | Reviews: 2
Reviews by djura:

2.08
/5
rDev
-16.5%
look: 2 | smell: 1.5 | taste: 2.5 | feel: 2 | overall: 2
Henninger is German,Frankfurt brewery,but this beer is also made in Greece. I think it is similar as Henninger premium lager,but i am sure it is not the same.
A-Yellow pale,small white head,lasting not more then minute. Almost no carbonation,almost nothing interesting in the glass.
S-Usual but very Unpleasant pale lager smell.
T/M-Watery,unpleasant bitterness,dry finish.
O-One of the worst lagers i ever had.
423 characters
More User Reviews:

3.1
/5
rDev
+24.5%
look: 3 | smell: 3 | taste: 3 | feel: 4 | overall: 3

2.73
/5
rDev
+9.6%
look: 2.75 | smell: 2.75 | taste: 2.75 | feel: 2.5 | overall: 2.75
"Henninger." Quality Lager Beer. Mythos Brewery.
5% ABV. 33cl aluminum can with red and black label acquired at a Carrefour supermarket in Kardamena, Greece, and served into a generic stangenglas in my hotel room. Reviewed from notes. Expectations are average.
Served at fridge temp. Side-poured with standard vigor as no carbonation issues are anticipated.
No bubble show forms as it's poured.
HEAD: 1.5 finger wide head of white colour. Decent complexion and consistency. Fairly thick. Leaves no lacing as it recedes. Could be fuller and creamier. Retention is above average - about 3 minutes.
BODY: Transparent translucent yellow-copper of below average vibrance. Clean; no yeast particulate or hop sediment is visible.
Overall, it looks pretty standard for the style. I've definitely seen better, and nothing about this is unique or special.
AROMA: Helles malts, crisp barley, a hint of floral hop aromatics, malty sweetness, and a hint of sweetbread.
It's generally appealing. There are no egregious off-notes and it isn't boozy or anything. I don't find any yeasty notes or spices.
An unremarkable aroma of average strength.
TASTE: Barley, helles malts, a dab of buttery character, and some malty sweetness. It's pretty bland and boring, but is well within style conventions. There're no egregious off-notes, and you can't taste any alcohol.
Relatively balanced. It's on the sweeter side for a beer of this style. Quite simple and boring. One could fairly call it bland.
Average duration and intensity of flavour. Shallow in terms of depth of flavour.
No yeast character or hop character comes through in the taste.
TEXTURE: Smooth, wet, crisp, and overcarbonated to the extent that it's sharp on the palate, and almost biting. Medium-bodied. As a result of the overcarbonation, it has too much heft and weight on the palate for a beer in this style - a problem which is exacerbated by the lack of flavour. This texture does an okay job at supporting the taste. It's not unrefreshing.
OVERALL: A passable brew in the style. The quality is consistent with the price point. With that in mind, it'll meet your (low) expectations. It's drinkable and will get you drunk, but doesn't offer anything of interest to the discerning drinker. I've had worse Greek beers. Rampant overcarbonation is the big issue here.
High C-
2,336 characters
3.95
/5
rDev
+58.6%
look: 3.5 | smell: 4 | taste: 4 | feel: 3.75 | overall: 4

2.33
/5
rDev
-6.4%
look: 3 | smell: 3 | taste: 2 | feel: 1.75 | overall: 2.25



Henninger from Mythos Breweries S.A.
2.49
out of
5
based on
11
ratings.