Sheppard Street Tavern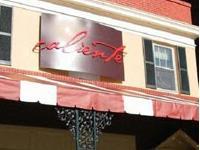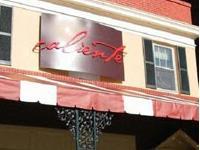 Bar, Eatery
2922 Park Ave
Richmond
,
Virginia
, 23221-1708
United States
(804) 320-2920 |
map
sheppardstreettavern.com
Notes: Formerly Caliente

clayrock81 from Florida
3.73
/5
rDev
-7.4%
vibe: 4 | quality: 3.5 | service: 4 | selection: 3.5 | food: 4
Went on a laid back Saturday afternoon when it was raining so not too many people there so it was chill. Place isn't a beer bar but a hangout that has decided to serve good beer but the servers and bartender where extremely nice and our food came out very fast. Not the tastiest thing I ever ate but a damn good luther burger (only place around here I know that puts it on the menu) nonetheless. Perhaps the only knock and complaints are thus: it is rather a macro microdrinkers beer - in other words, if you're on this site and have had plenty o' beers not named Budweiser than you probably won't find anything you haven't had or anything exotic, although they rotate a couple bottles. My only complaints are they served me a DFH Squall chilled to the touch (like ice chips on the bottle) and then handed me a frozen mug. Oh well - it was cheap ($1.50 less than the bar two minustes down the street) and it's rather trivial but just pointing it out.
Aug 16, 2011
phisherman11946 from Virginia
4.2
/5
rDev
+4.2%
vibe: 4 | quality: 4.5 | service: 4 | selection: 4 | food: 4.5
Caliente is a nice place to go for a beer every once in while. It is located in the museum district and walkable from the Virginia Museum of Fine Arts.
They have a great selection of approx 8 taps and a variety of special bottles and bombers. Their prices are very high on beer. Kind of like their food, very good, but small portions.
Their pints are only 12 oz so beware, but do offer pitcher pricing to help overcome the 12 ounces.
Overall a nice place to go and have a beer or two. Their patio is nice and the atmosphere is relaxing. You can smoke cigarettes in doors after a certain point in the night.
Jul 06, 2011
bgildea from Virginia
4.05
/5
rDev
+0.5%
vibe: 4.5 | quality: 4 | service: 4 | selection: 4 | food: 4
Caliente is a restaurant located right off of Monument in the Fan. The menu offers a variety of burgers and sandwiches along with some pasta based entrées. The beer list is 2 pages long with a handful of taps, 7-10 macros, and a longer list of (mainly) local crafts. The restaurant also offers a "Stupid Wing Challenge" of 6 wings that are obviously very hot. The winner gets the wings for free and a t-shirt. The contest was also featured on Man vs Food.
A: The atmosphere at Caliente is pretty nice. The restaurant offers a nice outdoor eating area (which permits smoking), some booths/tables inside, and a decent sized bar area. The patrons range from VCU students, to locals, to guests wanting to try to "Stupid Wings Challenge."
Q: The quality of the food and beer were both very good. I only had bottled beer here, so I cannot attest to the cleanliness of the tap lines. But I found no issues with the bottles that I had.
S: The servers at Caliente were very nice and upbeat. However, there was only one waitress working when we ate, so the service was on the slower side. It wasn't too-too bad, but it was a little slow. I'd say the slowness was more attributed to the understaffed-ness and unusually large crowd for the Monday night that we went. I also did not test the server's knowledge of beer due to time constraints, but my guess would be average.
S: The selection at Caliente is pretty extensive. The beer list is 2 pages long and offers a decent variety with a limited amount of macros. I was a little disappointed in the limited selection of dark beers (basically 2 porters/stouts and Guinness.) The lack of dark beer options bumps it down from a 4.5 in my book. Overall though, any beer drinker should be able to find at least one beer that they will enjoy.
F: I found the food at Caliente to be surprisingly good. They offer many different burger options, which I liked. The burger/sandwich/wings seem to be the way to go. The po-boys also looked good, if that is your thing. Caliente also offers seasoned fries in a variety of styles. We found the styles to be hit or miss, so pick carefully (personal preference: cajun or old bay. avoid parmesan). Nobody in our party got an entree, but from what I could tell, they looked pretty good.
V: The value for Caliente is $$. The burgers/wings/sandwiches are around $9. The entrees ranged from $12-17. The beers were significantly ranged in price depending on the beer, and some were a little steeper than I would have preferred. For perspective the cheapest were $2.50 PBRs, $3.50 for a Legend Brown Bottle (Local brewery), $5 for a Rouge Porter, and Lagunitas WTF was $10.
Overall: Overall I really enjoyed my visit to Caliente. The food was better than I expected and also cheaper than I expected. The beer selection was much more expansive that I expected, but limited in the dark beer area. The atmosphere was nice with a range of seating and the service was friendly but slow due to the restaurant being understaffed. Overall I would recommend trying Caliente for a burger and a beer, and I would definitely go back.
Jun 07, 2011
hchinaski from Virginia
4.28
/5
rDev
+6.2%
vibe: 4 | quality: 4 | service: 5 | selection: 4
Popped in last night for an after dinner drink with the woman. I used to frequent here a few years ago, but hadn't really gotten into the beer as much so as now. Always a good crowd and good bar service though.
Good tap selection, still have Two-Hearted, Delerium, Red Nectar, Sawtooth, along with stalwarts Guiness and Miller Lite. Oh, and the Paulaner Ocktoberfest too.
Bottle selection is pretty wide and varied for a small spot like this. Couple Rogues, bomber of Chipotle, porter 12oz and the Jug of Dead Guy, which is not just for decoration. seasons in bottles too, they were still trying to get rid of some summer beers (oberon) and they also carried the bomber of Legend Imperial IPA.
Prices are in line with the area, nothing insanely cheap, nor insanely high. I've always had great service from the bartenders there, and the owner/chef is always there. Nice cool spot, too bad i don't live near there.
Check these guys out if you're ever in the Museum area.
Oct 14, 2007
CharlieMopps from Virginia
3.86
/5
rDev
-4.2%
vibe: 4 | quality: 4 | service: 3.5 | selection: 4
Stopped in recently after work for a couple beers with a friend of mine. As this place is right up the street, I had no real excuse for not having been there yet, and thought I'd do myself a service and check it out.
Inside seemed somewhat nice. The restaurant was a bit quaint in size, but the wood and brass bar looked nice, and the layout made the place open up a bit. After perusing the beer menu, I ordered an Augustiner Edelstoff, as temperatures had gone into the triple digits that day and I needed something light and refreshing. The selection seemed pretty solid, although nothing extraordinary. Still, Bell's Two-hearted on tap, and bottles of Augustiner, Flying Dog, and other reputable breweries made the list, so there were still some good options.
Service was decent, as the waitress seemed nice enough. My friend ordered an appetizer, and said it was tasty, but I was strictly in it for the beer. So, I didn't try any of the food, but the beer prices were certainly reasonable, I felt.
For a small, neighborhood corner bar, this place isn't half bad. Definitely a step up from a typical local hole-in-the-wall with only BMC on tap and in bottles. Talking with a bartender at another establishment similar to this, I appreciate what these smaller places have to go through to make better beer available to customers, and for that, I salute them. Cheers!
Aug 10, 2007
nickss from Texas
3.88
/5
rDev
-3.7%
vibe: 4 | quality: 4 | service: 3 | selection: 4.5 | food: 4
I have been here a few times over the past several months, and always have a good time.
The location is a bit strange (right by Bandito's), and it looks like a hole in the wall, but don't let that deter you.
Inside is smallish, but very cozy. Booths line the walls, with several tables in the middle.
The food is very decent, with a focus on spicier dishes, as the name would suggest. If you're a fan of jalapeno poppers with some bite to 'em... don't look any further.
As for the beer selection... very solid. Here was some of the selection, as of a few weeks ago: Gouden Carolus Tripel, B-R Hop Rod Rye, La Fin Du Monde, DFH 120min, Delirium Tremens, Rogue Dead Guy and Chipotle Ale, Magic Hat Jinx, some Flying Dog products, and several more.
My only knock on this place is the service. Sometimes it's great, but the last two times I have gone it has been extremely slow (it was the same waitress, as well). However, it is not so terrible that I won't go back.... the beer and the food make this worth a visit once a month for me.
Oct 23, 2006
sinistrsam from Maryland
4.45
/5
rDev
+10.4%
vibe: 4 | quality: 4.5 | service: 4.5 | selection: 4.5 | food: 4.5
This was a complete surprise for me; I've found a few little places to drink some good beer in Richmond, but when my buddy told me we should hit a Mexican-style restaurant for dinner and a beer I was skeptical.
Immediately I noticed the eclectic, stylish atmosphere; it's a small place but they have a decent bar and a killer beer list. Any restaurant with a separate beer menu is ok by me.
I had a Gouden Carolous which was served in it's own glass, which was awesome. After some great tex-mex style food (Including something I had never had.... actually never heard of; Alligator bites, which were excellent), my friend and I split a bottle of Dogfish head 120 minute IPA which was phenomenal and a rarity in restaurants as far as I've found.
The beer and come to think of it the food was just slightly more expensive than I would have liked, but for a good night out and great food I was happy to pay. Once again, when in Richmond, check this place out.
Nov 04, 2005
asabreed from New York
4.45
/5
rDev
+10.4%
vibe: 4 | quality: 4.5 | service: 4.5 | selection: 4.5 | food: 4.5
I only live a few blocks from Caliente (in the museum district area of The Fan), but I finally got to go when my brother came up, as I never wanted to go a place like this by myself -- it has that crew or group atmosphere about it.
The food was excellent, although I only got a sandwich. In addition, though, I for the buffalo gator bites, and that was the first time I had gator meat before. It wasn't an entree night for me, but the food was very tasty and reasonably priced.
As far as beer, on tap they have things like Magic Hat #9, Guinness, Red Nectar. Mostly craft and microbrews, but of course the Miller Lite if you want something like that, too.
The bottle list was pretty crazy, and it surprised me with all the Belgians they had. I had the Gouden Carolus Triple, which I think is just incredible. They had Leffe, big bottles of La Fin Du Monde, and many more I can't remember. One page of the list was all craft and micros, and on the back were the macro beers. And they also have a wine list, too.
The service was excellent, and I even got a La Fin Du Monde glass for my Gouden Carolus, which was impressive. It's not smoky, as the place requires smokers before 10, I think, to sit at the bar. And it's dark in there, with hanging lights and such, so the atmosphere has an almost Roadhouse feel to it.
Overall it was a great experience. The beers and food can add up, just like any other place. But for about 2 or 3 beers a piece, an appetizer, and 2 sandwiches, the bill was around $45. It's Richmond, so you can expect to pay that just about anywhere -- especially a place that has such good food and beer selection (which thankfully I found out about from Beerfly). Check it out if you're in the area.
Oct 03, 2005
Sheppard Street Tavern in Richmond, VA
Place rating:
4.03
out of
5
with
10
ratings