Dismiss Notice
Drake Tavern, The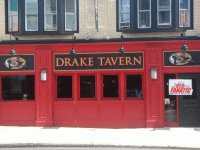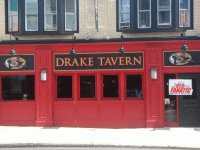 PLACE INFO
Type:
Bar, Eatery
304 Old York Road
Jenkintown
,
Pennsylvania
, 19046
United States
(215) 884-8900 |
map
draketavern.com
Notes:
No notes at this time.
Added by blitheringidiot
PLACE STATS
Reviews:

4

Ratings:

pDev:

8.33%
HISTOGRAM
Ratings: 6 | Reviews: 4
Reviews by PopeDX:

3.05
/5
rDev
-9.2%
vibe: 4 | quality: 3.5 | service: 3.5 | selection: 1.5 | food: 3.5
NEW EDIT: Wow, super lame-o. Taps are mostly filled with Brit imports (Guinness, Smithwicks, Bass, Harp, Newcastle), with two craft beers, and they were SA seasonal and #9. I had the Vic'ree in bottles, one of the three craft bottles they had. This place tries doing the right thing, having a house beer made by Yards, asking a local brewery rep from another brewery what can be done to make it a better beer bar, then fills up taps with this import macro swill. My last time ever going there. Everything below was my review when they were making an effort to have good beer on, just as a contrast...
---
The Drake definitely has it's place in the local beer scene...it's a great place to go if you're going out with non-beerheads, if you just got out of a movie at the Hi-way or if you want a good draught beer and don't feel like going into the city and are tired of UJ's.
A few good taps and a few more decent bottles make it a worthy stop every now and again. The food is pretty decent, although I always thought it was a twinge on the pricey side. The atmosphere is nice, clean, but not really too comfy or cozy. The service is...well, it's par for the course, don't expect a deep conversation about American vs. British roasted malts or anything of that nature, if you catch my drift.
Free parking in the adjoining lot if you're going to Drake's lets you avoid the parking nightmare that is Jenkintown.
[edit] Recently went there for happy hour. $1 off draughts and free food, as previously mentioned. That night it happened to be cæsar salad, bbq-esque chicken and buffalo shrimp. Not bad. Also, their house beer is now Yards Philly Pale Ale (the orange tap handle listed as "Drake Pale Ale"). 2 or 3 other micro taps plus 6-8 bottles make it a solid stop, especially for happy hour (5-7 Tuesday-Friday).
1,827 characters
More User Reviews:

3.45
/5
rDev
+2.7%
vibe: 4 | quality: 3.5 | service: 3.25 | selection: 3.25 | food: 3.75

3.5
/5
rDev
+4.2%
vibe: 3.25 | quality: 3.5 | service: 3.5 | selection: 3.5 | food: 3.75
2.98
/5
rDev
-11.3%
vibe: 4 | quality: 3 | service: 3 | selection: 2.5 | food: 3
The Drake certainly is an oasis as you leave the environs of North Philly up 611.
Visited on a sunday afternoon, albeit not the best way to rate a place at their peak, but it gives you an opportunity to see who knows what, and what some of the real regulars are like. Remember, the people, staff and the patrons it/they attract, determine the atmosphere of a place.
A - quiet sunday, but lively few folks at the bar at 1:00PM. As a cigar smoker (only after I enjoy the taste of the first few beers), it's a nice realm for enjoyng such a thing without 50 people around me. Irish pub attempt in the US. Trust me, I have tried alot, and this is close, but you can tell, a fake. Nevertheless, quite welcoming at this time of day.
Q - decent offerings with a coule local favorites. Too many big beers IMO.
S - attentive, but there were only ten to twelve of us in there...
S - too many macros, but a nice round out of rare beers and locals. Not enought bottle selections.
F - typical American pub food in a pseudo Irish pub...
V - reasonbable all around. Los of beer specials advertised for the younger, less diescerning crowds.
Worth a stop in a not busy time.
1,183 characters
3.8
/5
rDev
+13.1%
vibe: 4.5 | quality: 4 | service: 3.5 | selection: 3.5 | food: 4
Overall, the Drake proves itself to be a decent place for beer drinkers needing a quaff after leaving Philly's borders. Located on Rte. 611, the Drake has a nice corner building that you wouldn't be ashamed to take your family into. Just make sure your family all has their I.D.'s handy- this place has a strict policy on checking drivers' licenses. So strict that unless they have your ID to slide through the I.D. reader on their wall, you're not getting in after dark, unless you repeatedly assure them you're not going to drink (and even then the waitstaff will ask the doorman/woman if you've been carded if you order alcohol with your meal. Methinks this place ran afoul of the law recently.)
Once you pass the test and have correctly identified the estimated airspeed velocity of an unladen swallow, you'll notice the clean and tidy atmosphere. Everything has a shiny English pub feel to it. There's a lot of room and bar tables, but this often fills up fast with the after-work and dinner crowd. This crowd has a nice neighborhood feel to it: you'll just as often find the guy in a business suit as the guy in the Eagles jersey. No dress code to worry about.
The beer itself is average, and I'm sure they push a lot of Miller Lite. However, on a good day, they do keep three or four taps open for respectable brews, all locals. Common to their rotation is: Victory, Sly Fox, and Legacy. I can always find at least one of those three on tap, but lately have been finding more good brews on tap at the same time. The barstaff is friendly, but not always very attentive, which works out if you're anti-social, but not if you want a refill right away. The bartenders have to worry about the dining room patrons as well as those as the bar, so they're pretty busy and will get to you eventually. I never had to wait terribly long for a drink, however. There are plenty of TVs around set to sports channels and the news to keep you occupied as time goes on. The jukebox plays popular tunes: nothing to squeal like a little girl about, but good enough to entertain you with Top 40 hits that you'll never admit to singing in the shower. The food is very good and the selection ranges from small appetizers and burgers to pasta and seafood. Never had a bad meal there, but frankly they've yet to find a standout dish. Everything is good, crowd-pleasing fare. Prices are not cheap, but decent, about what you'd expect to pay for things. Their famous happy hour is a good bargain- cheap as free! Open to all who walk in, the happy hour buffet offers a range of stuff off their menu. Some things I've had there: chicken, penne pasta, Buffalo wings, mussels, even crab legs, which was a nice surprise. Everything done very well and the food kept coming after the buffet trays were being cleaned out by eager patrons.
With the Vintage up Rte. 611, you could have yourself a mediocre pubcrawl, but I wouldn't bother unless you live in the area. There's not much else beer-wise in walking distance from the Drake. Driving, you could land yourself at Union Jacks in North Hills or at G.G's Brewers in Glenside. Utimately, the Drake is a nice watering hole for thirsty suburbanites and a good place to grab grub. It's not something I would drive to Jenkintown for if I still lived in Northeast Philly, but if I still lived in Northeast Philly, I wouldn't know what to do in a place as tidy as the Drake!
3,403 characters

3.38
/5
rDev
+0.6%
vibe: 3.5 | quality: 3.5 | service: 3.5 | selection: 3 | food: 3.5
The first visually noticeable characteristic of the Drake Tavern is the Irish pub style of this newly constructed watering hole, which was built in the past few years on a corner off of Old York Road along the main street section of Jenkintown, PA. The Drake Tavern is a welcome addition to the local area for beer lovers. Half divided into smoking in the front with the bar and restaurant area, and non-smoking in the back with the other half of the restaurant and bathrooms. Does it pass the famous "Could you take your Mom here to have a beer test?" Yes it most certainly does. The Drake is clean with average bathrooms. Sometimes it gets too crowded at the bar and in the restaurant if it is a busy time like Friday, but that can be attributed to the Drake's quite generous Happy Hour of free food that includes mussels in marinara sauce, thick hot wings and assorted goodies, topped off with $1 off draughts.
Quality wise, The Drake is a new Buick, if you will, well worth a test drive. My nachos with chicken were average...y'know the type...and dinners aren't outrageously expensive nor of an exquisite nature, but adequate.
Most of the wait staff is local youg kids who are just earning a buck, so with impunity they get the job done, even though we had one order goofed up, amends were made. Stick with the free Happy Hour grub and a few decent beers on tap and you'll be fine.
Beer selection is good enough to be worthy of the BA barfly listing, but just barely. The house beer is Yards Phila pale ale. Nice!Usually, a few local beers are on tap such as Stoudt's APA, Victory Storm King, Yards Love Stoudt as well as the standard draughts of Sam Adams, and macro swill. Their bottle selection holds its own, with local seasonal offerings, and even a few decent Belgians such as Kwak. Who doesn't love Kwak?
Last swigs: Clean joint that will fit the bill fine for good food & beer. If you seek GREAT FOOD or GREAT BEER, there are other joints within a 10 minute drive that will do the job better, but overall, The Drake Tavern is worthy of a casual visit for the locals and traveling passerbys, alike. I use beerfly to find good beer place when I am in a new area, and The Tavern deserves to be included for that purpose alone. Props to their support of the community at different events and charities from time to time. Service holds back the Drake from being really swingin'. Maybe that is due to the crowd?
RE-Reviewed...Upped downgraded my selection to 3.0 due to the local taps dwindling by each visit. The place is a smoky mess that caters strictly to a dinner crowd. This is not a beer bar at all. The taps were all skrod-lame with the exception of House Pale (a.k.a. Yards) and Yards Love Stout. No Vic'ry??!! Later!!!
2,752 characters
Drake Tavern, The in Jenkintown, PA
Place rating:
3.36
out of
5
with
6
ratings