Pripps Blå Lättöl
| Carlsberg Sverige AB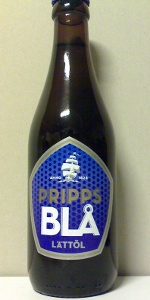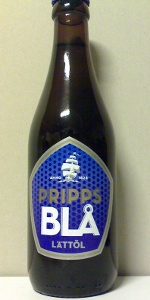 BEER INFO
Brewed by:
Carlsberg Sverige AB
Sweden
carlsberg.se
Style:
Euro Pale Lager
Alcohol by volume (ABV):
2.20%
Availability:
Year-round
Notes / Commercial Description:
No notes at this time.
Added by bark on 03-19-2005
Ratings: 10 | Reviews: 5
Reviews by markgoodman10:
More User Reviews:

2.01
/5
rDev
-7.4%
look: 2.5 | smell: 1.5 | taste: 2 | feel: 2 | overall: 2.5
A pale yellow clear beer, white short head, leaves little lacing.
The smell is weak, some hops, rather metallic, boiled vegetables.
The taste is mainly sour, a bit citric, a short bitterness at the end.
A fizzy carbonation, feels more like mineral water.
This is one of the most common Swedish lunch beers, and good if you want to be careful alcohol.
354 characters
2.18
/5
rDev
+0.5%
look: 2.5 | smell: 2 | taste: 2 | feel: 2.5 | overall: 2.5
This is one of the most common drinks when eating a lunch at a restaurant in Sweden.
The colour is clear yellow – gold. The small white foam dissolves into a lid after a short while.
The smell is kind of weak, but at the same time all over the nose: I found notes of a sweet dough-like malt smell with some diacetyl and a thin chemical bitterness.
The carbonation is medium strong but quite short.
The taste is malty with some caramel-like sweetness; the body is very weak. There are some traces of hops, but they are quite artificial. The aftertaste is short with notes of loaf and a flowery touch of boiled vegetables.
There are other, better Swedish low alcohol beers.
690 characters
2.15
/5
rDev
-0.9%
look: 2.5 | smell: 2.5 | taste: 2 | feel: 2 | overall: 2
Dull golden color with a two finger head if poured aggresively that dwindles to nothing shortly thereafter.
This light beer has very little taste which is not a requirement for light beers. It was only mildly refreshing. It has a malty smell that reminds me of cheap beer. There is a slight skunk smell mixed in. I would not go as far to say that this beer is awful as there are no real side affects (a headache or the urge to vomit) that occur. It is simply a light beer with not much taste.
I will probably choose water next time I have lunch in Sweden, simply because water is more refreshing in this case.
612 characters


2.44
/5
rDev
+12.4%
look: 3.5 | smell: 2 | taste: 2.5 | feel: 2.5 | overall: 2.5
Thanks to Papsø for this gem. Apparently it's a "special treat for [me]". Served in a pilsener glass. Best before January 13th, 2012.
A - Two-plus fingers of quick-dissolving white foam that settles to a creamy cap and a few splotches of lace. Transparent straw yellow that is vaguely reminiscent of urine. A few straw big bubbles slowly rise to the top.
S - Grain, light fruity notes, some and metal, perhaps a kiss of sweet malt. Some yeast comes out as it warms up.
T - Taste is more cooked veggies, with perhaps a hint of hop bitterness in the finish - or perhaps that's metal. Otherwise pretty bland, with the carbonation overpowering the flavor. Biggest flavor is water?
M - Crisp carbonation that surprisingly avoids being bloaty. Light body, with a dry and refreshing finish. It's more seltzer water than beer, but I'm not sure what expectations you can have for something that's 2.2% and comes in a can.
D - Crushed the can like it was water. Unsurprising, seeing as it IS mostly water. Might as well be non-alcoholic beer. I'm guessing this is made to skirt some law and allow the beer to be sold outside Systembolaget? In any case, I enjoyed it more than most American domestic light beers - the lack of flavor was actually a positive here.
1,257 characters
2.45
/5
rDev
+12.9%
look: 1.5 | smell: 1.5 | taste: 3 | feel: 1 | overall: 3.5
33cl can into a pint glass.
One of the lightest pours ive ever seen. Water colored piss almost. About two fingers of head, surprisingly fluffy, light retention...The aroma is garbage, all skunk...The taste thankfully disguises the skunk but that's because there is no taste at all. Light sweet, but utterly boring, might as well drink water.
Skip this, not even a suitable replacement for water.
397 characters
2.61
/5
rDev
+20.3%
look: 3 | smell: 2.5 | taste: 2.5 | feel: 3.25 | overall: 2.5

2.31
/5
rDev
+6.5%
look: 2.25 | smell: 2.5 | taste: 2.25 | feel: 2.25 | overall: 2.25
Pripps Blå Lättöl from Carlsberg Sverige AB
Beer rating:
0%
out of
100
with
10
ratings