Tanngnjost & Tanngrisnir
| Närke Kulturbryggeri AB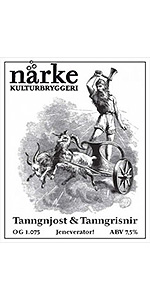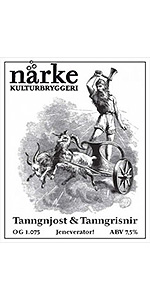 BEER INFO
Brewed by:
Närke Kulturbryggeri AB
Sweden
kulturbryggeri.se
Style:
Doppelbock
Alcohol by volume (ABV):
7.50%
Availability:
Rotating
Notes / Commercial Description:
The first lager of Närke.
Named after the two he-goats that pulled the carriage of Norse god Thor, this is a smoked doppelbock spiced with juniper twigs.
Introduced in October 2009.
Added by bark on 10-14-2009
HISTOGRAM
Ratings: 10 | Reviews: 5
Reviews by BRoss242:

More User Reviews:

4.05
/5
rDev
+6%
look: 4 | smell: 4 | taste: 4 | feel: 4.5 | overall: 4
Thanks again to Billy Ross. Wickedly excited to try this smoked, spiced doppelbock. Also my first run-in with Narke.
A: The doppelbock is a tawny color, translucent still with deeper brown and red colors. The bock doesn't have much head, although the growler opened with a hiss. The small head, less than a finger, doesn't lace much did hangs around for a spell.
S: The nose is the hook. Smoke! At first I leaned towards the crisp meatiness of Bamberger but was quickly swayed to the thick sweetness of peat. Semi-sweet fruit aromas add more depth, but the smoke really hits home. The thick maltiness isn't nearly as evident in the nose; it's big but the smoke is pleasantly exotic.
T: The smoke is deceiving, starting off with a Bamberger edge before the peat comes through in full force. At once chewy and meaty, the peat delivers plenty of flavor. Soft berries add a floral sweetness, barely peaking up above the smoke. The richness maltiness of the doppelbock needs some coaxing to emerge through the morass of the smokiness. It's toasted bread flavor doesn't comes across as too strong - good and bad as the growler was emptied rather quickly. A smoke-lover's delight - meaty and full with a distinctive peat moss bite.
M: The complexity blew my mind, smoke and light flowers in a rich malty body. The peat is a great addition, bringing tons of smok and sweetness.
1,373 characters
4.12
/5
rDev
+7.9%
look: 4 | smell: 4.5 | taste: 4 | feel: 4 | overall: 4
On tap at Borfets 2012
Smoked Double bock. Whiskey peat smoked with Juniper. I believe Jesper said this beer had special peat smoked malt from a local island near the brewery.
Brown typical double bock color. Minimal head with little retention. Pretty thick but smooth mouthfeel.
Nice aroma of plums and dried fruit. A touch of scotch whiskey in the nose.
Very smokey scotch flavor. The Juniper was very noticable in the finish. It tasted like pine needles smell.
Another interesting and delicious beer from Narke!
523 characters

4.32
/5
rDev
+13.1%
look: 4 | smell: 4.5 | taste: 4.5 | feel: 4 | overall: 4
Thanks to bosse for this one! Poured into Bruery tulip.
A - Pours reddish/brown, cream head, big bubbles, thick collar, whisps on top.
S - Big smoke, slight herbal and floral notes. The floral notes are excellent when mixed with the smoke. Not so smokey it's hard to sniff, it's just right.
T - Malty sweetness, floral, herbal, slight smoke, with a smokey/malty finish. The sweet malts and smoke work wonders together. I am in love.
M - Light body, good carbonation, creamy, smokey finish.
O - Really enjoyed this one, easy to drink, wonderful smoke. I think this is more of a smoked larger then a Doppelbock. Anyway, who cares, I loved it.
645 characters

4.25
/5
rDev
+11.3%
look: 4 | smell: 4 | taste: 4.5 | feel: 4.5 | overall: 4
A smoked doppelbock eh? Thanks Sean for sharing this oddity. Served, appropriately, in a Närke tulip.
A - A finger-plus of tan foam settles quickly to a thin ring and filmy haze on top. Transparent dark brown-red body with some spotty lacework.
S - Wow this is smokey. Big maple-glazed ham and smoked meat aroma that is slightly reminiscent of Three Floyds Ham on Rye. There's some malt character in the periphery, but this is all about the smoke.
T - Taste has a bit more bock character to it, with notes of cake and fruits from the berry family, as well as some bread. Still, these are in the periphery behind a fairly intense smoke and ham flavor. There's a bit of juniper in the finish, but I didn't get a ton of it elsewhere - perhaps this is for the best.
M - Mouth-coating smokiness - feels like I was in a pub that still allowed cigarettes for a few hours. Medium body, smooth texture, medium-low carbonation, and no obvious alcohol.
D - It's a really nice smoked beer that holds its own against the best examples of the style. Too bad it's nearly impossible to acquire. Sean and I put down a 50cl bottle with ease and wanted more.
1,145 characters

3.5
/5
rDev
-8.4%
look: 3.5 | smell: 3.5 | taste: 3.5 | feel: 3.5 | overall: 3.5
3.67
/5
rDev
-3.9%
look: 3.5 | smell: 4 | taste: 3.5 | feel: 4 | overall: 3.5
I had this from the bottle into a Närke glass at the brewery with Hans.
The beer pours a medium copper with light orange highlights, semi clear. There is a medium tan head ok retention and lacing....The aroma is light smoke throughout with lots of herbs. Juniper water was used so I can smell that with a couple other smells I can't identify...The tasty is very herby but the smoke cuts it down and makes it drinkable.
Not my kind of beer with lots of herbs but the smoke makes it interesting and worth a shot especially if you are Swedish as it is a traditional Gotlandick beer dating back 3500 years.
606 characters
Tanngnjost & Tanngrisnir from Närke Kulturbryggeri AB
Beer rating:
3.82
out of
5
with
10
ratings