Kaggen! Stormaktsporter Rauch
| Närke Kulturbryggeri AB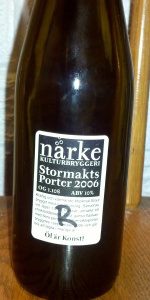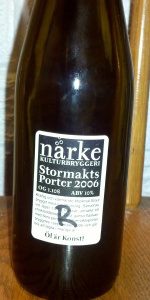 BEER INFO
Brewed by:
Närke Kulturbryggeri AB
Sweden
kulturbryggeri.se
Style:
Russian Imperial Stout
Alcohol by volume (ABV):
10.00%
Availability:
Limited (brewed once)
Notes / Commercial Description:
No notes at this time.
Added by jrallen34 on 08-04-2010
This beer is retired; no longer brewed.
HISTOGRAM
Ratings: 10 | Reviews: 7
Reviews by tarheels86:
4.06
/5
rDev
-4%
look: 3 | smell: 4.5 | taste: 4 | feel: 4 | overall: 4
250mL thanks to forgetfu. Deep sepia pour with low carbonation. Rich bacon fat nose. Sharp and smokey barbecue oil. Rich nose. Taste is tangy, ashy, a bit dirty. Some apple skins. Definitely good stuff. Just a bit ashy. Never been a big fan of the Narke stouts but the Konjakts! is probably my favorite then the Rauch. Thanks a lot for sharing Bill! 6/9/2012 9/3/8/4/17=4.1
373 characters
More User Reviews:


4
/5
rDev
-5.4%
look: 4 | smell: 4 | taste: 4 | feel: 4 | overall: 4
Bottle courtesy of forgetfu. Served in a mini snifter. Pours near black with a mocha head and not too much in the way of lacing. Nose brings a pretty hefty amount of rauch with some chocolate and roast in the background. A bit too overcome with the smoke. Flavor is similar. Complexity in the background. Still not nearly as good as regular Kaggen, though still a very good stout. Medium body Smoke through the finish. Good, not great.
435 characters

4.38
/5
rDev
+3.5%
look: 4.5 | smell: 4 | taste: 4.5 | feel: 4.5 | overall: 4.5
Review from notes. Bottle shared by jrallen at our Epic Chicago Tasting. Thanks a ton for this, Jason. Poured into Rochefort tulip.
A - Looks like Kaggen! Black, mocha/tan head, some bubbles on top and some lacing along the sides of the glass. Leaves behind a chocolate residue that's pretty viscous-looking.
S - Huge roasted smokey nose, chocolate (both milk and dark), oak, burnt sugars. The smoke character is really well-done here. Not sure I'm digging this more then the regular Kaggen!, but it's pretty damn good.
T - Similar to the nose. A nice roasty smoke flavor mixed with chocolate, caramel, oak, tobacco. Easily the best smoked beer I've ever had and right up there with Kaggen!. Bitter chocolate and smoke finish.
M - Medium, smooth, rich, oily finish.
D - Yet another awesome Kaggen! I don't think this version is my favorite, but I sure did like it. Once again, thanks to Jason for scoring this bottle and sharing.
938 characters

4.32
/5
rDev
+2.1%
look: 4 | smell: 4.5 | taste: 4.5 | feel: 4 | overall: 4
Thanks Forgetfu, in an effort to drink all the beers that begin with the word "Kaggen!" I apprecaite the assist. Served in a snifter. Beer is black and appears thick with a lazy tan head of small bubbles, low retention, haloed quickly no lacing, looks OK.
Aroma is sweet and roasty / smokey with a little subtle oak in there.
Beer is medium in body, coats the mouth with this roasty sort of maltiness and a smokey finish, the overall impression of the beer is strong and light at the same time if that makes sense. Mildly bitter, perhaps some chocolate, overall a very nice little beer. I'd have more if you're pouring.
621 characters

4.67
/5
rDev
+10.4%
look: 4.5 | smell: 5 | taste: 4.5 | feel: 5 | overall: 4.5
Review #800. Huge thanks to Jason for sharing this rarity! Served, appropriately, in a Närke snifter with friends, as per the instructions on the label. A lot of my observations are going to be in relation to the usual Kaggen! Stormaktsporter.
A - Looks like Kaggen! The usual one-finger of creamy mocha foam with excellent retention that eventually settles to a ring and some filmy haze. Pitch black body, with glass-coating brownish legs reminiscent of Hunahpu's or Dark Lord.
S - Kaggen! is already a pretty smoky beer, and while the barrels seem to change from year-to-year there's always elements of peat, char, tobacco, and dark roast. However, this amps up the smoke character to a new level, with elements of smoked meats and hickory. As it warms up the trademark honey and chocolate cake sweetness remains. I'm not sure if it's really better or worse than its brethren (they're all pretty amazing), but it's certainly in the same class.
T - The taste is also quite excellent, but I think some of the depth of flavor has been lot due to the smoked malt - or to paraphrase, more smoke, less other stuff. There's a meaty character that while skillfully integrated doesn't 100% work for me - that being said, I never found myself thinking "What Kaggen! REALLY needs is smoked malt!". If you love glazed, smoked meats and barrel-aged stouts then this will probably be your Holy Grail, but for me this is "merely" excellent.
M - Not a ton new to report here. No heat, medium-full body that is more than adequate for the 9-10% alcohol (I'm assuming this is about as strong as regular Kaggen!). Silky smooth body, soft medium-low carbonation, tannic and oaky finish.
D - It's always wonderful to try an interesting variation on one of my favorite beers, and while I'd reach for Kaggen! or "regular" Stormaktsporter nine times out of ten, this was thoroughly enjoyed and appreciated. I certainly could have consumed the whole bottle had it been mine (and had I been unconscionably greedy). Hopefully I'll get another opportunity to try this and other Närke experiments on a future trek to Scandinavia.
2,108 characters

4.42
/5
rDev
+4.5%
look: 4 | smell: 4.5 | taste: 4.5 | feel: 4 | overall: 4.5
Bottle generously shared by forgetfu. Thank you Bill!
2006 vintage
The beer is dark, nearing black. Very little head. This brew looks oily and viscous. The aroma is smoky, with additional scents of dark roast, chocolate, burned malt. Smells nice. The flavor is roasty and smoky, with some chocolate notes in there as well. Alcohol is present, but doesn't get in the way. Rich and full bodied with moderately low carbonation. I would love to have this again, but alas, I am grateful to have at least tasted this once.
518 characters
4.97
/5
rDev
+17.5%
look: 4.5 | smell: 5 | taste: 5 | feel: 5 | overall: 5
Thanks to Berith and Hans for giving me this one of a kind beer that was first drank at the brewery and then shared in Chicago at our epic beer tasting. Thanks to Alex and Sean for waiting.
25cl bottle served into a Narke tulip. This beer is an 08 kaggen that is 4 parts Kaggen! and 1 part smoked beer. It is not commercially available, and if you're having this beer then you're f-ing special and have already had a Kaggen! so I'm going to skip the normal review bs.
I've now had this twice and this is my favorite Kaggen! beer. It takes the greatness of a Kaggen and just adds a bit of smoke that enhances the aroma and taste in just the right ways. A total balance of tons of vanilla, smoke, wood, and coffee. AWESOME all the way around.
746 characters
Kaggen! Stormaktsporter Rauch from Närke Kulturbryggeri AB
Beer rating:
4.23
out of
5
with
10
ratings