Oppigårds Summer Ale
| Oppigårds Bryggeri AB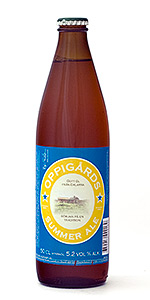 BEER INFO
Brewed by:
Oppigårds Bryggeri AB
Sweden
oppigards.com
Style:
American Pale Ale (APA)
Alcohol by volume (ABV):
5.20%
Availability:
Summer
Notes / Commercial Description:
Hopped with Cascade.
Added by bark on 04-23-2009
This beer is retired; no longer brewed.
Ratings: 7 | Reviews: 6
Reviews by Asgeirr:
3.88
/5
rDev
+8.4%
look: 4.5 | smell: 4 | taste: 4 | feel: 3.5 | overall: 3.5
Appearance: Oppigårds Summer Ale pours a luminous amber colour along with a beige, thick crown that gradually implodes from the middle and out, in a really slow pace. Ultimately leaving a chain-like residue of lacing alongside the glass as hordes upon hordes of bubbles charge towards the surface.
Smell: Floral hops, citric undertones, a cream-fudge maltiness and some some lactose sweetness may be hinted as well.
Taste: An upfront and short yet intense taste of apricot marmalade which is quickly overlapped by the foremost flavour, the stringent bitterness, truly acrid on the verge of being mouldy -- but it manages to balance it off onto the aforementioned marmalade-sweetness.
Mouthfeel: Overall it's a dry one for sure, yet it has its moments of freshness. Medium full and relatively smooth thanks to the carbonation which adequately livens up the story.
Drinkability: Personally I'd settle on just a few due to the bitterness (which is good but fills the quota quite quickly). A bit harsh for the lager-lovers and Belgian brew-buds but the hopheads of the US of A will most definitely be left satisfied.
1,119 characters
More User Reviews:
3.3
/5
rDev
-7.8%
look: 4 | smell: 4 | taste: 3 | feel: 3 | overall: 3
A: Pale amber color with reddish hues. The head is about 4 cm, ivory-clored and dissipates rather quickly. Some lacings.
S: Mostly citric hops with a distinct grapefruit character. Some caramel and malts. Faint grassy notes and a minimal hint of spicy hops. A touch of yeast. A fresh smell.
T: A hop forward taste with a rather thin malty backbone. The hops are predominantly citric and again with a distinct grapefruit character. Some grassy notes. Caramel, sweet malts and an off-centered woody note. The finish is actually quite bitter with notes of peppery hops and a faint taste of minerals. Strangely enough, I think I can taste the alcohol in the finish, even though it's only 5,2 ABV.
Moderate body, medium carbonation.
D: This is a nice try rather than really successful. A hopy pale ale, for sure, but it lacks that little extra to make it really good. The hops could have more nuances and the malts in the background could be a bit sturdier.
957 characters

4.3
/5
rDev
+20.1%
look: 4 | smell: 4 | taste: 4.5 | feel: 4 | overall: 4.5
Medium off-white head, golden colour, lots of lacing, hops, grass, lemon. The flavour has oppigårds typical signature with a distinct bitterness resting on a very enjoyable malty background. Mouthfeel is smooth, but still lively with small bubbles. This has been my favourite beer for this summer!
298 characters
3.27
/5
rDev
-8.7%
look: 4 | smell: 4.5 | taste: 2.5 | feel: 3.5 | overall: 3
The liquid is clear; the colour is red-amber. The large foam links very slowly down to a beige compact three finger head. Lots of lacing.
The smell is fresh and hoppy in an American way. Orange peel, grapefruit, wood and a fine yeasty touch. There are also sweet notes of cookies and fruit candy.
The taste is quite strong and bitter. Citric and bitter hoppy flavours (grapefruit, spruce wood, wormwood) are mixed with some neutral semi-sweet malt. The aftertaste is bitter, too with some sour chemical hints, some alcohol and a touch of grilled meat. The body is surprisingly light. American hops in the finish.
The carbonation is medium, the small bubbles are soft. The liquid is smooth.
Well, a well hopped American-style pale ale. I use to like those, but this one lacks body and balance from the malt. The hops lacks... depth?
838 characters

4.09
/5
rDev
+14.2%
look: 3.5 | smell: 4.5 | taste: 4 | feel: 4 | overall: 4
A: This beer pours amber with a white creamy head that leaves lots of lacings.
S: Very nice floral hops (American, so very American), citric notes. Malty and even some faint alcohol and even "fainter" wormwood.
T: Like a ryebread-sandwich - malty. But the american-style floral hops is where this beer has it's heart. If you (like me) like the american hops this is great. Some citric notes in this dry beer (some dryness from bitter hops as well), but american floral hops is what this beer is all about.
M: The aftertaste is longlasting with nice bitterness and dryness, the body is medium and the carbonation is light.
D: I have looked at the other reviews and I think that they are holding back a bit. If you like the american style hops this is a great beer. If you don't like that kind of hops you probably shouldn't bother at all.
842 characters

3.5
/5
rDev
-2.2%
look: 3.5 | smell: 3.5 | taste: 3.5 | feel: 3.5 | overall: 3.5
Many thanks to a generous trader.
Appearance: Clear, typical pale ale, decent head, little lacing
Smell: Light citrus hops, faint grapefruit, some malt
Taste: Some light citrus and grapefruit from the hops
Mouthfeel: A bit thin
Drinkability: Light, but doesn't make me think of summer
Seems like they tried to make an American beer.
338 characters
Oppigårds Summer Ale from Oppigårds Bryggeri AB
3.58
out of
5
based on
7
ratings.