Oppigårds Amarillo
| Oppigårds Bryggeri AB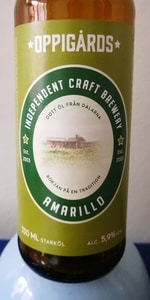 BEER INFO
Brewed by:
Oppigårds Bryggeri AB
Sweden
oppigards.com
Style:
American Pale Ale (APA)
Alcohol by volume (ABV):
5.90%
Availability:
Year-round
Notes / Commercial Description:
Introduced as a one-off in 2009 as "7th Anniversary Ale". Re-launched as "Amarillo Sping" in March 2010. The name was then changed to "Amarillo" in July 2010.
Hopped with 100% Amarillo.
Added by ricke on 10-22-2009
Reviews: 15 | Ratings: 67

3.6
/5
rDev
-10.2%
Bottle from rlgk, thank you!
Sunny yellow color with a decent head.
Floral aroma, grassy, with fruity orange.
Flavor is defined by orange and citrus peel, with a decent maltiness, which evokes no signs of being sweet, but adds an enjoyable, underlyling complexity. Actually not too bitter either, but bitterness is recognizable, still, not as present as the fruit aromas. Fruits stay on the palate for a longer while, especially orange, along with an enjoyable, subtle bitterness. Easy drinkable but not boring at all, overall impression of the beer is very convincing, it is very balanced and still got a convincing character.
633 characters

3.66
/5
rDev
-8.7%
look: 4.75 | smell: 4.25 | taste: 2.75 | feel: 4.5 | overall: 4
Poured whole bottle in a tulip glass.
A: Dark amber, slightly hazy. Coarse, white foam.
S: Intense, pleasant hop aroma: Sweet citrus and tangerine. Also slightly estery.
T: Immediately bitter, with slighlty harsh bitterness returning a little later - slightly lingering. Mild and sweet malt taste. No real hop taste.
M: Medium body, well carbonated. Crispy. Dry finish.
O: Lacking hop taste. Also, I find the bitterness slightly too unbalanced in view of the malt-body for an APA. Apart from that, nice. Would probably have a second one in the pub.
552 characters
4.2
/5
rDev
+4.7%
look: 4 | smell: 4 | taste: 4.5 | feel: 4 | overall: 4
A: Pours a dark golden liquid into the glass. The head is gray-white with uneven sized bubbles. Some lacings on the glass
S: Smells lots of grapefruit and orange peel.
T: Tastes sweet malts with lots of orange and grapefruit peel.
M: Medium bodied with medium carbonation.
O: Well balanced with a typical Oppigårds character.
333 characters
3.95
/5
rDev
-1.5%
look: 3.5 | smell: 3.5 | taste: 4 | feel: 4 | overall: 4.5
Pours a hazy dark burnt orange-amber. Stark white, sticky head. Aromas of sweet citrus, touch of tropical fruit and pine.
Creamy prickling mouthfeel. Sweet caramel malt, red grapefruit, and pine then an apricot and tropical fruit flavors than run into a lasting, moderately bittersweet fruity finish. Very great pale ale. I'm now a fan of the amarillo. Thanks Avenue Pub for getting these great Swedish beers!
409 characters

4.06
/5
rDev
+1.2%
look: 4.5 | smell: 4 | taste: 4 | feel: 4.25 | overall: 4
This was part of a beer flight I had last noght and it reminds me of the first time i had DFH 60 minute on tap and how refreshing it was. This is a very well prepared deep amber robusto with deep carmels and sweet malt notes that really give this beer some teeth. The best part is that i had some delicious french freis to counter the floral and earth notes of this top-notch beer. I will look for this at beer shops from now on.
429 characters
3.81
/5
rDev
-5%
look: 4.5 | smell: 3.5 | taste: 4 | feel: 4 | overall: 3.5
From notes taken at the Armsby Abbey on 10/26/11.
A - Served in a slender/cylinder glass a clear golden/amber hue with a nice one finger head that leaves lots of sticky side lacing.
S - Rather malty and sweet with some nice citrus notes from hops.
T - Mostly just sweeter malts with more of the nice citrus (orange) with good bitterness on the end.
M - Nice carbonation for this. Good and crisp with a nice finish.
O - Overall this isnt a bad IPA, good bitterness but a bit too malty for me.
496 characters
4.1
/5
rDev
+2.2%
look: 4 | smell: 4 | taste: 4 | feel: 4 | overall: 4.5
A: Light amber. Small bubbles, medium amount of foam, white foam.
S: Hoppy with loads of citric fruits, not that much grape aroma. With citric ther are also a flowery smell.
T: Hoppy citric fruits, but expected more since there was more aroma in the nose. The bitternes is there and works well with the flavours.
O: A really well done beer, though hyped by friends and other reviews so I expected more. (The bottle I tested had passed the best before date, so that may also inflict my negative attitude.
506 characters
3.85
/5
rDev
-4%
look: 3.5 | smell: 3.5 | taste: 4 | feel: 4 | overall: 4
The colour is amber, the liquid is clear. The two finger off white head slowly sinks down to a thick lid, leaving lots of lacing.
The smell is hoppy and bitter with notes of fruit candy, exotic fruits, flowers, creamy bitterness and a touch of chocolate. The flavours doesn't really open up.
The taste is fresh and hoppy with an initial sweet fruity flavour. Some exotic and citric fruits. Hints of earth and wood. Flowery and clean bitter flavours in the aftertaste as well as hints of meat, orange juice, grape fruits and apples. The finish got a slight metallic flavour. There is no alcohol whatsoever.
The carbonation is medium strong with lots of very small bubbles. The liquid is smooth.
Highly drinkable with distinct citric notes of Amarillo hops. Good one.
772 characters

4
/5
rDev
-0.2%
look: 4 | smell: 4 | taste: 4 | feel: 4 | overall: 4
This beer comes in a long-necked slim brown 33 cl bottle. The green label got a picture (kind of blury) of a farmhouse from "Dalarna" in Sweden.
A: The pour is warm amber with a large white head, nice dissipation leaves spiderweb-like lacings. Looks really tasty.
S: Piney/citric floral hops - clearly very American/Amarillo. Nice! Bisquity caramell malt.
T: Pineapple up front, Then the pineapples mellows out to make room for more complex floral hoppy notes, citric and quite flowery. The caramell malt's got a warmth to it - very nice (that part reminds me of a really nice Winter Warmer).
M: Aftertaste is rather long and holds a nice mix of both sweetness and dry bitterness. The body is kind of smooth and creamy medium full and the carbonation is medium.
D: This beer is probably the best APA I've had that wasn't made in America.
844 characters
4.12
/5
rDev
+2.7%
look: 4 | smell: 4.5 | taste: 4 | feel: 4 | overall: 4
Pours a clear golden/copper colour , with a large head that persist well, big bubbles!
Smells heavenly of tropical fruits, passion fruit, pineapple and citrus abundant, a really filling nose, especially considering that this is a single-hop brew. I seem to get some almond icing, and some additional nuts, hazelnuts maybe. Marzipan? If there is such a thing as tropical fruits flavoured marzipan, this is the smell of it.
Tastes weaker than the nose, but that was not unexpected, only amarillo in a brew like this doesnt really do it in the taste for me, it's wonderful in the nose, but it gets a bit one dimensional when it comes down to the composition of flavours. Some light maltiness backing up the amarillo, but make no mistake, this is amarillos stage, with its tropical fruits making a rather brief visit upon the palate and then fading out in a moderate bitterness, that still leaves you thirsting for more. I really think this might work great in the sun a sunny summer- och springday, it never gets heavy, but still feels slightly incomplete.
Mouthfeel is good, could have been a little lighter though I think, for the refreshing feel, but the carbonation is spot on.
1,181 characters
4
/5
rDev
-0.2%
look: 4 | smell: 4 | taste: 4 | feel: 4 | overall: 4
Appearance - Clear light amber with a one finger head that stays for a while and leaves a some lacing.
Smell - Flowers, citrus, exotic fruits and biscuits.
Taste - Exotic fruits, pineapple, citrus, grapefruit bitterness balaced well with sweet biscuity malt.
Mouthfeel - Medium body with a crisp creamy feel.
311 characters
4.33
/5
rDev
+8%
look: 4.5 | smell: 4 | taste: 4.5 | feel: 4 | overall: 4.5
A: Pours a tremendously clear amber bronze color in my Riedel glass. Nice bubbly thick head which seems to dissappear too quickly, but it doesn't at all ruin my tasting.
S: Oh, I know that smell - and I love it! Great Amarillo aroma, very fresh and floral. I get grapefruit and lychees, light exotic fruits and a very slight but pleasant biscuity maltiness. There's absolutely a resin kind of thing happening here by the way
T: Mmm, very clean and thrist quenching. Much less hop flavor than aroma, but delicous nonetheless. Perfectly balanced, more malt character on the tongue than the nose. Caramel malts and grapefruit. Has an almost smokey, slightly alcoholic bitterness in the finish, but this just adds to the crispiness. It actually feels like a California Common, but with Amarillo rather than the usual Northern Brewer. Very fruity but low on esters and clean. Definitely a spring and/or summer beer, not too different from my own Amarillo Pale Ale recipe which I'm very fond of. This beer makes me dream of green, warm summers...
M/D: As I said, very clean and crisp. Thirst quenching and perfect body for the style. No unpleasant surprises. Very satisfying
1,171 characters
4.47
/5
rDev
+11.5%
look: 4 | smell: 4.5 | taste: 4.5 | feel: 4.5 | overall: 4.5
A clear light amber beer, an off-white head that leaves lots of lacing.
The smell is very, very floral and citric. Lots of summer flowers, fresh grass and grapefruit. Nearly overpowering.
The taste is full of hop, bitter floral and grassy and sour citric notes.
Medium carbonated, creamy mouthfeel.
A beer to slowly enjoy, with or without good company. Very soothing.
372 characters
4.05
/5
rDev
+1%
look: 4 | smell: 4 | taste: 4 | feel: 3.5 | overall: 4.5
[email protected]
A: Golden orange with medium head that disappears quite quickly. Some lacing.
S: Exotic fruit, Citric notes, Hay, Caramel.
T: Exotic fruit, Citric notes, Hay, Grass, Caramel.
M: Initial taste is very fruity and then it ends with some rather pleasant bitterness. Lots of carbonation with mini-bubbles. Body feels just right. Refreshing!
A very nice APA from Oppigårds. Will definitely get more of this.
419 characters
3.92
/5
rDev
-2.2%
look: 4 | smell: 4.5 | taste: 3.5 | feel: 4 | overall: 4
A: Golden amber with a big fluffy white head that leaves lots of lacings.
S: Wonderful hop character. Lots of grapefruit, lemon peel and pine-needles. Notes of tobacco and hop resins. Very intense juice-like character. Hints of malts beneath all the hops. Refreshing.
T: The taste follows suit. Some notes of caramel, but most importantly lots of hop flavors, mostly grapefruits and other exotic fruits but also pine-needles and hop resins. Hints of tobacco. The finish is quite bitter with lingering hop notes and unfortunately a hint of aluminum. The taste is not as good as the smell. It's not as fresh and clear-cut.
M: Medium body, smooth texture. Very easy to drink.
D: Well done. Actually, very well done. This is probably the best hop-forward Swedish beer I've tried so far. It's very American in character, and could probably go head to head with many American pale ales. This one has raised the bar for Swedish brewers doing hoppy beers.
960 characters
Oppigårds Amarillo from Oppigårds Bryggeri AB
4.01
out of
5
based on
67
ratings.