Atlantic ChipShop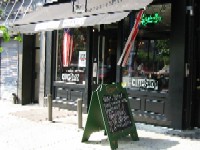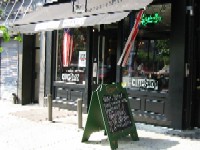 Bar, Eatery
129 Atlantic Ave
Brooklyn
,
New York
, 11201-6725
United States
(718) 855-7775 |
map
chipshopnyc.com
Notes:
Reviews by CathWern:
CathWern from New York
4.1
/5
rDev
+1%
vibe: 4.5 | quality: 4 | service: 4 | selection: 4 | food: 4.5
"Going out to dinner" in my vocabulary is synonymous with "going to the Chip Shop." I've been frequenting the Chip Shop for dinner and drinks for about five years now. And though I've seen a few people come and go, the bulk of the staff has remained the same and so has the service: fun and friendly.
The ever-rotating tap (roughly 15 beers) usually holds onto a few English stand-bys - Fullers ESB, Tetley's, Old Speckled Hen, and when they can get it, Wells Bombardier. Arrogant Bastard comes and goes and there are always a few stouts to choose from (also a stout fest this past November, but no word on whether it will be an annual event). They've also added a cask to the mix within the past year or so.
If you're having trouble deciding what to drink, the bartender is always willing to let you try before you buy. He's also delightfully frank and will always warn you if you're not going to like a certain beer.
But be warned! As far as the food goes, the portions are huge. I've actually gotten to a point where I've eaten so much here that I can't even imagine drinking another beer. I usually split dinner (almost always Grannies Mac) with my boyfriend so that we can save room for chips (delicious) or dessert (fried).
Also note that the Atlantic Chip Shop differs greatly in beer selection from the Park Slope Chip Shop (although the food is the same), which only offers cider, Guinness and usually Stella on tap.
Jul 21, 2009
More User Reviews:
jjboesen from Maryland
4.01
/5
rDev
-1.2%
vibe: 3.5 | quality: 4.25 | service: 3.25 | selection: 4.5 | food: 4.5
Located next door to the defunct Waterfront Ale House (Brooklyn), the Chip Shop pays homage to British cuisine (no this is not a typo) by pairing it with a decent selection of British ales, along with several cask. It is a small venue with a tight bar, cramped dining area and a Lilliputian Men's Room. (Jonathan Swift was British and would acknowledge this.) The beers were well poured - I loved the Ridgeway Barley Bad Elf ESB; the food was authentic as could be on this side of the Atlantic (or should I say this side of Atlantic Avenue.) Also on the menu: fried mac and cheese. Add to this, soccer games, families and baby strollers you can somewhat get the idea. Still .... spot on.
Correction: Jonathan Swift was Irish. Yikes! Not a mistake to make.
Jan 20, 2015
Waltwvu from Pennsylvania
4.45
/5
rDev
+9.6%
vibe: 4 | quality: 4.5 | service: 4.5 | selection: 4.5 | food: 4.5
This was my second time at the Chip Shop and the second time I left completly satisfied. There were football (soccer) decorations and game watch promotions all around.
The staff is friendly and able to make good suggestions if you are deciding between beers. There were about 12-15 taps and 2 casks. Various German imports as well as a nice american craft selection.
The food is also rather good. They have quite the slecetion of traditional Brittish fare and even deep fried twinkies oreos and pizza.
The bar area is nice but rather small as is the seating at the tables in the back, but i would not let that keep you from trying this place.
Apr 08, 2010
semihobo from Michigan
3.65
/5
rDev
-10.1%
vibe: 4.5 | quality: 3.5 | service: 4 | selection: 3 | food: 4
When I go out to eat or drink, I like to seek out new experiences. If you do too, you should check out the Atlantic Chip Shop. There is a bar with 8 or so seats, about 10 small tables, and you can get takeout, as many people came in to do.
In Brooklyn on business on short notice, went here by myself. The theme / menu / decor is kitschy British, I got a big kick out of it. Beer was fine, I think I counted 16 taps with a mix of British and American craft. All pints are 20 oz imperials... I approve. Had a 20 oz Oskar Blues Gordon for $7.
Service was good, felt authentic for the place... reserved but competent.
Vegetable Mac and Cheese ($10) was good and filling, this place is vegetarian friendly.
They fry a lot of items on the menu, including offering a dessert section of fried candy bars. I tried the fried Twix (you'll get both bars) and wished I hadn't choked the whole thing down. Still, my guess is that there's something wrong with me, not with fried Twix.
Neat decor! Fried food! British atmosphere! Worth a trip.
Aug 20, 2009
sleazo from New York
4
/5
rDev
-1.5%
vibe: 2.5 | quality: 4.5 | service: 4.5 | selection: 3.5 | food: 4
So what you have here is a decent Chip shop. A nice L shaped bar beckons from the left as you enter. In the back there are some tables as well. On the walls was some various British memorbilia, much like a British version of Outback. The bathrooms are lined with Brit tabloid headlines.
The beer thought was good for fans of British beers. Twisted Thistle, Old Engine Oil, Fullers ESB and London Pride, Bitter and tiwsted, some were all on tap. There were also some American brews from Southern Tier, Stone and Bear Republic. I went for the UK beers and they were very fresh tasting which was nice.
The bartender was nice and gave me samples without being asked. Always a plus in my book.
The namesake fish n chips were good, not UK good but good for the states. Plenty of malt vinegar is around for a good treat and three types of fish are available, plaice, haddock and cod. There are also other British classics on the menu besides the chippy.
Aug 25, 2008

plaid75 from New York
4.13
/5
rDev
+1.7%
vibe: 4 | quality: 4 | service: 4.5 | selection: 4 | food: 4
Located on Atlantic Avenue, just west of the Waterfront Ale House. As you walk in the door there is a take-out kiosk to your left and window ledge seating to your right. The long L shaped bar is located on the right hand side and there is a dining area toward the rear of the building.
The walls were decked out in Beatles and Sex Pistols memorabilia as this place was definitely a tribute to all things British. The beer list included Fuller's ESB, Blackthorn Cider, Guinness, Bitter and Twisted, Old Speckled Hen, Hacker Oktoberfest, SN Anniversary, Coney Island Lager, Smutty Pumpkin and Rogue Dead Guy.
The menu was rather authentic with tasty fish and chips and traditional pies.
Oct 31, 2007
slander from New York
3.88
/5
rDev
-4.4%
vibe: 4 | quality: 4 | service: 3.5 | selection: 4 | food: 4
Flew in from Vegas, got dropped home, dumped the bags, grabbed the car, pointed it at Brooklyn, saw some Trouble, and settled up some outstanding business. Everyone having long fooded already (fine, be like that), I guess a few shortys and I'm out to running people back to Williamsburg and the train. The next day brought more Trouble, and a daylight again revisit to the Cask Head festival for a pint (no crowds but no more Dark Star), and then lunch on Atlantic Ave somewhere that for once wasn't Waterfront...
A not big place, 10 seat "L" shaped bar to the right with arched mirrors on a dark wood bar back unit, tiered booze to both sides of center. Mugs, union jack flags, steins and other atop and a single TV mounted above in the front corner playing the Beatles "Help!". A small bar counter adjacent to the bar seats a handful, and to the rear, a dozen+ roundie and square tables done with small glass candles to 'em, and sharing common benches on the walls; one of red brick and the other in pressed tin, same as the ceiling. Drop cone glass lamps over the bar & bullet lamps throughout. British car signage adorns the walls, as do framed pics of the Beatles & John Lennon, a Quadrophenia movie poster (Schizophrenic? I'm Bleeding Quadrophenic), a London underground print, Who, Clash & Beatles posters, London Bridge pics, etc. A lip over the rear rear nook of the place holds plates, trays and tea set pieces.
16 taps on a single tower on the bar. A half dozen micros, from near and far (Brooklyn Brown Ale & Lager, Magic Hat HIPA, Lagunitas Hairy Eyeball, Stone Arrogant Bastard and my old nemesis Anchor OSA), some blah and some better imports (Guinness, Harp, Belhaven, Spaten Octo, Old Speckled Hen, Fuller's ESB, Allgauer Cambonator Dopplebock, Tetley's English Ale, DeKoninck Winter) and your not so all about town cider (Blackthorn). Also, about a dozen bottles with a fairly good UK slant (Sam Smith Taddy Porter, Oatmeal Stout & Organic Lager, Adnams SSB, Harviestoun Old Engine Oil, Young's Dirty Dick, St. Peter's Ale) and then Aventinus, Lindeman's Framboise & Pomme, a pair of unmentionamacrosables, and an N/A. The Anchor OSA was fresh and scary, maybe, just maybe I can have more than one this year (unlikely. I'm sure to wake this forenight in a cold sweat, ghosts of '04's "The 20 years of Anchor OSA" tasting in the dark corners of my room...).
Traditional English fare, although it's just a guess 'cause I had no idea what ½ the things on the menu were, so I dropped back ten and punted (chicken in a basket and the garden peas), quite tasty, and Trouble; the Fish & Chips, "Good", says she.
It's a nice something different on Atlantic.
Chip, chip, cheeseburger, cheeseburger, not.
May 15, 2007

Billolick from New York
4
/5
rDev
-1.5%
vibe: 4 | quality: 4 | service: 4.5 | selection: 3.5 | food: 4
Yet another Beer spot on Atlantic Avenue. This pleasant little chippy is just a few doors down from the Waterfront ale house and a long couple of blocks from the Brazen Head. Narrow joint with a small bar on the right as you enter. 16 brews on tap, I didnt ask about bottles. Tap selections included Sierra Celebration, Anchor Christmas, Lagunitas IPA, Young's Winter Warmer, Fuller's ESB, Bklyn Octoberfest ( Its December, whats up with still serving O'fest?) The bartender and waitress were real friendly when I stopped in for a brew and some tasty Fish and chips. Food was light, only moderatly greasy and tasty. Well worth a visit, full Brit menu, including pub favorites like Bangers and mash, Scotch egggs, Ploughman's lunch etc. Good spot for some decent grub, when enjoying the neighborhood watering holes
Dec 29, 2005

daliandragon from Maryland
4.15
/5
rDev
+2.2%
vibe: 3.5 | quality: 4.5 | service: 4 | selection: 4 | food: 4.5
Headed into Brooklyn on an off day at work to drop off some of my sister's gear at her new apartment and decided to stop in this Brit themed chippy for lunch. It was uncommonly convenient since her place is located three floors directly on top of the place. It's a pretty good location, right in the middle of gentrifying but still cool Brooklyn Heights, and close to ground zero for Brooklyn's BA's with several other beerfly establishments within a two minute walk.
It's a fairly small place and looks more like a restaurant with a bar than a bar that serves food but it was also a fairly dull Wednesday afternoon so I'll have to come back to rejudge the atmosphere better another time. Lots of Brit themed junk on the walls, cool but nothing real special. The service was laid back but fine.
I ordered a Beef Shepherd's Pie, which was good but came with subpar peas and a 20 oz. Arrogant Bastard that was brilliant on tap, as usual. My sister had chicken and chips and the chips were excellent, as close to true London style that I've seen since I lived there and the vinegar was in healthy supply. The selection was largely English and Brooklyn themed, which figures, although Guinness, Belhaven, Laguanitas and Chimay were also representing. Maybe 15 or so taps total, which isn't too shabby for such a little joint.
I thought the prices were a little much for lunch but by no means repulsive and quite decent when you figure you can almost see the bridge from here. This is a solid starting point for any Brooklyn beer ramble and I'll definitely be stopping in from time to time to see what's new.
Dec 01, 2005
TheLongBeachBum from California
4
/5
rDev
-1.5%
vibe: 4 | quality: 4 | service: 4 | selection: 4 | food: 4
After several games of Darts and a few beers at the Brazen Head (including the excellent Heavyweight Perkuno's Hammer Porter on Cask) it was time to move on to the Atlantic Chip Shop for some good ole unhealthy British grub. By this time the collection of BA's had reached four; Rokotgirl, djgonzalez, ericaweizen and my good self braved the heat of the blazing and very bright sun to take the short walk to the Atlantic Chip Shop.
Long thin room once entered which had a sort of welcoming entrance booth to the left, unmanned during our visit. The bar is situated to your right as you enter in the front third. Tables and chairs line the walls both sides, some in booths. The restrooms are right at the back on the right; for those that don't know the Celtic words, the one that has the sign that starts with "f" is the men!!!
Food Menu is very British and contains all the classics. I opted for the Fish N' Chips, with the choice of Cod, Haddock or even Plaice I was impressed. Other highlights include; Fish Cakes, Shepherds Pie, Steak & Kidney or Steak & Onion Pie, Chicken Curry, Baked Beans on Toast, Scotch Eggs, Welsh Rarebit, Bangers & Mash. Sides include such welcome additions as Mushy Peas, Curry Sauce, Gravy, Pickled Onions and Garden Peas. The Menu includes Vegetable options for the Veggies, options which both Erica and Sabrina exercised. Lots of Typhoo and Yorkshire Tea as well as several Brit drinks which I had to explain to Sabrina, tremendously mouth watering libations such as Fizzy Ribena, Dandelion & Burdock & Lilt. You can finish with such delights as Rhubarb Crumble, Spotted Dick with Custard (Fnarr, Fnarr) or go light and opt for the deep fried Atkins bar, aka deep fried Mars Bar….dj went for one of these but I think Sabrina stole most of it, as disgusting as it sounds, it's surprisingly tasty.
Beer range was surprisingly good, a row of taps seem to cluster fill the small bar to your right as you enter. Obvious Brit favorites include Boddingtons (yuk), Old Speckled Hen (so-so), Belhaven Scottish Ale (OK), Fullers Pride (OK) and Tetley English Ale (eye lad). Thankfully the absolutely disgusting apple syrup mess they call Magners (funny how it sounds like Madness at times) Hard (if you're a Sally) Cider has gone to be replaced with the more palatable Blackthorn, all this is rounded up with a rarely seen Murphy's Irish Stout tap. In addition to that, imports include Jever, Carlsberg, Unibroue and Hofbrau Hefe, plus local brews from Brooklyn (changes). Has a decent British Bottled collection too but I didn't spend time too much looking at those, I recall a fair selection though.
All draft brews were either 10 ounce or a proper Imperial 20 ounce serving, so the price of $5.50 was pretty good when compared to 16 ounce offerings elsewhere.
A nice British food selection, a decent enough British, Import and Local beer range all wrapped up in an interesting atmosphere laden with lots of British imagery; I loved the postage stamp collage covered table top that we sat at.
Situated literally within staggering distance of the Waterfront Alehouse, but more importantly, if you get to attend any of the excellent Brazen Head Cask Beer Festivals then I highly recommend that you should definitely head out of the thronging masses for a respite to grab a bite to eat here. Well Worth a Visit, but get the Fish n' Chips with a side of Mushy Peas, Bread n' Butter and a Pint of Fuller's on your visit to get a real flavor for the place.
Thanks to Rokotgirl for finally getting me here!!
Last Visit: Saturday 25th June, 2005
Jul 03, 2005
bultrey from New York
4.05
/5
rDev
-0.2%
vibe: 4.5 | quality: 4 | service: 4 | selection: 4 | food: 4
Do ya' like fish and chips? Well, I do. Some might even consider it an unhealthy obsession; not unlike my obsession with beer. OK, it IS an unhealthy obsession. But damn I loves me fish and chips, yo.
If you're like me, you've already been salivating at the prospect of this place opening up. Same English menu as the famed Chip Shop in Park Slope, minus the curry shop stuff, plus about a dozen more beers. It's located on up-and-coming Atlantic Ave., just a few blocks down from Brazen Head, and steps away from Waterfront Ale House, making for a great potential area pub crawl.
This place has got a great atmosphere -- a little more upscale than the original Chip Shop, but not snobbily so. Nice average-sized bar greets you on the right when you walk in, with some seating at the front window, and also on the left side of the aisle across from the bar. About a dozen tables in the back of the shop. Walls are studded with British memorabilia and curios: lots of Beatles, Who, Clash, Stones, etc. Plus, they play all that great British invasion shit on the juke.
I sat at the bar, and immediately got into a good conversation with the bartender. Apparently they have a partnership with The Gate, another great Brooklyn beer bar. As such, they have a nice, carefully chosen beer selection that goes great with the English food they serve. The owner told me they would be rotating new beers in frequently.
Selection on draft when I was there: Guinness (duh), Tetley's, Belhaven Scottish, Old Speckled Hen, Holy Grail Ale, Lagunitas IPA, Brooklyn Sustainable Porter, Hofbrau Hefe, Brooklyn Lager, Unibroue Ephemere, Jever (another duh for this neighborhhod), Brooklyn Brown, Carlsberg lager, Yuengling Lager, Fuller's ESB, and Blackthorn Cider. Not much in bottles, but they did have Fuller's 1845 (nice) and Adnams SSB (also nice).
One thing I really liked: they serve the beers in either a 10 oz. glass ($3 for most!), or imperial 20 oz. pints for an average of $5.50 each.
I had a cheddar and onion croquette with a Brooklyn Brown, and the fish and chips with a Sustainable Porter. Just perfect.
To be honest, the food here isn't anything fancy, and I haven't had anything much besides fish and chips, but the croquette is yummy; my gf says the shepherd's pie and bangers and mash are great; and they have alot of "authentic" British foods that I haven't ventured to try yet, like Scotch Eggs, Spotted Dick, and deep-fried Mars bars. But why you would get ANYTHING but the fish and chips is beyond me, unless you hate fish. And even then, the batter is sooo damn good...
A welcome addition to my 'hood that I'll be frequenting.
Feb 27, 2005
Atlantic ChipShop in Brooklyn, NY
Place rating:
4.06
out of
5
with
12
ratings