Southern Gold
| Lazy Magnolia Brewing Company
BA SCORE
79
okay
11
Reviews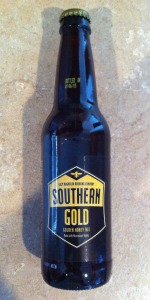 BEER INFO
Brewed by:
Lazy Magnolia Brewing Company
Mississippi
,
United States
lazymagnolia.com
Style:
American Blonde Ale
Alcohol by volume (ABV):
4.55%
Availability:
Year-round
Notes / Commercial Description:
Southern Gold is Lazy Magnolia's Golden Honey Ale. Brewed with locally produced honey, this light-bodied brew was designed specifically for the City of Hattiesburg, MS., the home of the University of Southern Mississippi. This refreshing beer is noted by its smooth character and gentle, sweet honey finish.
21 IBU
Added by biggmike on 04-08-2008
Reviews: 11 | Ratings: 71

2.55
/5
rDev
-20.6%
look: 4 | smell: 2.75 | taste: 2.25 | feel: 2.5 | overall: 2.5
The beer is indeed golden, as promised. Atop the beer rests a small, off white head. The aroma offers sweet, fruity malts. The flavor is a bit underwhelming. Blonde ale character with some odd nail polish type weirdness. OK to try once, but not a repeat.
254 characters
3.64
/5
rDev
+13.4%
look: 4 | smell: 3.75 | taste: 3.5 | feel: 3.5 | overall: 3.75
Poured from a brown 12 oz. bottle. Has a dark golden color with a 1/2 inch head. Smell is strong of honey. Taste is honey, bready, mild sweetness, very refreshing. Feels medium bodied in the mouth and overall is a good summer beer.
231 characters
2.5
/5
rDev
-22.1%
look: 2.5 | smell: 2.5 | taste: 2.5 | feel: 2.5 | overall: 2.5
Poured into a Florida Beer Co. tapered glass.
A- Pours a dark amber color with a 1/2 inch off-white head that doesn't retain at all before fizzing away to a thin ring around the edge of the glass and tiny blips of surface foam. Nearly no lacing.
S- Sweet cane sugar aroma and not much else.
T- Sweet corn flavor with no other discernable flavor besides maybe a bit of alcohol.
M- Watery and thin. Low carbonation and a medium body.
O- Wow. I thought it couldn't possibly be as bad as Indian Summer but it's actually worse.
527 characters
3.25
/5
rDev
+1.2%
look: 3.25 | smell: 3.25 | taste: 3.25 | feel: 3.25 | overall: 3.25
Lazy Magnolia Southern Gold has a very thick, cream-colored head, a hazy, honey color, lots of bubbles, and a few stray tan chunks suspended about. There is a little bit of splotchy lacing left on the glass. The aroma is very low profile, but sweet, bready malt and a touch of honey are detected. Taste is of lightly-toasted malt, bread crust, and honey. I could not detect any bitterness. Mouthfeel is light to medium, and Lazy Magnolia Southern Gold finishes semi-wet, easy drinking, and quite mild.
RJT
507 characters

3
/5
rDev
-6.5%
look: 3 | smell: 3 | taste: 3 | feel: 3 | overall: 3
Thank you Mrs. Duffextracold
Not gold but clear amber colored. Thin head kept barely alive by constant plumes of bubbles from the bottom of my glass. Bread crust aroma. Smells "clean" for whatever that's worth. Tastes toasted, slightly sweet with mild bitter bread crust in back. Gentle and balanced.
307 characters
3.21
/5
rDev 0%
look: 4 | smell: 3.5 | taste: 3 | feel: 2.75 | overall: 3.25
Pours from a 12 oz bottle into in a nonic.
A: Amber hue. Large bubbles of rising effervescence. Pours a 1 finger, tight, dense, foamy, white head. Settles slowly. Leaves a nice thick beer ring.
S: White bread, honey, and a little orange citrus.
T: Sourdough bread with a little honey, and some fresh tea leaf.
M: Light body. Full flavor. A little bitter finish. Has a bit of a shallow, over carbonated feel.
D: Session style.
Atmosphere is really nice. Dense, foamy head with a thick beer ring. Nose is bread with a little honey and citrus. Flavor is sourdough, with honey and tea. Overall, this is a pretty good quaff.
626 characters

2.97
/5
rDev
-7.5%
look: 2.5 | smell: 3 | taste: 2.5 | feel: 3 | overall: 4
from notes:
A: gold in color with a decent white head. Moderate lacing left on the glass until the head went away
S: sweet with a touch of honey. A little bit of malt and generic hop aroma
T: Very bland and watery flavor with nothing really sticking out. Light malt flavor and a wisp of hop on the back. Lingering and inoffensive aftertaste
M: thin with heavy and prickly carbonation. as carbonated as soda.
D: very drinkable because it's like almost beer flavored carbonated water.
Overall: not much of anything going on to put this beer on par with other beers. It's another lackluster beer by Lazy Magnolia and the last from their main line for me to try. Oh well, beer nirvana awaits me in California.
706 characters

3.53
/5
rDev
+10%
look: 3.5 | smell: 3 | taste: 3.5 | feel: 4 | overall: 4
This Lazy Magnolia offering is only available in Hattiesburg, MS, home of the University of Southern Mississippi Golden Eagles, hence the name. Pours a yellow/gold color with decent head that dissipated fairly quickly. Smell was somewhat faint, but malty. Taste was malty sweetness. It is light in body and nice for a hot Mississippi day.
338 characters

4.15
/5
rDev
+29.3%
look: 4 | smell: 4 | taste: 4.25 | feel: 4 | overall: 4.25
It pours a rich amber color with a nice head that soon fades. Smell is of bread and honey. The taste is same a nice sweetness to it with no aftertaste. A really good offering from Lazy Magnolia.
194 characters
3.08
/5
rDev
-4%
look: 2.5 | smell: 2 | taste: 3.5 | feel: 3.5 | overall: 3.5
Served on tap at Salute Restaurant in Gulfport, MS.
A - darker than expected for blonde ale with a faint copper hue, though not nearly as much so as a pale ale; barely-there lacing
S - no aroma to note
T - more flavorful than most blonde ales with slightly more bitterness
M/D - easy drinker and would make for a great session brew on a hot, humid day (as are most days in South Mississippi)
395 characters
5
/5
rDev
+55.8%
look: 5 | smell: 5 | taste: 5 | feel: 5 | overall: 5
I loved this beer. I did not have an after taste. I could taste the honey, but it was not an over bearing sweetness, kinda like a "just the right amount" taste.
160 characters
Southern Gold from Lazy Magnolia Brewing Company
3.21
out of
5
based on
71
ratings.