Dismiss Notice
Dismiss Notice
Christian Moerlein Lager House Original Golden Helles
| Christian Moerlein Brewing Company
BA SCORE
78
okay
59
Reviews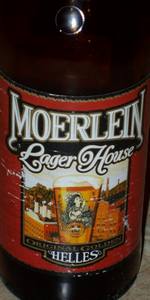 BEER INFO
Brewed by:
Christian Moerlein Brewing Company
Ohio
,
United States
|
website
Style:
Munich Helles Lager
Alcohol by volume (ABV):
5.20%
Availability:
Summer
Notes / Commercial Description:
No notes at this time.
Added by TheBierBand on 07-21-2008
Reviews: 59 | Ratings: 186

3.95
/5
rDev
+16.5%
look: 3.5 | smell: 3.5 | taste: 4 | feel: 4 | overall: 4.5
S - Recieved in Beer Powerball week 2, courtesy of NCSUDO, much appreciado Jake.
A - Slightly rough pour gives off 2 fingers of head. They hang for a moment and then to a thin patchy surface on the beer, color is a nice amber hue, clear as water as I would expect a helles to be.
S - Malty, grainy notes, slight touch of honey, herbal grassy hints, slight biscuit character as well. dig it.
T - Definite biscuit, bitter up front only slightly, citrusy lemon rind, very nice and clean.
M - crisp, clean, unobnoxious, carb is perfect, body is full yet simple and light on the finish.
D - at 5.2 this is a damn fine session.
★
626 characters
3.5
/5
rDev
+3.2%
look: 3.5 | smell: 3.5 | taste: 3.5 | feel: 3.5 | overall: 3.5
Picked this one up as an extra in a trade recently. I had a bunch of the Morlein stuff in the past but never have seen this one. Twelve ounce bottle was served cold, right out of the fridge and poured into a pint glass. Consumed on 08/12/2008.
The pour was decent, nice hazy golden amber with a smallish white head of foam that fizzled out over the course of a few moments. Still though, this was more the decent looking and tied in with a bunch of carbonation.
The aroma was light, lots of grain and bready malts dominating with a touch of light earthy hops in the foreground. The flavor ws more of the same, musty bready malts with a light touch of grass and a tons of just bisuit like flavor. Light mouthfeel with more the adequate carbonation led to a decent and pretty sessionable ale.
Overall though it ws a decent effort, though I have to admit not very exciting. I would not mind trying it again thought I would doubt that i would pay for one.
★
954 characters

3.73
/5
rDev
+10%
look: 4 | smell: 3.5 | taste: 3.5 | feel: 3.5 | overall: 4.5
The newest offering from one of my favorite beer companies: Christian Moerlein. This is widely available in the greater Cincinnati area.
Poured into a pint glass to produce a perfect 1" creamy white head. The foam didn't last too long and dwindled down to a thin cap leaving almost no lace. The color of the lager beer is a rich golden color.
The nose is subtile with hints of lightly toasted malt. Also a buttery sweetness is apparent.
Taste: A good refreshing Helles... Sweetish, malt.... almost no hops.... just a touch to balance. Buttery goodness.
MF: Refreshing and thirst quenching. Good summer-time beer.... appropriately carbonated and has a thin consistancy.
Drinkability: Hell yeah.... all day long.
★
720 characters
3.68
/5
rDev
+8.6%
look: 4 | smell: 3.5 | taste: 3.5 | feel: 4 | overall: 4
A: Clear yellow/golden with streaming carbonation.
S: A sweet cereal aroma is dominate in this brew.
T: Cereal and malty. This beer is packs more flavor than I would have guessed.
M: Full bodied yet crisp. Definitely interesting.
D: This is a very smooth brew. I'd consider is a summer beer.
★
295 characters

3.48
/5
rDev
+2.7%
look: 4 | smell: 3.5 | taste: 3.5 | feel: 3 | overall: 3.5
Pours from 12oz bottle with a rich golden color and ample amount of cotton-like foam.
Smells lightly of toasted malt and hops, overall grassy nose.
Taste is a bit thin overall, but goes down smoothly. There is a biscuit-malt note as well as a subtle piney-hop bite.
A smooth drinker which could use a bit more character overall, but still fulfills its intended purpose.
★
369 characters

3.46
/5
rDev
+2.1%
look: 4 | smell: 3 | taste: 3.5 | feel: 3 | overall: 4
Had this on tap at Great American Baseball Park on 6/15/2008 - taken from notes. The beer was better than the game, as our Cincinnati Reds got shut out by the Boston Red Sox 9-0. I never had this offering before, so I thought it was worth a try (drinking myself in grief over the Reds performance) :) .
A: Poured into a clear, plastic cup with an average, off-white ½ inch head that had good rentention. Body of beer was dark gold and slightly hazy.
S: Lightly toasted malts. Mild aroma, not a whole lot going on.
T/M: Thin and light with a sweet mailtiness all over the place. Little to no hops detected. I picked up a mild, indiscernible spiciness, as well (perhaps coriander or cinnamon?) Little to no aftertaste, crisp. Little to no bitterness. Simple, easy, light bodied beer, overall.
D: Nice, easy and crowd pleaser for spring or summertime. Not my favorite style of beer, but it was good for it's style - I'd recommend it.
★
935 characters
4.08
/5
rDev
+20.4%
look: 4 | smell: 3.5 | taste: 4 | feel: 4 | overall: 5
12oz. brown bottle from the sampler pack, purchased at Kroger's in Finneytown, poured into a pint.
A: Pours a light amber or toasted straw color, good visibility. 1 finger of white head forms and holds for a bit. Some lacing here and there.
S: Light floral and grassy hops with a prick of spice. Grainy and lightly toasted malts.
T/M: More of the grainy and lightly toasted malts with a touch of added sweetness. The hops are a bit softer but still have that earthy and grassy taste. From the middle and through the end, it tightens up into a crisp, dry finish with a touch of lasting bitterness. Body is medium-light with decent carbonation.
D: Tasty enough and very sessionable. Wouldn't mind knocking a few more of these back after a long day in the sun. Their website lists this as 5.2% ABV
★
798 characters
3.68
/5
rDev
+8.6%
look: 3.5 | smell: 3 | taste: 4 | feel: 3.5 | overall: 4
The newest beer to roll out from Christian Moerlein. I believe that it came out, or hit the shelves about a week or two ago. I've been looking for a good helles, I've just not gotten started with a crusade to find them yet, heres a good start.
Eye: Clear as spring water from the mountains. Head is thin with some shotty looking lace. Color is quite nice, it is actually golden in color, no hints of yellow, just golden, if you want to compare it to a color on the color wheel it'd be close to orange, a secondary color....why did I include this..about the secondary color....I really don't know. Anyway, the color and clarity make up for the lack of head as far as its look goes, though a nice frothy looking head would really give this beer some optical attributes.
Nose: Big malt body, not much hop aroma-pretty much hidden but what I do get is a spicy earthy hop. I'm getting some diacetyl-buttery- that shouldn't ever be present in a lager-smells alot like some kind of english bitter or pale ale. In my opinion not too clean or crisp. Malt aroma is caramel and some nuttiness.
Tongue: Strong malt backing on this one. Diacetyl detected in the aroma really isn't present in taste. Notes of caramel and some slight nuttiness come through to meld with an overall malt sweetness. Hops are spicy and give the beer life as they nicely counteract and give opposition to the sweetness. Maybe some woody notes in there as well, with a sweet flavor akin to ginger ale...
Mouthfeel and Drinkability: Body is medium with delicate carbonation. Finish is close to dry. This is an easy drinking beer that I do enjoy. I can definitely see myself picking this one up again when in the mood for malt rather than hops.
★
1,709 characters

3.56
/5
rDev
+5%
look: 4 | smell: 3 | taste: 3.5 | feel: 4 | overall: 4
The newest beer from CM, located at Kroger's for $8 a sixer.
Appearance - pours a golden color with good clarity. A modest fizzy head forms up, soapy and thin. It holds pretty well for a bit despite little beading support from underneath. Eventually goes pretty bare but maintains a good collar.
Aroma - a light toasted malt, maybe a touch of diacetyl or metal.
Taste - lightly toasted grain, a touch of either diacetyl and/or metal. That fades after several sips. Not much for hops beyond a bit for balancing. Finishes with a bit more toasty character coming out, my favorite part of the brew. I think it could use more hops to get a little closer to style, but this is a fine attempt at a Munich Helles. I am reminded of another beer I had around Christmas '07 - Molson Old Vienna (O.V.). That light toastiness, like an 'OFest Light'. The persistent smack of butteriness and toastiness remind me of it, but the flavor is not as thin here and comes across more vibrantly than the 12-month old O.V.'s I had.
Mouthfeel - thin, crisp, a light bit of smoothness, well done.
Drinkability - not a great sessionable, but a good one. It would work for most any season except maybe winter. I imagine it would do well with a number of foods, too.
★
1,242 characters
Christian Moerlein Lager House Original Golden Helles from Christian Moerlein Brewing Company
78
out of
100
based on
59
ratings.