Tribeca Tavern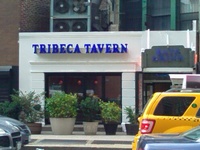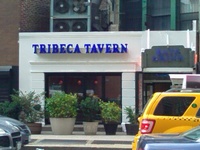 Bar
247 West Broadway
New York
,
New York
, 10013
United States
(212) 941-7671 |
map
Notes:
Reviews by TheLongBeachBum:
TheLongBeachBum from California
3.94
/5
rDev
+11.9%
vibe: 3.5 | quality: 4 | service: 4 | selection: 4
Well this was one of those alternate unplanned stops. I was actually looking for 'Another Room', but I made the initial mistake of thinking that this was on Broadway, thanks to a quick phone call to my personal NYC GPS Beer Satellite, a.k.a. BA RokotGirl, I was soon directed from Broadway diown Walker Street and onto West Broadway (duh me!) and the TriBeCa area, I also got to know that it stands for Triangle Below Canal (so there you go) only to find 'Another Room' closed at 4pm in the afternoon.Bugger.
So once at the TriBeCa 'complex' I took a walk around after looking at the caged up 'Another Room' location. Well necessity is the mother of invention, and so I figured a beer or two in the adjacent TriBeCa Tavern would be the call of the day and slake my building thirst.
Having walked round the three sides of the TriBeCa area, I couldn't help but notice that the TriBeCa Tavern has two entrances; it cuts a swathe through the triangular complex and can be accessed from both West Broadway and Avenue of the Americas. From the outside on West Broadway, it didn't seem to offer much, but once inside I was pleasantly surprised to see a nice bank of Taps, not bad for an unplanned stop.
Appears to be a long wobbly room of sorts that runs across the two sides of the TriBeCa triangle from West Broadway through to Avenue of the Americas where a bright blue neon sign covers the entranceway. Starting from West Broadway entrance, you have to take a few steps up into the darkened interior. Mix and match interior the low level lightning added warmth to what was a cold day outside. The Woman behind the Bar was friendly and service was good. The décor is sort of strange; a jumble of styles and no smooth walls makes me think that this may well have been two separate rooms knocked through at some point in the past. Furniture appears to have been built up over time, no defined theme but a mixture of booths, tables, chairs, stools and sofas with some wall mounted shelves for the standing drinkers. The bar is situated on the right hand side and has around 18 Taps, or so, with a good solid selection. Opposite the Bar on the left hand side are a couple of Chalkboards that list the Draft beers on Tap by Style, as well as the Bottled Beers by Country. All in all a great selection that runs around 60 or so beers to choose from, most of which are seen around town but it is nice to see them all here together with the odd unusual or new local brew thrown in for good measure.
I sampled a Sixpoint Toasted Lager which was nice, and then a Goose Island IPA, both were in good form and reasonably priced. It was quiet during my visit but the atmosphere was nice enough.
Not that bad, and a great stop in downtown Manhattan, but teh next time I will arrive a little later and hit the adjoining 'Another Room' for sure (I think it opens at 5pm). But from what I saw, and what the woman behind the Bar told me, the two establishments probably have the same, or at the very least a similar, draft and bottled beer range. The TriBeCa Tavern opens early so if 'Another Room' is closed don't pass this one by, well worth a Pit Stop. Thanks to Sabrina for guiding me here.
Last Visit: Monday 14th November, 2005.
Nov 26, 2005
More User Reviews:
crispinol from New York
2.77
/5
rDev
-21.3%
vibe: 2.5 | quality: 1 | service: 4.25 | selection: 3.5
Quite possibly the worst tap lines in NYC. I've been to this place before and had a similar experience and a few months later was in the same hood so went back... no change. Even the Singlecut and Other Half on tap tasted nothing like they should. Terrible.
Sep 13, 2015

DoubleSimcoe from Pennsylvania
3.8
/5
rDev
+8%
vibe: 3.5 | quality: 4 | service: 4 | selection: 3.5
My buddy and I stopped here after spending a good time at Anotheroom, right next door. Tribeca Tavern is a loft-like space straddling a whole floor between Sixth Avenue and West Broadway. There is plenty of room here, tables, a pool game, a long bar… you name it.
Hard to judge this place… it is a dive, sure, but an upscale one. The clientele is not terrible, but it sure ain't great either (more Miller Lite and Heineken than I could ever care for). Some pretty blonde chicks I was tempted to take home and just the kind of atmosphere I would never seek out but will not say no to either, if you know what I mean.
We stood at the bar, got our drinks from the friendly bartender and chatted about our business. Service here is damn fine, and my only complaint would be the loud music.
There are a TON of menus around, and it gets confusing. I saw eight drafts, not sixteen like venerable reviewer Billolick below noticed. On tap: River Horse Oatmeal Stout, Goose Island IPA, Sam Adams Seasonal, Delirium Tremens, Ommegang BPA, Brooklyn Lager, Duvel, Magic Hat 9, Blue Moon, Victory Prima Pils.
A lot of the menus on the walls highlighted fall bottled beers (mostly pumpkin) and also new bottled arrivals like Captain Lawrence Double IPA (which was labeled as a single IPA), Young's Chocolate Stout and Bear Republic Hop Rod Rye.
They have silly single-beer chalkboards that simply say "ITHACA APRICOT" or "VICTORY PRIMA", no price, no description, just the name of the beer framed on the wall. WTF! Then again, most folks here are drinking BMC or mixed drinks, so whatever.
We didn't get any food (menu looks basic and fairly unappealing anyways, and Paul Liebrandt's Corton is right next door) and prices were the ultimate turn off. Eight dollars for a pint of River Horse Oatmeal Stout? Seriously? I know they have a happy hour from 5pm to 6pm with $3 off, but really, this is abuse. And my friend's bottle of Captain Lawrence DIPA was $12. I think I'll pass next time and remain at either Anotherroom or somewhere else. This pricey dive belongs to somewhere else.
Oh, notice the last review of this joint? 19 months ago. In the heart of Tribeca. Enough said.
Dec 09, 2011
tempest from New York
2.93
/5
rDev
-16.8%
vibe: 3 | quality: 1.5 | service: 3.5 | selection: 4
Ugh, what a waste. Stopped by with a couple friends because it seemed to be the only good beer bar within a mile.
The bar is set up as sort of a dark and comfortable watering hole with a small patio at one end. That's nice enough, but we were there at 5:30pm and surrounded by rowdies that kept yelling at each for fun.
Sure, the service was fast enough, but the beer was poorly handled. The Sixpoint Sweet Action was badly oxidized and the bottles tasted like they'd been sitting around for a while. I'm sure not all the beers are bad, but about all this place is good for is the $3 off happy hour from 5-6pm. Otherwise a decent beer costs $7-9 and you have no guarantee that it even resembles something fresh.
Jun 09, 2010

Billolick from New York
3.73
/5
rDev
+6%
vibe: 4 | quality: 4 | service: 3.5 | selection: 3.5
What the Bum said...this is a western soho/tribeca, northern WTC area watering hole, darkly lit, friendly, old school drinking spot.long wooden bar, lots of exposed brick, wood, pleanty(70-80 bottles) including way too much space wasters, but also including 3 DFH, Chimay, Duvel, Orval, SNPA, Sam S. (3 types), Anchor and other decent choices. 16 Tap selections, Rogue, Bl.Pt., Goose Is., M. Hat, Smutty, Bklyn. selections.
Comfortable enuf. place, dont go for amazing beer, but worth a visit for plenty of decent suds in a, low key, comfortable environment.
Jun 16, 2006

TheJudge from New York
3.94
/5
rDev
+11.9%
vibe: 3.5 | quality: 4 | service: 4 | selection: 4
After lunch at Petite Abeille down the street, wanted to hit "Anotheroom", and was disappointed to find it closed at 2 in the afternoon. However, I was pleased to find this establishment right next door. Having never been in the past, or even known of its existance, my drinking buddy and I were somewhat skeptical, but what the hell.
The bar was almost empty as we walked in. Darkish, the color of choice seemed to be red. An oak bar, good size, seating about 25. Some small tables along the side, and tables in the back. I didnt see a menu, but assume that they serve food based on the set-up. But we stayed for the beer.
about 18 taps, a wide range of choices. Some swill, although it was interesting to see that PBR was one of them. The rest were pretty good. Red Hook, Blue Point, Magic Hat, Stella, Blkyn, Sierra, Yuengling, Newcastle. The 2 most interesting were Old Speckled Hen and Rogue Dead Guy. A bottle list on the wall on a chalkboard had around 40 selections. Nothing I had not had, but some real quality stuff.
Service was good, but I would expect so as we were basically the only ones in there. I liked it, and would return.
Mar 09, 2005
Tribeca Tavern in New York, NY
Place rating:
3.52
out of
5
with
6
ratings