Nickel Brook Gluten Free
| Better Bitters Brewing Co.
BA SCORE
66
poor
15
Reviews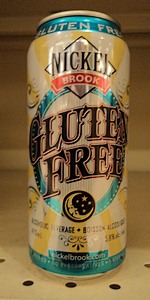 BEER INFO
Brewed by:
Better Bitters Brewing Co.
Ontario
,
Canada
|
website
Style:
American Blonde Ale
Alcohol by volume (ABV):
5.80%
Availability:
Year-round
Notes / Commercial Description:
Our Nickel Brook Gluten Free is brewed in the style of a classic Pale Ale that has the flavour any beer lover will enjoy.
Our brewmaster has created the Gluten Free with a blend of Sorghum, Demerara Sugar and Pear Juice, which is then balanced with classic Pale Ale hopping.
Whether you're gluten intolerant or not, we made this beer alternative especially for you. Discover for yourself the satisfying, refreshing and thirst quenching flavour of Nickel Brook Gluten Free.
37 IBU
Added by Viggo on 02-09-2011
Reviews: 15 | Ratings: 25
1.59
/5
rDev
-27.4%
look: 3 | smell: 1.5 | taste: 1.5 | feel: 1.5 | overall: 1.5
Can: Poured a clear bright golden color ale with a large foamy head with good retention and some light lacing. Aroma consists of rotten hops and overcooked vegetable with some rotten grass. Taste is about as good as aroma description indicates. I am wondering if there was a change in recipee considering the newest ratings are so low.
★
335 characters
1.81
/5
rDev
-17.4%
look: 3 | smell: 2 | taste: 1.5 | feel: 1.5 | overall: 2
473ml can. I have to sell this stuff, so best I be up on what it really has to offer, I suppose.
This beer (or 'alcoholic beverage', as per the label) pours a clear, pale golden yellow colour, with a half finger of thinly foamy, and mostly just fizzy dirty white head, which wisps away in no time flat, leaving zilch in the way of lace in the vicinity of the glass.
It smells of a warm drupe fruitiness, musty, somewhat toasted graininess, watery black pepper, a bit of rotting vegetables, hippie perfume, and leafy, generally weedy 'pale-ale' hops. The taste is astringent, rather metallic pseudo-grain, flat overripe pear flesh, damned-near sneeze-inducing table pepper, way past their best veggies from the bottom drawer, and seemingly out of place plucky leafy, earthy hops.
The bubbles are a bit spritzy, and swirling, which in this particular case, does me no favours, the body a clammy, clenching medium-light weight - don't even ask about any supposed smoothness. It finishes warm and abusive - overcooked pears and rye-wannabe edgy grain the lingering notes of infamy.
Gaaah. When the most notable thing I get up front, in the middle, and at the end, is a clinging, well, sense of the undead, it's just too hard to justify subtle descriptions of any woe-begotten underlying essences. This is messed up, uneven, and thankfully really not a beer - at least they warned me about that ahead of time, but I didn't listen. No way I'm finishing this can, and I cannot justify recommending this in place of Wold Top's or Brasseurs Sans Gluten's celiac-friendly offerings.
★
1,576 characters
1.82
/5
rDev
-16.9%
look: 4 | smell: 2 | taste: 1 | feel: 2 | overall: 2.5
Nickel Brooks gluten free beer.
Pours a clear amber/orange, medium sized white head forms and settles to a medium ring, champagne like carbonation, little bubbles keep rising, some lace spots stick.
Weird, a bit fruity, pear juice, slightly rancid aroma, a bit spicy, peach pits, a touch of honey sweetness, burnt malt, veggies, bandaids, a touch of floral, alcohol, odd stuff.
Taste is similar, cider like, buttery, some caramel, pear/apple juice, butterscotchy, light floral, not so good.
Mouthfeel is light bodied, thin, with medium to high carbonation. Not too bad for a gluten free beer but not the route I would have taken.
★
633 characters
1.48
/5
rDev
-32.4%
look: 2 | smell: 1.5 | taste: 1.5 | feel: 2 | overall: 1
I had never tried a gluten free beer before, finally decided to give this a try when Nickel Brook made theirs. They said that any beer lover would enjoy this, so I'll see. Pours a golden yellow colour without much head. Any head there was dissipates very quickly. Smell is of horrible butter and some mild pear. Some grains in there too I can't pick out, that could be sorghum? I'm having difficulty taking even a full sip of this, it just does not taste good. I know this is gluten free, so the brewer was limited in what they could do, but if I was trying to avoid gluten there are thousands of better non-beer options than this beer.
★
636 characters

2.47
/5
rDev
+12.8%
look: 3.5 | smell: 2 | taste: 2.75 | feel: 2.75 | overall: 2
From a 473 ml can. Pours out a clear pale gold hue, very similar to apple juice, lots of carbonation at first and then the body settles once the head disappears. Speaking of the head, it's a tall fizzy white mass that slowly settles to a thin film.
Sour, earthy grains on the nose, some floral hops, plus notes of the pear juice mentioned in the ingredients list.
The flavour isn't quite as off-putting as the aroma, however isn't that inviting either after a few sips. Dry apple/pear skin up front, an acidic cider character in the middle, with tart earthy grains and leafy, spicy hops on the finish.
Light-bodied mouthfeel, with a thin slick texture, and some brisk carbonation.
On a personal level I'm not the biggest fan of the bite that fermented sorghum offers, which the hops accentuate even morseo in this beer, and neither the pear juice or demerara sugar manage to offset it. This one isn't for me, but I'm not celiac with limited options either. Yet if I were I'd forget the gluten free beers and stick to quality craft cider instead.
★
1,049 characters
1.76
/5
rDev
-19.6%
look: 3 | smell: 2 | taste: 1.5 | feel: 2 | overall: 1.5
473 mL can from the LCBO; best before Jan 24 2013. This is the first gluten-free beer I've ever bothered trying - if you can even call it a beer. Still, I've had enjoyable light lagers before - proof that anything is possible and I should just give this a chance before judging it.
Pours a translucent golden-yellow colour, topped with one finger of foamy white head that fizzles away before my very eyes, leaving behind only a thin, soapy collar. Looks like a glass of apple juice from concentrate. Unusual aroma that doesn't entirely remind me of beer - much more fruity than grainy, with hints of peach, pear, apple cider, cooked vegetables, and some slight honey sweetness. Slightly acidic aroma; not exactly unpleasant, but not really all that appealing either.
This tastes like a muddled mess; there is so much going on it's hard to pinpoint a lot of specific flavours. A strongly vegetal flavour, possibly from the sorghum (although I've never actually had sorghum so I really can't say for certain), permeates the entire profile. There is also a lot of pear/apple, some light apricot/peach notes, with the apple becoming more prominent as it warms. Finishes with a vinous, white wine-like flavour and some booziness - way too much for something under 6%. Light-bodied, watery, with weak carbonation. It feels like someone tossed adjunct beer, expired white wine and apple juice into a vat and mixed it up.
Blech. To any celiacs reading this - you have my sincere condolences, and I honestly hope not all gluten free beer tastes like this. I finished the whole glass because I'm a cheap masochist, but this was the first time I have ever seriously considered a drainpour in my ~6 years on BA. It really is utterly unenjoyable, and even finishing half of the can is a struggle. I would not judge anyone for pouring this into the sink, it's really not worth the trouble.
Final Grade: 1.76, basically an F. I am pretty easy to satisfy - I mean, I drink James Ready and Canadian fairly regularly - but Nickel Brook's Gluten Free sets the bar so low that even thoroughly mediocre beers like those compare highly favourably. Given the fact that it technically isn't beer, I can't knock it too hard for not tasting like one - but I can definitely knock it for tasting terrible in general. Probably the least appealing 'beer' I have ever reviewed - if I were a celiac and this were the only GF beer I could find, I'd just stick to gin.
★
2,438 characters
1.7
/5
rDev
-22.4%
look: 2 | smell: 2 | taste: 1.5 | feel: 2 | overall: 1.5
Appearance: It has a pale straw yellow color to it. It has a thin white head that dies down fast and leaves next to no lacing.
Smell: The aromas definitely give out hints of peppery spice, light floral hops, weird fruitiness and something funky.
Taste: Like the aromas, it has a weird fruitiness (apples and pears), light spiciness, light hops and a funky taste I can't quite figure out.
Mouthfeel: It has a medium carbonation with a light overall balance and feel.
Drinkability: It's a very smooth drinkable beer accompanied with decent flavors and aromas. First time trying a gluten free beer and most likely the last. Something just doesn't taste right.
★
662 characters

2.01
/5
rDev
-8.2%
look: 2 | smell: 2.25 | taste: 1.75 | feel: 2.5 | overall: 2
473 ml can served cold into a pint glass. Remnants of a party from a few weeks ago. Don't have high hopes given that my experience with G-Free beers is limited. Widmer's Omission Pale Ale was certainly pretty decent, but Bard's Gold was the worst beer I've ever had. If this is closer to Widmer's it's a winner in my books.
Appearance - Rather pale golden color with soda-like bubbles rising to the surface. Minimal head to begin with and the retention is even worse.
Smell - A sweet but metallic aroma, there's something akin to bubblegum lurking back there behind a slightly metallic nose. Sweetness seems overdone too.
Taste - Lots of sweetness, bubblegum and cotton candy. Too much sweetness with little bitterness, but what is there is of a metallic nature. Cider-ish tendencies maybe?
Mouthfeel - Decent carbonation and finishes very dry. I guess the mouthfeel isn't so bad.
Overall - Couldn't finish the can or even really get that close. It's definitely better than Bard's but closer to it rather than Omission which i would definitely drink regularly if I had issues with gluten. It's not entirely horrible, but the sweetness is too much to get around. When I'd rather drink Bud / Coors light than this, know that it's not anything I'd purchase myself.
★
1,266 characters

3.7
/5
rDev
+68.9%
look: 3.5 | smell: 4 | taste: 3.75 | feel: 3.25 | overall: 3.5
Purchased at the LCBO for just under $3.00 for a 473ml can. Served at 4deg C in a draught glass
A- Opens well and pours a small head that is gone in 1min. Average golden color
S- Excellent! Very piney
T- Very good. Almost a malt flavor but it's not at all. Interesting
M- Not so good. Dry which is it's saving grace
O- Very good. This beer is all over the place but still a nice change of pace
Food Pairing
This nice little beer went well with... Pulled pork sandwiches
Enjoy
★
484 characters

2.85
/5
rDev
+30.1%
look: 2.5 | smell: 2.5 | taste: 3 | feel: 3 | overall: 3
Appearance: Translucent straw hue with a very thin white head despite a vigorous pour.
Aroma: Straight up aloe vera. A little off-putting.
Taste: The flavor follows closely with the smell; aloe vera. But, surprisingly, it's not as bad as it sounds. I've never tasted sorghum before so I'm assuming that flavor is due to the use of this substitute malt. The palate is sweet overall with just a hint of bitterness. It's an interesting flavor for someone who's used to that regular 'beer' taste. Soft finish and lingering sorghum flavor.
Mouthfeel: Medium bodied and decent effervescence. Pretty easy to drink but the flavor is just strange enough to make it a little difficult.
Final Thoughts: It makes me slightly uneasy drinking something that tastes how aloe vera smells. I'm not sure whether to drink it or rub it on a sun burn. Either way it's not terrible and I don't have much to judge it against since it's the first gluten free beer I've tried. Would I drink it again? On a dare.
★
990 characters

2.27
/5
rDev
+3.7%
look: 2 | smell: 2.5 | taste: 2 | feel: 2.5 | overall: 2.5
Every beer deserves a shot, but I'm not holding my hopes out on this one, especially since it might not technically be a beer. According to Ontario law, beer must contain some degree of wheat or barley, which this doesn't as it is labelled an alcoholic beverage. Regardless, I'll try to give it a fair shake.
Appearance: A finger of head quickly dissipated and did not lace at all. A clear light orange bod boasts some slow but steady carbonation, nothing too impressive here.
Smell: Pear dominates the nose with touches of peaches and dry hops. However, there's also a weird funk to it, kinda like a skunked beer but more of a decaying vegetation note then an acidic one you'd get from skunking.
Taste: I'm pretty sure there is pear juice in here as it starts with a sweet pear note. Too bad an overpowering rotten vegetable taste takes over that persists even as the hops hit with a strong bitter kick.
Mouthfeel: Well the lower carbonation I actually feel does this beers some favours, as it accentuates the sweeter elements instead of the bitter vegetables. Unfortunately that vegetable taste lingers quite a bit.
Drinkability: The aftertaste really holds it back, but the low carbonation makes it very refreshing and easy to drink. The juicer elements I think save this one from ruin.
Final Thoughts: Well, I think it's best that I stick to regular beer, but if suddenly I was only able to drink gluten-free beer, I'd say this is passable, which is pretty much everything I could expect from this. I think that vegetable taste is Sorghum, so I don't think it would be my ingredient of choice. Then again, what the heck do I know, or anyone knows for that matter about brewing with non-gluten grains. In conclusion, it sadly doesn't compare to regular beer, but it is better then some bad beers and near beers. You'll want to pass if you are a regular beer drinker, and I would probably more inclined towards mead or cider then this. I applaud the effort though.
★
1,974 characters
1.93
/5
rDev
-11.9%
look: 2.5 | smell: 2 | taste: 2 | feel: 2 | overall: 1.5
a-pours a clear golden colour with almost zero head.
s-light hops, malts, odd smell...slightly fruity?
t-The second gluten free beer that i have had and again...I maintain that gluten must be what makes beer good. Flavor is beer like...but dominated by a bizarre after taste.
m-thick enough for the abv
d-I didnt' make it through the first glass.
Serving type: can
★
369 characters
3.04
/5
rDev
+38.8%
look: 2 | smell: 3 | taste: 3 | feel: 3 | overall: 3.5
473 ml can poured into a Duvel tulip.
A: Pours a clear gold with half a finger of weak white head that disappears quickly.
S: All I'm getting is a clean hop smell similar to hop pellets. Not overly strong but not unpleasant.
T: Tastes a bit sweet upfront (but not really malty for obvious reasons) with that nice clean hop bite in the finish.
M: Mouthfeel is fairly light with decent carbonation.
D: For a gluten free beer, very high.
This is the only GF beer I have tried and I expected it to be awful. It wasn't. It should be rated to style and truly the style is GF beer which is probably one of the most difficult ones. It's not close to the worst beer I've ever had. In fact, I'd rather drink this than say, Orval, so there! :P
★
739 characters
1.8
/5
rDev
-17.8%
look: 4 | smell: 1.5 | taste: 1 | feel: 3 | overall: 2.5
Nice light color, does not taste like a 5.8 ABV beer. I found this beer to be very different in taste and flavour. It reminded me of juniper berries. Good carbonation level. I brewed myself a batch of gluten free beer which was simular in taste but not as pungent.
★
264 characters
2.46
/5
rDev
+12.3%
look: 3 | smell: 2 | taste: 2.5 | feel: 3 | overall: 2.5
The label calls this an alcoholic beverage that any beer lover will enjoy. The beer style is not specified, simply called 'Gluten Free'.
Ingredients are water, sorghum, pear juice, demerara sugar, hops.
Poured at 4 deg. C. into a tall, narrow glass.
a - A 2 finger white head disappears within seconds, no lacing. Lots of carbonation, nice golden colour, crystal clear.
s - Light hop (lager style) aroma dissipated with the head, then left with a slight vegetable smell.
t - Beer tastes like it smells; a subtle vegetable or pizza flavour, somewhat cidery. Hard to place the flavour, unique if nothing else. Leaves a long aftertaste of the same, not overly pleasant or beer-like, but not bad either. Some hop bitterness is detected, balanced by a slight sweetness. No yeast flavours detectable.
m - Smooth with simultaneous sharpness caused by the carbonation. Body is fairly thin.
d - Not much depth or complexity here. The unfamiliar flavour must be the pear juice which I don't like, but others may. It's light and refreshing, but only a little beer-like. It's a good gluten free alternative to the mass-produced pilsners out there. I wouldn't have another, but only because I make my own gluten free beer, and don't like mass produced pilsners. If I didn't have the choice, I would probably alternate this beer with the other 2 available in the LCBO, which are just as unappealing as this creation by Nickel Brook. OK, maybe I would just give up drinking beer. This is a good but bewildering effort, and the claim on the can is not true. My evaluation is fairly low because I use real (craft) beer as my control. Cheers John & Peter.
Serving type: can
Reviewed on: 01-23-2011 22:44:28
★
1,696 characters
Nickel Brook Gluten Free from Better Bitters Brewing Co.
66
out of
100
based on
15
ratings.